Best of '17
It was a year of exciting opportunities, new records and national recognition. Here's a month-by-month look back at the highlights of 2017.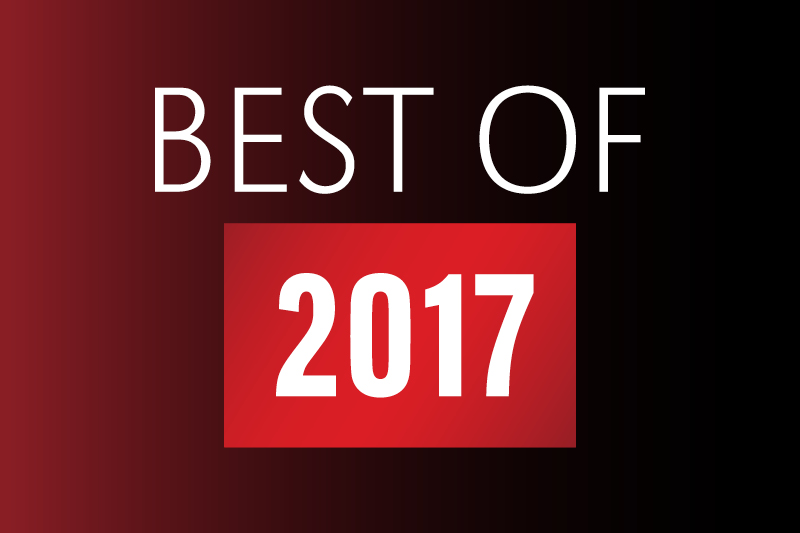 January 2017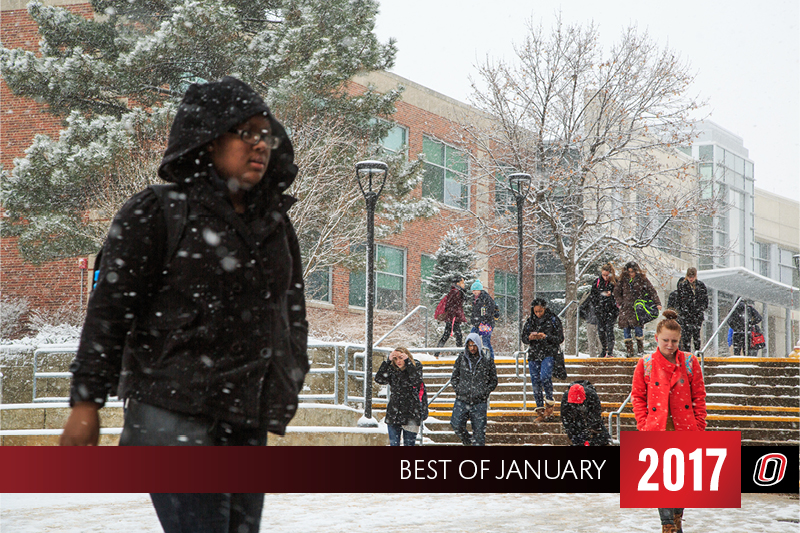 Excelling Online
The year kicked off with a ranking worth celebrating. U.S. News and World Report named two of our online programs among the best in the country. The ranking places the online Masters of Science in Criminology and Criminal Justice as the No. 2 program of its kind and the online Bachelor of Multidisciplinary Studies degree at No. 24.
Thanks to our online programming, there are Mavericks around the globe.

Strengthening National Security
Team building. Data-driven decision making. Innovating.
Ten civilian leaders developed mission-critical skills in our fourth year of the USSTRATCOM Strategic Leadership Fellows Program.
At the January kickoff, U.S. Navy Vice Adm. Charles "Chas" A. Richard, deputy commander of USSTRATCOM, told the fellows they're part of an elite group dedicated to solving our nation's most pressing challenges, including cyber threats, social unrest and terrorism.
A Global Impact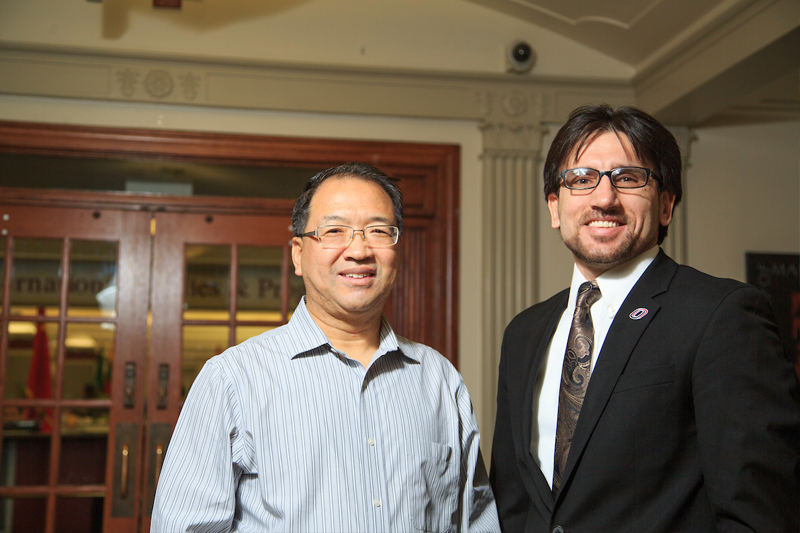 We announced a new collaborative project to help an Afghan university improve its hydraulics program, building on our work in the country. Last year, we kicked off a project supporting communication education in Afghanistan. Later in 2017, we would go on to announce a similar grant that supports business education in the country.
From Omaha to the World Championships
The year brought us a few updates on wheelchair basketball team members Brent Reiger and Jeromie Meyer. The pair were named to the U.S. National Team in January and went on to play for the U.S Men's U23 World Championships team in June.
If you missed the Omaha World-Herald feature on Meyer, it's worth reading. (Or rereading!)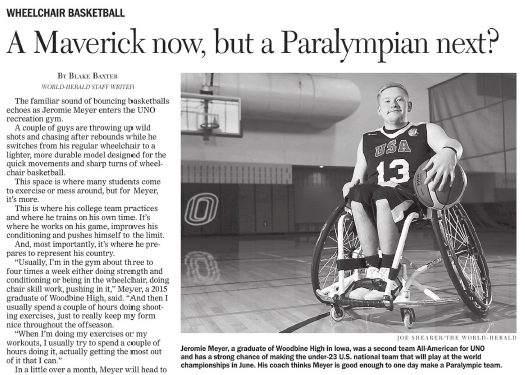 Let it Snow
Less than two weeks into our spring semester, we had our first snow day of the year. Just a few days later, another round left us just enough snow for a little winter fun.
A snowy day makes for beautiful photographs of campus. Here are a few. View the whole slideshow: https://t.co/PKnaxjh2SX #KnowTheO pic.twitter.com/Y2pjSrAmlu

— UNO (@UNOmaha) January 26, 2017
---
February 2017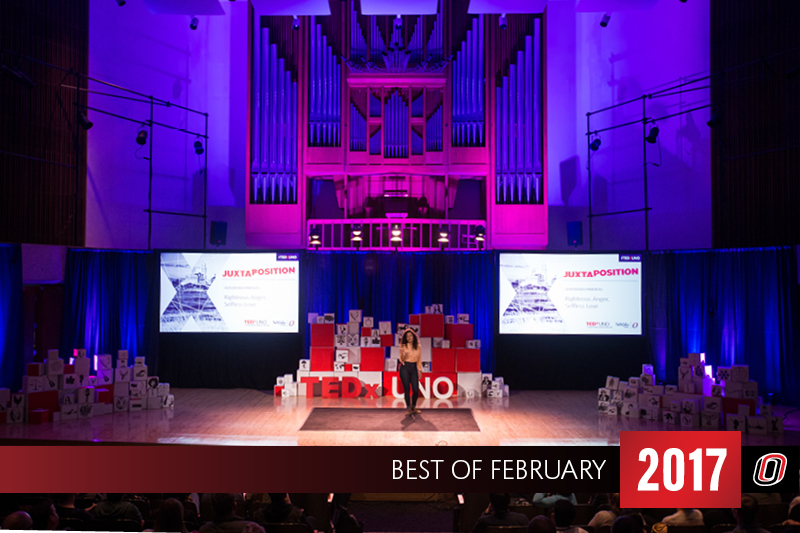 Culture and Inclusion
We celebrated culture and inclusion during Black History Month. Programming organized by UNO's Office of Multicultural Affairs, Department of Black Studies, the Urban League of Nebraska and the American Multicultural Student Agency included special events for students, staff, and faculty.
Black History Month concluded with a visit from best-selling author, veteran, and Rhodes Scholar Wes Moore.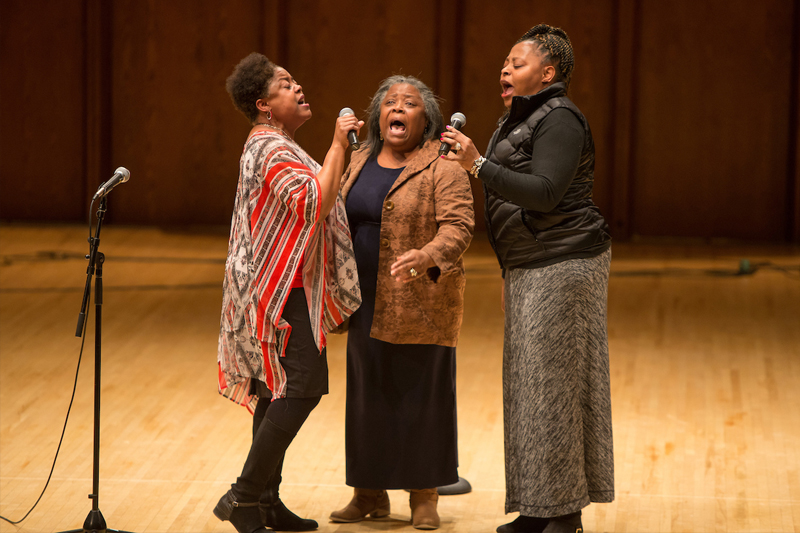 Housing Leaders Honored
In February, the Midwest Affiliate of College and University Residence Halls (MACURH) recognized UNO Residence Hall Association (RHA) student Franni Dimon for her efforts supporting first-year student living. Later in the year, MACURH would honor UNO with the Commitment to Sustainability award and RHA advisor Chloé Smith with the Cindy Fendrick Award for Professional Service. This work is a key part of why our campus housing feels like home.
Technology and Curiosity
Did you know a Maverick created one of Nebraska's first self-driving cars?
Fueled by curiosity, UNO IT Innovation student and College of Business Administration staff member Brevan Jorgenson signed up when an online startup asked for beta testers for the company's self-driving technology.
The project sparked local and national headlines. Get a first-hand view of the driverless car.
Ideas Worth Spreading
With a theme of "Juxtaposition," our third annual TEDxUNO event weaved two or more seemingly contradictory aspects into cohesive, interesting stories. Speakers discussed a wide variety of topics, including Alzheimer's, folk music, and cultural differences.
Missed it? Videos are online.
---
March 2017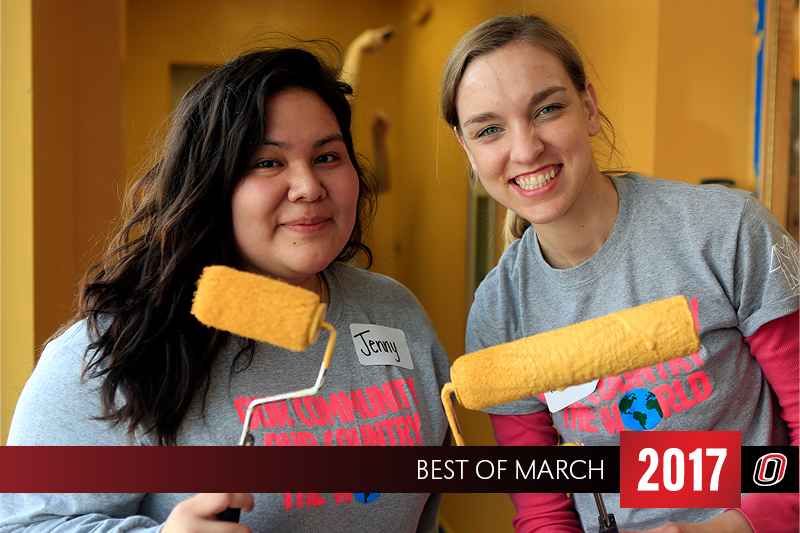 Giving Back
Spring Break gives students a chance to catch their breath, but instead of binging Netflix shows or taking a trip, many chose to roll up their sleeves and give back.
Seven Days of Service occurs every year over Spring Break. This year, hundreds of students, staff and community members completed nearly 3,000 hours of service in support of 29 local non-profit partners. Those who participate help address the needs of Omaha's community partners and help build and strengthen our metropolitan community.
Record Participation
Innovative research. Creative exploration. Scholarly commitment.
More than 200 students displayed their scholarly research at the ninth-annual Student Research and Creative Activity Fair. The day-long event gave undergraduate, graduate, and doctoral students a chance to present their work to the community. Presentations covered a wide range of topics, from the psychological effects of arriving late to work meetings, to how music affects someone's gait.
Ranked Nationally for Ninth Year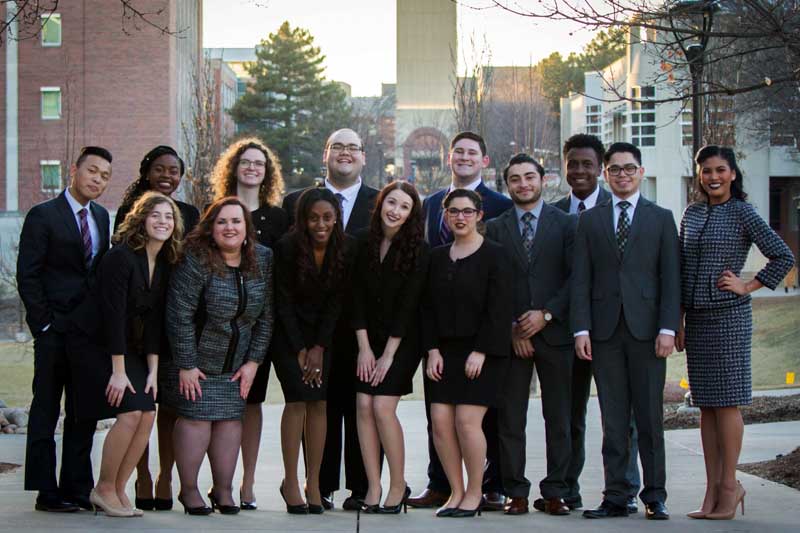 Did you know we have one of the top competitive speech teams in the nation? This March, MavForensics once again earned a ranking as one of the top 10 programs in the country at the annual American Forensics Association's National Individual Events Tournament.
Following a three-peat as Nebraska's top competitive speech team, MavForensics placed as the No. 6 team in the country. The team's continued success highlights their mission to foster students' ability to consider issues critically from multiple perspectives, communicate their thoughts clearly to others, and advocate for what they think is right.
Record Engagement in Student Government Race
With a record number of more than 1,500 votes, UNO students elected Carlo Eby and Hameida Alsafwani in the first contested President/Vice President student government election in five years. In the student senate race, 15 percent of elected senators are returning representatives and 85 percent are new senators.
Congratulations to 2017-18 @SGUNO Student Body President Carlo Eby and Vice President Hameidah Alsafwani! #KnowTheOhttps://t.co/VjcWiWh7zx pic.twitter.com/FNrkz2LnC3

— UNO (@UNOmaha) March 9, 2017
As the voice of the student body, Student Government has made great strides in providing lasting, positive contributions to the student body like the Maverick Readership Program (providing newspapers across campus), MavRIDE, and adding charging stations across campus.
Strong Summit League Runs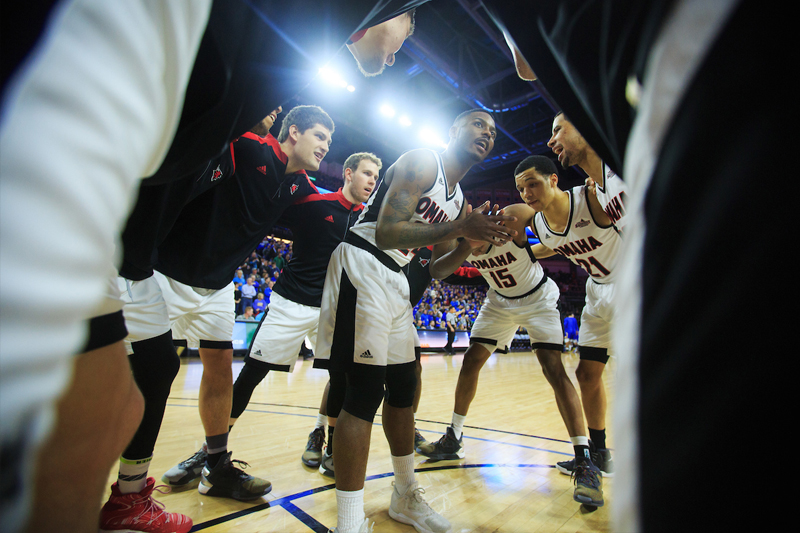 Our men's basketball team came just a shot short of the Summit League championship. A missed three-point shot in the final seconds would have put them one point over South Dakota State University and given them the automatic bid to the NCAA Tournament. Our women's team also had an impressive run, making it to the Summit League semifinals for the second year running.
---
April 2017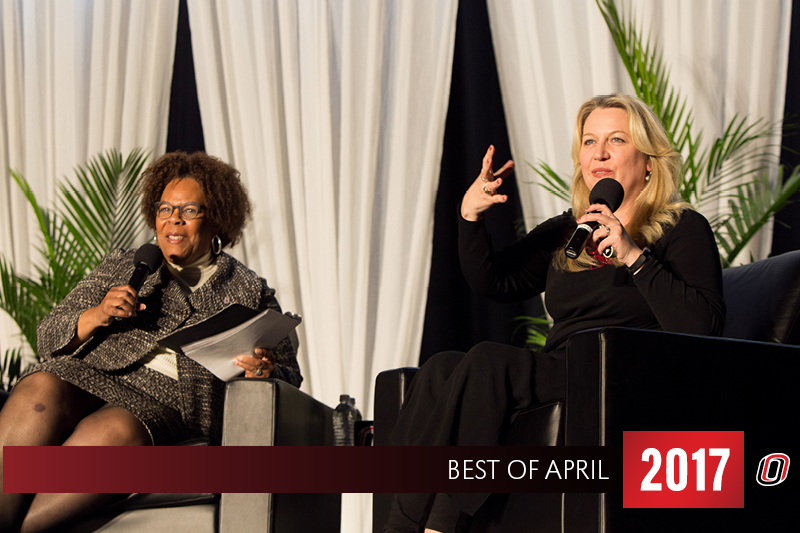 Best in the Country
Mavericks started April with a big reason to cheer: we topped the national "Loud and Proud Best Student Section of the Year" competition.
Fans cast more than 20,000 votes in the championship round, which pitted our student section against the Huskers' "Iron N."
Dance Marathon's Big Kickoff
The hashtag was #FortheKids, and that's exactly who benefited from our first Dance Marathon. More than 400 Mavericks danced for 12 straight hours to raise $36,297.62 for Children's Miracle Network Hospitals.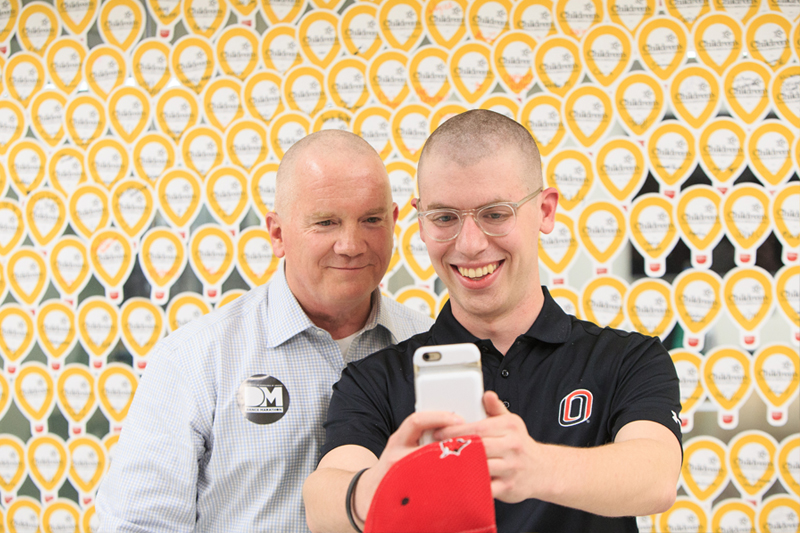 Ahead of the big day, University of Nebraska Regent Tim Clare and then Student Body President Patrick Davlin shaved their heads to celebrate organizers reaching a key fundraising goal. That's commitment!
A 'Wild' Night
We welcomed best-selling author Cheryl Strayed to Omaha as the second speaker in our Marion Marsh Brown Writers Lecture Series. Before the lecture, she spent time chatting with students about writing. The Omaha World-Herald did a great job sharing her advice.
Are you a reader? Thriller author Lee Child is coming to UNO next April! Claim your free tickets now!
Earth Month
From blending smoothies with bike power to outdoor yoga and Zumba, we hosted more than two dozen events during Earth Month.

This was a great year for recognition of our sustainability efforts. We earned a STARS Silver Rating in March. The Sierra Club named us a 2017 Cool School in September, one of just two in Nebraska!
---
May 2017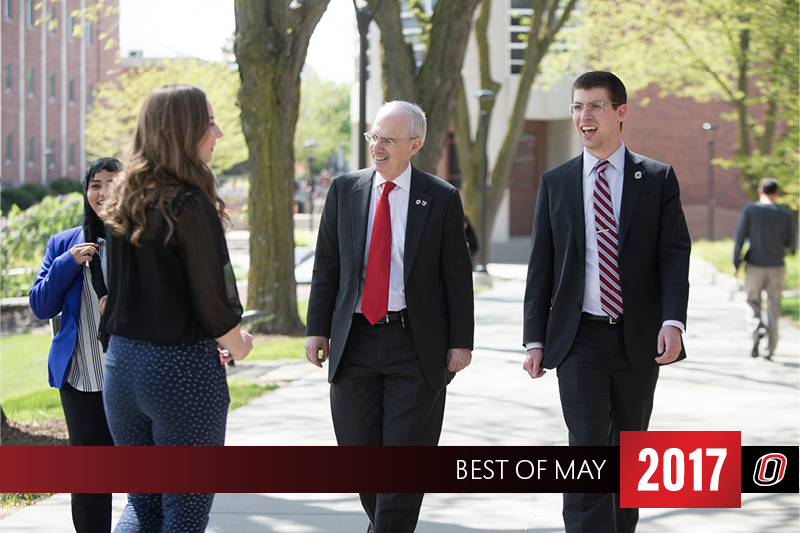 Welcome, Chancellor Gold
In May, we officially welcomed Chancellor Jeffrey P. Gold, M.D., to campus.
Chancellor Gold's transition process lasted through mid-December and involved gathering feedback and advice from students, faculty, staff and community members. It set the stage for a new year of exciting opportunities in 2018.
Nationally Recognized for Cybersecurity
Some of the nation's top future cybersecurity experts are studying right here in Omaha.
In May, the National Security Agency recognized us as a National Center for Academic Excellence in Cyber Operations – one of just 17 institutions in the country with that designation.
With this success, it should be no surprise that Military Times also recognized UNO's Cybersecurity program as one of its "10 Best Cybersecurity Programs" in the United States just one month prior.
Student Entrepreneurs Find Success
Moxie. Mission. Momentum.
A trio of UNO students and alumni showed all of these qualities in winning our College of Business's annual "UNO Business Plan Competition" with their online boutique, Mauve.

Kat Slump, a May 2017 graduate, Alissa McMahon, a UNO senior, and Keegan Mahoney, a 2016 graduate, founded the business. Mauve is tailor-made for women in their late teens and early twenties, selling fashion-forward clothing and accessories.
The group won the competition's $3,000 prize and continue to make a name for themselves in the world of fashion. You can check them out at www.heymauve.com.
A Change to the Campus Skyline
Summer began with a construction project on the Dodge Campus: removal of the Nebraska Educational Television broadcast tower. The tower had been located south of the College of Public Affairs and Community Service building since 1972.

The project took roughly a week, closing down surrounding buildings as the tower came down.
---
June 2017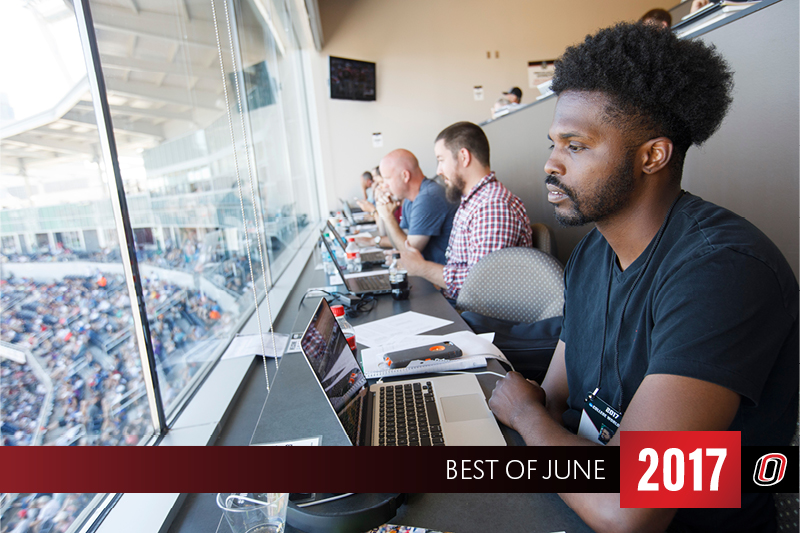 Strauss Gets a Facelift
June marked a new chapter for a building that has served both UNO and Omaha for 40 years. Long-planned construction for the Strauss Performing Arts Center officially got underway.

The project – a public-private partnership – should be completed by the end of 2018, and will provide new, state-of-the-art classroom and performing spaces for both UNO students and members of the Omaha community.
Omaha's Choice for Education
This June, UNO was once again voted No. 1 in Omaha's Choice Awards' College/University category, organized by the Omaha World-Herald.
The awards allowed readers from the state's most widely-read newspaper to choose their favorites from nearly 200 categories, ranging from restaurants to home contractors.
Mavericks Lift Lord Stanley's Cup
The year 2017 was truly special for Maverick Hockey fans as team alumni Jake Guentzel ('13-16) and Josh Archibald ('11-14) helped the Pittsburgh Penguins earn their fifth NHL Championship in franchise history.
Guentzel, who finished his Maverick career with 119 points in 108 games, had one of the strongest rookie performances in the NHL Playoff history, tying the rookie record for points with 13 goals and eight assists in 25 games.
From the Classroom to the Press Box
The College World Series has been an Omaha staple for more than half a century, but it's not every year that a student honing his craft as a radio broadcaster is able to cover one of college athletics' biggest events alongside professionals from ESPN, the Associated Press, and others.
This summer, senior Donald Kellum rubbed elbows with career sports broadcasters, covering the NCAA men's baseball tournament for MavRadio, UNO's student-run station.
Kellum, who returned to college after a 10-year hiatus, said the experience was one that he will never forget.
@MavRadioUNO is taking over the #CWS press box!!! #TakeOver @Harrison_Popp @BrandonMcDermot pic.twitter.com/a5vwLVEXY1

— Donald Kellum (DK) (@SayGoDk) June 26, 2017
Summer of Learning and Fun
Each year, UNO hosts dozens of camps covering a range of topics including everything from astronomy to volleyball.

This summer, more than 5,000 kids came to the UNO campus to participate in 18 different camps and prepare themselves to be future Mavericks.
View a full list of all the camps UNO has to offer.
---
July 2017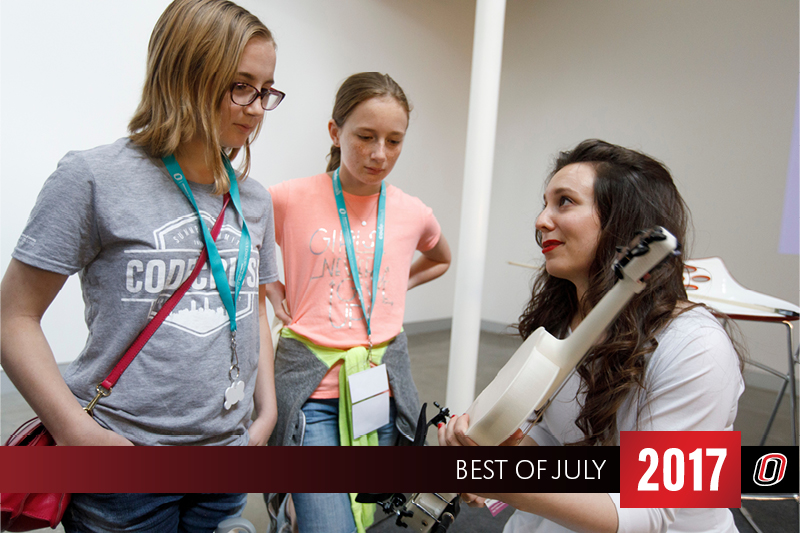 Crushing It
A violin that changes color with every note. App design. Robots.
July featured the return of the College of Information Science & Technology's Code Crush Summit. The gathering brought together high school girls and teachers to support diversity in the tech workforce through fun programming like, well…
You know you're in the right place when one of the scheduled activities is a Poke Walk! @CatchEmAlI #CodeCrushSummit

— Mrs. Beguin (@MrsBeguin) July 27, 2016
Summer Fun
We like to say Omaha is our campus. Summer is a great time to experience our city, and we're proud to sponsor some of our community's favorite events.

That includes Monday Night at the Movies, a chance to catch hit films outdoors at Midtown Crossing. July marked our first Student Movie Night, where students voted for a screening of Fantastic Beasts and Where to Find Them.
You could find local produce, baked goods, and more at the Omaha Farmer's Market in Aksarben Village. As part of our sponsorship, UNO departments and programs connected with Farmer's Market visitors through the summer.

And, hark, 'twas another excellent season of Shakespeare on the Green. Performances take place in the green area just south of the bell tower each year. Productions of "King Lear" and "The Merry Wives of Windsor" drew crowds.
Out of This World Learning
Rounding out July, check out this fun photo. Sandra Jones, an Elementary Education student and NASA intern, ran into a Nebraska celebrity at Houston's Lyndon B. Johnson Space Center.
Sandra Jones, a @NASA intern and true Maverick, shows her #MavSpirit with @Astro_Clay, Nebraska's only astronaut. https://t.co/SjQbpn1IiW pic.twitter.com/6V72AppD9l

— UNO (@UNOmaha) July 14, 2017
---
August 2017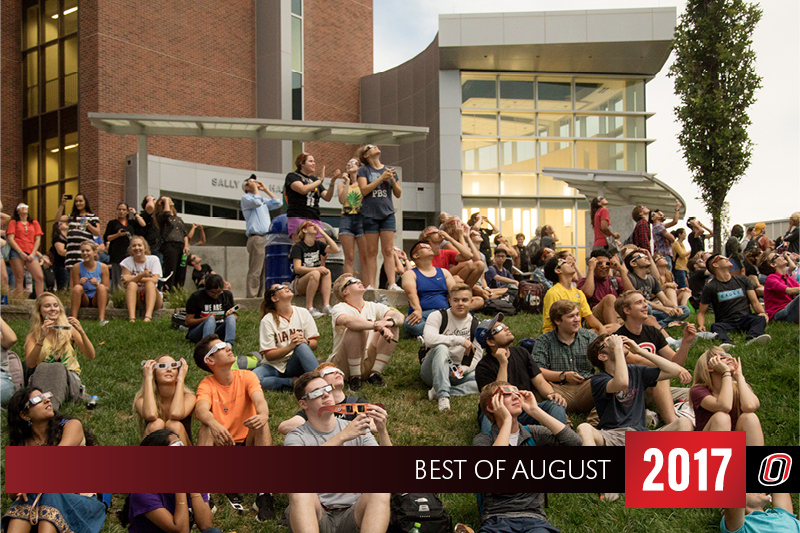 Back in Black
We kicked off the fall semester in a big way. The first day of our Durango Days welcome week aligned with a nearly total solar eclipse. Thousands of students gathered to take in the once-in-a-lifetime event.
Welcome Home
We opened Scott Crossing, our newest housing unit, and welcomed our largest number of housing residents ever: 2,314.

In October, we would open Maverick Landing, our new welcome center that is attached to Scott Crossing.
Big Parking Changes
The new Pacific Street Garage opened with the new academic year, but that wasn't the only big parking change.
Parking Services started using a new virtual system that scans license plates. The new system allows parking by the day or the hour. Just check out the website or use the Park Omaha app.
Biomechanics Addition Announced
Fighting artery disease. Designing the shoe of the future. Helping stroke survivors recover faster.
That's just some of what the team at the Biomechanics Research Building are up to.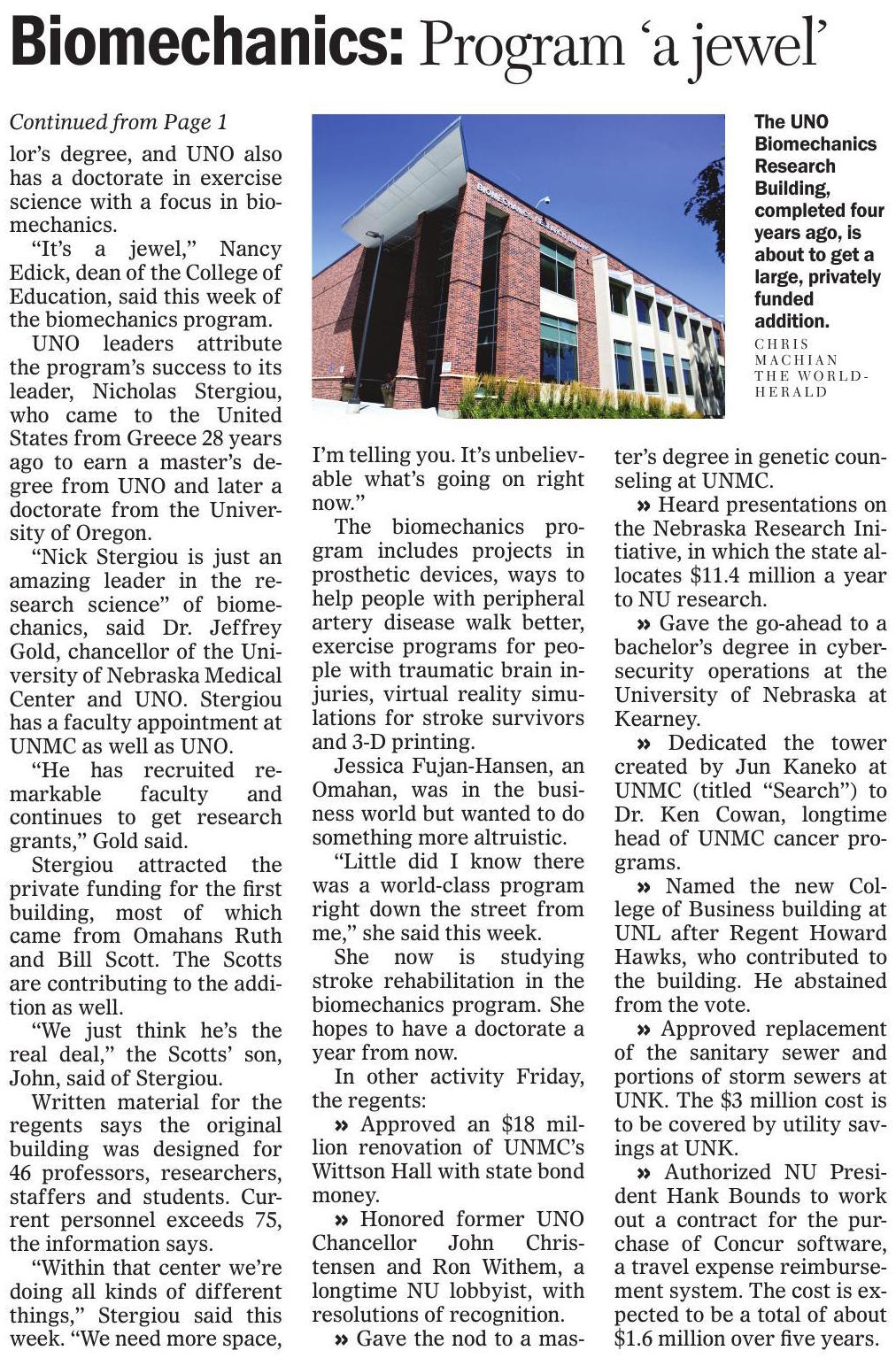 In August, plans for a privately-funded $11.6 million addition took another step forward. The addition will more than double the building's size. Work is set to start in the spring of 2018.
---
September 2017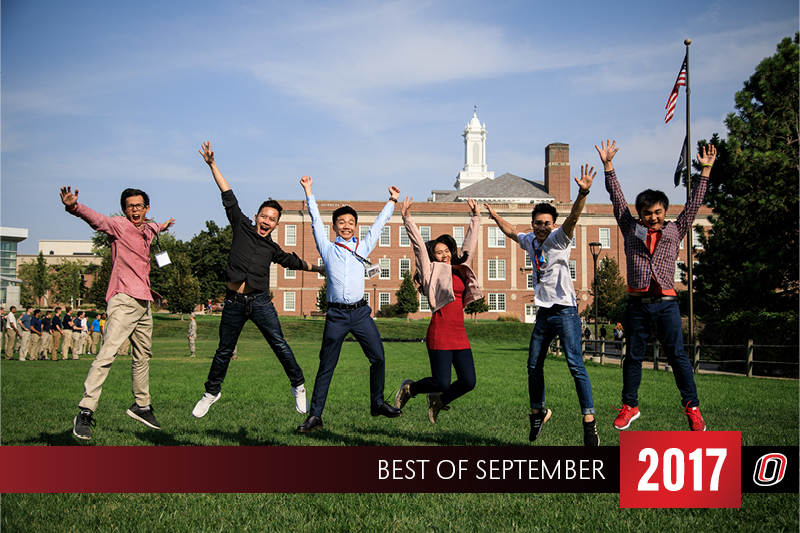 Maverick Momentum
In September, we announced the good news: UNO achieved a record-breaking incoming freshman class for the third straight year and its second-largest graduate class in university history.
We can't put it any better than Chancellor Gold: "Students are excited to be Mavericks. They know that during their time at UNO they will learn from world-class educators, gain practical hands-on experience, and make important community connections."
Packed Stands
Two special competitions generated buzz in September.
Volleyball kicked off their season with the Omaha Challenge, drawing regional contenders to Baxter Arena.
Later in the month, men's soccer went head-to-head in what fans have nicknamed the 'Dodge Street Derby.' World-Herald writer Dirk Chatelain said the turnout and fans' energy showed how far soccer has come in Omaha.
The bleachers are full. And there's probably another 1,000 on the hill and along the rope line. pic.twitter.com/g2iVsMAGI7

— Dirk Chatelain (@dirkchatelain) September 27, 2017
Rich Lectures, Discussions
As the newest academic year moved into full swing, departments and programs hosted lectures, forums, and panel discussions exploring everything from why the arts matter to balancing our digital lives.

Welcoming the World
In the last year, we welcomed more than 2,000 international students and scholars from 119 countries. In September, we greeted our latest cohort of Young Southeast Asian Leaders Initiative visiting students.
---
October 2017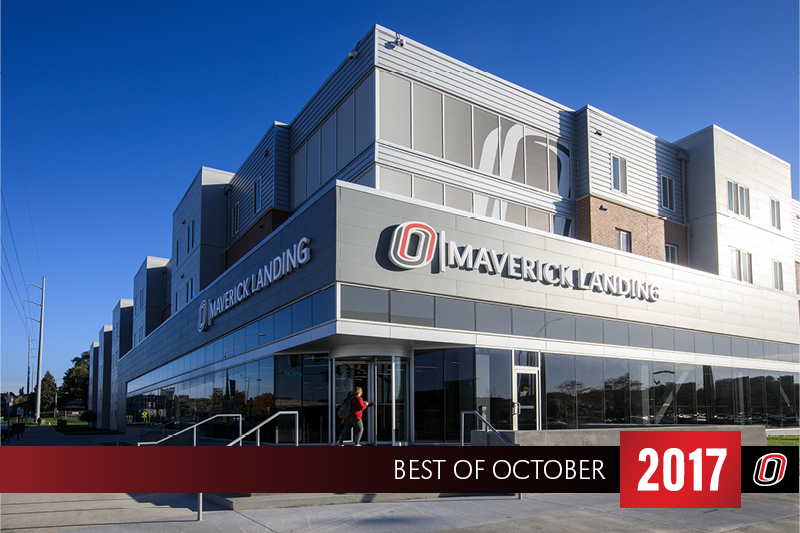 Homecoming
October featured an unforgettable Homecoming week. We welcomed alumni back to campus to visit our new Maverick Landing and then catch a hockey game. We crowned our newest royalty. We brought back our parade.
You can see some of the fun with this Storify from our Mavericks Invade Omaha event.
Soaring to Success
The Flying Mavs, our flight team, took home first place in their regional safety and flight competition.

Omaha was the host school for this year's event, and the Flying Mavs dominated the competition. With October's strong performance, the team punched their ticket to the national competition, which kicks off in late April 2018.
Celebrating Human Rights Contributions
We joined members of the Omaha community to celebrate the lives and contributions of Leonard and Shirley Goldstein and their family.
Thanks to a generous gift, UNO will soon be home to the Leonard and Shirley Goldstein Center for Human Rights, a nonpartisan, nonsectarian organization that promotes the understanding of human rights issues through teaching, research, creative activity, and community engagement.
Adding Play to the School Day

The College of Education celebrated the opening of its interactive, hands-on Play Lab with PLAY Day. The space encourages teacher candidates in Early Childhood Education programs to collaborate and explore in a space that reflects a real-world early childhood setting.
---
November 2017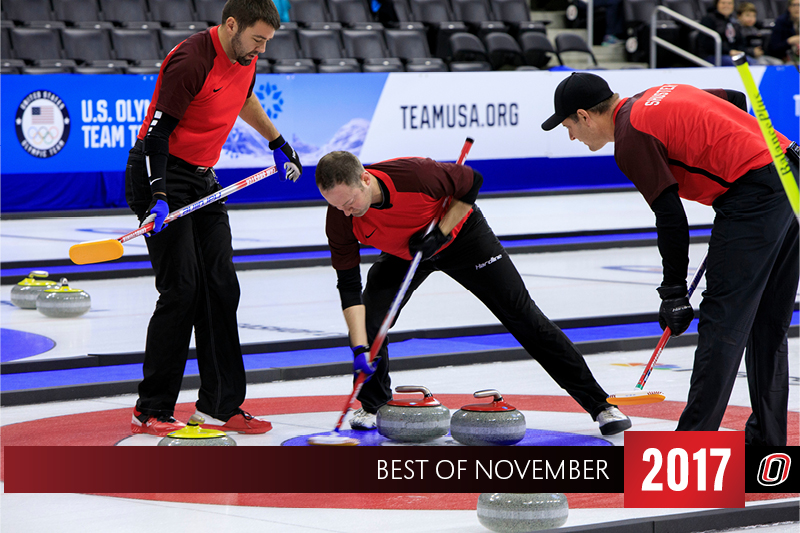 Olympic Trials
The road to the 2018 Olympic Winter Games ran through UNO's Baxter Arena for some of the nation's best curlers.
Baxter Arena hosted the Olympic Team Trials for Curling, the highest-attended U.S. curling trials ever.
We had a lot of fun introducing Omaha to the sport, and it seems like reporters did too!
Channel 6 beats channel 7 in the Curling Trials! 🥌😂 pic.twitter.com/4W0w0yADa6

— Collin Ruane WOWT (@CollinWOWT) November 12, 2017
Mavs Take Summit League Title
It was a historic run for the men's soccer team. They claimed the Summit League title on penalty kicks in a neck-and-neck game against Denver, earning a place in the NCAA Tournament.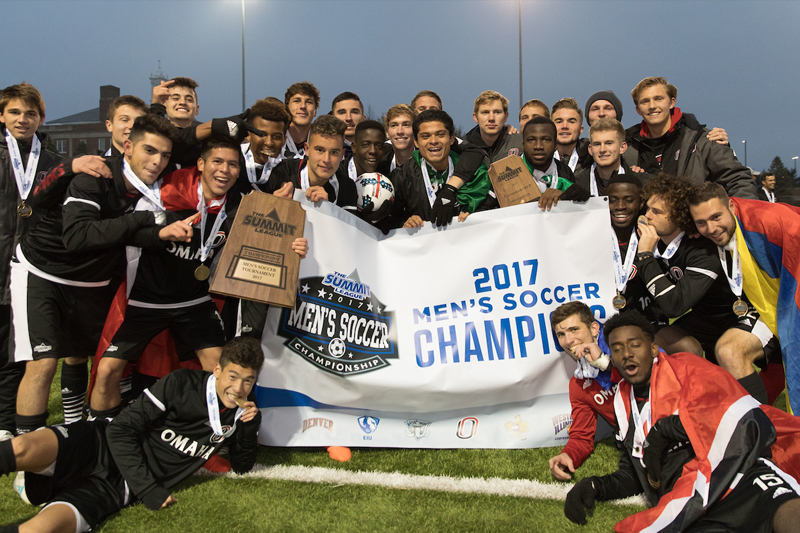 As this World-Herald editorial pointed out, it was a huge accomplishment for a program that was just launched in 2011.
Serving Those who Serve(d)
We are proud be a military-friendly university. In November, Military Times once again named us one of the top ten universities in the nation for veterans and current service members.

Campus Pride
Here's another ranking worth celebrating: Campus Pride Index named UNO Nebraska's most LGBTQIA+ friendly college.
In February 2018, UNO will host the Midwest Bisexual, Lesbian, Gay, Transgender, Ally College Conference (MBLGTACC), the largest student-led LGBTQIA+ college conference in the nation.
Record Turnout
The fifth year of the Native American Film Festival was the largest yet, with more than 450 participants. The festival featured six films, and new this year: musical short films. Forty student volunteers helped make it possible.
---
December 2017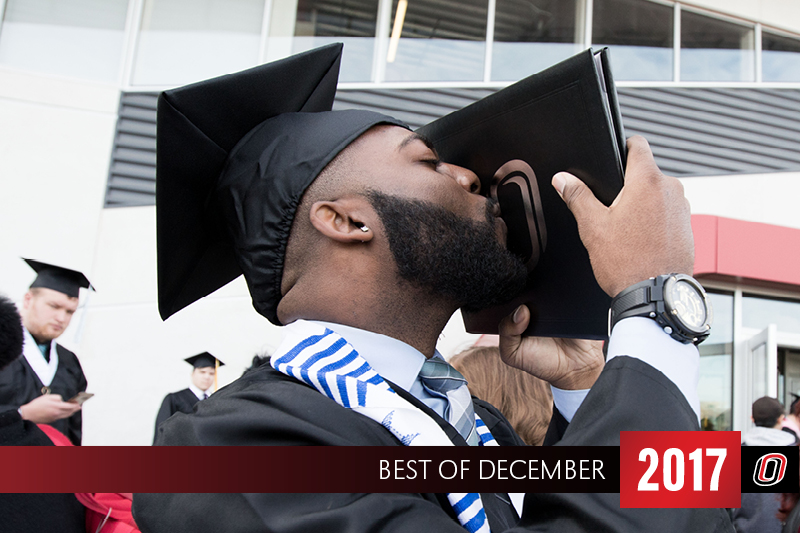 Taking Time to Take a Break
It was a welcome break for students preparing for Finals Week. De-Stress Fest was back and better than ever this December. In addition to tried-and-true student favorites, this December marked a few new events, including a visit to Scatter Joy Acres, a rescue ranch.
Giving Back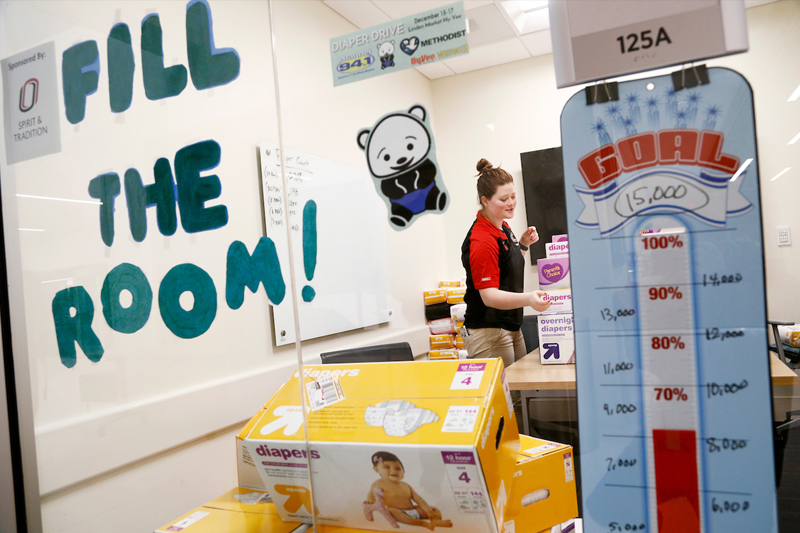 Toys, food, books, toilet paper, and diapers – Mavericks helped make the holidays a little brighter by collecting items for families in need.
New Opportunities
We're proud to sponsor Student Night at Film Streams. In December, Student Night expanded to Film Streams' new Dundee location. Thanks to this program, local students were some of the first to enjoy the new theater.
Celebrating our Newest Grads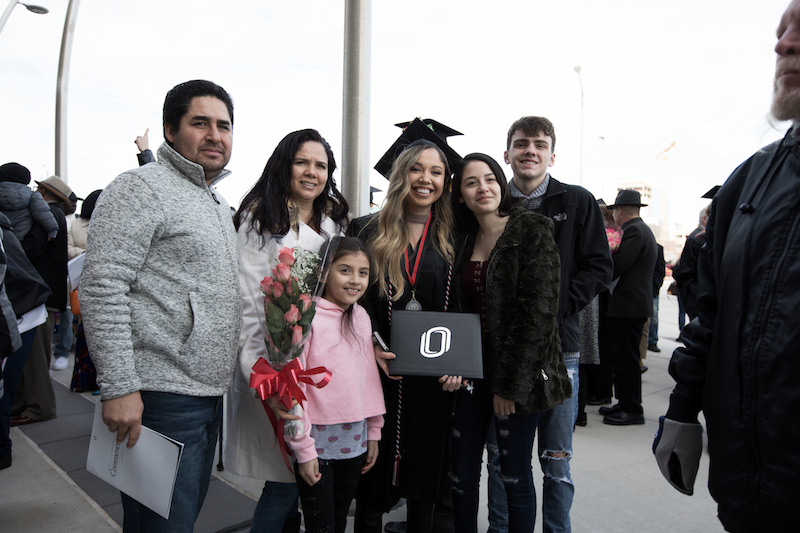 Commencement is one of our favorite events each year. More than 1,000 Mavericks graduated this December. The graduating class represented 24 states and more than 30 countries.
Congratulations to our newest alumni! As we like to say: once a Maverick, always a Maverick!
The People who Made it all Happen
As we look back at the year, we have to say a special thank you to the people who made it all happen: our diligent, caring staff and faculty. Though we don't have space to show you all our staff and faculty members' faces, we do want to call out our Employees of the Month. Thank you for making UNO such a great place to be a student!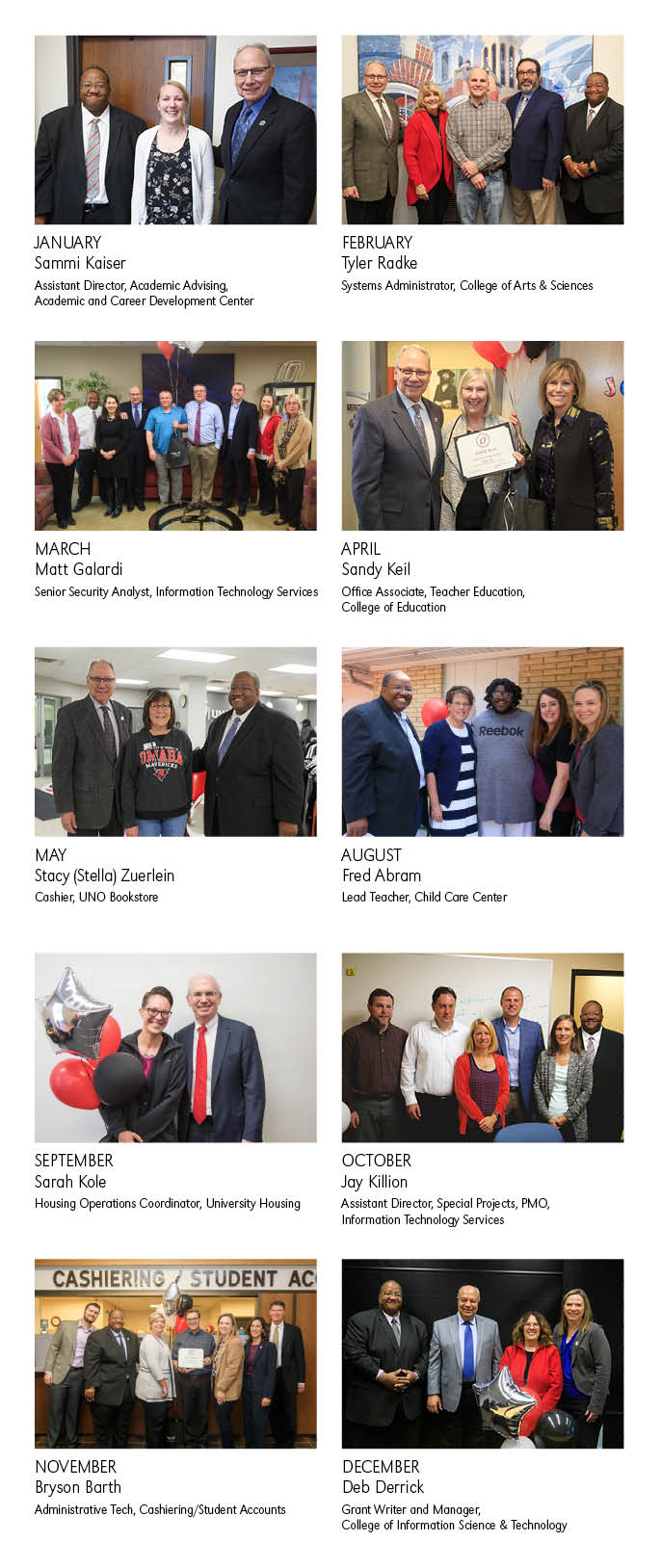 ---
Contact Us
If you have a story idea, news tip, or other question, please email the UNO News team at unonews@unomaha.edu.