Broadcast Tower Removal Complete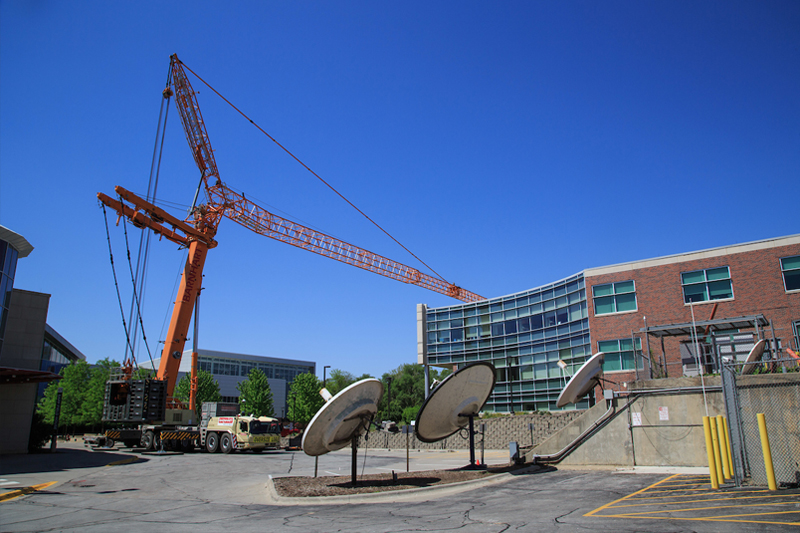 ---
Saturday, May 13
Certain previously closed buildings will be accessible to faculty and staff via MavCard. Faculty and staff should check with their department chair, office director, or the designated project building lead to learn if a building will be accessible during this time.
Sunday, May 14
The Health, Physical Education and Recreation (HPER) Building will open with regular hours.
Monday, May 15
All buildings on Dodge Campus will be accessible as usual. As affected staff and faculty transition back to their main offices, some hours will vary. (Please email unonews@unomaha.edu to add another delayed opening to this list).
| Service/Office/Department | Details |
| --- | --- |
| Department of Biology | The office will be open at 9 a.m. Monday, May 15 |
| MavCARD Services | MavCARD Services will be open for business at noon on Monday, May 15 |
Dodge Campus shuttle pick-up and drop-off will return to Lot M (the parking lot south of Criss Library). The Dodge Campus ZipCar will return to Lot N (outside of HPER).
Parking Services is currently observing open parking through May 19.
Have Questions?
Class locations are listed on MavLINK. Students with questions about courses should check with their professors. For questions about a student service, contact that office.
Faculty and staff with questions should check with their department chairs or office directors.
Additionally, a project lead has been identified for each of the affected buildings. Faculty and staff with questions about transitioning back to their office should relay those questions to their immediate supervisor and designated project lead.
Project Leads (listed by building):
Contact Us
If you have a story idea, news tip, or other question, please email the UNO News team at unonews@unomaha.edu.