A Welcome Message from Chancellor Gold
"I really look forward to our ongoing journey together."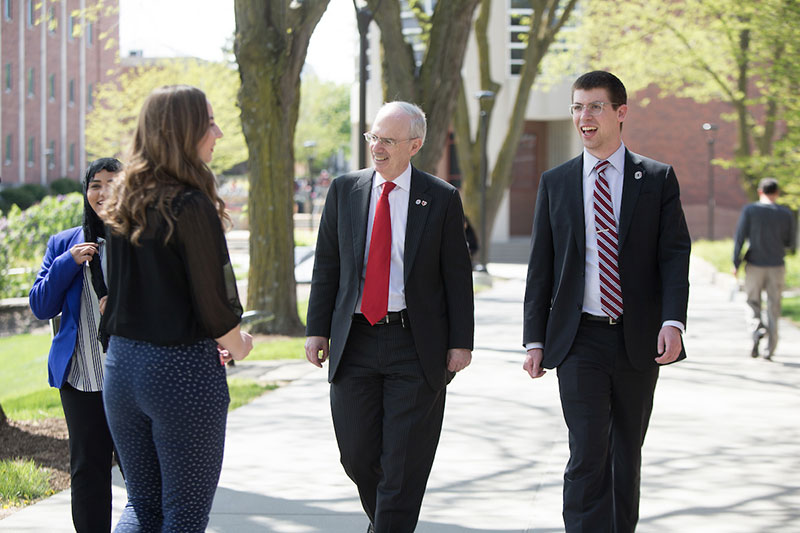 Chancellor Jeffrey Gold's Welcome
On April 27, 2017, Chancellor Jeffrey Gold was excited and grateful for the opportunity at UNO. Today, May 8, marks his first day. 
Full Transcript
Hello, I'm Jeff Gold. And it's a great pleasure for me to join you today.
Today actually marks my first day as the Chancellor of UNO. I just want to tell you how humbled and excited I am by this opportunity. I share your gratitude for Chancellor Christensen's great leadership - a decade of leadership, vision, collaboration, and momentum that is so strong, that we'll all become a part of. Thanks to his efforts and your hard work UNO is in a time of incredible change.
UNO's student-focused, metropolitan university mission will remain the bedrock of everything we build together. Together, we will continue UNO's rich history of prioritizing not just excellence in education, but also access and opportunity.
We will work together to strengthen existing community ties and foster new collaborations. To help with this, President Bounds and I have asked for representatives from across the UNO campus to nominate faculty, staff, students and community members to join chancellor's transition team.
We see tremendous potential collaborations between UNO and UNMC. I hope you do as well. We have already accomplished many things together as sister campuses:
We've created an innovative pipeline of multiple education programs resulting in critical important health professional degrees and research opportunities.

We've developed dual degree programs, expanded our international programming leveraging the outreach we have across the city, the state and halfway around the world.

We have built a new institute focused on biomedical technology and entrepreneurship as well as as multiple, multiple examples of collaboration in cutting-edge research.
So I hope as these days pass you'll be thinking of opportunities for continued collaboration with the Med Center and we will have an opportunity to discuss these together.
There is no question that yes, there will be challenge. But together we'll work hard to turn each challenge into an opportunity. And turn each opportunity into reality.
We need your support. We need your help. We need your dedication for every step of this way. Please know, that you will always have mine. Setting this course, working with you, will require hard work. It will require the building of trust and confidence and dedicated teamwork.
I'd like to end this welcome the same way I did at the Med Center three years ago, and I quote:
"I really look forward to our ongoing journey together."
Thank you so much for being with me today.
Contact Us
If you have a story idea, news tip, or other question, please email the UNO News team at unonews@unomaha.edu.