$2.2 Million Grant Funds New Academic Programs in Afghan Universities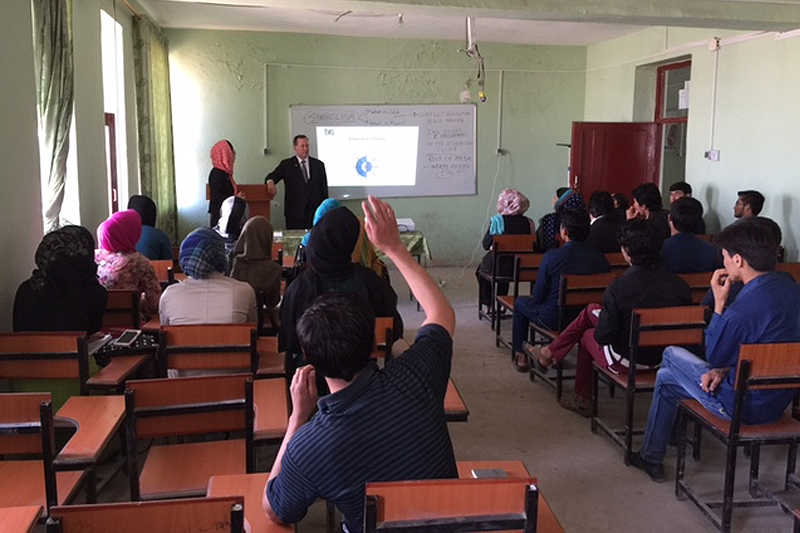 OMAHA – A multimillion-dollar federal grant is bringing together scholars from the University of Nebraska at Omaha (UNO) and Afghanistan to establish new academic programs.
Thanks to a $2.2 million grant from the United States Agency for International Development (USAID), members of UNO's Center for Afghanistan Studies and School of Communication are helping two Afghan universities launch communication curriculums.
The two-year effort is in support of the USAID Afghanistan University Support and Workforce Development Program, which seeks to improve Afghanistan's higher education system and train qualified employees to serve the country's growing economy. The $92 million program began in December 2013 and runs through December 2018.
"This new project continues our long tradition of helping Afghanistan."
- Sher Jan Ahmadzai, director of UNO's Center for Afghanistan Studies
UNO's work began in April, with faculty and administrators visiting Kabul University and Balkh University to evaluate the universities' resources and needs.
International Studies and Programs Director Patrick McNamara was among the group. He is one of the grant's two principal investigators.
"These new communications programs will help promote conflict resolution skills, cross-cultural understanding and free expression, which are the heart of any democracy," McNamara said. "While the university faculty, students and administrators we met were enthusiastic to partner with UNO – which has a long commitment to and great reputation in the region – the security and economic situation in Afghanistan is dire. They desperately want the international community to stay engaged, to help build the education sector and to create pathways to employment for young people."
The new effort is a natural extension of UNO's existing work in Afghanistan. UNO's partnership with Kabul University is the longest of any of its sister institutions.
The new Director of UNO's Center for Afghanistan Studies, Sher Jan Ahmadzai, is the second principal investigator. Ahmadzai took charge of the Center after the retirement of long-term Director Thomas Gouttierre who led the Center for more than 40 years.
"Our biggest achievements all relate to helping Afghans build their capacities," Ahmadzai said. "One of the best ways to do that is help Afghans build their academic capacity so they can produce more capable students for their future and their market needs. This new project continues our long tradition of helping Afghanistan."
In 2010, UNO worked with Kabul University on improving its journalism curriculum. This grant will help Kabul University and Balkh University establish departments focused on interpersonal communication and communication technology.
Just like Kabul's journalism program, the curricula will be designed to be practical and relevant to Afghanistan's needs.
The USAID grant will enable faculty visits, textbook translations and a training seminar in India.
Professor Chris Allen, the academic director of the grant, School of Communication Director Hugh Reilly and Center for Afghanistan Studies Assistant Director Abdul Raheem Yaseer round out the group that completed the initial needs assessment in Afghanistan.
Allen said while both universities have limited infrastructure compared to U.S. schools, he's deeply impressed with their faculty and students.
"The teachers are so dedicated to their jobs, and they work under some daunting circumstances. My colleagues there work hard to provide the best education to the students they can. And the students are upbeat, curious and industrious."
Visiting faculty will arrive at UNO this fall. The next planned trip to Afghanistan for the UNO team is scheduled for 2017.
For media requests, please contact:
Sam Petto, UNO Media Relations Coordinator
unonews@unomaha.edu
402.554.2704
or
Charley Reed, UNO Associate Director of Media Relations
unonews@unomaha.edu
402.554.2129
About the University of Nebraska at Omaha

Located in one of America's best cities to live, work and learn, the University of Nebraska at Omaha (UNO) is Nebraska's premier metropolitan university. With more than 15,000 students enrolled in 200-plus programs of study, UNO is recognized nationally for its online education, graduate education, military friendliness and community engagement efforts. Founded in 1908, UNO has served learners of all backgrounds for more than 100 years and is dedicated to another century of excellence both in the classroom and in the community.
Become a fan of UNO on Facebook: www.facebook.com/unomaha and follow UNO's Twitter updates at http://twitter.com/unomaha.
About USAID
With more than $17 billion spent on development programs in Afghanistan since 2002, USAID provides the largest bilateral civilian assistance program to Afghanistan. USAID partners with the government and people of Afghanistan to ensure economic growth led by the country's private sector, establish a democratic and capable state governed by the rule of law, and provide basic health and education services for all Afghans.
Contact Us
If you have a story idea, news tip, or other question, please email the UNO News team at unonews@unomaha.edu.