Parking Changes on Campus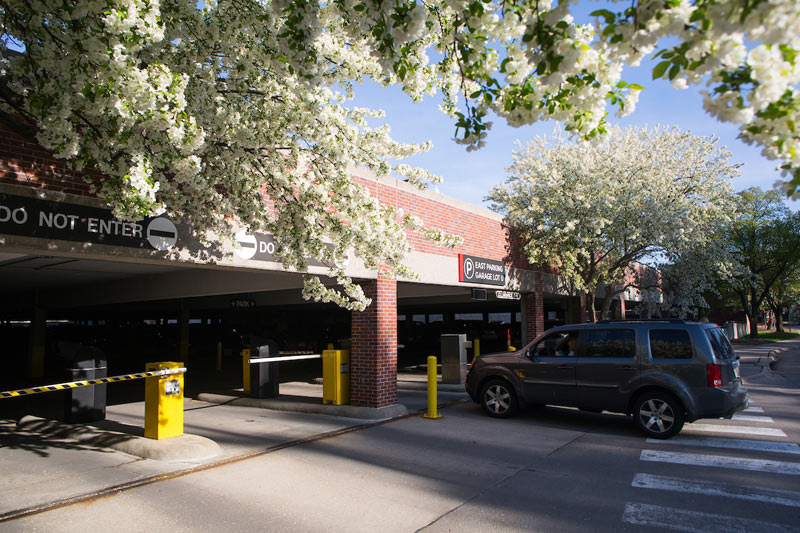 OMAHA – Students, faculty, staff and visitors have more permit options than ever before.
Many new parking updates took effect in July 2017. Read on for a summary of what's new.
Virtual Permits
Two Garages Going Gateless
Hourly/Daily Pay Options
Open Parking Options on Fridays
Carpool Permits
Shuttle Express Routes, Limited Service to Lot 26 (Baxter Arena)
Reciprocal Permits
Visitor Lot Violations
---
New to campus? The University of Nebraska at Omaha (UNO) Parking Services website should be your first stop. That's where you'll find helpful information on buying a permit, maps of available lots and more.

If you're looking for in-person support, stop by the new Parking Services Building, which is located just south of the new Pacific Street Garage.
---
Virtual Permits
Parking permits are now associated with a vehicle's license plate instead of the traditional rear-view mirror hangtags. That means immediately after you purchase an annual or semester permit on MavPark, you'll be able to park on campus. Parking Services no longer prints physical permits.
All students, faculty, staff and visitors must register their vehicle information when purchasing a virtual permit. Accurate input of your license plate number is essential to avoid a violation. Only one vehicle registered to your account can park on campus at a time. Remember to update your license plate information whenever you recieve new plates.
Permits are currently available and can only be purchased online. All students who purchase an annual or semester virtual permit - including residents and graduate teaching assistants - will now pay for their permit through Mavlink. After purchasing a permit, the cost will be added to their Mavlink balance.
Two Garages Going Gateless
The new Pacific Street Garage (across from the Peter Kiewit Institute on Scott Campus) and West Garage (near Maverick Village on Dodge Campus) don't have entry/exit gates, but you'll still need a virtual annual, semester, daily or hourly permit to park there.  In lieu of a physical permit, a camera will read your license plate.
The East Garage (south of Arts & Sciences Hall on Dodge Campus) will remain gated. If you purchase a virtual permit for this garage, a camera will read your license plate and open the gate. Gates will remain open on the surface level of the East Garage, and after 12:30 p.m. Monday - Thursday, the garage will be open to those with virtual daily or hourly permits, as well as all valid annual and semester permit holders.
 Hourly/Daily Pay Options
Only on campus for a short time each week or semester? Save money by purchasing a daily or hourly virtual permit, instead of a semester or annual permit. 
Both the Pacific Street Garage and West Parking Garage will be open for hourly and daily parking. Pay-to-park by the hour with the ParkOmaha app or new kiosks in both garages. ParkOmaha app users will find lot zone numbers clearly posted at eligible parking sites. 
Advanced purchase, full-day permits are available online for a discounted price.
 Open Parking Options on Fridays
Every Friday, no permit will be required to park in all three UNO parking garages and all Scott Campus faculty, staff and student lots in general use stalls only. Parking on Dodge Campus surface lots and all university reserved and handicap stalls, meters, motorcycle areas and load zones will still be enforced. Open parking will continue to be available on Saturdays and Sundays as well - with exception of reserved and handicap stalls, motorcycle areas and load zones.
Carpool Permits
Beginning July 1, discounted carpool permits will be available for student or faculty/staff carpools of two or more riders. Carpool permits are assigned a reserved stall in one of the UNO garages, and must use that stall if parking on campus from 7 a.m. to 5 p.m. Monday through Friday.
No carpool partner? Parking Services can help you find a match! Fill out a ride matching form on MavSYNC to get started.
Shuttle Express Routes, Limited Service to Lot 26 (Baxter Arena)
In 2016, Parking Services introduced a route running directly between Scott housing and Criss Library. In August 2017, Parking Services will transition all its shuttle routes to express routes, meaning that the routes run between a single point on each campus, rather than stopping at multiple sites per campus. Updated route maps and schedules will be available on the Parking Services website in Summer 2017.
During Fall 2017 and Spring 2018, shuttles to and from Center Campus Lot 26 (Baxter Arena) will run from 7 a.m. to 5 p.m., circulating every 20 – 30 minutes. Stops will occur at Lot 26, Scott Campus and Dodge Campus. No permit is required to park in Lot 26.
With the addition of more on-campus parking, shuttle service to Lot 26 is scheduled to end in April 2018.
Reciprocal Permits
Parking Services will continue to honor all valid permits from other University of Nebraska system campuses (UNK, UNL and UNMC). The lots that are available to you will depend on your permit type. Registration of your permit will be required. Contact Parking Services for registration.
Reciprocal faculty and staff permits are valid at First Christian Church, Saint Margaret Mary Catholic Church, or in the Pacific Street Garage on levels four and five.  Student permit holders are valid park at Saint Margaret Mary Catholic Church or in the Pacific Street Garage on levels four and five.
If you have a UNO virtual permit and need to visit another campus, contact Parking Services to request a physical permit that can be used on our sister campuses.
Visitor Lot Violations
Out of an effort to respect special events happening on and around our campus, Parking Services will now issue $50 Visitor Lot violations to faculty, staff and students who park in a reserved visitor lot or an area blocked off for an event.
Lots Included: 3 (Biomechanics Research Building); 9 (Scott Conference Center); 15 (Mammel Hall visitor lot); D and E (by Criss Library and Weitz Community Engagement Center); I (Welcome Center); X (Thompson Alumni Center); the University Village Clubhouse lot and the Scott Clubhouse Lot; and all metered stalls.
This violation type also affects those violating any reserved parking that has been closed or barricaded for an event by Parking Services.
Violation Reminder
Receive a ticket and have questions or concerns? If this is your first violation, you will have 30 days to visit Parking Services and request that it be waived. This only applies to violations of $30 or less.
---
Still have questions? Check out Parking Services' list of Frequently Asked Questions.

Contact Us
If you have a story idea, news tip, or other question, please email the UNO News team at unonews@unomaha.edu.
Our Campus. Otherwise Known as Omaha.
The University of Nebraska does not discriminate based on race, color, ethnicity, national origin, sex, pregnancy, sexual orientation, gender identity, religion, disability, age, genetic information, veteran status, marital status, and/or political affiliation in its programs, activities, or employment. Learn more about Equity, Access and Diversity.
scroll to top of page