MavRide: More Than Just a Free Ride
Taking the bus to and from UNO is as easy as 2, 11 and 15. It's free and easy once you understand the details.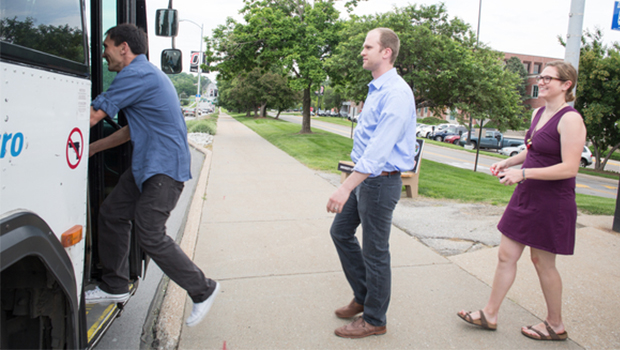 If you're on campus, getting around Omaha can still be pretty easy even without a car. UNO partners with Omaha Metro to offer students, faculty and staff an alternative form of transportation.
What You Need to Know
There are three bus routes (Nos. 2, 11 and 15) that have drop off points near UNO's Pacific and Dodge Campuses, all you need is your MavCARD.
Wait for the bus at an approved stop. Once you get on, swipe your card. It'll ask you to show your ID. Most drivers will just welcome you on board and you can take a seat anywhere and relax.
Route 2: Goes down Dodge Street. Starting at Westroads Mall, this route goes all the way down to the Old Market. Midtown Crossing and Dundee have stops on this route as well.

Route 11: Starts at the Bergan Mercy Hospital at 72nd and Center and heads down to 24th and Leavenworth.

Route 15: Main artery is Center Street. This can get you as far west as Rockbrook Village or the Oakview Mall. It also heads north on 42nd street and goes through the Blackstone District and Farnam Street on its way downtown.
---
Where You Can Go
Dodge Campus (Route 2) to:
Westroads Mall: The end of the route and Transit Center is steps away from Granite City, the movie theater and the new Flagship Common entrance to the mall.

Midtown Crossing: Jump off at Dodge and 33rd Streets by Wohlner's and the Mutual of Omaha Building.

Old Market and Downtown: Jump off at 13th and Douglas Streets and stroll through Gene Leahy Mall
Pacific Campus (Routes 15 and 11) to:
Old Market and Downtown: Hop the 15 near Center or take the 11 from Mammel Hall and Pacific Street.
Additional Routes
View additional routes around the Omaha metro
---
Why Others Ride
From Earth Week 2015's "Why I Ride"
Justin Black - Health Administration Major
"I ride the bus because I enjoy the walk and meeting new people as well as just being able to relax during my commute to school."
[T]he main benefits are less wear and tear on my vehicle along with being able to relax getting to work without the distractions of the rush hour.
- George Killian
Michelle Heimerman - Civil Engineering Major
"I ride because it saves a bunch of money on gas and it's an easy way to get a bit of exercise."
Amber Johnson - Student Director and Coordinator UNO Dialogue Initiatives
"MavRide has provided me with quick, free transportation from Village Pointe to UNO. Not just convenient, it's also given me the chance to meet a number of community members and fellow students. It's great to spend driving time on homework or listening to music. I hope to see more students aware of it and taking advantage of such a great opportunity."
George Killian - Assistant Director Facilities Management & Planning
"I was riding the bus prior to the MavRide promotion for a variety of reasons, but a couple of the main benefits are less wear and tear on my vehicle along with being able to relax getting to work without the distractions of the rush hour. I'm able to read or get some additional work done while riding. The extra time actually helps me prepare for my day at work."
Zach Maharaj - Media Arts Major
"Being able to make trips more often while saving money on gas and even a vehicle is great. Thanks MavRide team!"
Liz Olree - Geology Major
"I ride the bus because it helps me save money that I would otherwise be spending on gas, car payments and insurance. And it's nice not to have to worry about finding parking on campus."
Robert Shuster - Department Chair Geography/Geology
"I ride the bus for several reasons. First it means that I don't have to hunt for a parking spot. Secondly, I am reducing my carbon footprint, which makes me feel good. Thirdly, it's free!
Patrick Wheeler - Senior Environmental Specialist
"I choose to ride the bus when I can to improve my triple bottom line. People, planet, prosperity. Setting an example for others, lessening the damage I impart to our planet and saving money are all reasons I choose to ride. I have been pleasantly surprised, though. I think the biggest benefit for me is the fact that I'm less tense than if I'd have driven. I don't have to dodge distracted or uncourteous drivers, but instead review the day's events and spend my time planning or sharing conversation with others.If you live near a bus line, try it. If not, at least share a ride (Zimride can help). I think you'll be pleasantly surprised."
---
Share Your Story
Do you ride the bus using MavRide? Let us know what you like about it and how it helps you.
Contact Us
If you have a story idea, news tip, or other question, please email the UNO News team at unonews@unomaha.edu.