Sierra Club Names UNO a 2017 Cool School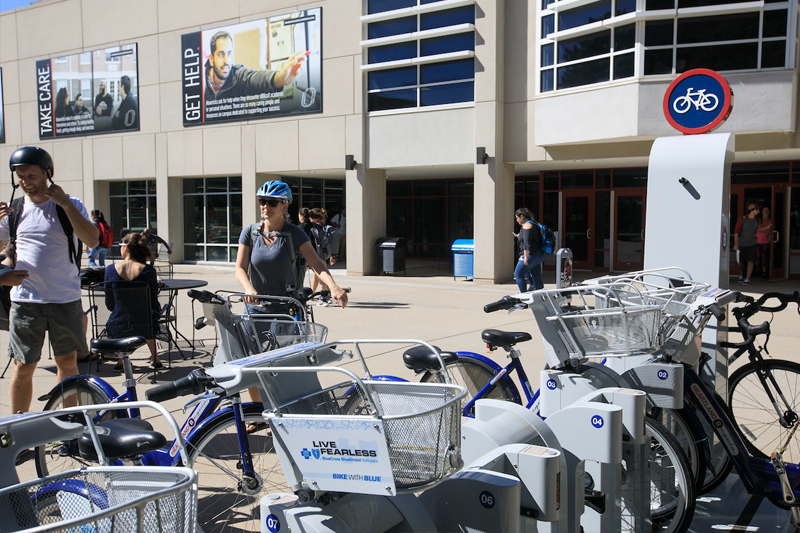 One of UNO's top scoring categories was Sustainable Transportation, thanks to on-campus options like the B-Cycle bike sharing program.
The University of Nebraska at Omaha (UNO) is one of 227 higher education institutions across the U.S. to be named a '2017 Cool School' by Sierra Club Magazine. Only one other Nebraska school earned the honor this year.
Open to all four-year undergraduate colleges and universities across the nation, this annual ranking serves as a guide for prospective and current students, administrators, and alumni to compare higher education institutions' environmental commitments.

This is the second year UNO has received this honor. This year, UNO earned more than 430 points, increasing its standing from last year's 340 points. UNO Sustainability Coordinator Sarah Burke said UNO earned its top scores in the categories of Sustainability Planning, Co-Curricular Activities, Waste Management, and Sustainable Transportation.
"I am very proud of the university's efforts over the past year to enhance sustainability on campus," Burke said. "It takes more than one individual or department to make a sustainable campus; it requires the entire university to embrace ongoing campus sustainability efforts."
UNO has made tremendous strides to increase its sustainability efforts over the past few years and the 'Cool School' ranking reflects these efforts. In 2015, UNO hired its first sustainability coordinator to provide more focused attention on the Sustainability Master Plan and data collection. Additionally, UNO expanded its MavRIDE program in 2016; allowing all active students, faculty, and staff the use of the city bus free of charge. Finally, in the area of academics, UNO has enhanced its sustainability course offerings including the opportunity for students to earn a Sustainability Minor.

This is not the first time that UNO has been recognized for its sustainability efforts. In 2017, the university earned a STARS Silver Rating in recognition of its sustainability achievements from the Association for the Advancement of Sustainability in Higher Education (AASHE). STARS, the Sustainability, Tracking, and Rating System, measures and encourages sustainability in all aspects of higher education. Additionally, UNO has been recognized as a '2016 Green College' by Princeton Review and has been an Arbor Day Foundation's 'Tree Campus USA' honoree since 2011.