UNO Residence Hall Association Wins Two Regional Awards
UNO RHA received two regional awards from MACURH - one for sustainability and one for professional service.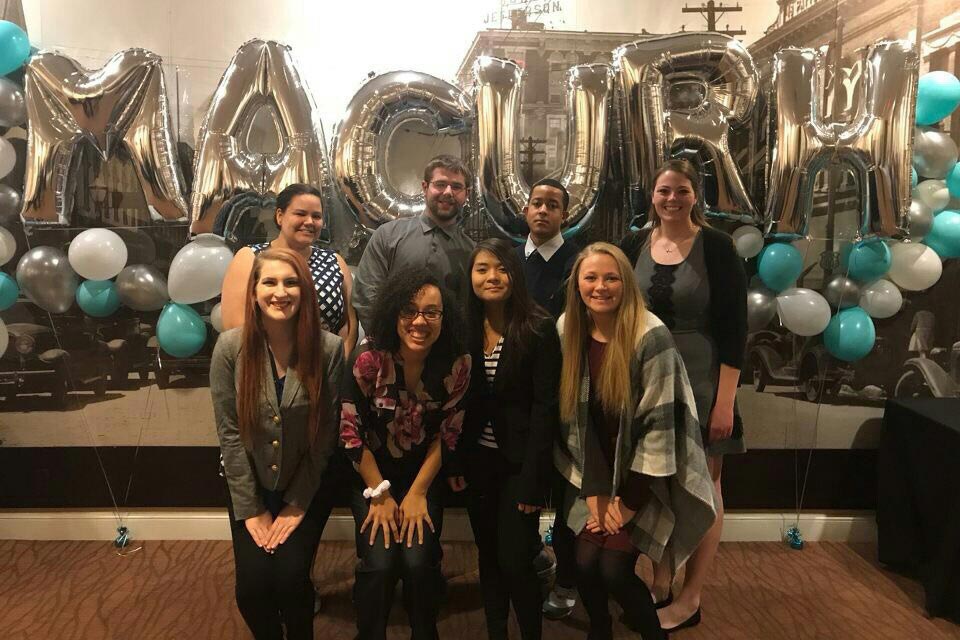 Seven UNO students attended the regional leadership conference of the Midwest Affiliate of College and University Residence Halls from November 10-12, 2017. Residence hall student leaders from across the seven-state region gathered to network, share resources, conduct the business of the organization, including passing legislation, voting on award bids, and hearing updates from the regional and national board of directors. There were approximately 40 institutions represented – 250 student leaders and 50 advisors.
UNO was represented by a student delegation including:
Trevor Harlow (Residence Hall Association (RHA) President)

Cynthia Aspegren (RHA Vice President and National Communications Coordinator)

Touki Phommakhanh (National Residence Hall Honorary (NRHH) President)

Savannah Davis (RHA Sustainability Committee Chair)

Avery Misfeldt (Scott Housing Council (SHC) Vice President)

Alison Raszler (SHC Secretary/Treasurer)

Taye Coleman (SHC Public Relations)
accompanied by RHA/NRHH Advisor Chloé Smith. These delegates represent the almost 30-member RHA board on campus, made up of both Dodge and Scott campus student leaders/residents.
Prior to this weekend's conference in Iowa City, Iowa, UNO's RHA submitted three award bids to be considered for regional awards. There was strong competition in all three categories, and we are pleased to share with you that two of UNO RHA's award bids won this weekend.
UNO was nominated and won the "Commitment to Sustainability" Award

Chloé Smith was nominated and won the "Cindy Fendrick Award for Professional Service"
A few images of the evening's festivities, as well as the winning award bids can be found here.
Additionally, both award bids will be forwarded to the National Association of College and University Residence Halls to compete on the national level this summer.