UNO Celebrates Human Rights Contributions of Goldstein Family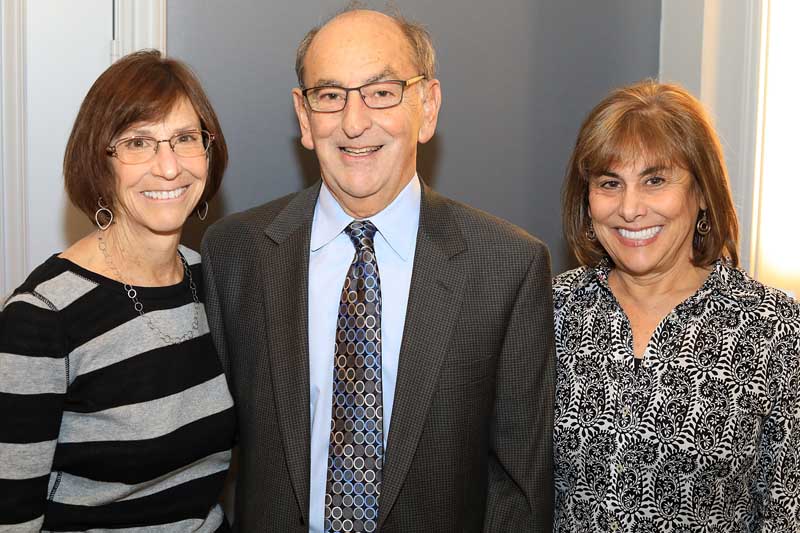 OMAHA – The life and contributions of two Omahans to human rights causes were honored at the University of Nebraska at Omaha (UNO) last week.
On Oct. 20, representatives from UNO administration, University of Nebraska Foundation and College of Arts and Sciences joined members of the Omaha community to celebrate contributions made by Leonard and Shirley Goldstein, and their family, at the Thompson Alumni Center.
The event was in recognition of the newly-created Goldstein Family Community Chair in Human Rights and recent approval by the University of Nebraska Board of Regents to create the Leonard and Shirley Goldstein Center for Human Rights.
"We are incredibly honored and thankful to the Goldstein family for all they've done at UNO, but also for their incredible humanitarian contributions over their lifetimes," Arts and Sciences Dean David Boocker said.
On Thursday, Oct. 5, the Board of Regents approved the creation of the Leonard and Shirley Goldstein Center for Human Rights at UNO. The center, which still requires approval by the Nebraska Coordinating Commission for Postsecondary Education (CCPE), will be a nonpartisan, nonsectarian organization that promotes the understanding of human rights issues through teaching, research, creative activity, and community engagement.
The center will be made possible and supported annually through a permanent $2 million endowment at the University of Nebraska Foundation by the late Shirley Goldstein, who died earlier this year. Her husband, Leonard died in 2012.
"This is truly a public-private partnership that will attract individuals who truly want to change the world," UNO and UNMC Chancellor Jeffery P. Gold said at the event. "There have been times in the history of the world that we could have used academic expertise on human rights. We need clear, studied, thoughtful views … to talk to people across the spectrum in our society."
In July, the University of Nebraska Foundation announced the creation of the Goldstein Family Community Chair in Human Rights, made possible by support from Leonard and Shirley's children: Donald Goldstein, Kathy Helm and Gail Raznick. The post will be filled by Assistant Professor of Religious Studies Laura Alexander.
This is the first community chair for UNO in a humanities-related field.
"We are happy Laura is here because the whole position will be interdisciplinary and she will be the hub on the wheel," explained Donald Goldstein. "This is a community position that will extend [academics and research] into the community and region and lead to more involvement on issues [of human rights]."
Alexander received her Ph.D. in Religious Ethics from the University of Virginia and has research expertise in areas of human rights; comparative religious ethics; religion and immigration; and the role of religion in war and national sovereignty.
"The Goldstein family and UNO have built up an amazing structure for effective programming in human rights, including lectures, research, courses and interdisciplinary work on human rights," Alexander said. "I'm honored to be part of these initiatives and to help build bridges at UNO, in the community, and beyond to promote understanding of and engagement with human rights."
The addition of the Goldstein Community Chair and proposed Goldstein Center is the latest in a decades-long relationship with UNO, beginning with the Shirley and Leonard Goldstein Lecture on Human Rights, which was founded in 1997 to focus attention on the plight of people from around the world who suffer from abuse. Past speakers have included international photographer Lisa Kristine; professor and autism advocate Temple Grandin; environmentalist and Native American activist Winona LaDuke; and Amnesty International Executive Director William Schulz.
For more than 40 years, Leonard and Shirley Goldstein fought to resettle Jewish families in Omaha, beginning in the early 1970s with trips Shirley made to the Soviet Union to meet with and assist Jews fleeing the country.
In 1996, Shirley Goldstein was awarded an honorary Doctor of Humane Letters degree from UNO for her many contributions to the cause of human rights, and Leonard was recognized by several organizations including being named Humanitarian of the Year by the Jewish Federation of Omaha in 2011.
Contact Us
If you have a story idea, news tip, or other question, please email the UNO News team at unonews@unomaha.edu.