UNO Residence Hall Association Wins Regional Award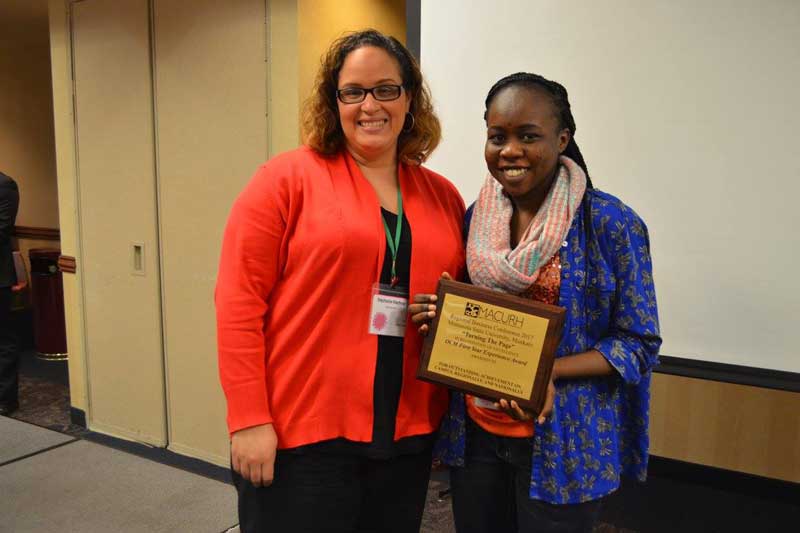 Three students represented UNO at the regional business conference of the Midwest Affiliate of College and University Residence Halls (MACURH), from February 10-12, 2017. Residence hall student leaders from across the seven-state region gathered to conduct the business of the organization, including passing legislation, voting on award nominations, and hearing updates from the regional and national board of directors. There were approximately 120 student leaders and 30 advisors.
UNO was represented by a student delegation including: Trevor Harlow (Residence Hall Association (RHA) President), Nada Kuku (RHA Vice President and National Communications Coordinator), and Cynthia Aspegren (National Residence Hall Honorary (NRHH) President) – accompanied by RHA/NRHH Advisor Chloé Smith. These delegates represent a thirteen-member board, made up of both Dodge and Scott campus student leaders and on-campus residents.
Prior to this weekend's conference in Mankato, Minnesota, UNO RHA submitted an award nomination on behalf of UNO student Franni Dimon to be considered for the First-Year Experience Award. We are pleased to share that the award nomination won this weekend! Franni will be recognized with a plaque from the region and the award nomination will be forwarded to the National Association of College and University Residence Halls (NACURH) to compete on the national level this summer.
Congratulations to Franni and UNO RHA!
Contact Us
If you have a story idea, news tip, or other question, please email the UNO News team at unonews@unomaha.edu.