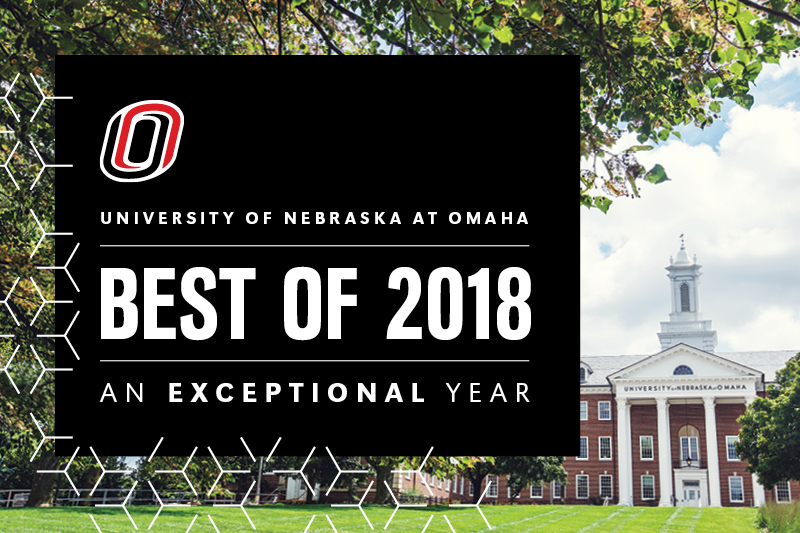 It was a year of exciting opportunities, new records and national recognition. Here's a month-by-month look back at some of the highlights of 2018.
Let us know what you think! Email unonews@unomaha.edu to share ideas for other spotlights as we celebrate the end of the year.
Jump to a month:
---
January 2018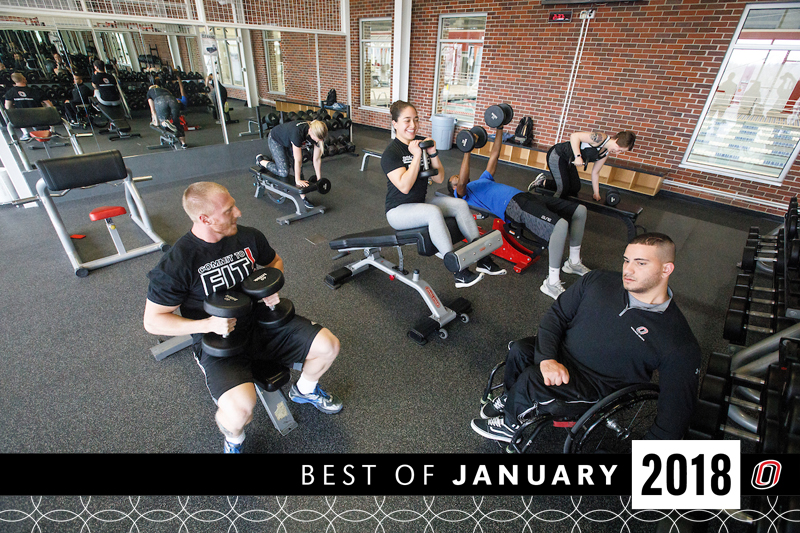 Excelling Online
The year kicked off with a ranking worth celebrating. U.S. News and World Report named two of our online programs among the best in the country. The ranking places the online Bachelor of Multidisciplinary Studies degree at No. 16 in the nation and the online Master of Science in Criminology and Criminal Justice degree as No. 3 of its kind.
Competing Nationally
The UNO Dance team danced their way into the finals at the 2018 UDA Dance Team National Championship. This was the team's first appearance in the competition. The team finished 8th in Divison I Pom category and 9th in Division I Jazz.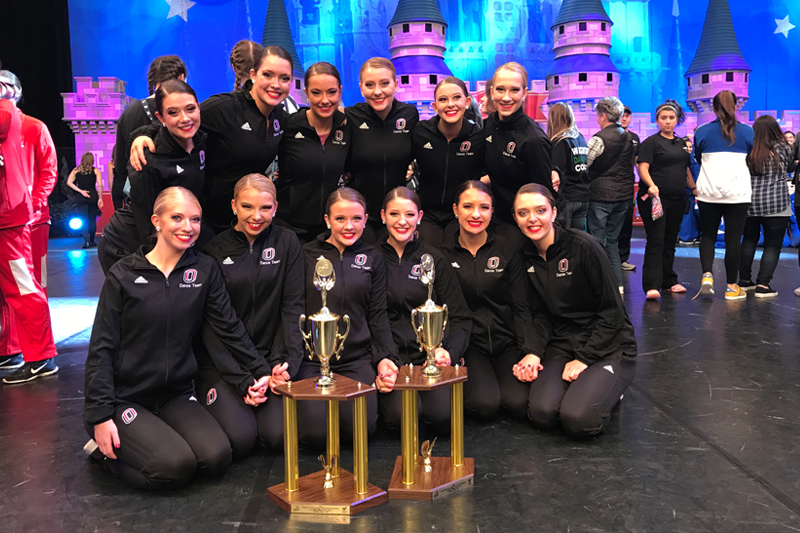 Extending A Helping Hand
Thanks to a private donor, UNO is now able to offer assistance to students who may be facing homelessness and housing insecurity through the UNO Housing Fund. A student receives the assistance by being nominated and then a committee will check out their situation and decide to move forward. It was designed to help students who are facing unexpected or exceptional circumstances receive shelter and assistance to stay on campus and continue their education.


Working On Wellness
Campus Recreation began a fitness initiative to help students, faculty and staff make wellness goals and stick to them. Commit to Fit started by encouraging the UNO community to stop by locations on campus and fill out a card with their wellness goal(s) for the year and also win prizes. It was stressed that "wellness" extends beyond physical activity to also include mental and emotional wellness. The UNO Campus Recreation and Wellness communities offer a number of physical fitness classes students, faculty and staff can take, as well as Counseling and Psychological Services for those in need of support.
February 2018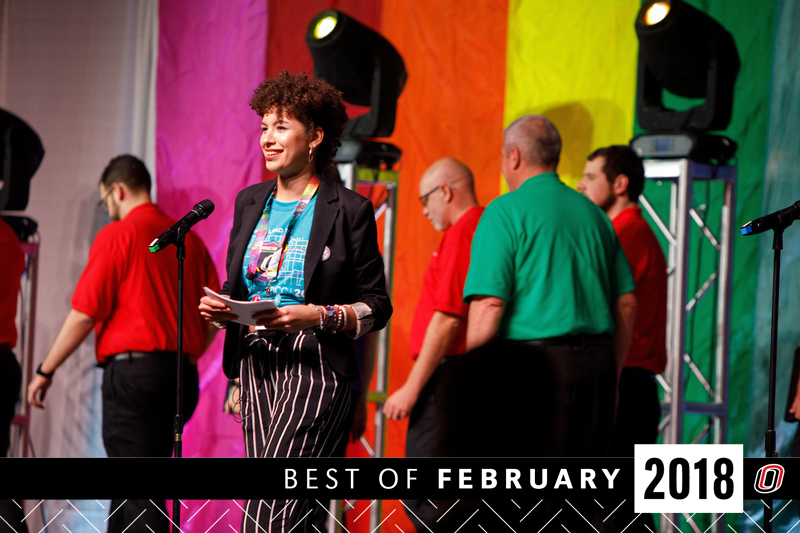 Fostering Acceptance
UNO hosted the largest LGBTQ+ conference in the Midwest. The Midwest Bisexual Lesbian Gay Transgender Ally College Conference (MBLGTACC) is held as an all-day conference that includes workshops and socials that revolve around LGBTQ+ acceptance. This was the first year the conference was held in Nebraska in MBLGTACC's 26 year history.
Strengthening Digital Security
A new ranking identified UNO as the top public university for military and veteran students hoping to pursue a degree in cybersecurity. Military Times ranked UNO's Cybersecurity program as No. 2 in the nation. The ranking came on the heels of a sixth consecutive year of being selected by Military Times as one of the nation's top 10 higher education institutions from a list of more than 600 colleges and universities.
All the World's A Stage…of Women
The UNO Theatre Department was excited to announce that all of the productions in their 2018-19 season would highlight and celebrate the extraordinary work of female playwrights. The decision was made in hopes to celebrate a few of the many talented playwrights whose work has been overlooked in the past. Productions included "The Clearing" by Helen Edmundson, "The Secret Garden" by Marsha Norman and Lucy Simon, "Colonel's Chicken" by Carrie Barrett, and more.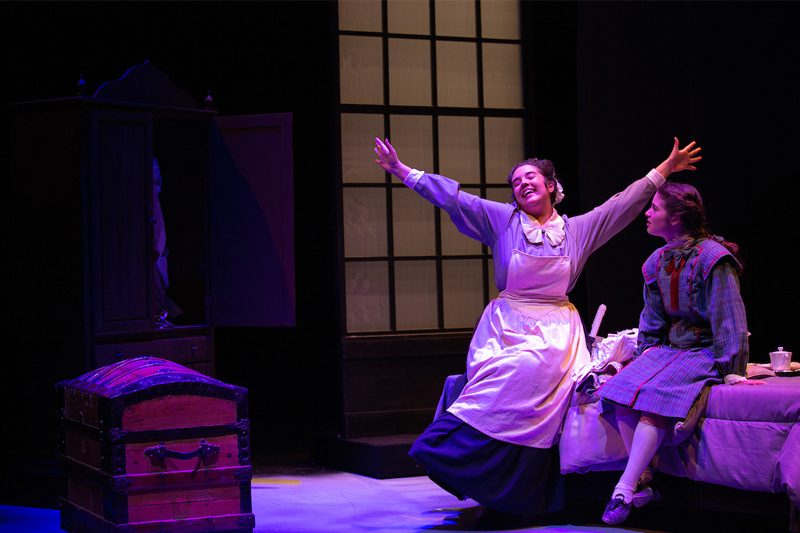 Life of the Party
UNO student Jaida Jackson and her mom Chassidy Jackson-Goodwin, also a Maverick, were featured in an episode of "The Ellen DeGeneres Show." The mother-daughter duo brought home $7,000 after playing a modified version of beer pong with actress Melissa McCarthy, but they weren't finished there. Ellen presented the two with $25,000 from Shutterfly which was also matched by McCarthy herself to help the two finish their educations.

Community Recognition
Dr. Sofia Jawed-Wessel was recognized as a 2017 Ten Outstanding Young Omaha (TOYO!) by the Omaha Junior Chamber of Commerce. Dr. Jawed-Wessel is an assistant professor of public health in UNO's School of Health and Kinesiology. She's also the co-director of the Midlands Sexual Health Research Collaborative. The award honors individuals between the ages of 21 and 40 who show exemplary commitment to improving the Omaha community through selfless acts of kindness while excelling in their professional careers. Other UNO faculty and staff were recognized by TOYO again in October: JohnCarl Denkovich, Eric Servellon, Buey Tut and Jay Irwin.
March 2018

Excellence in Graduate Education
UNO's College of Public Affairs and Community Service was honored by U.S. News and World Report multiple times as part of its "2019 Best Graduate Schools Rankings," with five programs ranked in the top 25 in their respective fields, including a top-15 ranking for the doctoral degree in Criminology and Criminal Justice.

Rankings included:
Finance and Budgeting (No. 6)
Nonprofit Management (No. 11)
Local Government Management (No. 15)
Criminology and Criminal Justice (No. 15)
Public Management Administration (No. 25)
Public Administration (No. 28)

Social Work (No. 75)
Serving the Next Generation of Public Servants
In March, UNO alumnus, former U.S. Secretary of Defense and former Nebraska Senator Chuck Hagel returned to his alma mater to welcome more than 300 area high school students to campus for the inaugural "Chuck Hagel Symposium in Public Service."

The event, which held its second session in October, was designed to introduce young people to the impact and value of civic engagement, leadership and service through hands-on learning experiences provided by Hagel and UNO faculty experts.
Helping Alumni Give Back to Their Communities
UNO annually participates in a Global Day of Service each March. However, on March 24, 2018, members of UNO's alumni were encouraged to participate as well thanks to a partnership between the UNO Alumni Association and UNO Office of Civic and Social Responsibility.

Projects undertaken by alumni in Omaha included the Open Door Mission, Stephen Center and Omaha Street School, while alumni throughout the United States and internationally included volunteering at the New Visions and Homeless Services organization in Council Bluffs, Iowa; helping launch a new recycling effort in Spearfish, South Dakota; and picking up litter in Karlsruhe, Germany.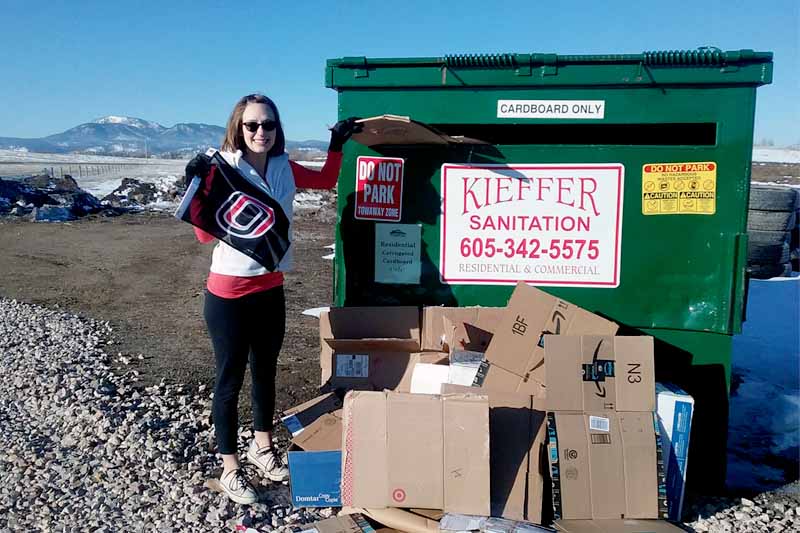 Human Rights Education Through Engagement
Whether it's in Nazi Germany or in the heart of the Great Plains, a history of discrimination and oppression has negatively impacted a large number of minority groups.

In March, UNO's Sam and Frances Fried Holocaust and Genocide Academy teamed with the United States Holocaust Museum to hold "Vectors of Violence," a free, two-day educational forum bringing together nationally-recognized experts to discuss options and solutions for combating racism and hatred in the United States.

Return to Top
April 2018

A Fortunate Opportunity
College of Education student Caitlyn Marco is ending 2018 with some extra money in her pocket and a once-in-a-lifetime experience thanks to her appearance on "Wheel of Fortune" earlier this year.

A part of the show's Spring Break College Week, Marco showed off her Maverick spirit, solving five puzzles and taking home $9,300 in cash with another $1,000 earned in the form of a Dick's Sporting Goods gift card.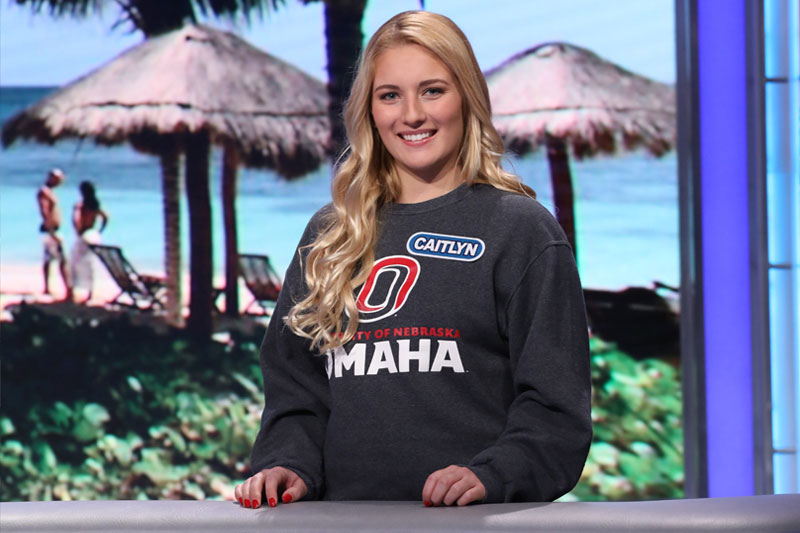 Authors, Entertainers and Diplomats
April at UNO in 2018 was one of big names.

The annual Marion Marsh Brown Writers Lecture Series continued with a visit from "Jack Reacher" author Lee Child, who also provided insight to a number of UNO students. Next up? A sold-out event for best-selling author and Omaha native Nicholas Sparks in 2019!
April also brought Grammy-nominated performer Logic to a sold-out show for UNO students at Baxter Arena and a visit from First Lady Karen Pence as part of a celebration of the Omaha Sister Cities Association. Just weeks later, UNO also welcomed author and former first daugher Chelsea Clinton.


Photos from last night's @MavPro concert. Logic performs at @BaxterArena. pic.twitter.com/H7aOCkZtxV

— UNO (@UNOmaha) April 5, 2018
A Festival of Color
Members of UNO's Indian Student Association welcomed the spring season with the Holi Festival of Colors.
Here are some great photographs from Sunday's Holi Festival of Colors in the Pep Bowl. pic.twitter.com/FpSqo4Re26

— UNO (@UNOmaha) April 23, 2018
Warm Welcome for Warming
The UNO men's soccer team welcomed its second-ever head coach with the hiring of Bob Warming, whose connections to Omaha date back to his time as the two-time head coach of Creighton (1990-94 and (2001-09) including 11 NCAA tournament appearances.

Warming's first season at the helm saw the men's soccer team return to the Summit League Tournament title game for the third straight year.
May 2018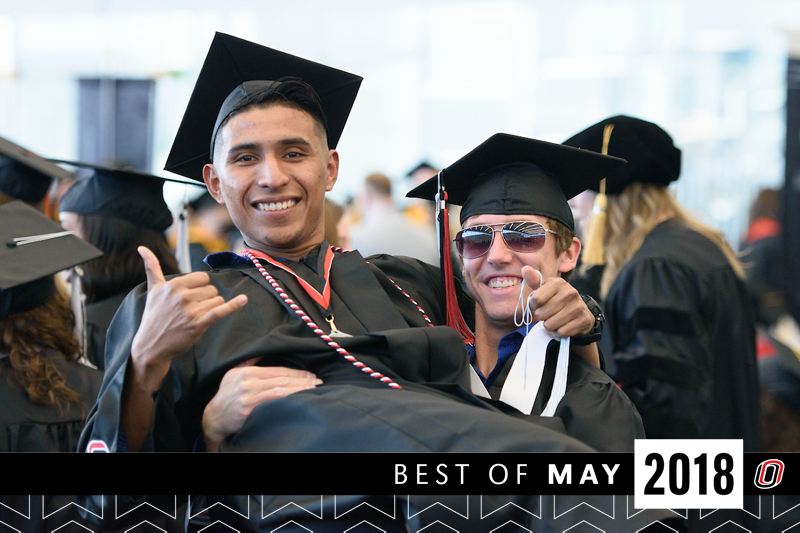 Once a Maverick, Always a Maverick
We celebrated more than 1,700 graduating students during our May commencement ceremonies, among them – our next generation of teachers, civil servants and business leaders.
ASU President Michael Crow received an honorary degree for his Maverick thinking, encouraging graduates to move "at light speed" as they work to improve the world.
Biomechanics Groundbreaking
The word groundbreaking is nothing new for UNO's Biomechanics team. From 3-D printing prosthetics to improving stroke recovery, the work they do is extraordinary. In May, campus and community members gathered to celebrate construction beginning on a new, privately-funded $11.6 million addition. Work is expected to wrap up at the start of the new fall semester.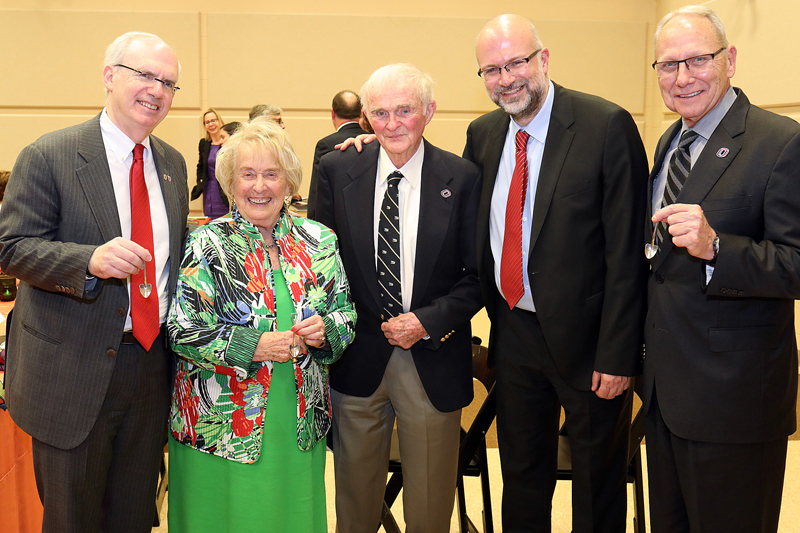 New Heights for Flying Mavs
UNO's aviation team soared to new heights in May, earning their highest team finish in program history at the 2018 National Intercollegiate Flying Association SAFECON competition. The eighth-place finish nationally would be followed by a first place finish at the regional competition later in the year.
A Big Leap Forward

May also brought a big leap forward for Omaha Athletics. Senior Stephanie Ahrens became the first Omaha track & field athlete to qualify for the NCAA Championship in the Division I era. The next month, Ahrens went on to place eighth in the high jump at the competition, clearing 5 feet, 10 inches.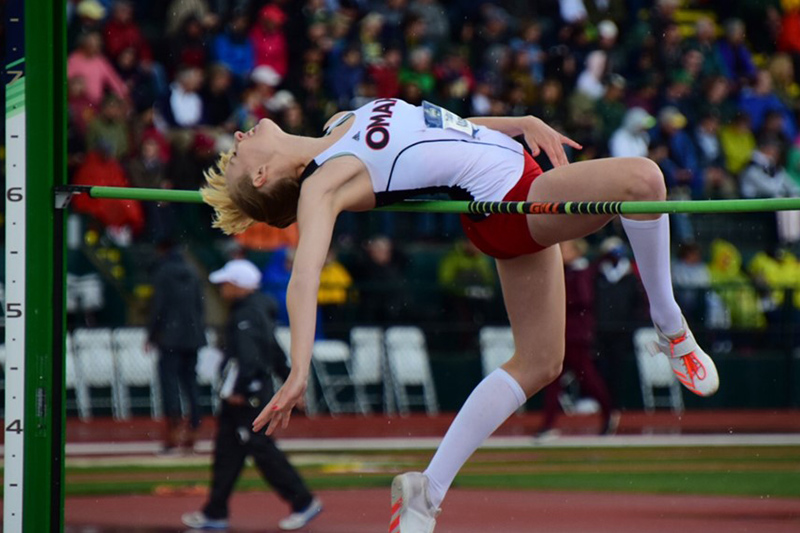 June 2018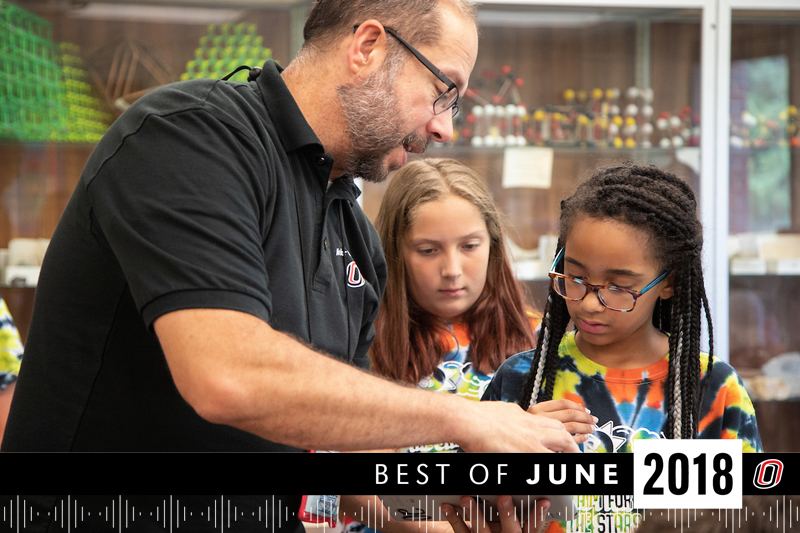 Counter-Extremism on the National Stage
A team of UNO students took home third place and a lot of praise from industry leaders for their creative use of social media to counter extremism. The Anti-Defamation League: Innovate Against Hate campus challenge finals took place in Washington, D.C. The students' project focused on perceptions of refugees - leveraging cutting-edge marketing tech in the College of Business Administration's Koraleski Commerce and Applied Behavioral Laboratory (CAB Lab) to measure physical responses to messages.


Surreal to see our @UNOmaha students, @JGreenblattADL and George Selim share a stage yesterday. Such an honor to share the good work being done in Nebraska with this audience. Thanks @edventpartners for this competition. #InnovateAgainstHate #KnowTheO pic.twitter.com/IXdplaM9Gh

— Ginamarie Ligon (@ginaligon) June 13, 2018

Shake on It
In June, the Academic and Career Development Center (ACDC) introduced a new tool to help students and alumni find meaningful work locally and nationwide. It's called Handshake and if you're on the job hunt, it's your new best friend. Handshake is the place to go to learn when employers will be recruiting on campus, how to apply for off-campus jobs and internships and to schedule appointments with an ACDC career advisor.
Summer Camps in Full Swing

June is summer camp season at UNO. Thousands of kids come to campus each summer for camps ranging from athletics to technology. One of our most popular camps, Aim for the Stars Science & Math Camp, celebrated 20 years this summer.
Crushing on Information Technology

The College of Information Science & Technology (CIS&T) welcomed more than 100 young women and educators to its CodeCrush summer summit. The summit is part of a series of events meant to help close the gender gap in IT. Students heard from a UNO alumna who works at Slack and covered topics ranging from Stitch Fix algorithms to building a personal brand.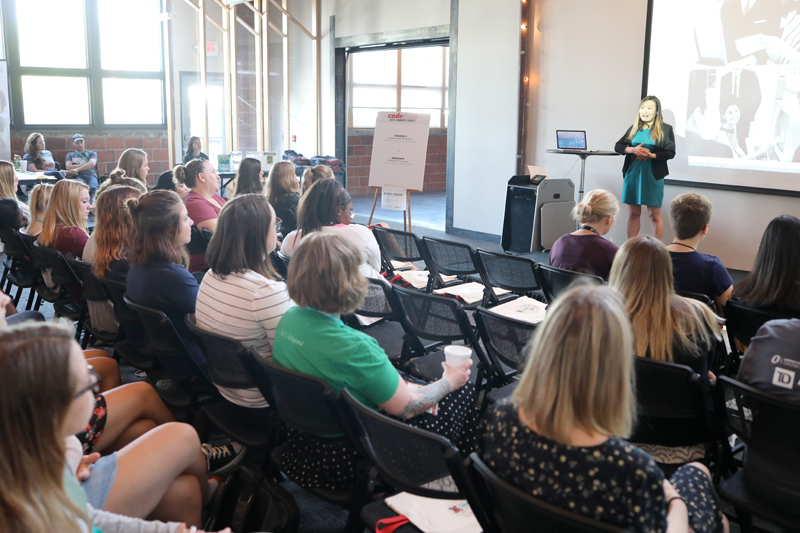 July 2018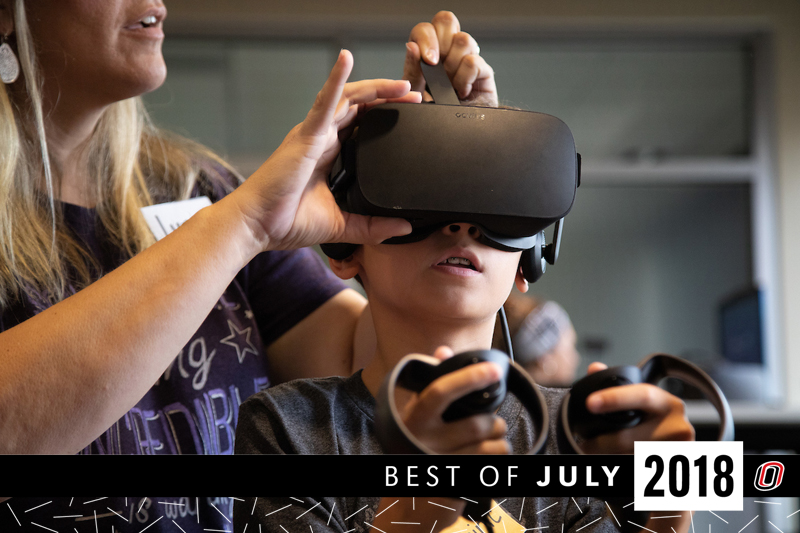 New Faces
UNO welcomed a few new faces to its leadership team in July.
Jane Meza, Ph.D., was named the inaugural associate vice chancellor for global engagement at UNMC and UNO. Doug Ewald was hired as the new Vice Chancellor for Business, Finance and Business Development for UNO and UNMC. UNO also named Ken Bayles, Ph.D., as interim associate vice chancellor of research and creative activity.
UNO Becomes UNO
July 2018 marked the 50th anniversary of the 1968 merger of the University of Nebraska with the Municipal University of Omaha, giving UNO its current name. This eventually led to the creation of the University of Nebraska Medical Center, and in 1991 Kearney State College also merged with the University of Nebraska.
It was a big year of anniversaries in 2018. It was 80 years ago that UNO moved to its current location on Dodge Street, and 110 years since the university was founded.
BODYMODELS
UNO's Roskens Hall was host to STEM activity over the month of July. Omaha-area elementary teachers from the first BODYMODELS cohort joined faculty from UNO's Department of Biomechanics and Teacher Education Department to develop a biomechanics curriculum to implement in their classrooms in the fall. Children attended sessions in July to help the teachers work through their new lesson plans.
August 2018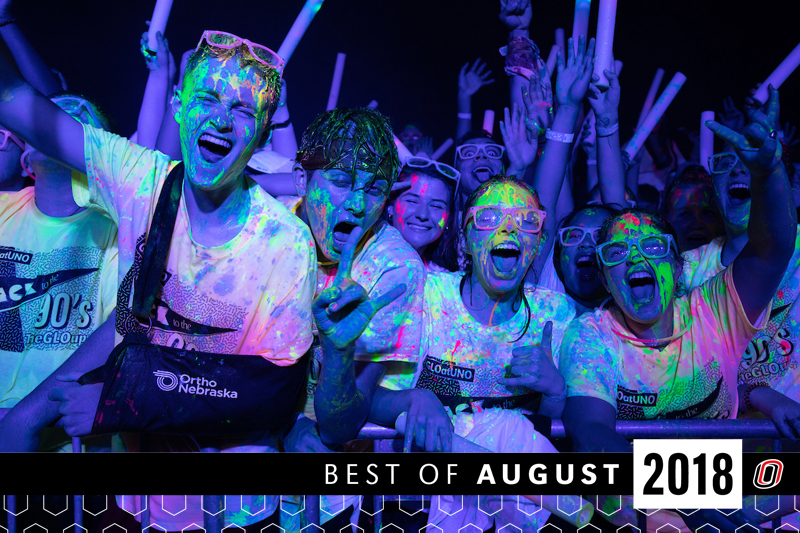 Welcome Home, Mavs
Every August a new generation of Mavericks moves into our on-campus apartment style dorms and takes their first college classes. This year we welcomed more than 2,151 new first-year students, the largest incoming class for the fourth straight year.
The students were met with a week-long celebration called Durango Days, where they can make new friends by going to carnivals, grabbing some lunch on the Pep Bowl or catching a flick on movie night.
UNO Professor Discovers New Species Of Dinosaur
UNO geology professor George Engelmann made national headlines for unearthing the fossils of a never-seen-before species of dinosaur.
The fossil is a species of pterosaur, more commonly referred to as pterodactyls. Unlike most pterosaur fossils, these bones were found fully intact because they were discovered in sand dunes.
🦕 UNO geology professor George Engelmann is making national headlines for unearthing the fossils of a never-seen-before species of dinosaur 🦖. https://t.co/poHB3xP8or#KnowTheO pic.twitter.com/ja2yddGYlT

— UNO (@UNOmaha) September 6, 2018
#BeKindDay
Omaha leaders spoke at UNO on Friday, Aug. 24, putting a focus on kindness.
A press conference at UNO's Thompson Alumni Center featured a metro-wide proclamation and signing of a resolution naming Aug. 24 #BeKind Day. The event included Chancellor Jeffrey P. Gold, M.D., metro mayors, police and fire leadership, and school superintendents.
There's an App for That
August marked the launch of UNO's official mobile app. The UNOmaha app brings all things Maverick into one easy location for your mobile device. Get the latest news, track campus shuttles, find a building or class, access discounts, and so much more.
Higher Learning Commission Reaffirms Accreditation Of UNO
The Higher Learning Commission (HLC) officially reaffirmed its accreditation of UNO. Chancellor Gold received the confirmation letter and it became effective July 31, 2018. The official communication came after months of preparation, a comprehensive report submitted to HLC, as well as a successful site visit in March 2018.
September 2018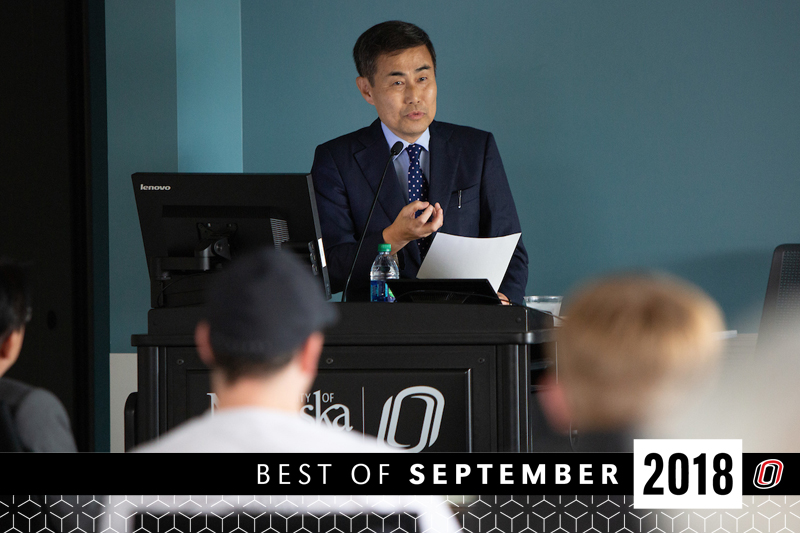 A High Definition Upgrade
UNO Television updated decades-old equipment that allowed students to produce programs only in the old standard-definition television format.
The conversion to a 4K HDTV was made possible by grants from the Nebraska Broadcasters Association, The Knowledge Network, a coalition of five Omaha-area schools that airs programming on Cox and CenturyLink channels, and the Corporation for Public Broadcasting.
"It makes UNO Television the most up-to-date studio in Omaha," said Christopher Allen, general manager of UNO Television.
Business Expansion
On Wednesday, Oct. 3, the University of Nebraska Board of Regents approved the program statement for a proposed 43,700 square foot addition to Mammel Hall, home of the UNO College of Business Administration. Construction on the privately-funded, $17 million addition is expected to begin Sept. 2019 and be completed by April 2021.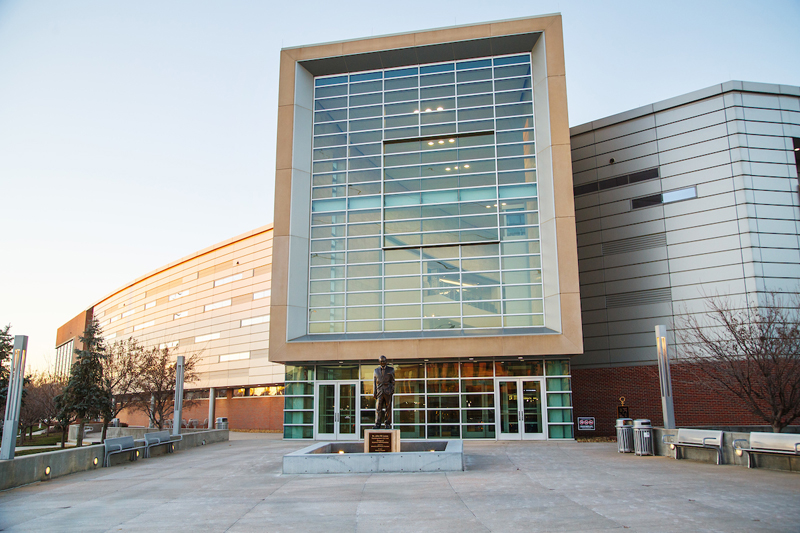 Sister Universities Unite
For nearly 40 years, two campuses more than 6,000 miles apart have maintained a strong and lasting friendship that has helped support thousands of students.
In September, we celebrated the 39th anniversary of its partnership with Shizuoka University by hosting Shizuoka University President Kiyoshi Ishii on his first visit to Omaha.
Presidential Success
On Wednesday, Sept. 5, University of Nebraska (NU) President Hank Bounds announced the recipients of the 2018-2019 Presidential Graduate Fellowships, with two UNO students among this year's six awardees.
Kaitlin Sundberg, who is pursuing a Master of Arts in history, and Anthony Starke, a Ph.D. candidate in public administration, were identified by Bounds for their impressive research, strong community engagement and passion for their chosen subjects.
October 2018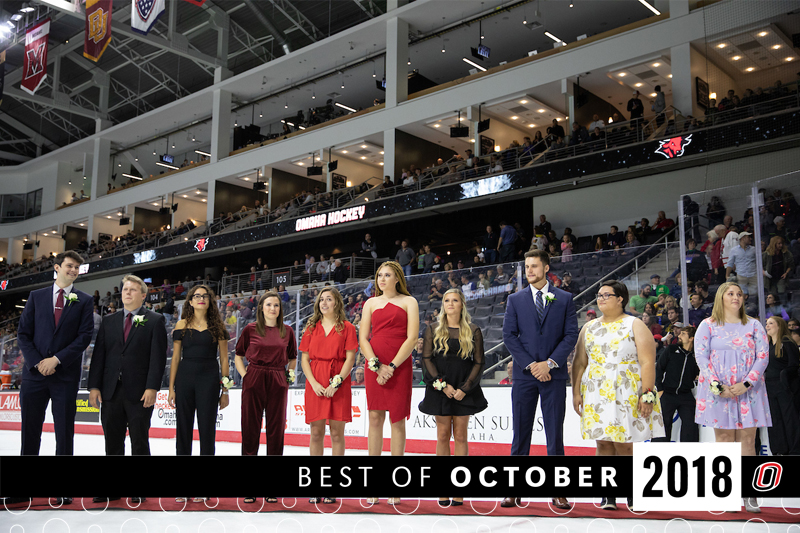 Celebrating Long After Graduation
The UNO Alumni Association celebrated achievements by members of the worldwide UNO alumni network with its fifth annual UNO Alumni Night of Honor. Alumni were honored for their contributions to athletics, outstanding service and achievements. Athletic Hall of Fame inductees included Bryan Marshall, Evan Porter and Amy Price. The Alumni Association honored Angel Starks and Michelle Zach with the Young Alumni Achievement Award. The Outstanding Service Award recipients included B.J. Reed, Christine Reed and Scott Durbin. Senator Rick Kolowski was also recognized with the Alumni Public Service Award.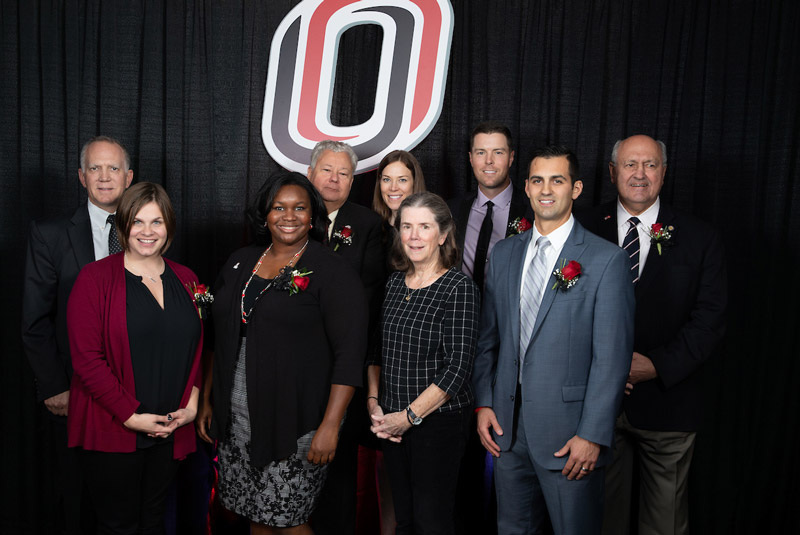 Funding Research
UNO set a new record by bringing in a record amount of external funding - $22,432,327 - for the 2017-18 academic school year. The funding is a 29 percent increase from the previous fiscal year and will be spread out over 200 different projects in UNO's six colleges. Notable new awards in 2018 include:
The US Department of Justice's support for Dr. Joe Schwartz and Dr. Benjamin Steiner's research on the examination of the role of physiological and psychological responses as well as mental health problems among correctional officers
The Nebraska Arts Council's support of UNO's annual Jazz Festival, under the direction of Dr. Pete Madesen
The Alfred P. Sloan Foundation's support for Dr. Matt Germonprez's work in open source health and sustainability.
10 Years As a 'Family'
The Thompson Learning Community (TLC) celebrated its 10 year anniversary in 2018. TLC is an academic learning community at UNO designed specifically to bring together and support recipients of the Buffett Scholarship. TLC boasts a 90 precent retention rate from first year to second year and a graduate rate that is 10 points higher than the national average. Today, there are more than 1,000 students who are Thompson Scholars on campus at UNO.
Celebrating the "Maverick Spirit"
Homecoming 2018 featured traditional events for student involvement, but some fun and fresh events were introduced. The theme of Homecoming 2018 was "Maverick Spirit" and expectations definitely did not fall short. The theme was chosen to show pride for UNO, celebrating our university, the incredible growth UNO has experienced, and cheering our talented athletic teams. This year included a "Most Spirited Lil Mav" contest, featuring winners Reagan Yanike and Brixton Bila Lambert. Michael Swanger of Sigma Phi Epsilon and Bri Jensen of Alpha Xi Delta were crowned as Homecoming Royalty. Each year, we plan for a bigger and better Homecoming than years before, and 2018 definitely exceeded expectations.
November 2018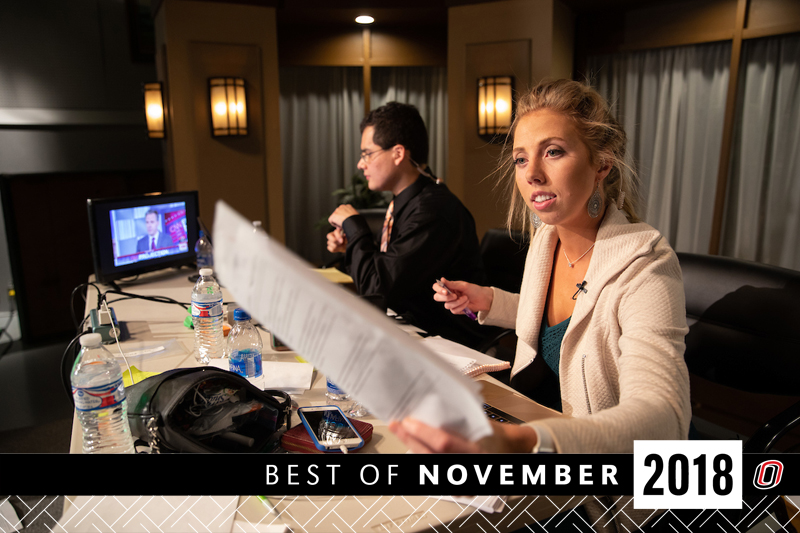 Election Day
Mavericks get involved and civic engagement is no exception. In the run up to the 2018 midterms, UNO faculty and staff shared research related to voting. UNO also earned an award from the ALL IN Campus Democracy Challenge for its high voter turnout. The night of the election, student journalists broadcast results on The Omaha News and MavRadio.
Proud to Serve Those Who Serve(d)
We celebrated a key ranking just ahead of Veterans Day. Military Times once again named UNO one of its top 10 universities for military and veteran students. Currently, more than 1,700 military-affiliated students are enrolled at UNO. In November, UNO partnered with the VA to bring its annual Stand Down event to campus. Stand Down offers donated supplies and services to homeless veterans. Dozens of Mavericks volunteered, helping veterans navigate the event.
The Department of Veterans Affairs' (VA) "Stand Down" event at UNO helped prepare homeless veterans for the winter by supplying them with boots, coats, pedicures, haircuts, basic physicals, and check ins with VA social workers. #KnowTheO pic.twitter.com/ix97mVhHBM

— UNO (@UNOmaha) November 17, 2018
A Conference Milestone
History and religious studies buffs joined UNO's Religious Studies Department for its 20th Annual Batchelder Conference for Archaeology and Biblical Studies. The event included presentations on archaeology, art history, biblical studies, geography and more – all open to the public, free of charge.
Fantastic Hockey Fans and Where to Find Them

Omaha Hockey invited fans to break out their wands and robes for a special event, hosting Harry Potter Night at Baxter Arena for a game against Colorado College. Some very enthusiastic fans made it a magical experience.
⚡️⚡️⚡️⚡️⚡️⚡️⚡️⚡️⚡️⚡️⚡️⚡️#OmahaQuidditchTeam #EveryoneForOmaha pic.twitter.com/mqtlIP5OXw

— Omaha Mavericks (@omavs) December 1, 2018
December 2018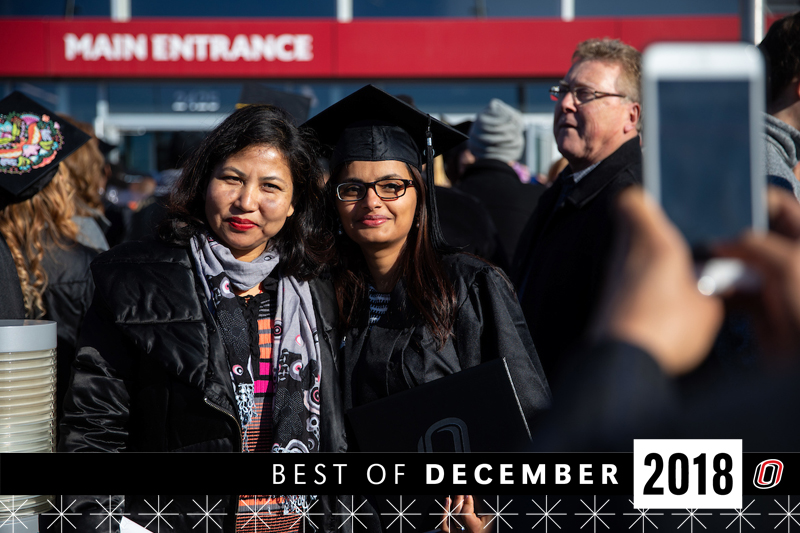 Congrats, Mavs!
We celebrated the accomplishments of some of our newest alumni, with just more than 800 students walking in the December commencement ceremony. Honorary Degree recipient Willy Theisen, a longtime supporter of UNO and creator of Godfather's Pizza, shared remarks as a guest speaker, encouraging students to keep being "finishers," to be ethical in everything they do and to "eat more pizza!"
Leadership Announcement
With support of the Board of Regents, Chancellor Jeffrey P. Gold, M.D., agreed to extend his commitment to serve UNO through June 30, 2022. In a message to campus, Dr. Gold thanked the UNO community for the warm welcome over the last year and a half and said he is eager to see what the future holds.
A Wolfpack Welcome
The semester wrapped up with a Change of Command Ceremony for Air Force ROTC Detachment 470 at UNO, also known as "The Wolfpack." The event establishes the new cadet wing commander for the spring 2019 semester.
Tyra De Rozairo took over as Cadet Wing Commander during the Air Force Reserve Officer Training Corps (AFROTC) Change of Command Ceremony for Detachment 470, this afternoon.

📸 Full album: https://t.co/9DoDFcZiqU

🔗 Learn more about the AFROTC at https://t.co/1khIkurdt7. pic.twitter.com/UDbSBgVyuU

— UNO (@UNOmaha) December 5, 2018
Bringing Music to Medicine
Members of Millard North High School Orchestra, mentored by UNO School of Music students, came together to perform at the UNMC Durham Outpatient Center. The performance culminated from a semester long service-learning project, "Sound Health; Bringing Music to Medicine." The performers were led by UNO alumna Debbie Martinez who recently was honored as Nebraska's National Federation of State High School Association's (NFHS) 2018-19 Outstanding Music Educator of the Year.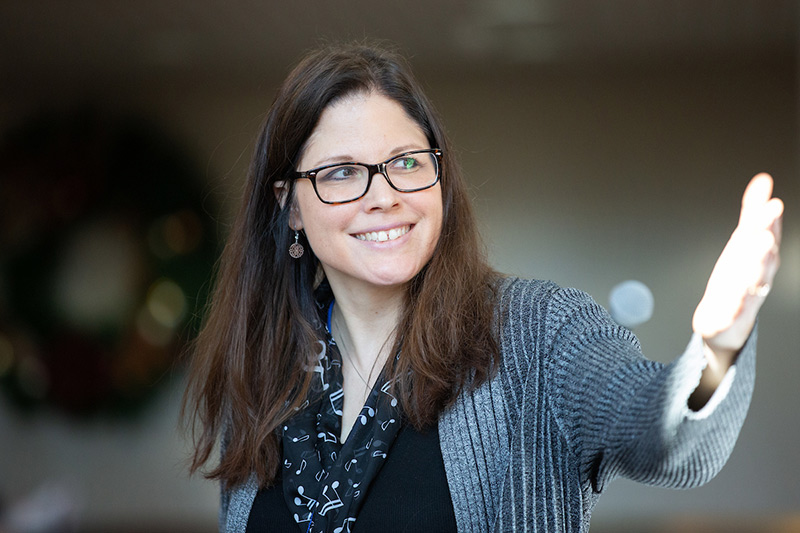 Season of Giving
From WOWT's Stuff the Bus Food Drive at Baxter Arena to the Office of Spirit and Tradition's Diaper Drive, Mavericks gave back in a big way this holiday season, helping make the holidays a little brighter for families in need.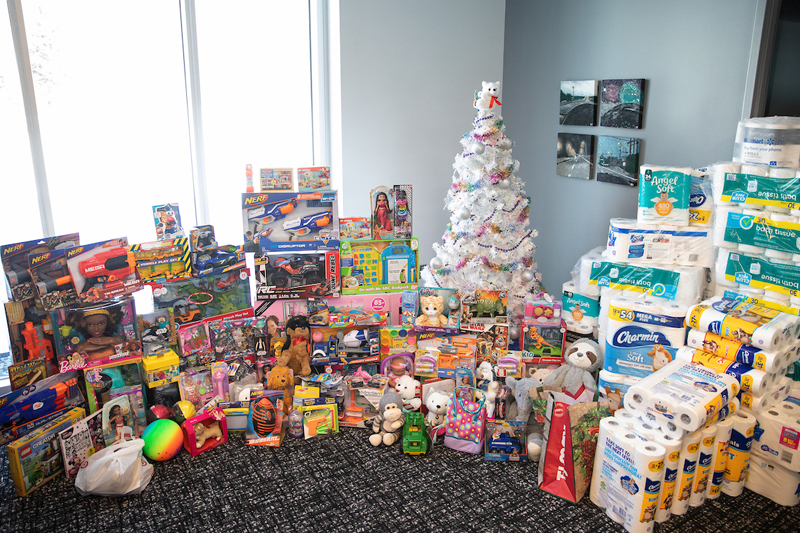 About the University of Nebraska at Omaha
Located in one of America's best cities to live, work and learn, the University of Nebraska at Omaha (UNO) is Nebraska's premier metropolitan university. With more than 15,000 students enrolled in 200-plus programs of study, UNO is recognized nationally for its online education, graduate education, military friendliness and community engagement efforts. Founded in 1908, UNO has served learners of all backgrounds for more than 100 years and is dedicated to another century of excellence both in the classroom and in the community.
Follow UNO on Facebook, Twitter, Instagram, TikTok, LinkedIn, and YouTube. 
Contact Us
If you have a story idea, news tip, or other question, please email the UNO News team at unonews@unomaha.edu.