Student Commencement Stories: December 2018
Congratulations to our newest graduates! At the heart of every Maverick is a story that is still being written. 
---
Jackie Davis Omelian (College of Arts and Sciences and Graduate College)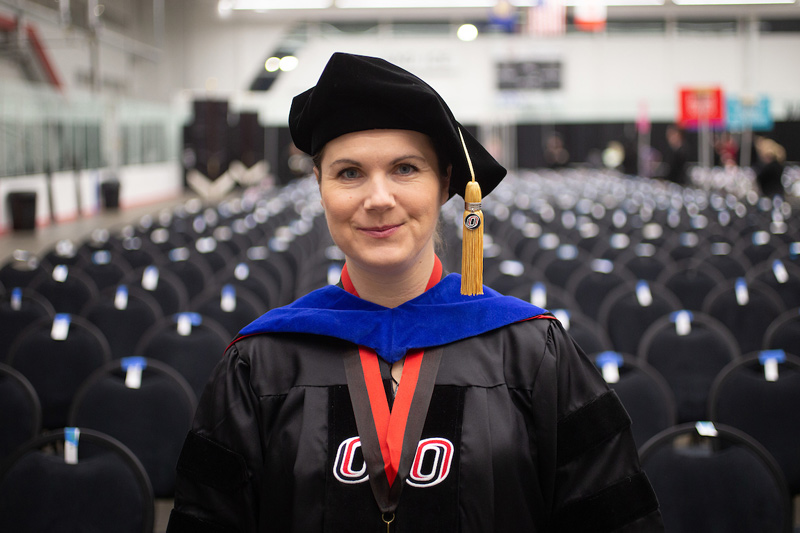 Over the past six years, Jacquelyn Davis Omelian, Ph.D, has made a big impact on UNO and its students while UNO has also made a big impact on her career trajectory.
Originally from Apple Valley, Minnesota, Davis Omelian's journey to graduate school actually started as a member of the U.S. Army, being deployed to Afghanistan before returning home to continue her education at the University of Wisconsin - all while being a single parent.
Today, she is a full-time faculty member at UNO's Department of Psychology after earning her doctorate in July. As a part of the December commencement ceremonies, she is able to walk across the stage alongside some of the many students she's instructed and advised. Her commitment to their success is evidenced through receiving the College of Arts and Sciences Teaching Award in 2016 while she was still earning her Ph.D.
Her role as an instructor and advisor is heavily informed by her own advisor, Suzanne Sollars, Ph.D., an associate professor in the Department of Psychology.
"She was essential in my growth as a student. Her encouragement and advice have been instrumental in my success. I would not be where I am today without her mentorship."
Davis Omelian came to UNO specifically to work with Sollars and at UNO's Sensory Development Lab. As a student in both the masters and doctoral programs, Davis Omelian also gave back to the department not just through teaching but by launching an educational outreach group called NeuroWOW that helps connect neuroscience students with K-12 students in classrooms, summer camps, scout groups and even at the Omaha farmer's markets. All told, in the past five years the group has introduced neuroscience concepts to more than 5,000 children.
"I am really proud of the work we've done, and am grateful for the support the program has found in volunteers, faculty and the community."
Her advice to current and future students? Get involved, because you never know where those connections may lead.
"There are so many opportunities available at UNO, and it is better to try something and not like it than to just stick to what you know and miss out on something awesome. You never know what the next big thing in your life is going to be but the best way to make something happen is to try new things."
Shelby Fox Wagner (College of Arts and Sciences and Graduate College)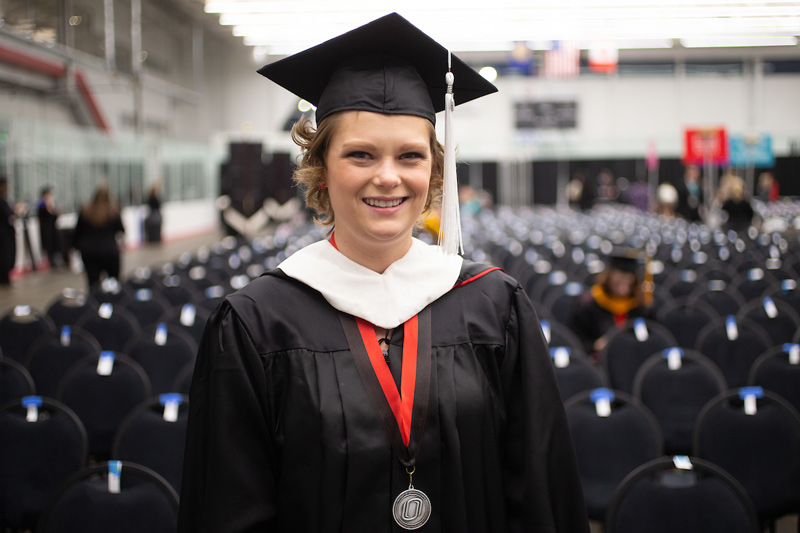 When Shelby Fox Wagner walked across the stage at Baxter Arena to receive her diploma, it wasn't just the culmination of years of hard work - it was also an exclamation point on a year full of obstacles and, eventually, opportunity.
An Omaha native, Fox Wagner originally entered into her master's program at UNO to pursue neuroscience but quickly found her calling lay somewhere else: with applied behavior analysis.
However, on the very same day she learned she would be able to join the joint UNO/UNMC applied behavior analysis program, she also learned that she had a cancer would need to begin chemotherapy immediately.
"My friend actually came over that night to celebrate and we were having some snacks and stuff but then I started having trouble breathing," she explained. "After an hour it still wasn't going away and she said 'Okay, I'm taking you to the emergency room' and so we spent all night in the ER and found out I had a giant tumor in my chest that was pushing on my lungs."
In true Maverick fashion, rather than give up and put off her dreams of earning a master's degree, Fox Wagner was determined to undergo treatments while pursuing her degree. She also served as a graduate assistant at the Munroe Meyer Institute at the same time.
"I just thought that if I quit everything and stayed at home then I wouldn't have really anything to motivate me and if sticking with school and work would keep me going and distract me I wanted to do it as long as possible."
Thanks to the joint program and UNMC's ties with Nebraska Medicine, Fox Wagner was able to maximize her time with little disruption, which was helpful given that she was also planning to be married, which she did in October.
With her degree in hand, Fox Wagner plans to pursue a career in early intervention clinical therapy services. It's a career path she says wouldn't be possible without the opportunities - and flexibility - UNO provided, particularly as a graduate assistant.
"I was really fortunate to have such a position because it really put me in better contact and helped me network with faculty, which has really turned out to be good for references and I think it was good to get more first-hand experience."
Read more about Fox Wagner from the UNO Gateway.
Lasha Goodwin (College of Business Administration)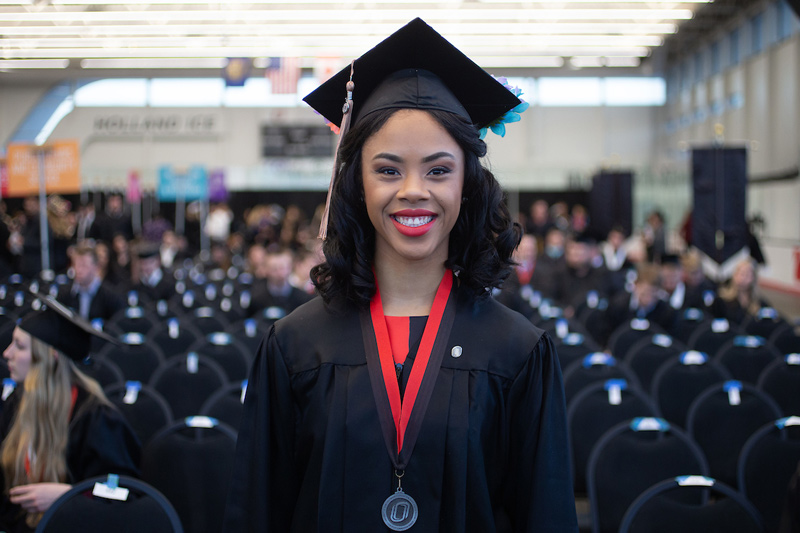 Lasha Goodwin, a business administration major with a concentration in real estate and land use economics, has spent her college career dedicated to improving her community -both on campus and in the Omaha metro.
In her four years at UNO, Goodwin has served as a UNO Ambassador, an officer in the National Society of Black Engineers, a member of Rho Epsilon (a real-estate fraternity) and a counselor for Pink Hard Hat Days for Girls day camp. She also competed in the Capstone Cup business competition, played saxophone for the UNO Jazz Band, traveled to Japan for a field mission and volunteered during UNO's Seven Days of Service, Three Days of Service, and during President Obama's visit to Baxter Arena.
At the same time, Goodwin also worked as an intern at Alley Poyner Macchietto Architecture, where she has received a full-time job offer following graduation.
"My business degree and real estate concentration has helped me understand the vital connection between business transactions and architectural processes," she says. "The course work emphasized how to strategically implement ideas, and how to involve the people who are impacted by those ideas. With my business degree, I truly feel that I can be successful in whatever I pursue."
In addition to her on-campus involvement, Goodwin has also been a program coordinator for the Global Leadership Group, an Omaha non-profit dedicated to neighborhood revitalization in North Omaha along 24th Street. She has helped develop programs to engage residents, schools, businesses and churches in the area.She credits individual connections she's made with staff and faculty with helping her not only achieve what she wanted as a student, but also as a person.
"I'm so grateful for my time at UNO. Our programs;clubs and organizations; and campus culture all contributed to an excellent experience. UNO is the best university in the state of Nebraska, bar none."
Brandon Armstrong (College of Communication, Fine Arts and Media)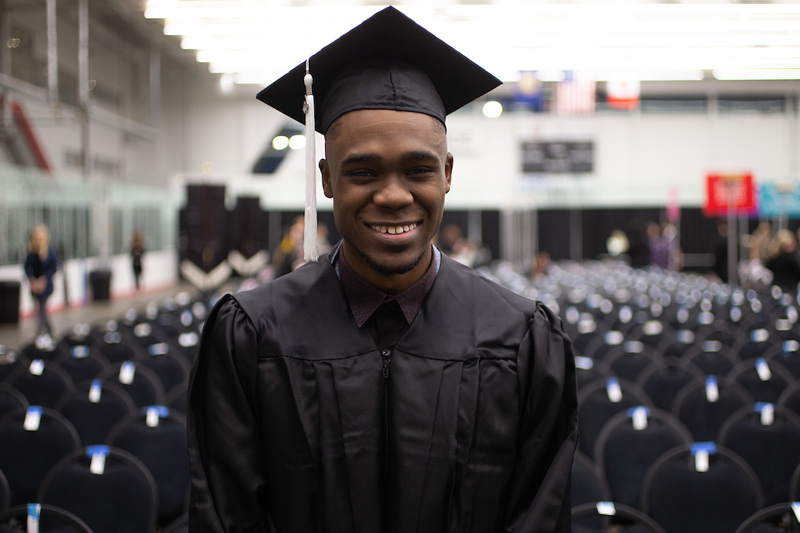 Music has been a huge part of Brandon Armstrong's life for years. Now, as he graduates with his bachelor of arts in music, he wants to make sure that the same opportunities and support that he received are carried over to the next generation of up-and-coming musicians.
As a jazz drummer, the Bellevue native has made an impact as a core member of UNO's jazz band, pep band, jazz combo, concert band, orchestra and percussion ensemble. He even traveled with the UNO Jazz Ensemble to Lithuania and Latvia in 2016 to perform at Šiauliai University and the Jāzeps Vītols Latvian Academy of Music.
"Not only was it my first time overseas, but it was my first time in an airplane as well. A couple of great firsts for me."
A regular performer with his own quartet and trio, Armstrong is also a music teacher at the Omaha School of Music and Dance. After graduation, he hopes to continue educating more students and performing throughout the metro, "whether it be in coffee shops, music venues or in theaters."
He says his degree has helped him gain the knowledge of how to be a professional while out performing and also what skills he'll need as he pursues his career. However, he says he couldn't have done it without a lot of support.
"I have to thank my parents and my peers from the percussion studio, for helping me get through these four and a half years. Without their constant support and willingness to help me whenever I needed help, I would not have made it to this point as soon or as smoothly as I did."
Michael Burns II (College of Communication, Fine Arts and Media)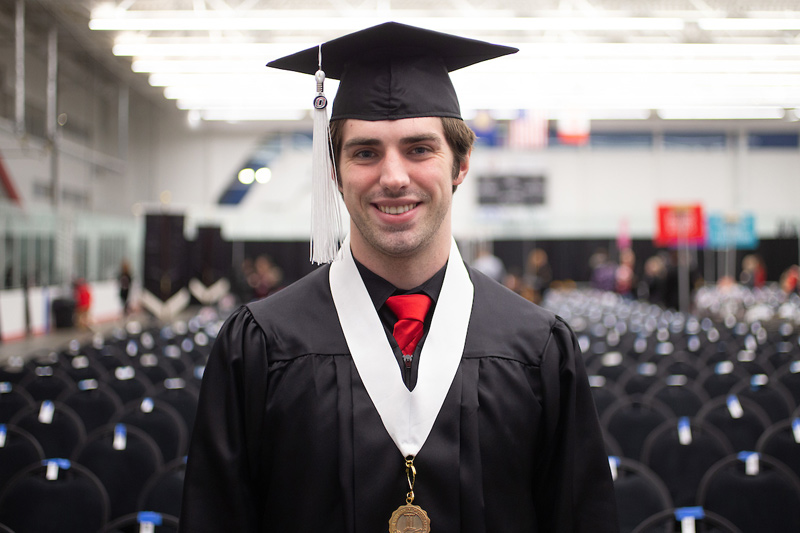 As a college Freshman, 'All the world's a stage' initially meant nothing to Michael Burns II. Just months later, thanks to a suggestions from his English professor, he was a familiar face within Weber Fine Arts Building Black Box Theatre.
After enrolling in a screenplay writing class at UNO, his English professor encouraged him to get more involved with theatre to better understand how to tell his stories. Having never acted a day in his life, he auditioned for Dracula, was cast as the supporting role and the rest is history.
"I fell in love," Burns said.
From that production forward, Burns' name was featured in a theatre program every semester both on campus and at community venues like the Omaha Community Playouse and SNAP! Theatre. His first lead role came with a production called "Shakespeare's Dog," a comedic origin story to the bard himself. He and the other actors in the play were able to raise just over one thousand dollars for the Nebraska Humane Society, all while doing what they loved to do.
Looking back at his time on campus, Burns is very grateful for all of the relationships he built and the opportunities he has had here.
"Even from the very beginning, UNO felt like home and totally embraced me with open arms."
With a long list of professors to credit as amazing mentors and testaments to his success, Burns offers very simple advice for students to come after him.
"You are enough. You have something special that no one else on the face of the planet has. Don't try to change yourself to fit what someone else wants. Trust yourself."
As for his future, keep your eyes peeled. In the coming year he plans to move to Chicago or Los Angeles and pursue a career in acting.
Sandra Jones (College of Education)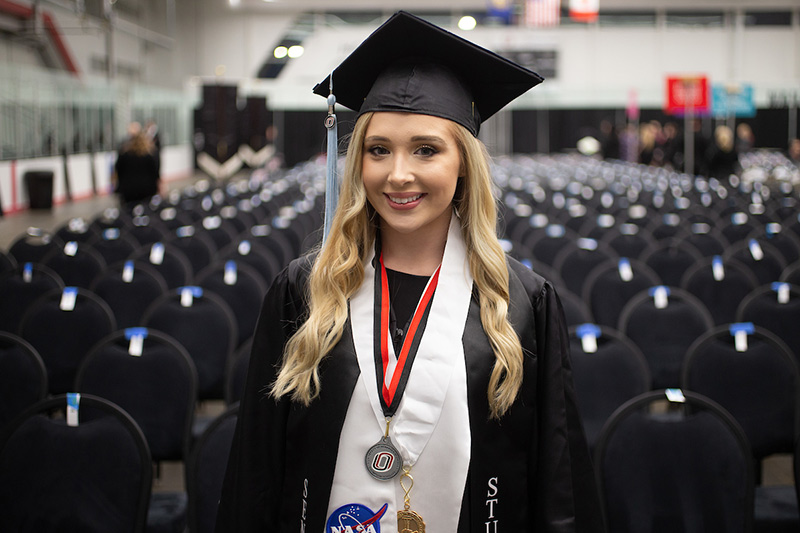 Working with astronauts and exploring the depths of outer space is a dream for many when they're younger. For UNO alumna Sandra Jones, it's her passion and her career.
Born and raised in a small town in southwest Nebraska, Jones came to UNO to be an educator and soon became fascinated with STEM education. Following an experience with UNO's STEM Ecosystem, which brings together community partners to deliver STEM education to young people in the metro area, she was able to secure an internship at the NASA-funded "Microgravity University for Educators" program.

Jones' first internship opportunity eventually landed her at the Johnson Space Center in Houston, where she recently completed two years of internships through the NASA's Pathways Program and will begin her career working for NASA in their Public Affairs office where she works directly supporting Mission Operations activities.
"As a first-generation college student who grew up in poverty, I have always known that the pursuit of higher education was one way I could improve my life and future," she said in a recent profile on NASA's website. "After getting a taste of what NASA does as an intern, how fulfilled the work made me, and the impact it has, I knew that I wanted to apply to the Pathways Program to have a chance at working here for the rest of my life."
Jones credits her time at UNO and her connections through the Omaha STEM Ecosystem with putting her on a career trajectory that, just four years ago, seemed impossible.
"It's helped me better my future as an educator as I form these experiences; it helps my future students, and of course, helped me get a NASA internship."
Gina Mujinga Kadima (College of Education and Graduate College)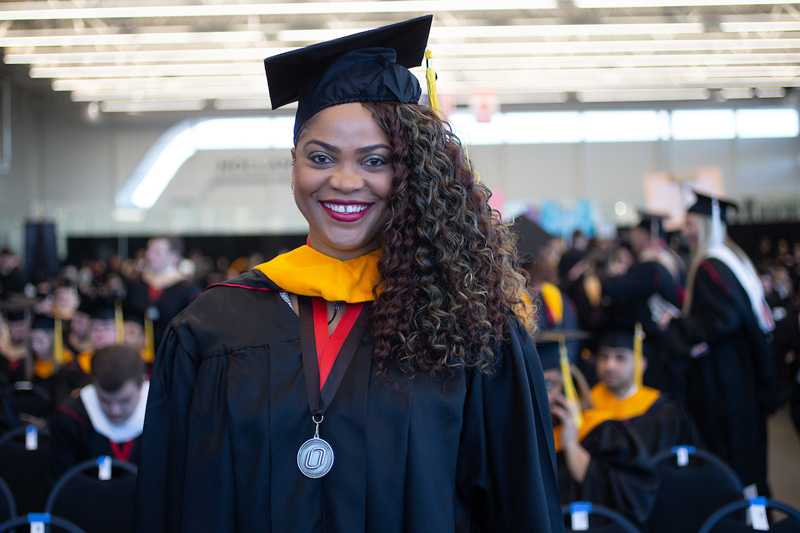 After a journey across the world, UNO graduate Gina Mujinga Kadima is now ready to settle down and make an impact through teaching.
A native of the Democratic Republic of the Congo, Kadima says despite the patriarchal nature of her home country, she was never made to feel that she couldn't accomplish her goals.
"This has been a motivation for me, so that I can help an underappreciated individual someday to reach his or her 'perfect' self and increase self-esteem."
As a recent graduate, earning her master's degree in clinical mental health counseling from the College of Education, Kadima is excited to see what the future holds; either way, she plans to do so as a Nebraskan.
So what made this world-traveler decide to take a chance on staying in Nebraska for awhile? Her experiences at UNO, including the people from Omaha that made her feel welcome and like she truly belonged.
"It was the support of faculties and peers," Kadima said. "When I got accepted to the program I was afraid of the language barrier at a higher education level. Faculties and classmates never made me feel like I needed to prove anything more than the rest of the class."
Kadima wants future Mavericks to know that if they persevere, good things will happen.
"I will encourage them to stay the course," she said. "The bigger the dream the bigger the challenges; without challenges the next level is not possible.
"There is always going to be bumps on the road, and whether you are American or an immigrant, you have the power and the ability necessary to accomplish whatever you put your mind to."
Quinn Nelson (College of Information Science & Technology)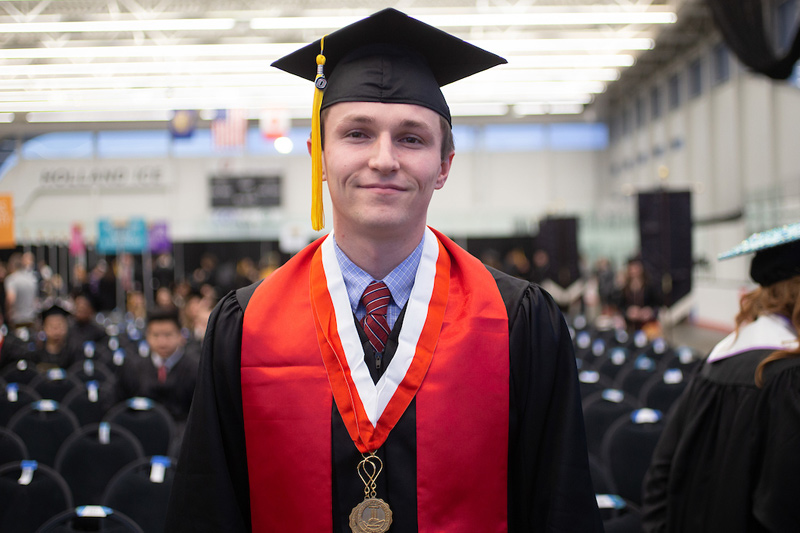 As a standout goalie at Westside High School, Quinn Nelson's success on the soccer pitch helped bring him to UNO as a member of the men's soccer team; however, the Omaha native and Bachelor of Science in IT Innovation and Bachelor of Science in Bioinformatics degree recipient is now set to make his biggest impact in the medical field.

Beyond being a member of the men's soccer team, Nelson is also a recipient of the Walter Scott Jr. Scholarship and member of the University Honors Program. Heavily involved in undergraduate research, he has received several awards and grants through the Institutional Development Award (IDeA) Program's Networks of Biomedical Excellence (INBRE) and through the Fund for Undergraduate Scholarly Experiences (FUSE).

One of Nelson's favorite memories from UNO is working on a project during his sophomore year to develop a way that UNO's shuttles could be easily monitored by riders. This August, UNO launched its official UNO Shuttle Tracking App.

"Looking back, it brings me a sense of fulfillment that I contributed a small bit to make UNO a better place."

Nelson is also heavily involved in the Omaha community, volunteering at the Northstar Foundation's after school program as a tutor, at the emergency room for Nebraska Medicine and as a coach for Sporting Omaha FC.

Balancing all of these responsibilities is something Nelson says was a challenge, but something that ended up being a huge asset.

"Those experiences have given me the attitude, values and perspective necessary to achieve my goals. Nearly all of my relationships at UNO have contributed to my success - most notably the professors I have worked closely with on research projects and the teammates and coaches I have had the pleasure to work with."

After graduation, thanks to a federal research grant, Nelson will be working full time at UNMC to optimize their electronic records system.
Lauren Koperski (College of Information Science & Technology)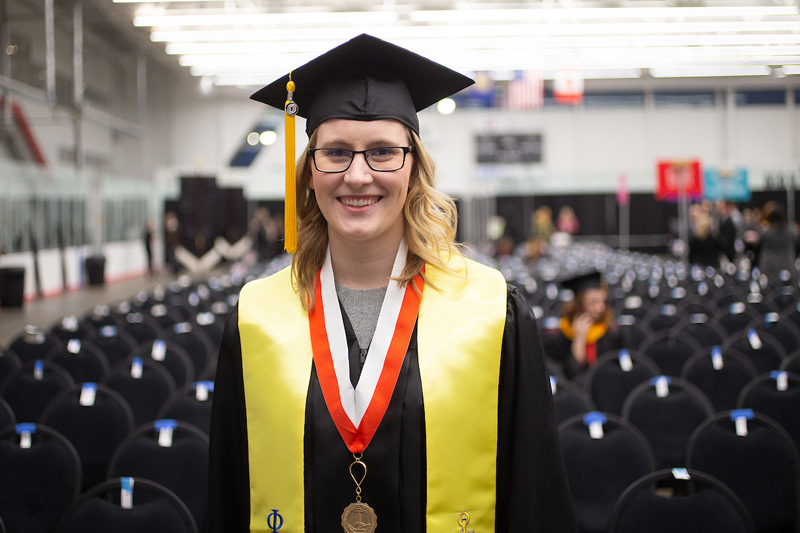 As a graduate of UNO's Department of Computer Science, Lauren Koperski will be joining a select group with less than 20 percent of all computer science jobs being held by women. However, Koperski is set to not only succeed in the field - but excel in it.

A recipient of the Walter Scott Jr. Scholarship, the Omaha native is set to take a job as an application developer for Mutual of Omaha, where she has interned for the last two years. She says that she hopes to one day work as a software architect to marry her love of computer programming with her other loves that also happen to be her minors: math, business and cybersecurity.

"It's been interesting to see how the skills I had learned in the classroom applied in the industry. I think, more than anything, the computer science foundation I've built allows me to see unique possibilities in business flows."

While Koperski is proud of all that she's accomplished as a student, including volunteering with Girls Who Code and UNO's Code Crush program for middle school girls, she is most proud of leading the charge to launch a UNO chapter of the Association for Computing Machinery - Women (ACM-W). Working with her faculty sponsor Sandy Vlasnik, an adjunct instructor in the department, Koperski worked to develop the group's constitution and build support from the community, including receiving funding support from Google and the National Center for Women and Information Technology.

"The amount of support we've received from the community is truly overwhelming. By attending technology conferences, conducting practice interviews and volunteering, the group's been able to help its members build professional and technical skills."

Ultimately, she credits her success and accomplishments to the support she's received from her peers, professors, family and fiancé.

"Without their guidance, love, and support, none of this would be possible. I owe it all to them."
Diana Amador (College of Public Affairs and Community Service)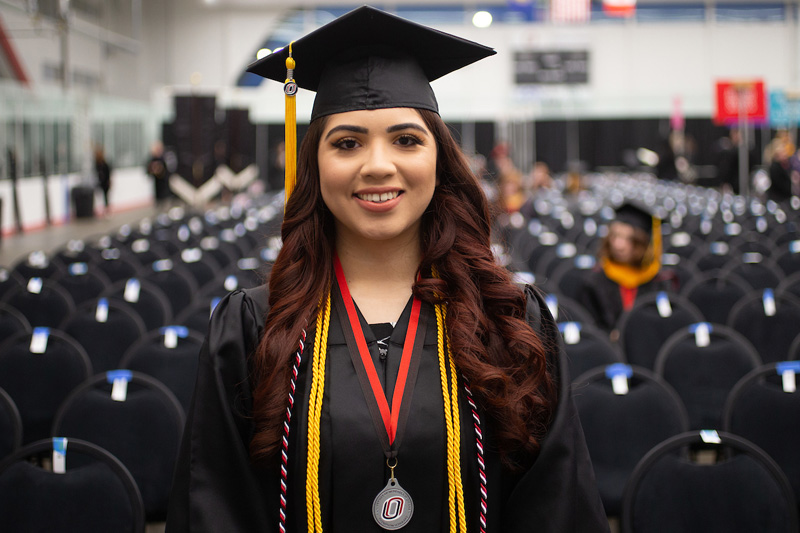 Diana Amador is a young graduate with the older generation at heart. With aspirations to become a nurse practitioner specializing in geriatrics, Amador credits her family as the real drive behind her education.

After the passing of her grandmother, Amador realized what she really enjoyed doing was caring for older adults. From South Sioux City, Nebraska, Amador picked UNO for her collegiate education and began planting her roots right here in Omaha.

She began with a simple "Introduction to Gerontology" course and quickly realized that with the emergence of a large generation of people reaching retirement age, someone needed to be prepared to care for them.

When she started her academic career at UNO, Amador admits all she wanted to do was complete the prerequisites she needed for nursing school and carry on, but it didn't take long to learn the importance of connections along the way.

"Something that really stood out to me during my time at UNO is the sincere dedication for you to become better; from the faculty in the Gerontology Department, Project Achieve and the Thompson Learning Community."

Amador can attest that the road to graduation is a long and bumpy ride, but with patience and hard work, everything will come around.

"There is nothing wrong with failing. It is better to say you tried and failed than to not have tried at all. There is nothing wrong with the number of years it takes to complete your education. Everyone's journey is different, so don't stress and enjoy the ride."
Debbie Engle (College of Public Affairs and Community Service)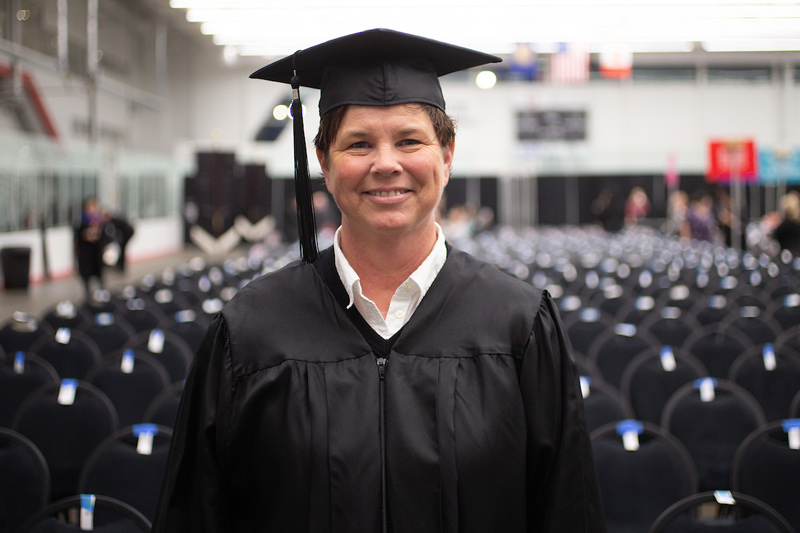 Debra Engle, a 1979 Ralston High School graduate, just earned her Bachelor of Multidisciplinary Studies 30 years after her first day of college.

Although circumstances may have stood between Engle and her degree when she first began, she kept pushing.

"It was always a dream of mine to finish my degree and pursue a higher education," she said.

Family ties to UNO were what inspired Engle to be a Mav in the first place.

"I went to UNO because both my parents graduated from here and my grandmother worked for over 20 years as the assistant director of the Milo Bail Student Center," she said.

The support from faculty and staff at UNO equipped Engle with the tools she needed to be successful. She considers her academic advisor an "amazing partner" who helped her achieve her lifelong dream: graduating.

"It made me so happy to be a part of an institution that had such wonderful people," she said.

Engle's next step is to complete the human resources master's program from Regis University in Denver.

Stick with the pursuit of your degree, she said. "No matter what you think or what your financial situation is, it is harder than you think to go back. Having a degree (in anything really) will open so many more doors for you in the future."
About the University of Nebraska at Omaha
Located in one of America's best cities to live, work and learn, the University of Nebraska at Omaha (UNO) is Nebraska's premier metropolitan university. With more than 15,000 students enrolled in 200-plus programs of study, UNO is recognized nationally for its online education, graduate education, military friendliness and community engagement efforts. Founded in 1908, UNO has served learners of all backgrounds for more than 100 years and is dedicated to another century of excellence both in the classroom and in the community.
Follow UNO on Facebook, Twitter, Instagram, TikTok, LinkedIn, and YouTube. 
Contact Us
If you have a story idea, news tip, or other question, please email the UNO News team at unonews@unomaha.edu.