Election Programs, Events and Resources
published: 2018/10/31
contact: University Communications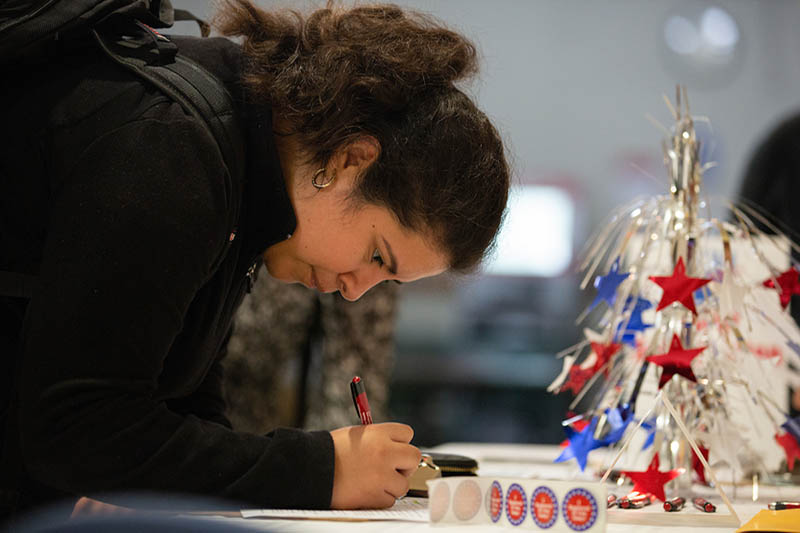 On Tuesday, Nov. 6, millions of Americans will go to the polls to vote in local, state and federal elections. Regardless of party affiliation, the role of civic engagement is central to the democratic process.
At UNO, there are many ways that students, faculty and staff regularly engage with all stages of government. Additionally, there are a number of groups and partner organizations with campus to help ensure everyone has the appropriate resources to participate in the electoral process.
Here are just some of the ways UNO is involved and making an impact:


Voting Information Handout (PDF)
Civic Engagement Through Student Government
Practical Experience for Aspiring Journalists
Research from Faculty, Students and Staff
Excellence in Student Voter Engagement
---
Celebrate Your Vote
Join us for FREE pizza, drinks, and prizes to celebrate voting, on Nov. 6 from 7-10:30 p.m. in the CPACS Commons. This event is sponsored by CPACS, CFAM, A&S, CPAR and Academic Affairs.
---

Civic Engagement Through Student Government
Throughout the year the UNO student body are represented through Student Government (SG-UNO), an elected body made up entirely of fellow students across UNO's six colleges, graduate programs and campus housing.

While many in student government have been civically engaged prior, many others have not. However, regardless of their previous experiences, the experience of being a UNO student representative has impacted the way those students' views on the electoral process, government and being involved in their communities.
---
Practical Experience for Aspiring Journalists
Every two years, students from the UNO College of Communication, Fine Arts and Media, among other units across campus, come together to produce an election night coverage event through the Omaha News, UNO's student-run newscast.
Students will work with UNO Television to conduct interviews with experts, provide live updates from multiple campaign headquarters and share dozens of news packages highlighting important races and issues. The live broadcast will run from 7 p.m. to 10 p.m. and can be seen on The Knowledge Network.
This year will also mark the first election night coverage event since the UNO Television dedicated its new 4K studio.
Also joining UNO Television will be MavRadio.FM, which will provide live election coverage, beginning at 7 p.m., led by students Katherine Hartner, Anna Rodriguez and Michael Burns.
---
Research from Faculty, Students and Staff
Ahead of the 2018 midterm elections, a number of research projects tied to voter engagement have been launched or completed by members of the UNO campus community.
Following the 2016 elections, the American Association of State Colleges and Universities (AASCU) launched a research-to-practice initiative to improve civic education and participation from students. As a member of this 12-campus coalition, research towards a nationwide campus climate assessment is being led at UNO by Barbara Pickering, professor of communication; Jodi Benenson, assistant professor of public administration; Andrea Weare, assistant professor of communication; and Anthony Starke, a Ph.D. candidate in public administration.
In October, a report from the Center for Public Affairs Research (CPAR) found that young voters in Douglas and Sarpy Counties in Nebraska were voting at lower levels than their peers at the national level in the most recent primary and general elections.
"The numbers show we have work to do encouraging an additional 96,814 or so young people in Douglas and Sarpy County to exercise their constitutional rights to vote," said CPAR Director Josie Schafer.
Read More: AASCU Project | Read More: CPAR Report

---

Excellence in Student Voter Engagement
In September, the inaugural ALL IN Campus Democracy Challenge awarded UNO a Silver Seal, which recognized campuses with a voting participation rate between 60 and 69 percent in the 2016 election. UNO students' participation rate was 63.4, which is six percent higher than the national average.
More than 300 campuses, enrolling more than 4 million students, have joined the Challenge since its launch in summer 2016.
"I am proud to honor the University of Nebraska at Omaha with an ALL IN Challenge silver seal in recognition of their dedication, hard work and achievement," said Zaneeta E. Daver, director of the ALL IN Campus Democracy Challenge. "UNO is not only ensuring that a more representative population participates in our nation's democracy, but is educating students to be civic-minded. They are an example to be emulated."
---

Candidate Visits
Throughout 2018, current office holders as well as candidates for public office visited UNO to learn more about the impressive work being done in the classroom; by student and faculty researchers; and through engagement in the community:
Legislative Program Analyst Kathy Tenopir
Legislative Candidate Mina Davis
Legislative Candidate Megan Hunt
Legislative Candidate Wendy DeBoer
Legislative Candidate Scott Winkler
Legislative Candidate Matt Deaver
About the University of Nebraska at Omaha
Located in one of America's best cities to live, work and learn, the University of Nebraska at Omaha (UNO) is Nebraska's premier metropolitan university. With more than 15,000 students enrolled in 200-plus programs of study, UNO is recognized nationally for its online education, graduate education, military friendliness and community engagement efforts. Founded in 1908, UNO has served learners of all backgrounds for more than 100 years and is dedicated to another century of excellence both in the classroom and in the community.
Follow UNO on Facebook, Twitter, Instagram, TikTok, LinkedIn, and YouTube. 
Contact Us
If you have a story idea, news tip, or other question, please email the UNO News team at unonews@unomaha.edu.