What is Cybersecurity?
Would you like to be a part of helping secure our nation's information technology (IT) infrastructure? If so, the study of Cybersecurity will prepare you for a challenging and rewarding career. Today more than ever emerges a strong need for professionals interested in finding ways to make our information technology safer.
Cybersecurity at IS&T
The Cybersecurity programs at IS&T give students exposure to a broad range of issues related to information and network security. The courses that constitute this major will provide the students with the necessary skills to conduct a risk assessment, develop information security policies, identify critical issues for electronic commerce, resolve critical issues for various operating systems, and apply this knowledge to intrusion events.
The University of Nebraska at Omaha has been named a Center of Academic Excellence in Information Assurance Education by the National Security Agency (NSA).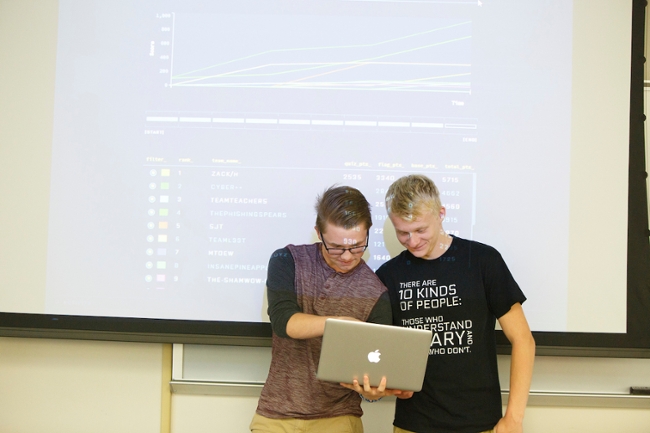 Cybersecurity is an interdisciplinary undergraduate major that prepares students for positions in government, industry, and research as well as providing them with the foundation necessary for success in graduate programs.
Further your study of managing information-related risks by ensuring confidentiality, integrity, authentication, availability, and non-repudiation of data.
Job Outlook
The outlook for Cybersecurity professionals is optimistic. As we continue to progress into more and more paperless environments, the number of professionals is projected to be in great demand. Security professionals are experiencing growth in job prospects, career advancement, higher base salaries and salary premiums at faster rates than other areas of information technology.
Example Job Titles
Systems Security Analyst
Information Security Specialist
Secure Project Manager
Information Assurance Specialist
IT Assurance Manager
Chief Information Officer
Database Administrator
Information Assurance Architect
Secure Applications Developer
Network Security Administrator
Security Consultant
Secure Systems Integrator
Cybersecurity Vulnerability Analyst
IT Security Manager
Cybersecurity Lead Programmer
Information Assurance Engineer
Telecommunications Specialist