Warming Named Next Omaha Men's Soccer Head Coach
Omaha Vice Chancellor for Athletics Trev Alberts announced the hiring of Bob Warming as the next head coach of the Omaha men's soccer team.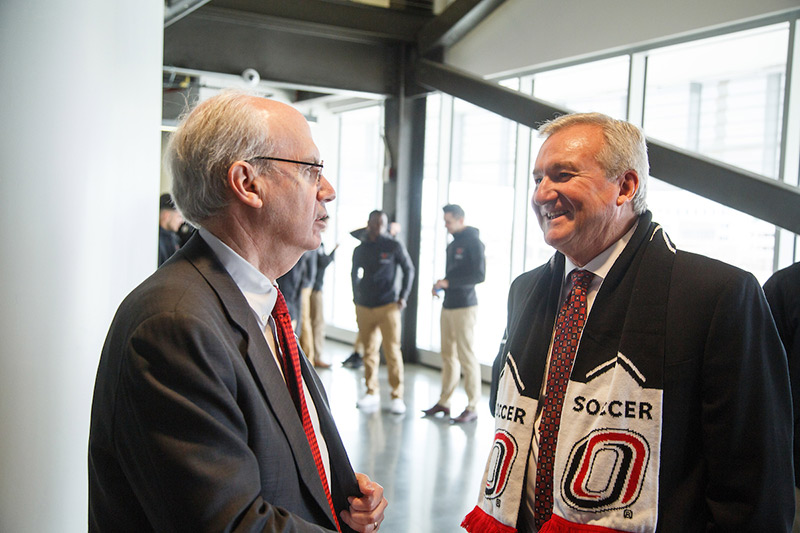 Omaha Vice Chancellor for Athletics
Trev Alberts
announced today the hiring of Bob Warming as the next head coach of the Omaha men's soccer team.
"Bob is an Omaha coaching legend and the right person to take over the program from
Jason Mims
who worked so hard to make it to what it is," said Alberts. "Bob's resume speaks for itself. He is a very accomplished coach and teacher of the game who has been successful everywhere he's been.
"He also understands the importance of a team's connection to the community in which it plays. Jason made it a point to build his team with many local players. The importance of that vision is shared by Bob and will continue."
"I am grateful for this opportunity to be the head coach of Omaha and excited to build on what Coach Mims has created," said Warming. "My wife Cindy and I moved back to Omaha to be closer to family, and I was at peace being retired from coaching because I was going to get to see my first grandchild grow up.
"My passion for coaching the game and developing players was still there," added Warming. "I am very excited to be coming back to Omaha and be part of something special at UNO. I look forward to creating more opportunities for players in the Midwest to play Division I soccer here at Omaha.
"I am proud to be a member of the UNO program. We will continue the development of all the important components necessary in the quest for championships for Omaha."
Mims served as Warming's assistant at both Creighton and Penn State. Mims built the Omaha men's team from the ground up when it was added in 2011 and was the only coach in team history. He is leaving Omaha to work for Real Salt Lake of Major League Soccer.
"I want to thank Jason for the incredible job he did starting this program and building it to national prominence," said Associate Athletic Director
Mike Kemp
who oversees the soccer program. "Having started a program from scratch, I understand the amount of personal investment that goes into such an endeavor. He will be deeply missed.
"It is remarkable to be able to attract a coach with Bob's resume," Kemp continued. "He is supremely qualified to continue the success that Jason and his assistants have built here."
Warming brings with him extensive head coaching experience, including 39 years of collegiate experience – 14 years at Creighton, seven years at Penn State and four years at Saint Louis. Warming has a career record of 461-240-82, which marks the third most wins amongst active Division I coaches.
A two-time National Coach of the Year, Warming also was among only three active coaches, and five all-time, to lead two different programs to the NCAA College Cup. His teams also have captured 13 regular-season and seven postseason conference titles.
Warming most recently served as the head coach at Penn State and led the Nittany Lions to back-to-back Big Ten Championships in 2012 and 2013, earning Big Ten Coach of the Year accolades both years. He directed PSU to the NCAA Championship Sweet 16 in 2010 and 2013 and another NCAA Tournament appearance in 2014.
Mims departs Omaha after seven seasons, compiling a 51-52-15 career record. He led the Mavericks to Summit League regular-season titles in 2014 and 2016. Omaha clinched the first Summit League postseason title in school history by defeating Denver 9-8 in an 11-round shootout after the teams had played to a 1-1 tie on Nov. 11, 2017. The Mavericks then advanced to the NCAA Men's Soccer Championship for the first time in program history.
The Mavericks will begin their first season under Warming in August. The schedule for the upcoming season will be released at a later date.