Flying Mavs Earn Top 10 Finish Nationally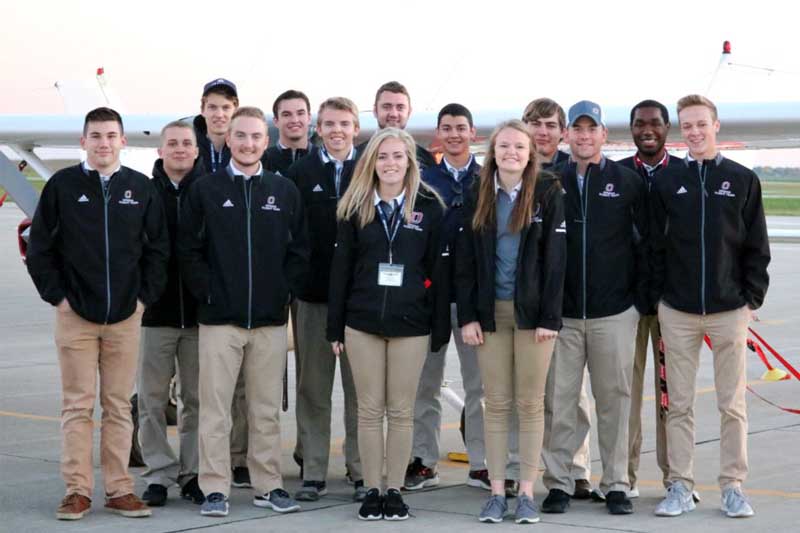 From Left: Nick Scholz, Zach Evans, Nick Newstrom, Leighton Kaluza, Joel Heaps, Tate Beller, Nicole Lund, Adam Recker, Chris Pineda, Sidney Due, Martin Simonini, Philip Wier, Daniel Anding, Travis Nelson.
The University of Nebraska at Omaha (UNO) Flying Mavericks earned the highest team finish in program history this weekend as they placed eighth at the 2018 National Intercollegiate Flying Association (NIFA) SAFECON competition, which took place Monday, April 30, through Saturday, May 5, at Indiana State Univeristy.
The eighth-place finish by the Flying Mavs puts them in a class above institutions like Oklahoma State University, Auburn University, Purdue University and the United States Air Force Academy.
The NIFA SAFECON is held annually, pitting the top collegiate aviation programs in the country against each other in a series of compeitions testing their skills in the air and on the ground. The Flying Mavs earned the right to compete nationally after placing second in their region last October.
At the 2018 NIFA SAFECON, UNO placed eighth both in the SAFECON Championship and in a vote by the judges. The finish included a fifth place finish in the "Flight Events" category and ninth in the "Ground Events" category.
UNO coach Ryan Guthridge also earned first place as 2018 "Coach of the Year" at the competition.
Among the students, UNO earned 12 Top-20 finishes among all categories. Additionally, two students earning top-10 finishes among the entire field of their peers, with Philip Wier earning second in the "Men's Achievement Award" category and Tate Beller being selected sixth in the "Regional Top Pilot" category.
A full list of overall results can be found at the NIFA website.
About the University of Nebraska at Omaha
Located in one of America's best cities to live, work and learn, the University of Nebraska at Omaha (UNO) is Nebraska's premier metropolitan university. With more than 15,000 students enrolled in 200-plus programs of study, UNO is recognized nationally for its online education, graduate education, military friendliness and community engagement efforts. Founded in 1908, UNO has served learners of all backgrounds for more than 100 years and is dedicated to another century of excellence both in the classroom and in the community.
Follow UNO on Facebook, Twitter, Instagram, TikTok, LinkedIn, and YouTube.