Student Commencement Stories: May 2018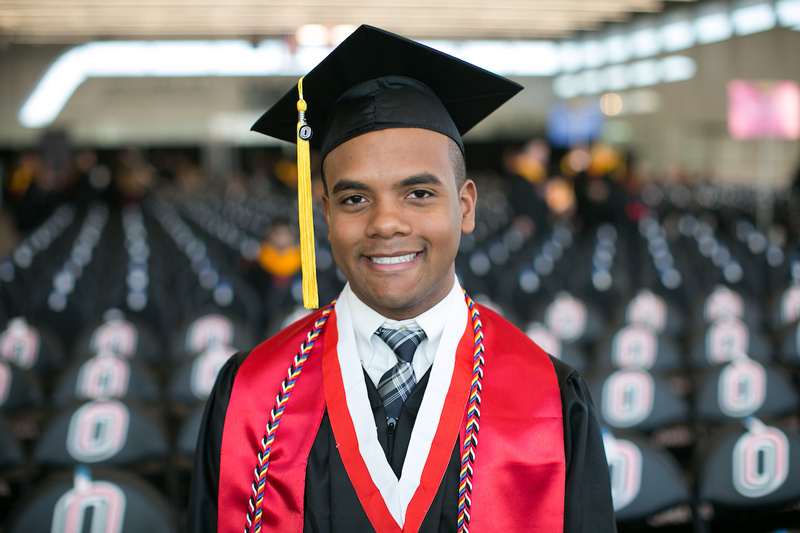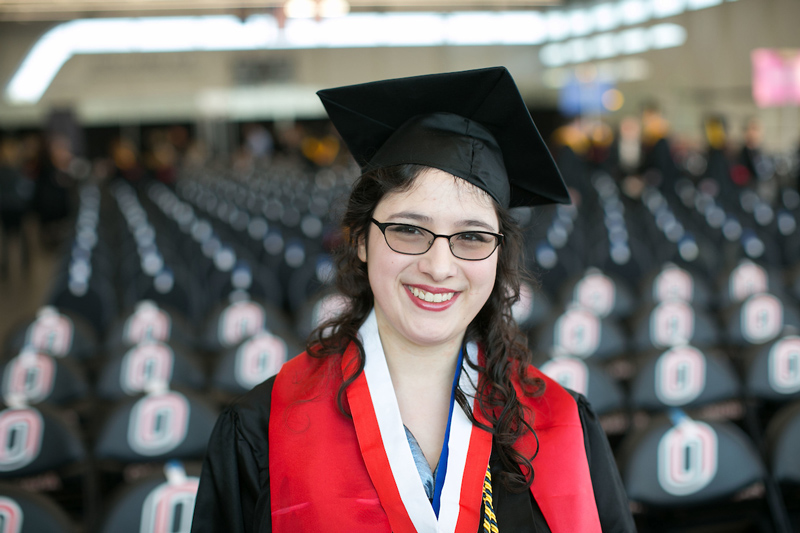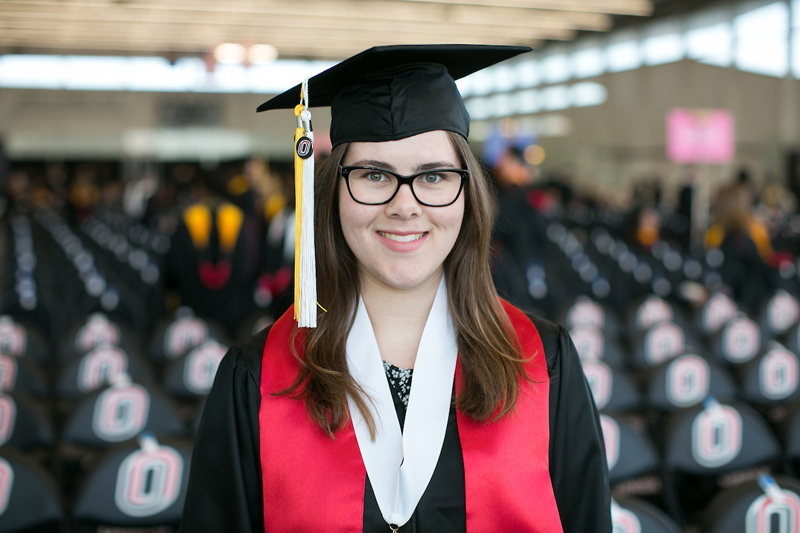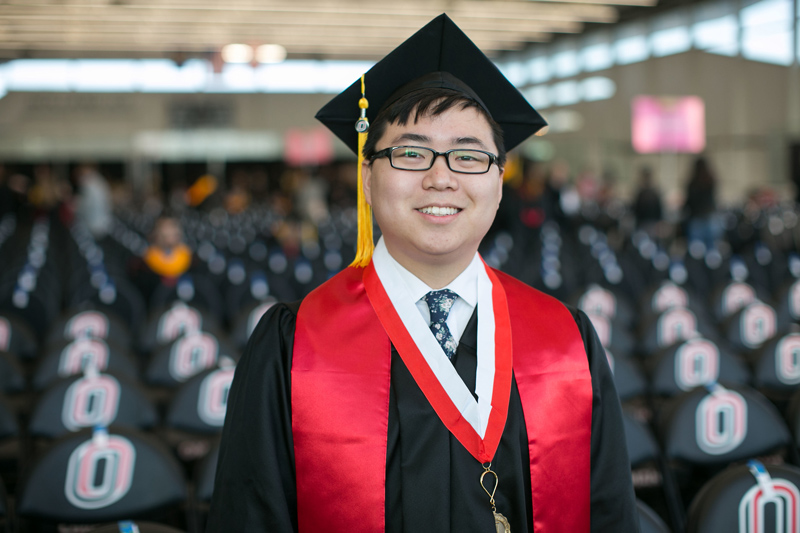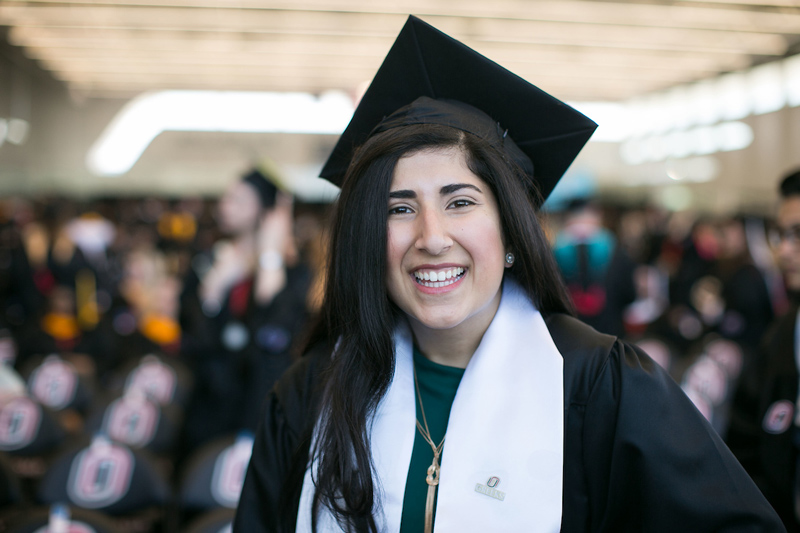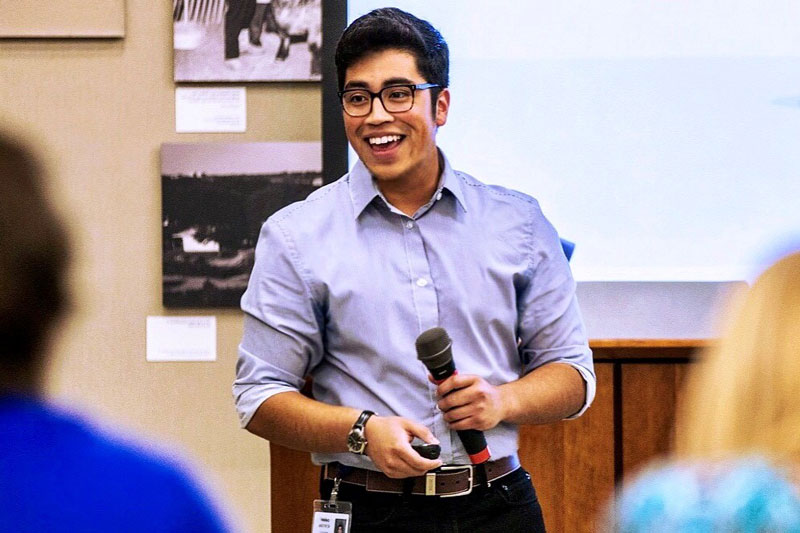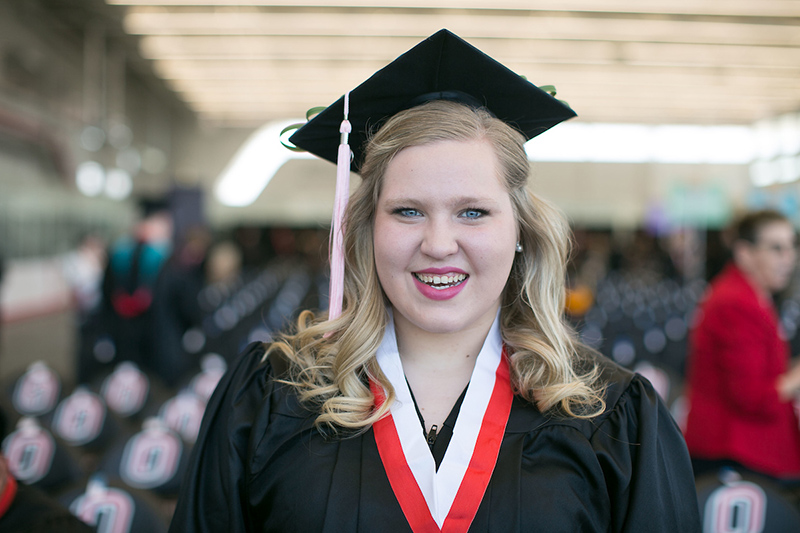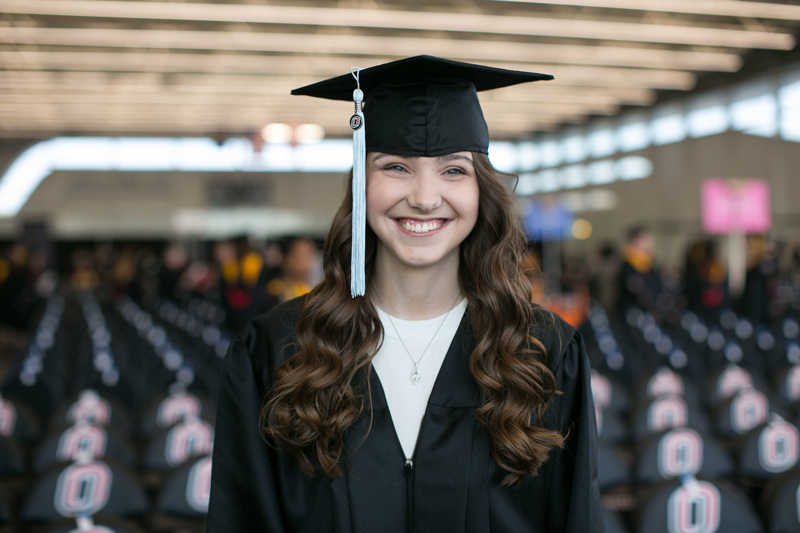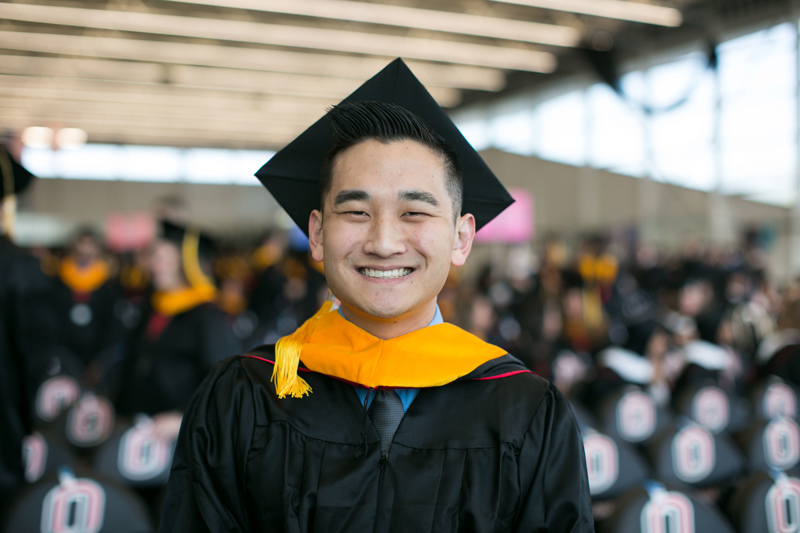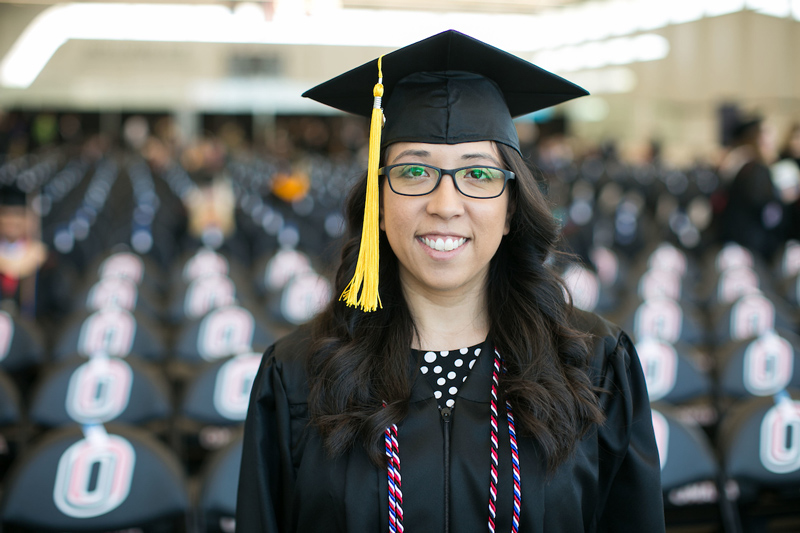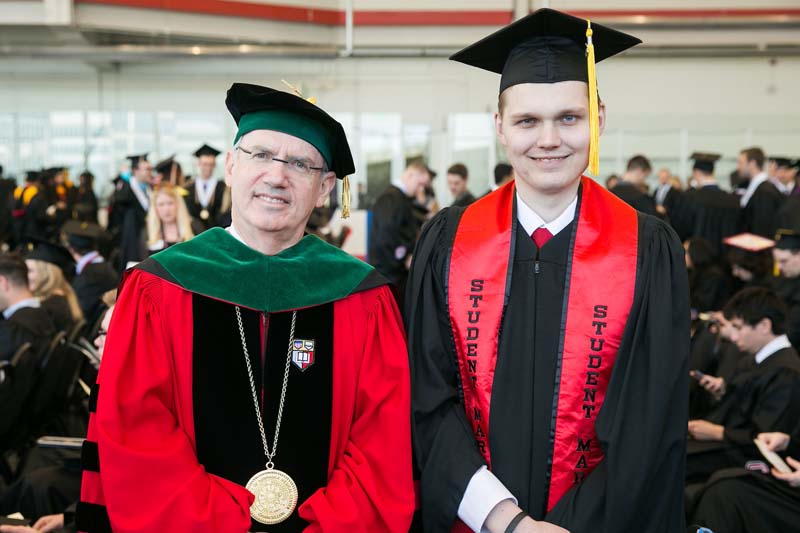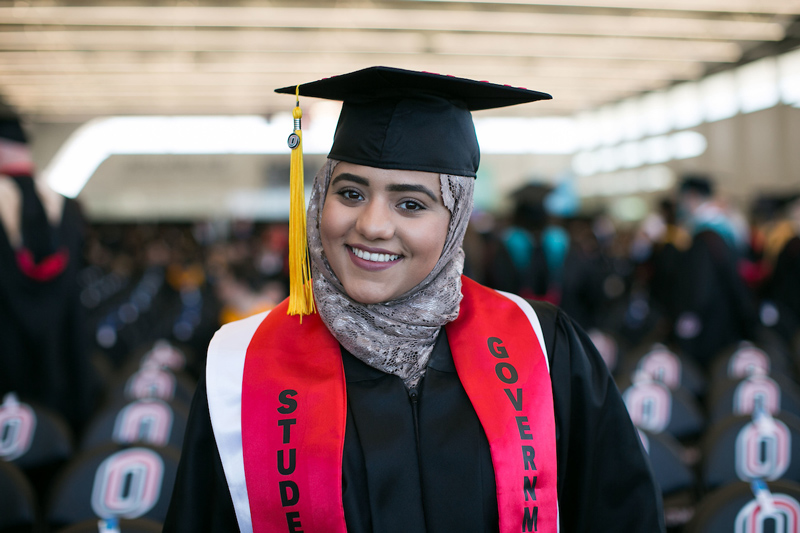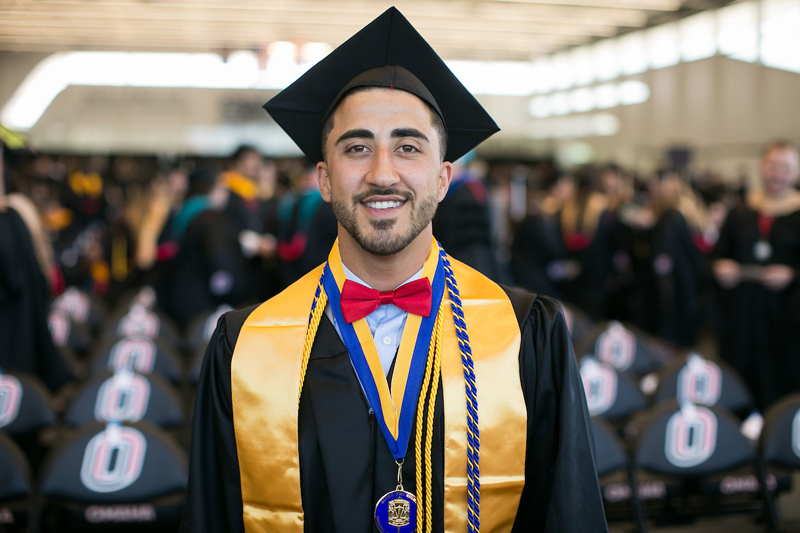 ---
Antonio Campbell (College of Arts and Sciences)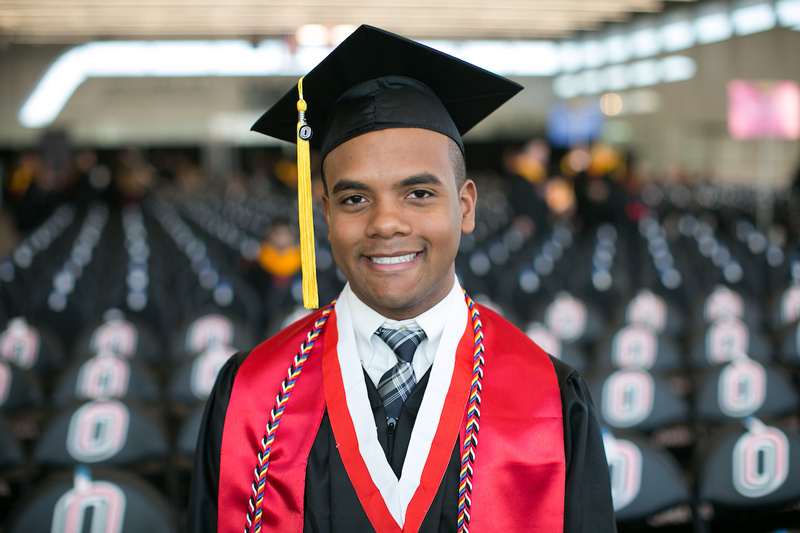 A Bellevue native, Antonio Campbell is committed to giving back to his community and improving efficiency in how services can be provided to those that need them in both the nonprofit and business worlds. Campbell is not only an honors student and a math major, but he is a member of the Goodrich Scholarship Program, which was founded in the 1970s at UNO to provide financial and academic support to students from who otherwise couldn't afford the same educational opportunities.

This past year, Campbell interned with Heartland Family Service as a data specialist, creating a new scorecard metric the nonprofit could use to track and improve their offerings. In addition, Campbell has been volunteering at the Stephen Center in Omaha since middle school, helping provide meals to homeless men, women and children going through housing transitions. Because of these efforts, Campbell was named a national Newman Civic Fellow in 2016 as just one of 218 students from across the country to be recognized for their community service. After graduation, Campbell will attend Arizona State University for their statistics Ph.D. program on a teaching assistantship.
---
Virginia Gallner (College of Arts and Sciences)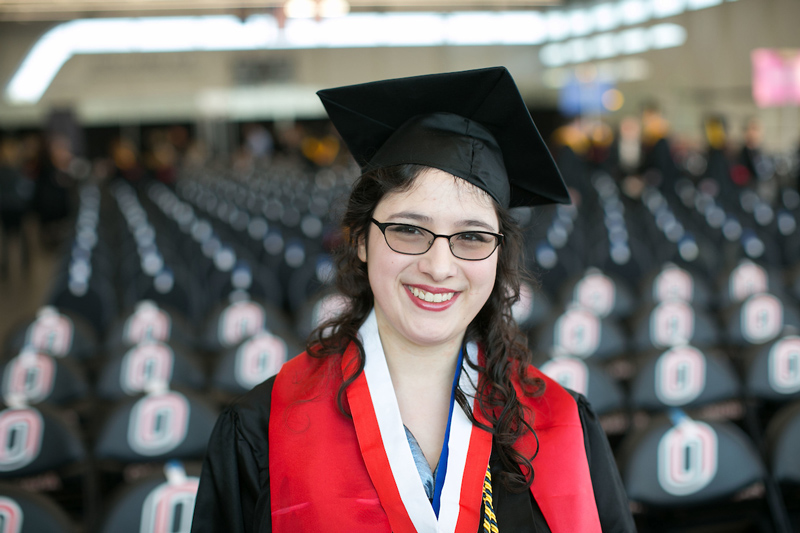 Virginia Gallner, a Council Bluffs native, is not just a UNO honors student, she is also a refugee advocate, public speaker, music teacher and folk singer. The Omaha native will earn a dual degree in international studies and religious studies this May, while at the same time preparing to release her first full-length album in June. Gallner started her performing career in 2012 starting by playing brunches across the city, moving on to playing regular shows in Benson since 2013, as well as establishing mini tours in other parts of the state with one planned this summer on the east coast.
This past year she was nominated for an Omaha Entertainment and Arts Award for best blues musician. In addition to playing shows as a folk performer, she has been employed as a student worker in UNO's International Programs office since 2013, served on the TEDxOmaha board since 2015, joined an archeological excavation in Israel in 2016, has volunteered as an instructor for Omaha Girls Rock since 2016 and served as an intern with the Omaha Sister Cities Association this spring. After graduation, Gallner will be taking a year off to work on her music, but hopes to eventually pursue a career in intercultural communication.
---
Audra Langer (College of Arts and Sciences)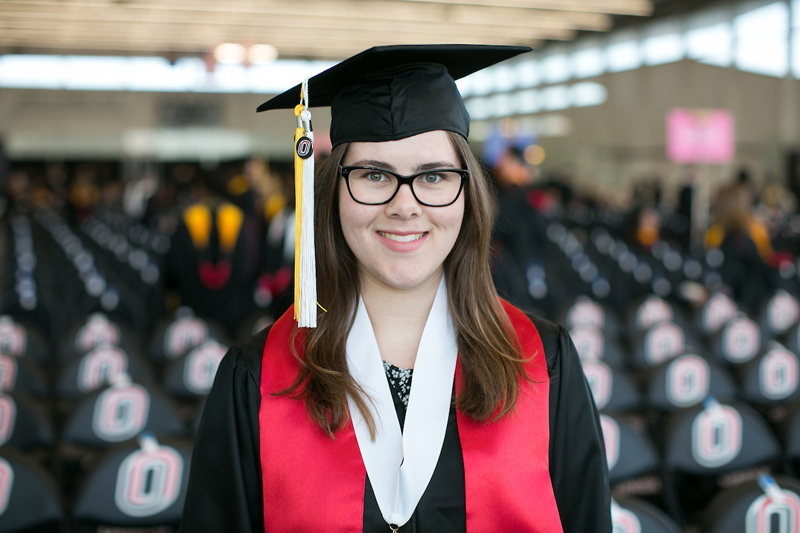 A double major in both Math and French may seem like an odd pairing, but for soon-to-be graduate Audra Langer, both teach a unique language and are key to improving the lives of others around the world. An honors student, community volunteer and tutor, Langer will travel this summer to the French-speaking African country of Guinea as a volunteer member of the Peace Corps. While in Guinea, she will bring her years of experience as tutor and her expertise in French to help 7th through 10th grade students learn math.
Additionally, Langer plans to take on additional duties working in one of the country's clinics, carrying on the work she has been doing for Walgreens as a certified pharmacy technician. Langer hopes her time with the Peace Corps can help her in "chipping away at stereotypes" about Africa as an intercultural liaison between America and Guinea.
---
Harim Won (College of Arts and Sciences)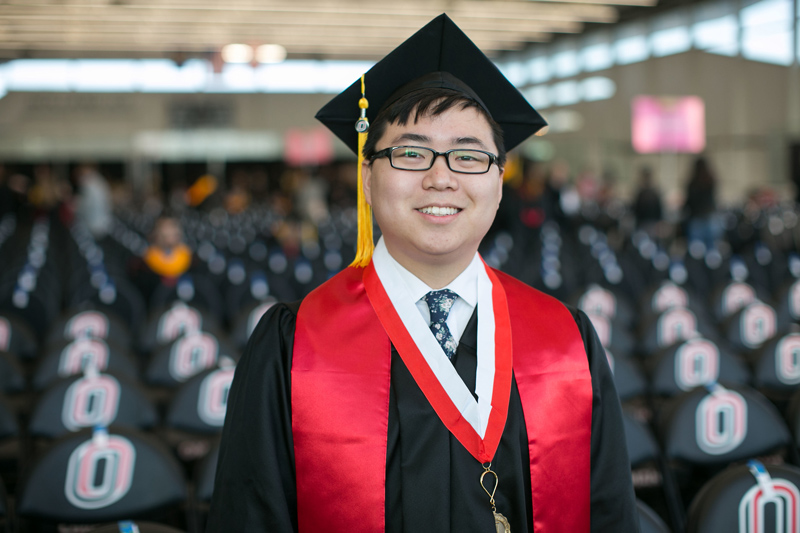 Harim Won is a Maverick who had big dreams from an early age.

Growing up in Omaha, Won always wanted to pursue a career as a medical doctor. As he began applying to colleges, Won was contacted by the UNO Honors Program who urged him to visit UNO.

"I looked at some other places in the area, but I really did feel most at home when I visited UNO," he said.

He decided to complete his undergrad at UNO after being impressed by the campus and the resources the university had to offer.

Won was involved in undergraduate research very early on, and thanks to the university's IDeA Networks of Biomedical Research Excellence program, he was able to complete a summer research internship at UNMC.

He went on to work in UNO's Department of Biology where his work culminated into his senior honors thesis.

Once he receives his diploma from UNO, Won will begin his Ph.D. at Harvard University where he will study biological sciences in public health.

Who knows? One day Won might come back to the place where it all began.

"In the long term, I would like to become a professor of biology and teach at the university level - maybe even back home at UNO!"
---
Nigeena Rahmanzai (College of Business Administration)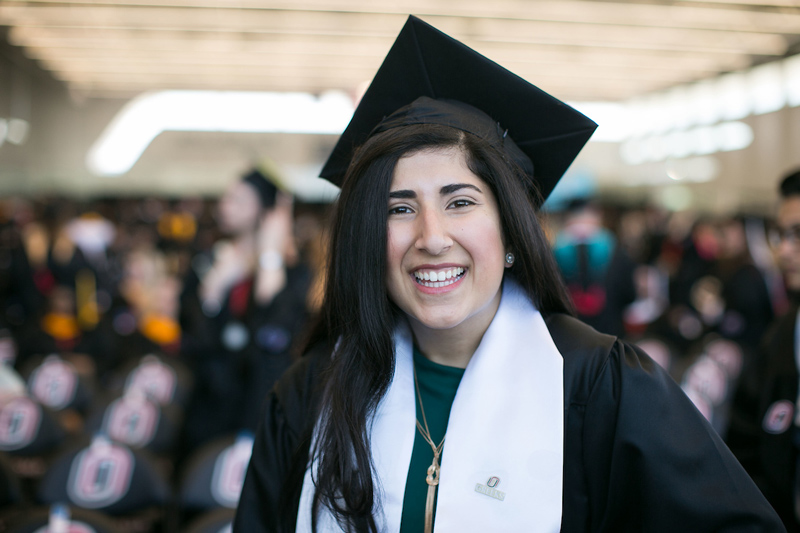 Nigeena Rahmanzai is looking to make a change in her community both locally and globally. A native of Gretna and the daughter of Afghani refugees, Rahmanzai is graduating with a double major in economics and political science. Already accepted to a law school program in New York City, she wants to become an immigration attorney in order to help those who aren't as fortunate as her parents were when they arrived in Nebraska in the 1980s.

Earning her degree in just three years, Rahmanzai showed leadership on campus and off as a member of student government and UNO's Chi Omega chapter, as well as interning at TD Ameritrade and the Douglas County Courthouse. She hopes those experiences will not only help her as a legal professional, but eventually as an elected official as well. One thing she knows for sure is that whether it's law or politics, she is sure her path will bring her back home to Nebraska.
---
Danny Ventura (College of Business Administration)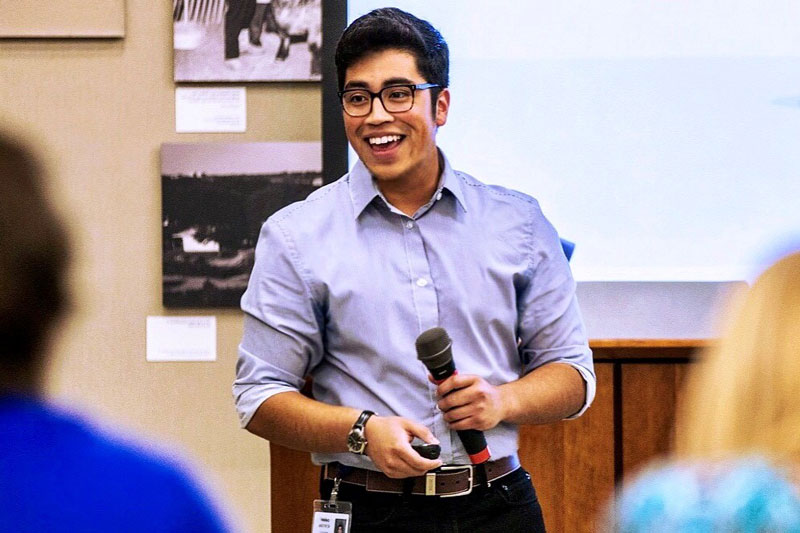 Danny Ventura dreamt of going to college while spending most of his life in Dodge and Fremont, Nebraska.

The summer before his freshman year at UNO, Ventura took a job at Fremont Beef Company. The experience left enough of an impression on him that he decided to pursue a bachelor's degree in business administration.

While at UNO, Ventura often worked seven days a week. Between work and classes, he still found time for study sessions and various internships.

As he worked to finish up his degree, Ventura learned about First National Bank's management trainee program. During his final fall at UNO, he packed his semester with 24 credits so he could graduate early and be eligible to interview for the program. After an intensive interview process, his risk paid off and he was one of the few candidates selected.

Ventura plans to come back to UNO and complete a master's degree with hopes to have his own space inside Omaha's tallest building (First National Bank).

"The College of Business Administration has been a place for me to meet everybody, a place to get to work, a place to find internships." Ventura said, "I will always be grateful to this university."
---
Beth Myers (College of Communication, Fine Arts & Media)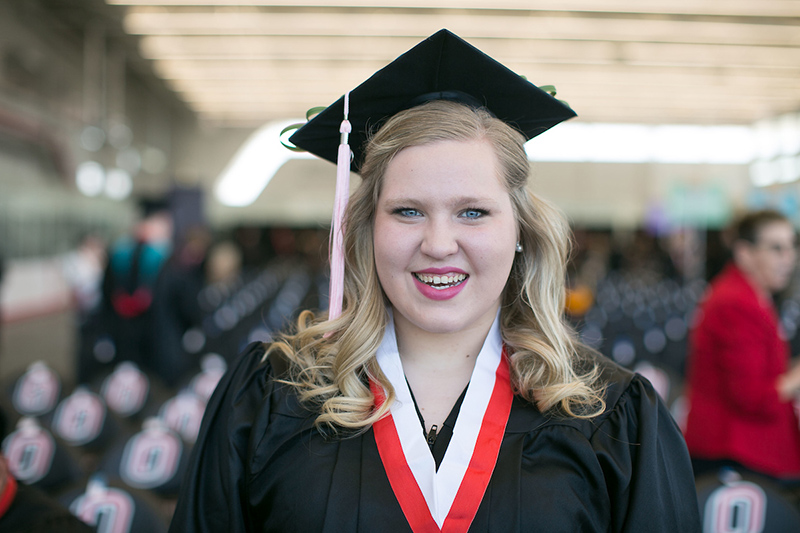 Beth Myers, a PK-12 music education major, can't wait to share the joys of making music with her future students.

Myers fell in love with music at an early age while growing up on a farm near Underwood, Iowa.

"I was always singing as a child and loved my elementary music class," Myers said, "There are so many opportunities in music and I love expressing myself through my instrument and voice."

Myers participated in MAYJO, a youth jazz orchestra that rehearses at UNO with faculty. During her time in MAYJO, Myers grew very close to the professors that she played alongside. It was those professors who motivated her to pursue an education through UNO.

"I am very happy that I chose to attend UNO because the faculty have now become lifelong mentors," Myers said. "I cannot thank them enough for their support."

While at UNO, Myers traveled the world, playing music with her School of Music classmates. Tour stops included Japan, China, Lithuania and Latvia. Myers is excited to use those experiences to help create real-world connections to her future students. She was also recognized as the 2018 Outstanding Graduating Music Education Student.

As her time at UNO draws to a close, Myers says she has hopes of becoming a music teacher in the Omaha area. She also plans to pursue another degree in the field of conducting, with hopes to teach music at the collegiate level.
---
Ashton Dugan (College of Education)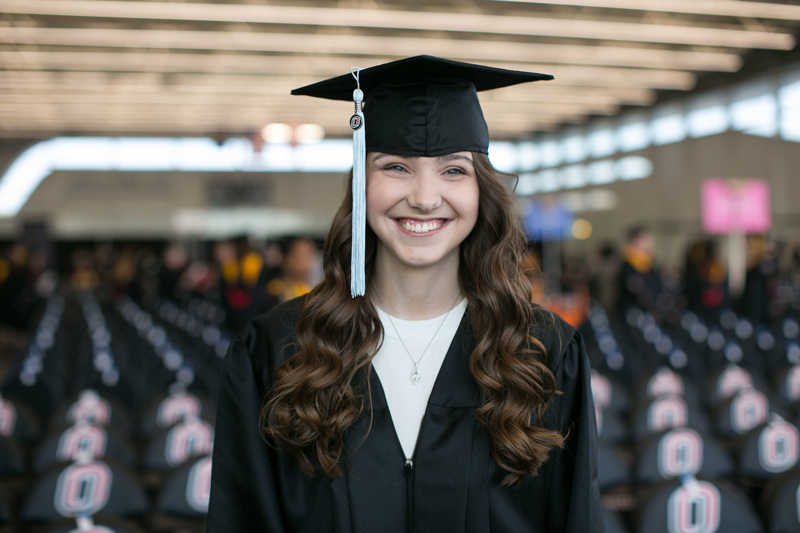 Ashton Dugan was born with a rare disease, but she isn't letting it hold her back.

Dugan is an athletic training and pre-physical therapy (PT) major from Cozad, Nebraska. When she was only one year old, she was diagnosed with a very rare genetic disease called Leber's Congenital Amaurosis. This caused her to grow up legally blind.

"Growing up there were struggles that I faced because of this disease, but I didn't let them stop me," Dugan said, "I found ways to do things that other kids did."

Because of her disease, Dugan was unable to play every sport like her siblings and friends did. However, she was able to run track and held on to her love of sports. This was also the time she realized that she wanted to pursue a career related to sports and the medical field, but figured her disease would keep her from those goals.

After Dugan was injured during track, she learned about physical therapy and found an opportunity to make a difference in the medical field. During her senior year of high school, Dugan job shadowed at her local physical therapy clinic and learned more about athletic training and physical therapy.

Those experiences led Dugan to pursue her dream in athletic training and pre-PT at UNO.

"Even though some people, and even yourself at times, may doubt what you can do, always remember that you can do anything you set your mind to," Dugan said.

Her future plans after graduation are to go to physical training school and in the long term, hopefully return to Cozad to be a physical therapist.
---
Alex Zuehlke (College of Education)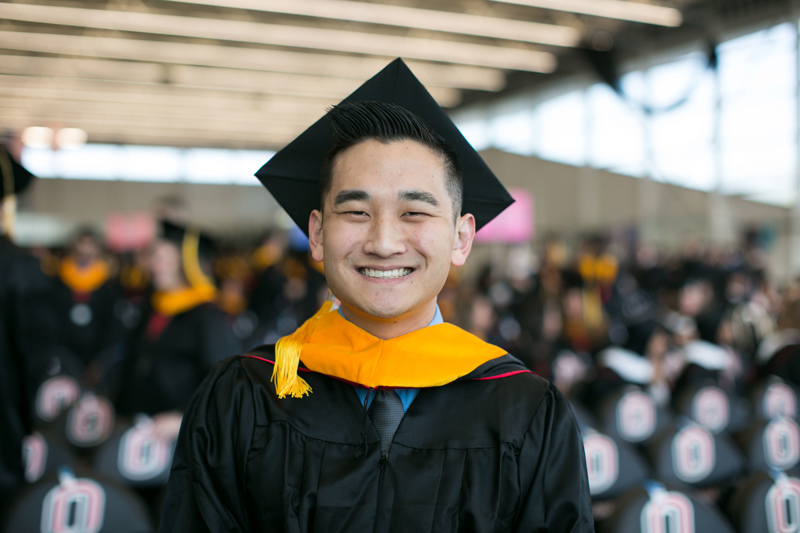 Alex Zuehlke has always loved being a student. Soon, he'll take that love of education into the classroom as a teacher.
This May, Zuehlke is graduating with a Master of Science in Secondary Education with a concentration in ESL (English as a second language.)
It's his second degree from UNO. Zuehlke earned his bachelor's from UNO, studying Secondary Education with a concentration in 7-12 Spanish.
He decided to pursue a master's degree after meeting CADRE program Coordinator Char Riewer while he worked as a student worker inside the College of Education's technology office. The CADRE project is an accelerated master's program for teachers.
"I am still thankful to this day for taking that chance and being accepted into the CADRE program," Zuehlke said. "I have grown so much since the start of CADRE, and UNO and the College of Education are major components of my growth as an educator."
As for post-graduation, Zuehlke is excited to share he has accepted a teaching position at Millard South High School.
He plans to remain a life-long learner, and hopes to one day pursue another degree in administration.
His advice to fellow students? "Take chances on opportunities to better yourself, reflect on your mistakes and share your experiences with others."
---
Brittny Escamilla (College of Information Science & Technology)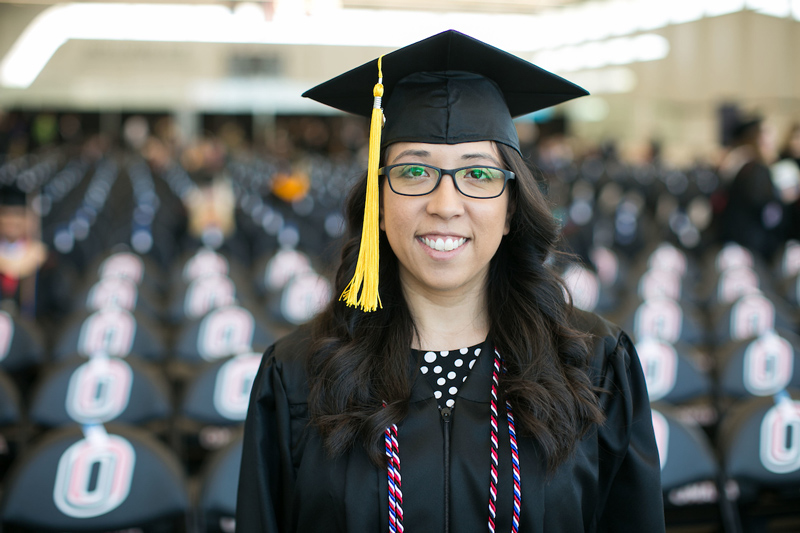 Brittny Escamilla made the jump from the west coast to Nebraska for a very particular reason.

Her journey began when she enlisted in the Army, and as enlistment came to a close, she knew it was time to get her degree.

Escamilla began by searching for military-friendly universities, which brought her to UNO. UNO was recently ranked as the No. 6 most military-friendly four year university in the nation by the Military Times.

Escamilla, who majored in management information systems, is currently working as a systems admin intern at Interpublic Group, a global advertising company.

Her long-term goal is to hopefully work as an independent IT consultant and help micro-businesses implement technology into their business environments.

If Escamilla could give advice to her younger self, she would caution that sometimes we miss the better things in life because we don't recognize the package that they come in. She's grateful she took a chance and moved halfway across the country to pursue her degree.

"If I had stayed where I was before, I would have missed out on all the great learning opportunities I've had here at UNO!"
---
John Patrick Nicholson (College of Information Science & Technology)

On Friday, May 4, as hundreds of soon-to-be UNO graduates entered Baxter Arena to celebrate the end of their college careers, one student, John Patrick Nicholson, was there for a different reason entirely.
Earlier this year, Nicholson was nominated, and selected, by the faculty and staff of College of Information Science and Technology to serve as their college's marshal at UNO's May 2018 commencement ceremonies.
Despite just being a sophomore, Nicholson was selected for his unwaivering Maverick Spirit.
In 2011, a then-15-year-old Nicholson was diagnosed with leptomeningeal Medulloblastoma, a rare form of brain cancer. Attempts to remove the tumor were successful, but impacted Nicholson's brain, motor and speech functions.
Over the next five years, Nicholson not only re-learned everything, but excelled in his college entrance exams and earned a full-ride Regents scholarship to UNO.
---
Hameidah Alsafwani (College of Public Affairs and Community Service)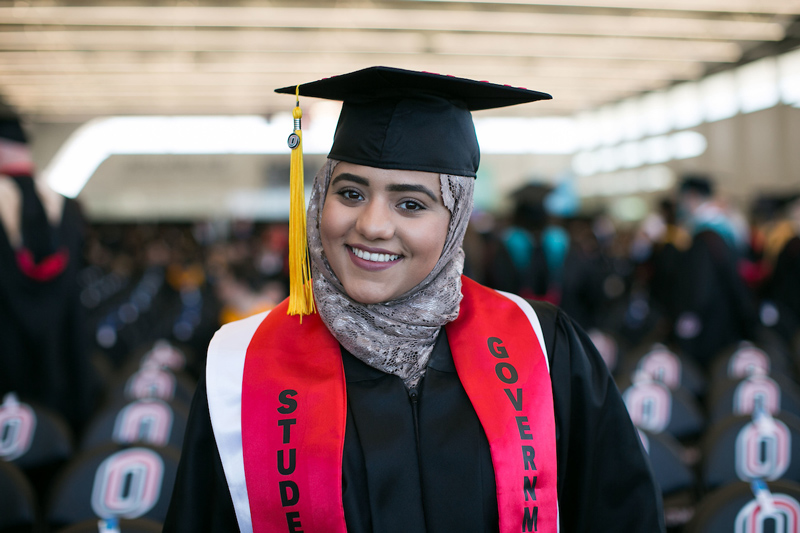 Hameidah Alsafwani was born in Oklahoma, raised in Saudi Arabia, but is committed to giving back to the state of Nebraska. Alsafwani, who speaks fluent English and Arabic while also currently learning Spanish, will graduate this May with a bachelor of science in emergency management, a field she found her passion in after switching majors nearly three years into her college career.
After the change, Alsafwani, became fully engaged in campus leadership, including serving as Student Body Vice President this past academic year. Additionally, she has served as a mediator for UNO's "Sustained Dialogue" group and was heavily involved with UNO's International Programs office. This spring she interned with Douglas County Emergency Management, helping assist in their weather siren test in March. After graduation she plans to pursue a Masters in Public Administration at UNO with the goal of eventually working in international emergency management.
---
Fatah Mir (College of Public Affairs and Community Service)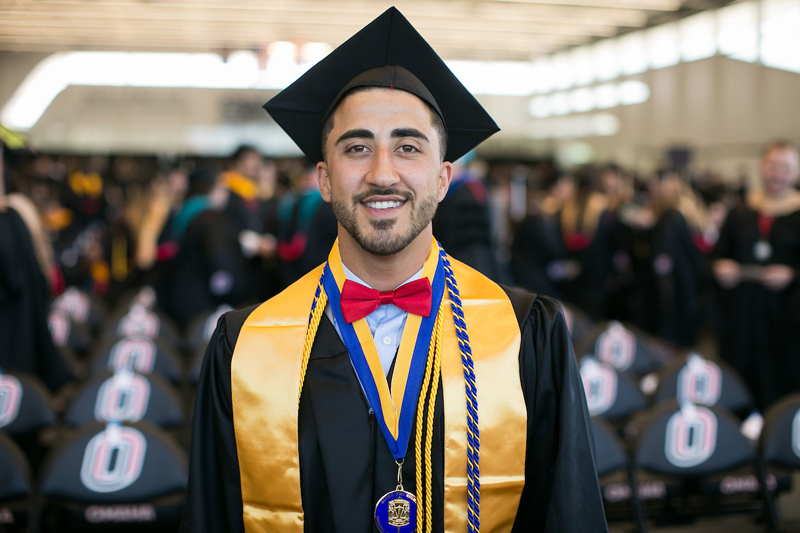 Abdul (Fatah) Mir hopes to work in law enforcement after graduating. Mir is a graduating senior who is earning his Bachelor of Science in criminal justice with a minor in political science.

Mir, who is originally from Pakistan, credits his brother and sisters for bringing his pursuit in education to UNO. He says coming to UNO has been the best decision of his life. While at UNO, Mir has also become a CJ Ambassador and president of the Criminal Justice Student Organization.

Mir's first goal as a Maverick alum is to stay in Omaha and pursue a career with the Omaha Police Department. His dream is to eventually become a Deputy U.S. Marshal.
About the University of Nebraska at Omaha
Located in one of America's best cities to live, work and learn, the University of Nebraska at Omaha (UNO) is Nebraska's premier metropolitan university. With more than 15,000 students enrolled in 200-plus programs of study, UNO is recognized nationally for its online education, graduate education, military friendliness and community engagement efforts. Founded in 1908, UNO has served learners of all backgrounds for more than 100 years and is dedicated to another century of excellence both in the classroom and in the community.
Follow UNO on Facebook, Twitter, Instagram, TikTok, LinkedIn, and YouTube.