Theatre Shows | "The Wolves"
This team navigates big questions and wages tiny battles with all the vim and vigor of a pack of adolescent warriors.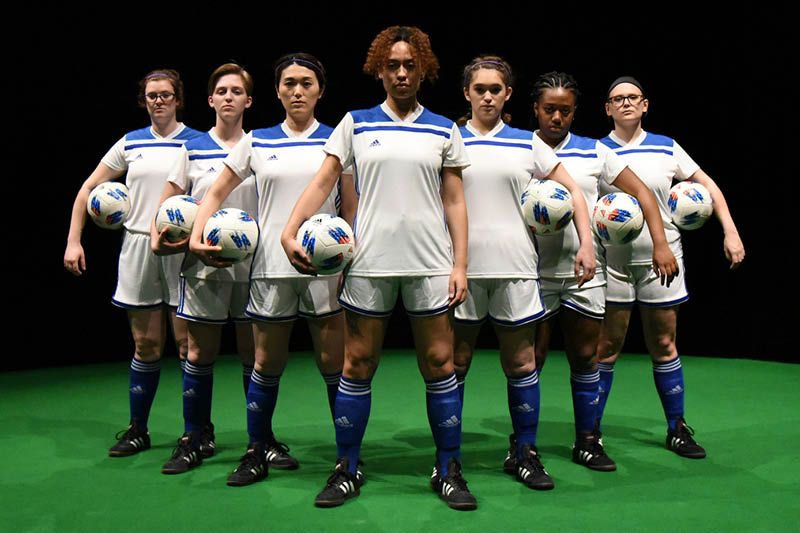 UNO Theatre in the University of Nebraska at Omaha's School of the Arts kicks off its 2018-19 season featuring shows by all-women playwrights. 
The season's four distinguished titles include Helen Edmundson's The Clearing, Marsha Norman and Lucy Simon's musical adaptation of The Secret Garden, Sarah Delappe's The Wolves, and a riotous comedy produced in cooperation with The Great Plains Theatre Conference, Carrie Barrett's Colonel's Chicken: A Fairy Tale.
All shows are at 7:30pm in the Weber Fine Arts Building Theatre. 
There are three ways to enjoy. UNO students get in free with their MavCard. General admission tickets are $16. Download tickets at unotheatre.com or you can also simply walk up to the box office before the show.
OUR NEXT SHOW 
THE WOLVES
Apr 10-13, 17-20
by Sarah DeLappe
Left quad. Right quad. Lunge. A girl's indoor soccer team warms up. From the safety of their suburban stretch circle, the team navigates big questions and wages tiny battles with all the vim and vigor of a pack of adolescent warriors. A portrait of life, liberty, and the pursuit of happiness for nine American girls who just want to score some goals. 
"A sensational portrait of American high school girl power"

Tickets
FREE w/MavCard
Adults/$16
Walk-up at Box Office (30 min. before showtime)
Call 402-554-7529
Times & Parking
All shows 7:30pm & Matinées 2pm
West Garage Parking M-Thu
($1 per hour / $4 day)
Free Parking in West Garage on Fri & Sat 
PAST SHOWS
THE CLEARING
Sept 26-29 & Oct 3-6
by Helen Edmundson
The play is set in Ireland in 1652. Oliver Cromwell has passed the Act for the Settlement of Ireland, decreeing that all Catholic landowners must relocate to the province of Connaught, a blighted and barren land in the west of the country. Madeleine, an Irish woman married to an English man, Robert Preston, has just given birth to their first child, but their joy is short-lived. Their union becomes the focus of an ever-rising resentment within their small farming community. As the English parliament under Cromwell's command mount their 'to Hell or Connaught' policy, the Prestons' happy world is torn apart.
"One family torn with a heart-wrenching decision"
SECRET GARDEN
Oct  31 - Nov  3, 7-10, 14-17
Matinée Nov 18 (2pm)

Book & Lyrics by Marsha Norman, Music by Lucy Simon
This enchanting classic of children's literature is reimagined in brilliant musical style by composer Lucy Simon and Marsha Norman, the Pulitzer Prize-winning playwright of 'Night Mother. Orphaned in India, 11 year-old Mary Lennox returns to Yorkshire to live with her embittered, reclusive uncle Archibald and his invalid son Colin. The estate's many wonders include a magic garden which beckons the children with haunting melodies and the "Dreamers", spirits from Mary's past who guide her through her new life, dramatizing The Secret Garden's compelling tale of forgiveness and renewal.
"An enchanted musical that opens a door to the heart"
Colonel's Chicken: A Fairy Tale
Feb  20-23, 27-28 & Mar 1-2

By Carrie Barrett
Part of the CONNECTIONS Series w/Great Plains Theatre Conference
Demi wanders into a Colonel's Chicken restaurant, looking for easy comfort after being dumped by her boyfriend. But when invited to step beyond the Employees Only door, she finds another thing entirely. Winner winner, chicken dinner?
Contact Us
If you have a story idea or inquiry please contact:
Randy Mattley, Communications Specialist, College of Communication, Fine Arts and Media
rgmattley@unomaha.edu • 402.554.3216