UNO Student Has Money In Her Pocket After Appearance On "Wheel of Fortune"
Senior Caitlyn Marco took home just over $10,000 after appearing on the show April 3.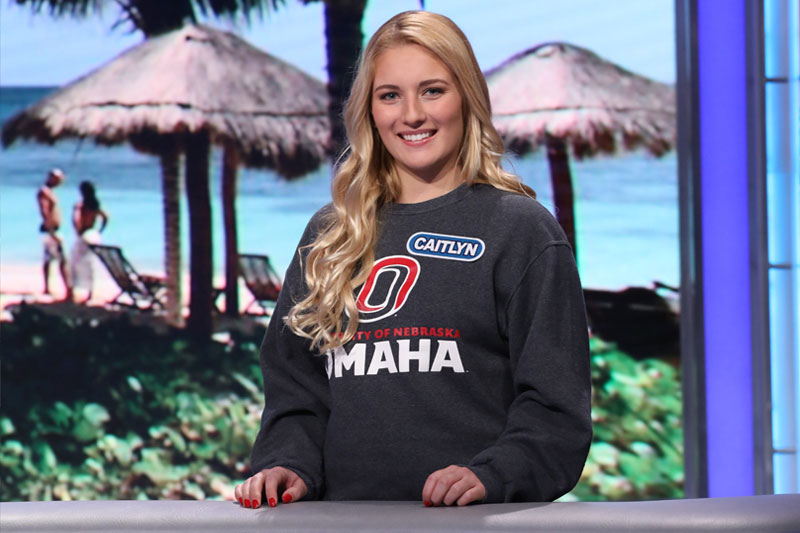 UNO student Caitlyn Marco poses on the set of "Wheel of Fortune." Image courtesy Carol Kaelson.
On Tuesday, April 3, University of Nebraska at Omaha (UNO) student Caitlyn Marco appeared on "Wheel of Fortune" for its Spring Break College Week.
Marco was able to answer five puzzles and took home $9,300 in cash as well as a $1,000 gift card to Dick's Sporting Goods.
She said she plans to use part of her money for income when she does her student teaching in fall 2019. She also plans to use some of the money for a trip to Mexico next winter.
Marco, who is studying K-12 Physical Education, said she applied to be on the show two years ago. "Wheel of Fortune" kept the application, and invited her to come out to an Omaha audition this past February.
"It was really crazy and I was super nervous," Marco said. "I gave it my all."
Marco's mom and dad joined her on the trip.
"My dad has been watching since it started, so he was thrilled."
Because of her Dad, Marco had been a fan of "Wheel of Fortune" for years. She said she always has the show on when she gets home from work. One of her favorite parts of the trip was meeting hosts Pat Sajak and Vanna White.
"You felt like a star for the day."