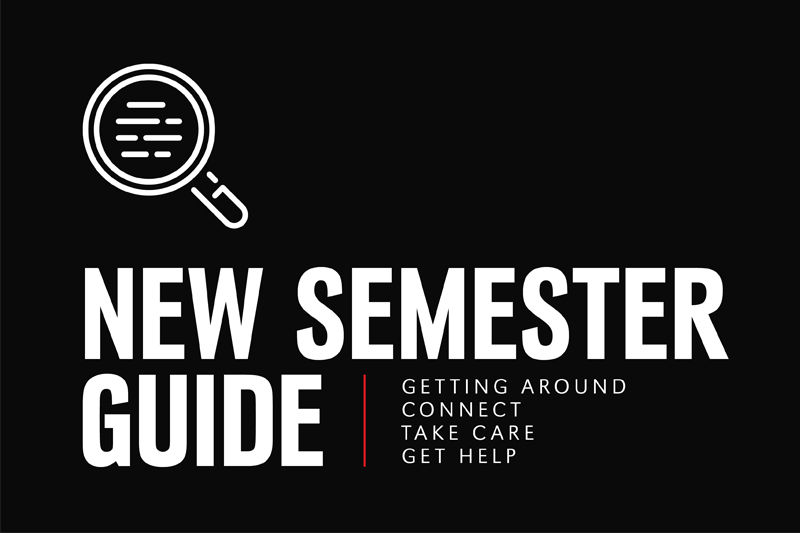 Ready for classes? Whether you're new to campus or know it well, this quick refresher will help you have a fantastic first week.
If you have questions about anything you read, please call the UNO MavIGATION Station at 402.554.2800 to get connected with someone who can help. We want you to have the best experience possible as a new or returning Maverick!
Jump to section:
---
Stay Informed 
As the new semester gets underway, it is important to make sure you have all the tools you need to stay informed on campus from major news items to key campus events, there are many ways to know about all the great opportunities UNO has to offer.

Maverick Daily and Bullseye
The campus has two email newsletters, one for students (
the Bullseye
) shared every Monday and one for faculty and staff (
the Maverick Daily
) shared each day. Both newsletters provide great access to new news, upcoming events and ways to stay informed.
Follow Us
For the most up-to-date news and information regarding campus, make sure to follow one, or all, of UNO's official social media channels:
UNO News and Events Calendar
Missed a story or not sure when an event may be taking place? You can access a full list of articles on the UNO News Center or search for an event on the UNO Events Calendar.
UNO Alert
In the event of a significant campus event requiring immediate action or an unexpected campus closure, you will be notified by text through UNO Alert. Make sure you are signed up to recieve these alerts or, if you are signed up, make sure that your contact information is up to date.
Getting Around

As you plan your semester schedule, make sure you give yourself enough time to get to campus and make sure you visit our Buildings and Maps page so you can get to where you need to go!


It's Easy Being Green
No matter the time of year, UNO supports a variety of sustainable transportation methods. For example, thanks to our MavRIDE program, all of our active students, staff and faculty members can ride any city bus just by swiping a MavCARD.
Virtual Permits
If you're driving, make sure you have already purchased a virtual permit via MavPARK or plan to get one via kiosk or the Park Omaha app. There are no physical permits, so you can do everything online. If you need in-person support, Parking Services is located just south of the Pacific Street Garage.
Shuttle Between Campuses
Check out our updated shuttle routes to plan your trip between campuses. You can also use our new GPS tracking app to plan your day and know when your shuttle will arrive. 
Explore Elmwood Park
Between Dodge and Scott Campus, you'll find Omaha's Elmwood Park. It's a great place to jog, study or just spend time outdoors - weather permitting. Please be respectful of the area by traveling at the speed limit and watching for pedestrians as you're driving through. Likewise, Elmwood parking stalls are for those enjoying the park. Finally, help us keep Omaha beautiful by picking up any litter you see.
Connect

Life at UNO is extraordinary. Start your semester right with Durango Days, our official welcome week!
Ways to Connect
Download our new UNOmaha app to learn about campus events and news. Also, check out our many student organizations through Engage, UNO's new online involvement portal. From politics to board games, there's something for everyone.
UNO Student Government is the official voice of the UNO Student Body, so take time to get to know your representative and learn more about SG-UNO.
Everyone for Omaha
As a student, you get exclusive access into all UNO games with a MavCARD. Make sure to wear black and get loud at the first Athletics' home games of 2019:
Women's Swimming and Diving vs. Iowa State on Friday, Jan. 11
Women's Swimming and Diving vs. Nebraska on Saturday, Jan. 12
Men's Hockey vs. North Dakota on Friday, Jan. 18, and Saturday, Jan. 19
Men's Basketball vs. South Dakota on Sunday, Jan. 20 (6 p.m.)
Women's Basketball vs. South Dakota on Sunday, Jan. 20 (2 p.m.)
Here's our fight song. We want to hear you loud and proud on game days!   


We Will Fight, Fight, Fight For Our Mavericks
We Will Fight, Fight, Fight For Our Team
Everyone Knows When That Ol' Whistle Blows
We Will Shout, We Will Yell, We Will Scream: GO MAVS!
We Will Fight, Fight, Fight For Our Mavericks
We Will Cheer So All The Fans Will Know
Be it Win, Lose, or Draw, Everyone's for Omaha
We Will Fight For U-N-O! 
U-N-O!
U-N-O!
U-N-O!
Take Care

Mavericks make it a priority to care for themselves and others. Whether you need extra help with classes, support adjusting to college life or need advice on how to stick to your New Year's Resolutions, you have options. Get to know the support that is available to you on campus.


Wellness
We know wellness is about balance, which is why we offer a wide variety of programs to support your health and well-being. Page through our Wellness Guidebook and plan to stop by the Wellness Center (located in the Health & Kinesiology building). If you're taking on-campus classes, your student fees already cover membership. If you are a staff or faculty member, you have access to low-cost membership options.
Nebraska Medicine - UNO Health Center
Thanks to a partnership with Nebraska Medicine, students are able to take advantage of streamlined access to the most comprehensive health network in the region. Located in the Health and Kinesiology building, the UNO Health Center provides everything from primary care to laboratory services and radiology.
Commit to Fit
Turn your resolution into action! Stop by one of the Wellness Center tables in various buildings across campus and fill out a Commit To Fit card to get a free t-shirt. Wellness Center representatives will help you set realistic goals that meet your specific needs.
Get Organized
Part of taking care of yourself is taking time to get organized. Get familiar with our academic calendar, pick up your textbooks and supplies from the UNO Bookstore, and visit the Dr. C.C. and Mabel L. Criss Library to find your new favorite study spot.
Many of our student support offices are located in the Milo Bail Student Center, including:

Give Back
As a member of the UNO community, you get to access unique hands-on experiences, both within and outside of the classroom, through service learning and volunteering. You'll gain new skills and meet people on campus and in the community.
Learn what community engagement means at UNO and take the opportunity to volunteer for the first Signature Service Day of 2019, UNO's MLK Jr. Day of Service, on Monday, Jan. 21.

Get Help

Mavericks ask for help when they encounter difficult academic and personal situations. There are so many caring people and resources dedicated to supporting your success.


A Safe, Welcoming Campus
Please take time to explore UNO's Student Safety Website so that you understand the resources that are available to you. Our Department of Public Safety is staffed 24 hours a day, seven days a week. If you witness any suspicious activity, please call 402.554.2911 or report it through U-Tip.
We ask all students to read through the Student Code of Conduct to ensure our campus stays safe and welcoming for everyone.
Confidential Support and Resources
Winter can often be a time where many need extra support and ways to share their thoughts, feelings and questions. The UNO campus community stands ready to help our students, faculty, staff and community members through the following confidential resources:
Counseling and Psychological Services
102 Health & Kinesiology Building
402.554.2409

Victim & Survivor Advocate
112 Milo Bail Student Center
402.554.2248
Faculty Employee Assistance Program (FEAP)
209 Eppley Administration Building
402.354.8000
eap@bestcareEAP.org
Community Counseling Clinic
421 Kayser Hall
402.554.4882
Speak Up, We're Here to Listen
In addition to the confidential resources shared above, UNO has a wide range of support services ready to help you with anything you may neeed. If you believe you have experienced any form of discrimination, violence, or harassment, you have resources and reporting options. Please immediately contact any one of the following university resources.

Title IX Coordinator
207B Eppley Administration Building
402.554.3490

Public Safety
100 Eppley Administration Building
402.554.2648

Student Conduct & Community Standards
209 Hayden House (formerly the Welcome Center)
402.554.3537

Gender & Sexuality Resource Center
112 Milo Bail Student Center
402.554.2890
Smoke & Tobacco Free
If you're new to campus, you might not know that we are a smoke and tobacco-free university. Resources are available if you want help kicking the habit.
About the University of Nebraska at Omaha
Located in one of America's best cities to live, work and learn, the University of Nebraska at Omaha (UNO) is Nebraska's premier metropolitan university. With more than 15,000 students enrolled in 200-plus programs of study, UNO is recognized nationally for its online education, graduate education, military friendliness and community engagement efforts. Founded in 1908, UNO has served learners of all backgrounds for more than 100 years and is dedicated to another century of excellence both in the classroom and in the community.
Become a fan of UNO on Facebook and follow UNO's Twitter updates. 
Contact Us
If you have a story idea, news tip, or other question, please email the UNO News team at unonews@unomaha.edu.