"When you need it, take it. When you have it, give it."
---
When you need it, take it relates to those in our campus community experiencing food insecurity
When you have it, give it relates to those looking to donate to the Maverick Food Pantry
When you need it, take it.
Request Process
Campus community members can request a package by completing this request form using their school email address. Please review the following information:
Requests for food packages can be submitted through an online form twice per week.
Each package contains approximately ten food items or two days' worth of non-perishable items and personal hygiene products.
If more than one order is submitted, the user can pick up both orders at the same time.
Requests will be approved and filled on the morning of the next business day.
Campus community members requiring additional resources will be provided an updated list of community resources.
Pickup Location:
106 CEC
Curbside delivery may be available by calling 402.554.5978 or emailing unomavfoodpantry@unomaha.edu.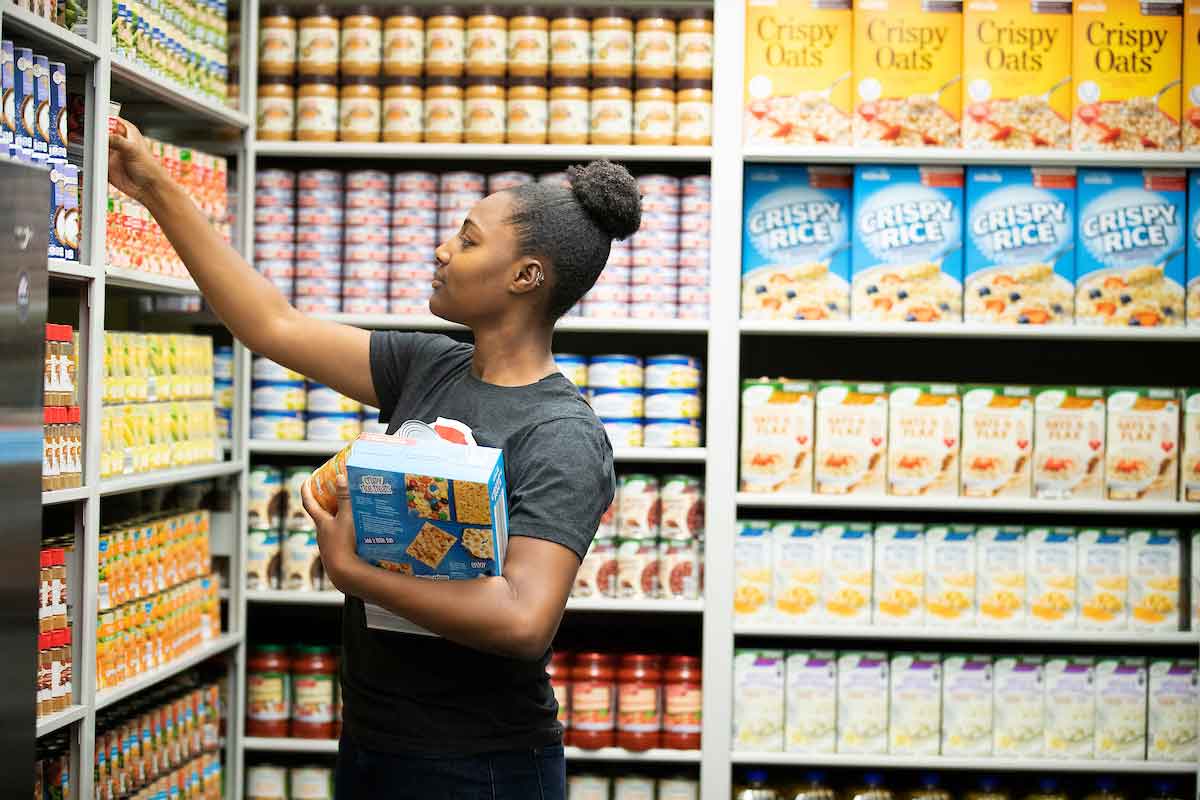 ---
Frequently Asked Questions
Who does the Maverick Food Pantry serve? Who is eligible to use the Maverick Food Pantry?
The Maverick Food Pantry serves a multitude of people in the Omaha Metro area including:
Currently enrolled students at UNO
UNO staff
UNO faculty
Currently enrolled students at UNMC
Currently enrolled students at College of Saint Mary living off-campus
Students involved in Avenue Scholars
If you fit into one of the categories in the list above, you are eligible to use the pantry. There is no process to apply or register; users fill out the same form each time they order.
Complete the Maverick Food Pantry form
When is the Maverick Food Pantry open? Do I need to make an appointment to pick up my order?
Please see our hours of operation located above on this page. If you are unable to pick up between those times, an appointment will have to be set up by emailing us at unomavfoodpantry@unomaha.edu.
What information is collected from users?
The Maverick Food Pantry collects:
initials and birthdates - to identify bags to the correct user
emails - to communicate with users when their order is ready for pick up
demographic data - to analyze data and find where our gaps of service are
What is in each food package? How often can I order?
Each food package contains at least ten food items (listed below). You can order twice per week. If two orders are needed, requests can be made at the same time and can be picked up at the same time. Orders that are not picked up within five business days are unpacked.
Choice of protein (chicken, tuna, or peanut butter)
Choice of canned beans (black, cannellini, garbanzo, kidney, or pinto beans)
Choice of fruits (applesauce, cinnamon applesauce, mandarin oranges, peach slices, or pineapple chunks)
Choice of canned vegetables (choice of corn, green beans, tomatoes)
Choice of grains (cereal, gluten-free cereal, mac & cheese, gluten-free mac & cheese, oatmeal packets, pasta, gluten-free pasta, tortillas, quinoa, white rice)

Choice of soups & sauces (chicken noodle soup, lentil soup, marinara/pasta sauce, tomato soup

)
Additional items not included in the ten food items include:
Choice of baking & cooking products (baking powder, baking soda, black pepper, cinnamon, cumin, flour, garlic powder, paprika, salt, vegetable oil)
Toiletries (toilet paper and paper towels are always stocked)
Personal Hygiene Items (menstruation hygiene items, sexual and reproductive health products, toothbrushes, toothpaste, floss, deodorant, body wash, shampoo & conditioner, hand sanitizer, etc. based on donations)
I am a parent/have dependents and need more than ten food items per food package. What do I do?
Our demographic questions include household size. If you choose "Single Parent/Married with children/dependents", you are asked if you would like to receive more food items and will be asked additional questions including the number of children/dependents in the household, how many more food items would be most helpful, age of children/dependents, and any food allergies.
How do I pick up my food package(s)?
The Maverick Food Pantry offers three ways to receive your food package:
Pick up in the CEC (room 106)

There is a laminated form to fill out upon arrival and our team will give your bags to you through the door.

Curbside pickup - you must be in Lot E for this option. Tell the parking lot attendant you are here for a Maverick Food Pantry pick-up. Call 402.554.5978

upon arrival and our team will bring out your package(s) to your car.

Delivery - you must reach out to unomavfoodpantry@unomaha.edu for a contactless delivery.
Where is the Maverick Food Pantry located?
The Maverick Food Pantry office is located in the Barbara Weitz Community Engagement Center, Room 106.

When you have it, give it.
Donations
Monetary Donations
Monetary donations can be made online
The MFP also accepts cash, check, and gift cards which will be used to purchase currently needed items.
Donations are tax-deductible. Donations can be dropped off at Room 130 in the Community Engagement Center (CEC).
Item Donations
To meet the growing demand, the Maverick Food Pantry accepts non-perishable food items and individually packaged toiletries and personal hygiene items.
Items can be donated to the food pantry by scheduling an appointment. Please email unomavfoodpantry@unomaha.edu for further questions.
We created a wishlist for our regular inventory of food items and personal hygiene items as well as supplies needed to make and store meals. We plan to start monthly giveaways with donated non-food items. These items will be mailed directly to the food pantry.
If you would like to hold your own drive, please contact us at unomavfoodpantry@unomaha.edu.
Donations are tax-deductible.
Donation Drop-off Location:
106 CEC
Frequently Asked Questions About Donations
What food items do you need currently?
Gluten-free and vegan foods are always appreciated. Fresh produce and other fresh foods are items we do not stock ourselves and make a great donation! Can openers and other kitchen utensils are greatly appreciated. Below is our normal inventory list.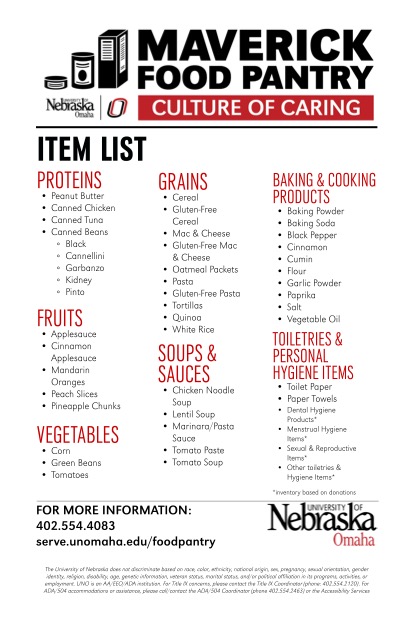 Are there any limitations to what I can donate?
We accept anything and everything EXCEPT for expired food items. People experiencing food insecurity deserve good and fresh food!
When donating, think about your favorite food, snack, or dessert, and donate that! We have a consistent inventory of staple food items so most of those "special" items are not regularly offered. We love being able to brighten a user's day by providing those "special" items!
If I donate fresh food, how will it be stored to maintain its shelf life?
When the Maverick Food Pantry accepts donations that have a short shelf-life (meats, fresh produce, milk, etc), we distribute the food as soon as possible. We have a refrigerator in the food pantry to store items to keep fresh but we do not currently have a freezer.
Can I hold a donation drive for the Maverick Food Pantry?
Absolutely! Email us at unomavfoodpantry@unomaha.edu to learn more.
Can I donate my time? Are there volunteering opportunities?
Yes! Email us at unomavfoodpantry@unomaha.edu to learn more.
What is the impact of my donation?
All donations directly impact our users.
Food items (unexpired) and personal hygiene donated go directly to users. Monetary donations (including gift cards) are used to purchase food items and support any costs that come up to continue or improve our operations.

| The Maverick Food Pantry's Normal Inventory | |
| --- | --- |
| Food Category | Food Items |
| Protein | peanut butter, tuna, chicken, canned beans (black, cannellini, garbanzo, kidney, pinto) |
| Fruits | applesauce, cinnamon applesauce, mandarin oranges, peach slices, pineapple chunks |
| Vegetables | corn, green beans, tomatoes |
| Grains | cereal, gluten-free cereal, mac & cheese, gluten-free mac & cheese, oatmeal packets, pasta, gluten-free pasta, tortillas, quinoa, white rice |
| Soups & Sauces | chicken noodle soup, lentil soup, marinara/pasta sauce, tomato soup |
| Baking & Cooking Products | baking powder, baking soda, black pepper, cinnamon, cumin, flour, garlic powder, paprika, salt, vegetable oil |
| Toiletries & Personal Hygiene Items | toilet paper, paper towels, menstruation hygiene items, sexual and reproductive health products, toothbrushes, toothpaste, floss, deodorant, shampoo & conditioner, hand sanitizer |