Request Process: Effective Immediately
The Maverick Food Pantry will apply the following changes to our operation as ways to better protect the health and safety of students, faculty, and staff: 
Campus community members can now request a package by completing this request form using a UNO or UNMC email address.
Requests will be approved and filled on the morning of the next business day. Packages will be available for pick up from the CEC Room 130 on Mondays, Tuesdays, Wednesdays, Thursdays from 8 A.M.-5 P.M. and Fridays from 8 A.M.-3 P.M. Call 402.554.4083 if you need curbside pickup.
Campus community members requiring additional resources will be provided an updated list of community resources. 
To meet the growing demand, the Maverick Food Pantry is now accepting non-perishable food items and individually packaged toilet paper and paper towels. Items can be donated to the food pantry by scheduling an appointment. Please email

 

unomavfoodpantry@unomaha.edu.
Our current needs include:
pasta and sauce

peanut butter

soups

canned vegetables

fruit

gluten-free options

vegan options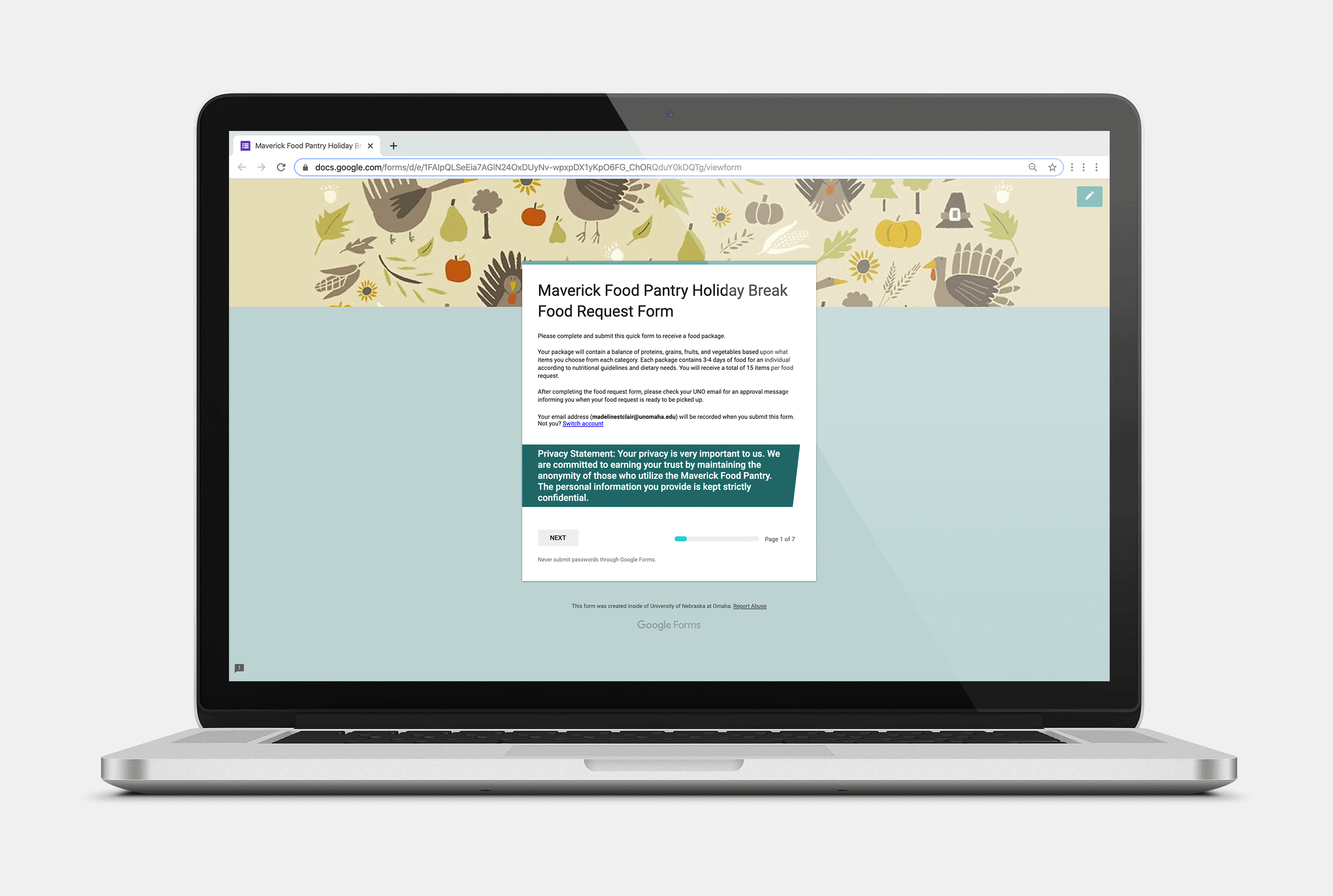 Monetary Donations
Monetary donations can be made online here.
Gift Cards will be used to purchase currently needed items and can be purchased from
Aldi  
Costco
Walmart
Or your local grocery store
Your donation is tax deductible. Donations can be dropped off at 130 Community Engagement Center (CEC).
If you would like to hold your own drive, please complete this form.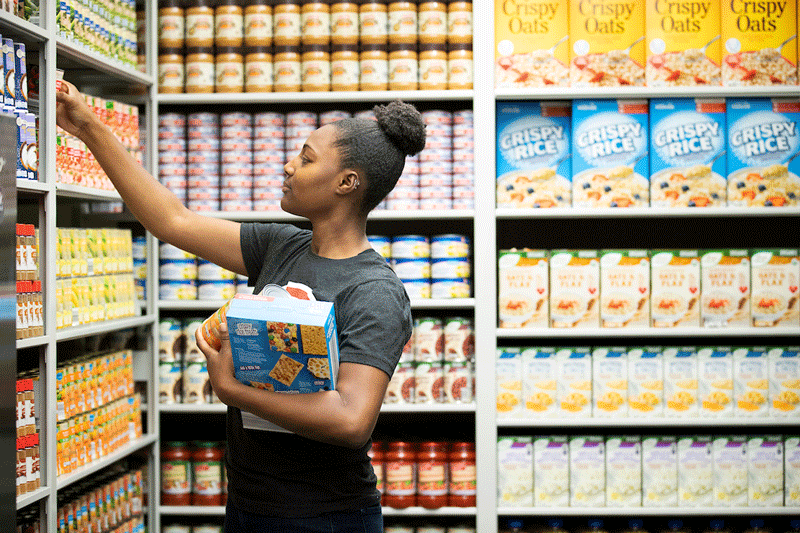 Healthy, Organic, Culturally Sensitive Food Items
The Maverick Food Pantry (MFP) has created a distribution model to include items that are healthier, organic, and culturally sensitive. Having a consistent inventory of food items allow current UNO Students, faculty, and staff to select the exact items they want in their food order.
Download the MFP Item List
The following is a list of all items that are offered in the Maverick Food Pantry. 
Natural Creamy Peanut Butter (16 oz)     
Solid White Albacore Tuna in Water
Canned White Chicken in Water
Canned Organic Black Beans
Canned Garbanzo Beans
Organic Granola
Organic Mac & Cheese
Whole Grain Cereal
Organic Oatmeal Packets
Organic Whole Wheat Spaghetti
Organic White Rice (28 oz)
Brown Basmati Rice (32 oz)
Mandarin Oranges in Light Syrup

Sliced Yellow Peaches in Light Syrup
Canned Whole Kernel Corn
Canned Diced Tomatoes
Canned Cut Green Beans
Pure Ground Black Pepper
Organic Marinara Sauce
Organic Alfredo Sauce
Organic Tomato Soup
Organic Lentil Soup
Organic Chicken Noodle Soup
Single Roll Toilet Paper
Single Roll Paper Towel
Menstruation Hygiene Products
Can Openers
Single Packaged Toothbrush
Toothpaste