Wellness, Safety Tips for Shorter Days, Colder Temps
As shorter days and colder weather arrives, here are some important safety and wellness reminders for the campus community to be aware of. Here are a few tips from UNO Public Safety and UNO Counseling and Psychological Services.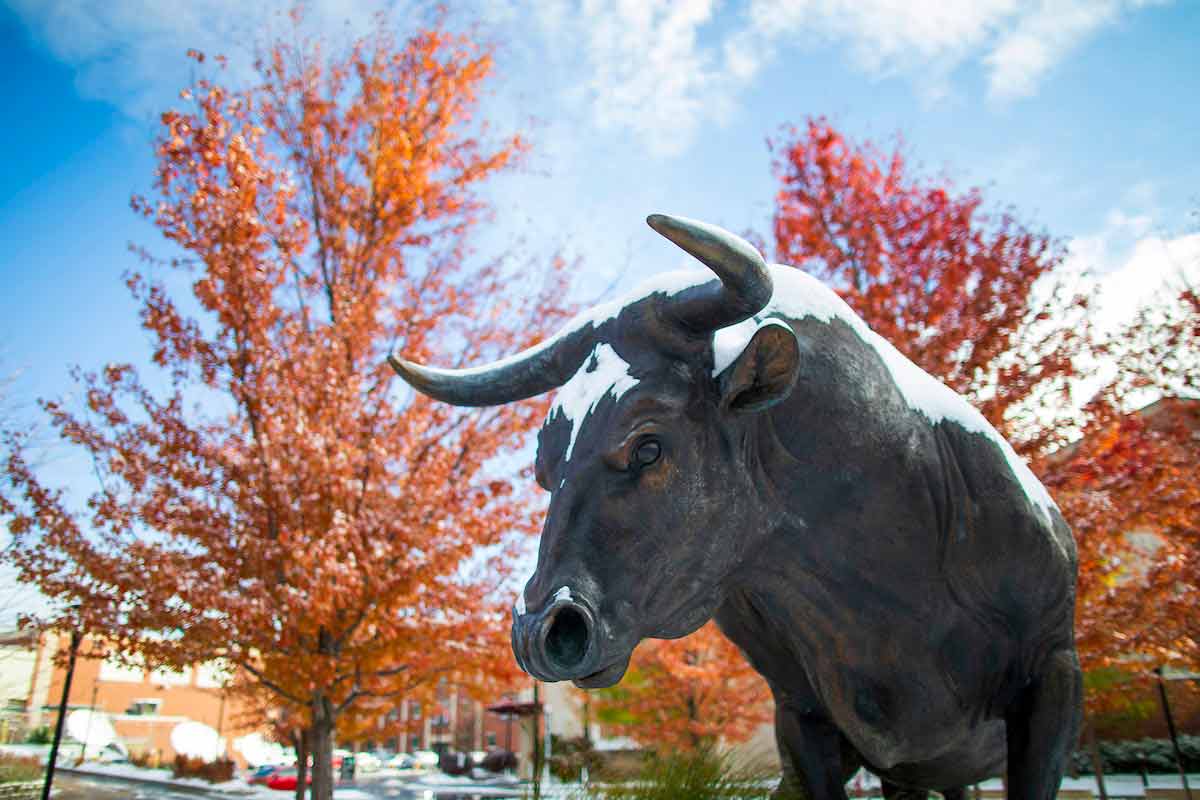 With Daylight Saving Time ending we 'gain an hour' but it also means the evenings will get darker sooner.
With shorter days arriving and colder weather coming soon, it's important to remember to stay safe and stay well. Here are just a few helpful tidbits to help improve wellness and safety curtesy of Brian Heath, a police seargent from UNO Public Safety, and Nathan Bock LIMHP, LADC, associate director of UNO Counseling and Psychological Services (CAPS).


Safety:
Dress warm for the cold: Things like getting locked out of your car or housing unit sometimes happen, meaning you could be stranded outside for long durations. Dressing for the weather could keep you warm in freezing temperatures while you wait for assistance.


Watch out for bad weather: If weather conditions are bad, don't go out if you need to. If it's necessary to go out, be prepared and take extra precautions to ensure your safety. Sign up for UNO Alert to be notified if campus operations are adjusted due to poor weather.


Have a buddy system:

Have someone you can contact who is close by in case your vehicle breaks down or another emergency occurs. Making sure a friend knows where you are can help ensure your safety as well.

You can use 402.554.2911 to report emergencies 24 hours a day.


Be alert: Try to avoid distractions like your phone when walking alone outside so you can be aware of your surroundings in case an emergency happens, or, if you need your phone, knowing what to do in an emergency so you can be more prepared if you are victimized, or something happens to someone else. UNO has a number of 'Blue Light' phone locations across campus you can use to contact Public Safety in an emergency.


Walk with a friend: If an emergency arises, having someone with you or knowing where you are to make sure you're okay can be extremely helpful. UNO Public Safety can escort you to your vehicle or on-campus housing unit from your class at any time, all you need to do is call 402.554.2648 to request help. Here are other UNO Public Safety Services.
Mental Wellness:
Get enough food, water, sleep, and exercise: Your physical wellness affects your mental well-being. Making physical wellness a priority could improve your overall mental state. If you need food support, learn more about the Maverick Food Pantry here.


Understand your social needs: There are many ways to take care of your mental health, and everyone is different. Making sure the connections that you have with others are fulfilling can be very helpful to improving mental wellness.


Know your mental and emotional needs: Take the time to understand your needs. Just like physical needs, mental and emotional needs affect your overall well-being. If you need a break from studying, socializing, or something else, take it off if possible. If that's not possible, doing something small that makes you feel better at the end of a long day can also make a big difference in how you feel.


Treat all mental health concerns with care:

Not all mental health concerns necessitate therapy or psychiatry, even though some do. If talking to a professional is what you need, please make an appointment.

If you are in a mental health crisis, call a hotline and make sure you get the care that you need. I

f you need to take care of yourself in other ways, take the time to do so. We can all take action to improve and prioritize our mental well-being such as taking care of our physical well-being, practicing self-care, meditating, talking with loved ones, or doing other things.

To get started, students can use UNO's Counseling and Psychological Services (CAPS) to utilize resources for anyone needing mental health support. Employees can make use of the Faculty-Staff Employee Assistance Program.


Give yourself some grace: Living through a pandemic is difficult. We live in a unique time in human history, and it's normal to feel anxious or isolated even as things begin to open up again. Take the time to take care of yourself, physically and mentally. Here are some tips for taking care of yourself during the COVID-19 pandemic.
About the University of Nebraska at Omaha
Located in one of America's best cities to live, work and learn, the University of Nebraska at Omaha (UNO) is Nebraska's premier metropolitan university. With more than 15,000 students enrolled in 200-plus programs of study, UNO is recognized nationally for its online education, graduate education, military friendliness and community engagement efforts. Founded in 1908, UNO has served learners of all backgrounds for more than 100 years and is dedicated to another century of excellence both in the classroom and in the community.
Follow UNO on Facebook, Twitter, Instagram, LinkedIn, and YouTube. 
Contact Us
If you have a story idea, news tip, or other question, please email the UNO News team at unonews@unomaha.edu.