#NUforNE: The Need for Art in Medicine
UNO's Medical Humanities Program is making a positive impact on patients and physicians.
published: 2020/02/03
contact: Jackie Ostrowicki - University of Nebraska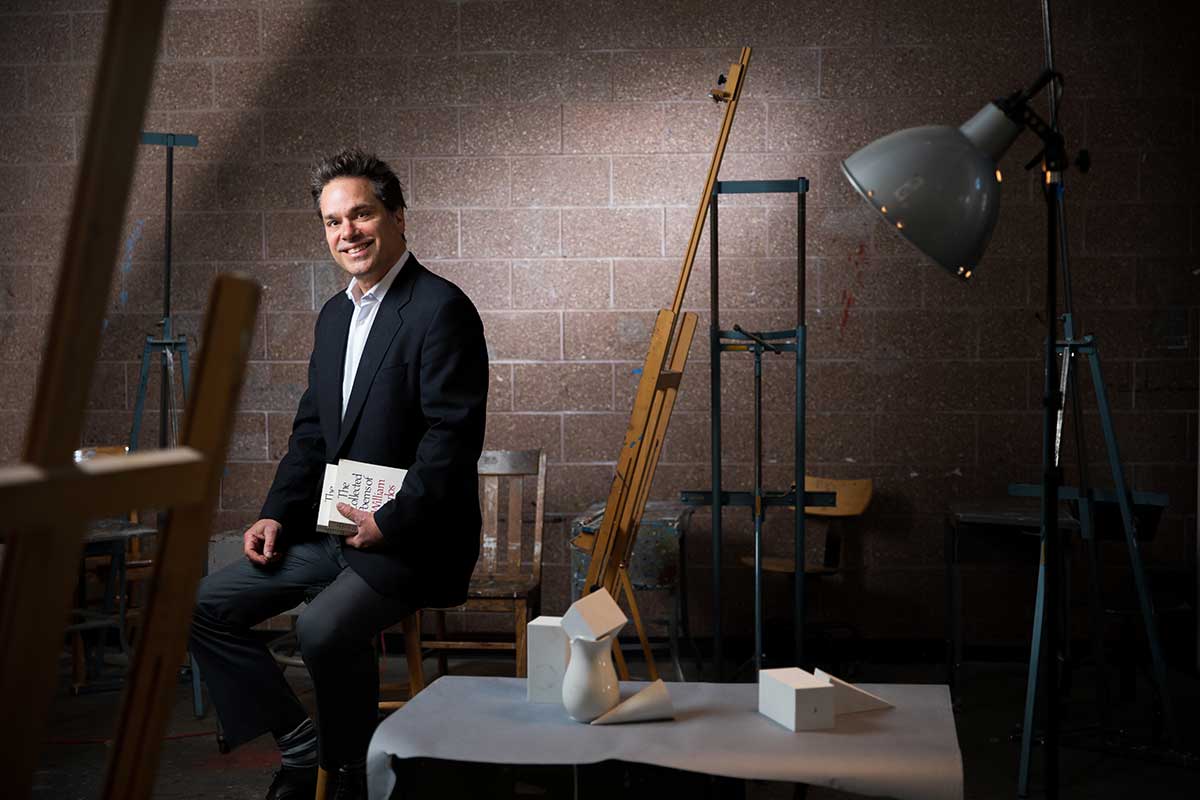 Steve Langan, M.F.A., is director of UNO's Medical Humanities Program, which looks to ensure doctors - and patients - experience emotional and spiritual health as well as physical health.
About the #NUforNE Series: This article is part of the University of Nebraska's #NUforNE series. #NUforNE features students, faculty, staff and alumni from across the University who are making an impact on Nebraska.
---
Uniting Art and Medicine: Steven Langan
"When we seek medical care, we aren't just a patient, diagnosis or problem to be solved. We each have our own complex blend of personal history, cultural teachings, religious practices, hopes, fears and all the other things that make us uniquely human."

As the director of the University of Nebraska at Omaha's Medical Humanities program, Steven Langan, M.F.A, knows there's a need for art in medicine. The growing field encourages students and professionals to dedicate just as much time to fostering creative expression and critical reflection as they do learning about the body or chemical compounds.
When you take a fresh look at medicine through the lens of the humanities, you'll find an opportunity to help medical professionals and patients alike. A 2019 study found that the United States healthcare system loses $4.6 billion a year due to physician burnout; an earlier study also found that more than half of all physicians have reported experiencing burnout symptoms.
"While we would never say that medical humanities study and practice alone can prevent burnout, we know it has value as a mitigating force," Langan says.
More than 150 students are currently enrolled in the medical humanities program, which is jointly housed in the College of Arts and Sciences and College of Communication, Fine Arts and Media—and Langan expects that number to rise in the years to come. The program is already making an impact on the community since it began in 2015.
Faculty and students at UNO have participated in a number of workshops, including one where blind and visually impaired artists produce gallery shows, and another to perform music for guests and patients at Nebraska Medicine's Buffett Cancer Center. The Buffett Cancer Center is already on the leading edge of integrating art with healing—just look at the Chihuly Sanctuary and Leslie's Healing Garden.
This type of outside-the-box care for Nebraskans is only possible with a healthy university and ongoing financial support from the state. Because when programs like this are allowed to thrive, they can help improve an entire industry and put Nebraska on the map.
As Langan puts it, "We need to put fresh eyes on healthcare in America, and who better than our artists, our humanities scholars, and our social scientists? We are poised to make Nebraska a leader in what that future looks like."
About the University of Nebraska System
The University of Nebraska is the state's only public university system, made up of four campuses – UNL, UNO, UNK and UNMC – each with a distinct role and mission. Together the campuses enroll more than 51,000 students and employ 16,000 faculty and staff who serve the state, nation and world through education, research and outreach. For more information and news from the University of Nebraska, visit nebraska.edu/news.
Read UNO #NUforNE Stories: