#NUforNE: How Biomechanics is Moving Nebraska in the Right Direction
The UNO Department of Biomechanics is bringing millions of dollars in grant money to Nebraska for its groundbreaking innovations in medical products.
published: 2020/01/08
contact: Jackie Ostrowicki - University of Nebraska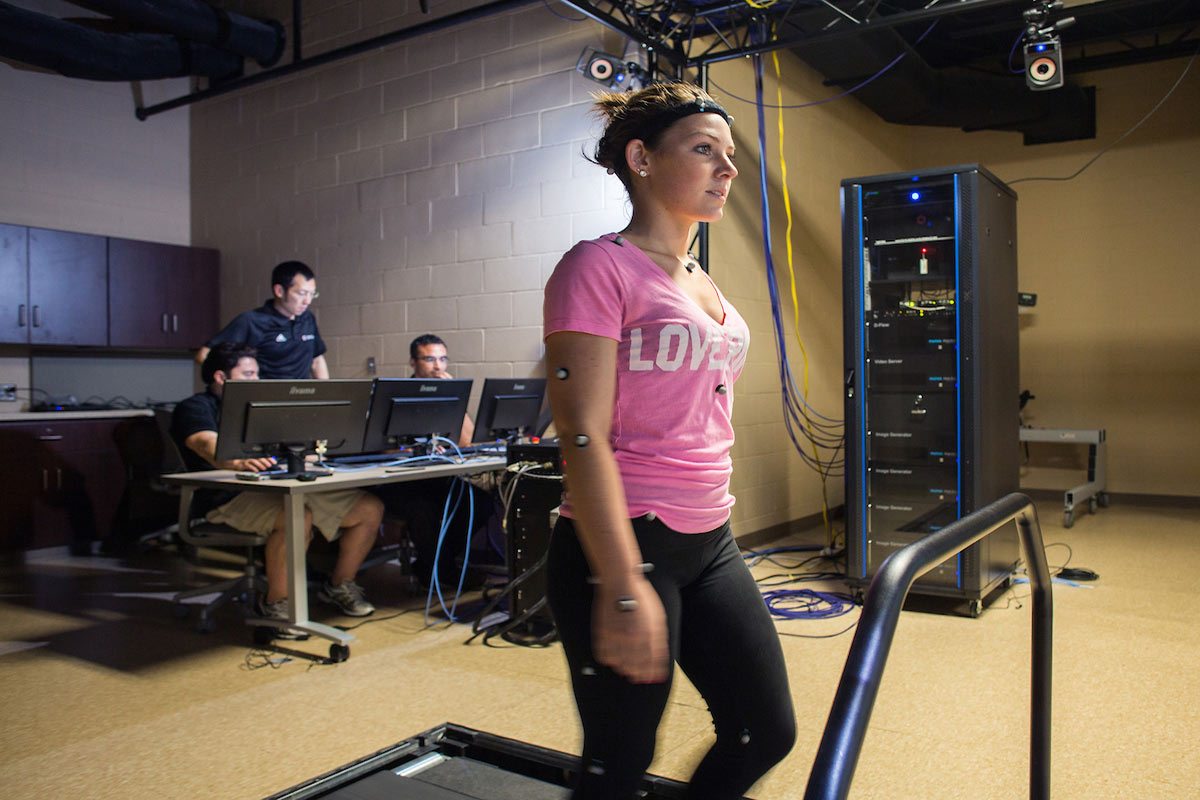 A look inside the UNO Biomechanics Research Building.
About the #NUforNE Series: This article is part of the University of Nebraska's #NUforNE series. #NUforNE features students, faculty, staff and alumni from across the University who are making an impact on Nebraska.
---
Breaking New Ground in Biomechanics: Nikolaos Stergiou, Ph.D.
Nikolaos Stergiou's work isn't just about creating groundbreaking inventions. He knows it's bettering lives.
"I sleep well at night because we just do so many good things for so many people."
As director of the Biomechanics Research Building at the University of Nebraska at Omaha, Stergiou heads a department of innovators who—through the study of motion—invent devices to solve health-related challenges. For instance, imagine robotic shorts that make running easier, 3D-printed prosthetics that save families thousands, or a "gait analysis system" that can predict your risk of a dangerous fall.
Beyond improving the quality of life for so many patients, these inventions are getting noticed on a commercial level. Since growing from a small laboratory to a 57,000-plus square-foot facility, UNO's Biomechanics program was awarded the UNeMed Innovator of the Year award. According to its mission statement, UNeMED—established in 1991 by the Board of Regents of the University of Nebraska—helps push innovations beyond the laboratory and into the marketplace.
"All these inventions produce practically an engine; an economic engine in terms of jobs and in terms of growth," Dr. Stergiou said.
In 2014, UNO received a $10.1 million grant—the largest single research grant in university history—that led to the establishment of the Center of Research in Human Variability (MOVCENTR). In an economic analysis from the UNO Economics Department, it was estimated that the MOVCENTR brought an economic impact of $1.5 million to the Omaha metropolitan area in its first two years of operation. And that number is expected to triple since Stergiou's department received another record-breaking grant of $10.3 million in 2019.
The grants will provide biomechanics students with a chance to conduct cutting-edge research alongside senior clinical NIH-funded scientists. The grant will also enable the department to bring additional funded investigators from various disciplines to UNO's campus.
When the University of Nebraska wins, the entire state benefits: new inventions helping patients, new opportunities for students, and a new flow of funding into our communities. It's just one more reason the continued support of the University is critical to the state's continued growth.
About the University of Nebraska System
The University of Nebraska is the state's only public university system, made up of four campuses – UNL, UNO, UNK and UNMC – each with a distinct role and mission. Together the campuses enroll more than 51,000 students and employ 16,000 faculty and staff who serve the state, nation and world through education, research and outreach. For more information and news from the University of Nebraska, visit nebraska.edu/news.
Read UNO #NUforNE Stories: