Patrick Hodson, CBA Alum, Continues to Expand His Horizons with the Congress-Bundestag Youth Exchange Program
Not only is Hodson preparing for his CPA exams and an upcoming job opportunity, but he's also ready to embark on the adventure of a lifetime to Germany.
published: 2020/05/12
contact: Rachael Smith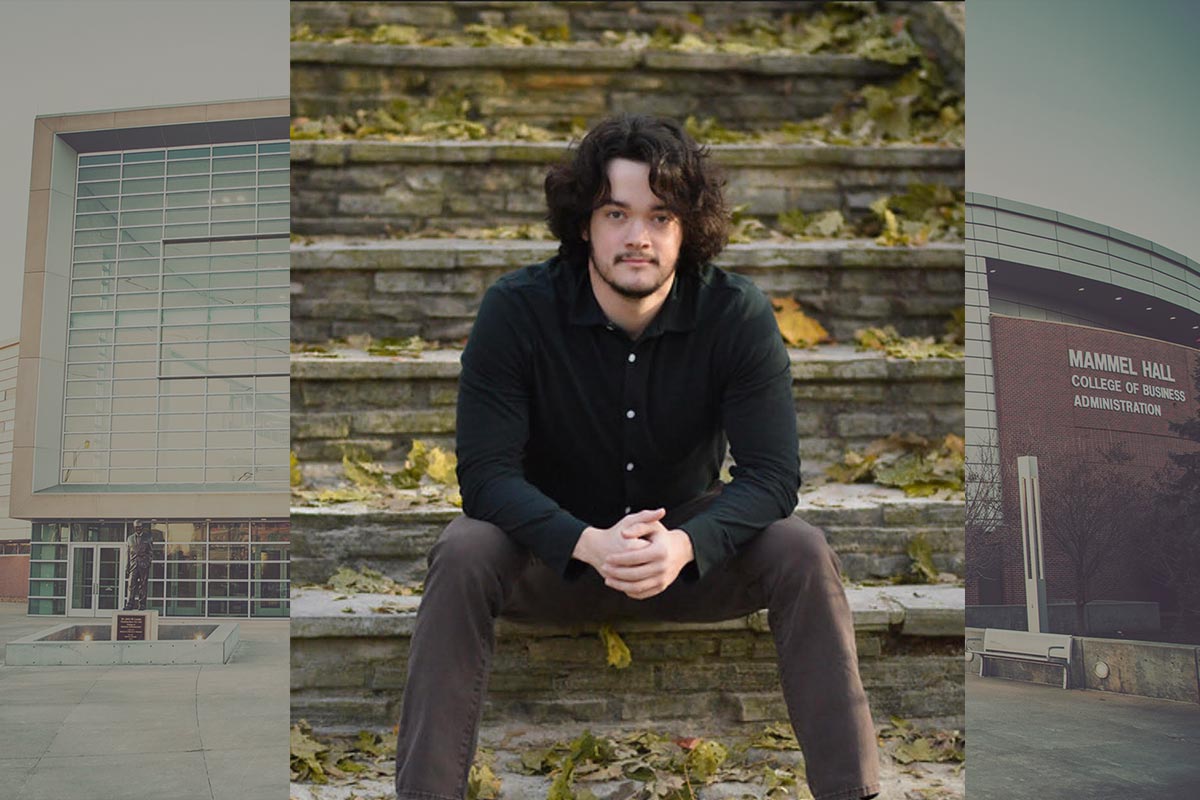 Patrick Hodson, who graduated from the UNO College of Business Administration in December 2019, says his interest in international business emerged on a semester-long study abroad trip to Innsbruck, Austria.
"My eyes were opened to how big and beautiful the world is, as well as how the things I learned at UNO could be applied in an international setting," said Hodson. "When I heard about the CBYX program, I knew it was exactly what I needed to continue learning from other cultures while also jump-starting a career in an international direction."
The Congress-Bundestag Youth Exchange Program, or CBYX, is a scholarship offering winners the opportunity to live, work, and study in Germany for one year. Two months are spent at a language school, four months at a university, and five months working with a company in the student's field of interest. Hodson's love of international experiences motivated him to apply for the opportunity – and he was selected.
Though COVID-19 has delayed his plans abroad – the program was slated to begin in August, but is now postponed – Hodson is taking advantage of the unexpected extra time in Omaha. He's preparing for the CPA exams after earning more than 150 credit hours during his BSBA to qualify.
He also completed an internship with Deloitte earlier this year, with a full-time position waiting for him there after completing the CBYX program. As long as he's reaching for the "most interesting and challenging opportunities" that he can, he's happy.
"I haven't quite figured it all out yet, but I know I want to continue learning and serving others throughout my life and career. I see accounting as the first step to a life and career path that could go any number of directions," said Hodson. "Rather than get bogged down by a fixed plan, I can keep growing my perspective, meeting new people, and opening up more doors down the line."
Hodson developed this mindset during his time at UNO CBA, where his connections with people motivated him to strive for unique opportunities.
"The professors, administration, and my fellow students provided me with exceptional opportunities to learn, serve, and have fun. The coursework prepared me with the educational foundation to be successful in internships and my professional endeavors, but more than that, the relationships I built and leadership positions I held provided me with invaluable experience and confidence to lead, and inspired me to make an impact on the CBA, my community, and the world," said Hodson.
By embracing challenges, Hodson powered through 4 different undergraduate concentrations – he studied Accounting, Business Finance, Investment Science and Portfolio Management, and Banking and Financial Markets during his BSBA – and also joined student organizations like Beta Alpha Psi, The Financial Management Association, and the Maverick Investment Club.
"The number one piece of advice I can give is to get involved and seek out opportunities to learn new things and meet new people," said Hodson. "This could include joining student organizations, volunteering, internships, or tutoring. These things will help you learn more about yourself and what you want to do, and will ensure that you get the most out of your time at the CBA."
And of course, he encourages students to take advantage of international opportunities, too.
"You never know what insight or opportunities are waiting on the other side of a conversation or event," Hodson said. "Even if you don't think you want to pursue an international career, the life experience you will gain from going to a new place and learning about a new culture will impact your life in a way that almost nothing else can during your time at UNO."