Message from the Director
The internationalization of business has created the need for higher levels and more efficient delivery of knowledge. UNO's Center for International Business Initiatives will ramp up international business experience for students who want to be at the forefront of a global business world.
UNO's College of Business Administration has a long and distinguished history of forming successful business professionals who understand the significance of an excellent business education.
CBA's faculty strive to add even greater visibility and impact to the business program through international research projects, teaching at influential campuses abroad, and participating in important international conferences.
Students play an important role by participating in educational opportunities abroad and adding an international business concentration to their degree programs.
The contribution of students and faculty to this initiative has built a reputation for Mammel Hall and the College of Business Administration as a great place for international business collaborations.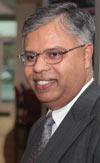 Dr. Phani Tej Adidam