Are you curious and self-motivated? Do you like to work with others to solve problems?
Attend UNO's Maverick Young Entrepreneur Boot Camp!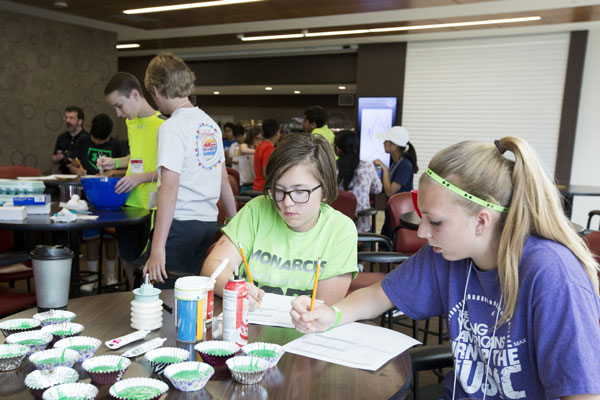 Students make cupcakes and count expenses during the 2017 Maverick Young Entrepreneur Boot Camp.
Discover whether you have the mindset of an entrepreneur. Learn how to turn an idea or hobby into a money-making business.
Meet highly successful Omaha entrepreneurs and visit them at their businesses. Explore the resources available to young entrepreneurs in college.
Register
WHO: For students entering 7th through 9th grades in fall 2022
WHEN: June 6-10, 2022, 8:30 AM-3:30 PM (8:30 AM-12:30 PM on Friday)
WHERE: Mammel Hall, 6708 Pine Street, Omaha, NE
HOW MUCH: $200 (See scholarship application below). Register before April 1 to get an early bird discount!
Scholarships available
Download and complete the scholarship application and email it to lcermak7@unomaha.edu
Refund policy: This camp makes extensive plans for campers, including meals and daily transportation for field trips. Cancellations more than five business days before the start of camp will receive a refund less a $50 cancellation fee. No refunds for any reason for cancellations five business days or less before camp starts.
Benefits
Field trips every day
Every day we visit one or more exciting startups or well-known businesses in the Omaha area and talk with business founders to learn how they became successful. Visit the coolest high tech startup, tour the largest transmission factory, explore a business incubator with 80 startup companies or see how the sausage is made at Omaha's largest meat packing plant. We see it all!
Explore entrepreneurship in college
Tour Mammel Hall, a state-of-the-art business school. Learn about UNO's student entrepreneurs' organization, its business competitions and the Center for Innovation, Entrepreneurship & Franchising.
Virtual business simulation
You will experience the excitement of planning and starting a business. Your team will brainstorm ideas, choose a business name and logo, and create marketing strategies using social media. At the end of the camp, teams will pitch their business ideas to parents and guests.
Think outside the box
Energizing games and exercises are not only fun, but will boost your confidence and skill in generating and communicating your ideas.
Meet young entrepreneurs
Workshop leaders, presenters and speakers include faculty of UNO's College of Business Administration, students from UNO's chapter of the Collegiate Entrepreneurs' Organization, Omaha's most successful entrepreneurs, and recent grads who are practicing entrepreneurs.