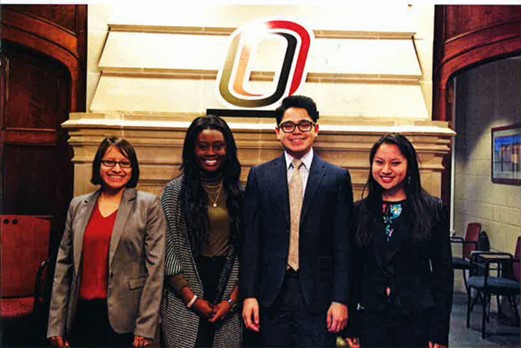 ULOP Scholars
The Underserved Law Opportunities Program (ULOP) is an academic and career pipeline program between UNO the Nebraska College of Law designed to encourage more students from underrepresented communities to pursue legal education.
To be considered eligible, students should be able to bring diversity to the field of law and/or commitment to providing access to underserved communities (urban or rural). Such qualifications may include being a first-generation college student, being bilingual, having a record of community service, demonstrating an interest in public law (i.e., constitutional, administrative or criminal law) and/or public interest law (i.e., concerning the well-being, rights, health, or finances of the public at large).
Participating students will be accepted into the Nebraska College of Law upon graduation if they:
participate in all mandatory ULOP events and at least four additional optional events.
maintain a minimum 3.5 GPA throughout their undergraduate coursework.
achieve a minimum qualifying score on the Law School Admissions Test (LSAT).
All students accepted into ULOP will have access to:
internship opportunities.
LSAT preparatory seminars at no or reduced cost.
specialized admissions counseling and workshops prior to applying for law school.
guest speakers and other events to help expose students to the various areas of law.
How to Apply – The application window is open annually between September 1st-30th. Students must submit an online application, along with a resume, college transcripts, and a letter of recommendation.
Questions? -
Please contact: Mike Carroll,
mcarroll@unomaha.edu
; Troy Romero,
tromero@unomaha.edu
; or Destynie Sewell,
dsewell@unomaha.edu
.