Jack & Stephanie Koraleski Commerce and Applied Behavioral Laboratory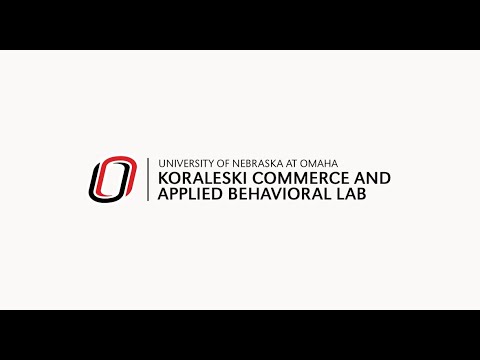 What should you expect when you visit the CAB Lab for a study? Click play to view a walkthrough video.
Returning participant? Log into your SONA account here!
Jack & Stephanie Koraleski returned to UNO to visit the new CAB Lab space in MH 270!
Providing multi-disciplinary research support to UNO's College of Business Administration, regional businesses, and the nonprofit community
Participant Help Hours

Monday: 8:00 A.M. - 5:00 P.M.
Tuesday: 9:00 A.M. - 5:00 P.M.
Wednesday: 8:00 A.M. -5:00 P.M.
Thursday: 9:00 A.M. - 5:00 P.M.
Friday: N/A
Contact Us
Lab Timeline: Fall Research Participation
Immediately: Sign up for a SONA account now!
September 6th: Initial studies available.
December 2nd: Last day to complete research studies. Must complete by 5:00 PM.
Note some instructors are requiring an earlier completion date. Please check your course syllabus.
If you complete the alternative research brief instead of the online/remote research studies this must be sent via email by 5:00 pm before December 2 (unless your course ends earlier) to domalley@unomaha.edu or unocablab@unomaha.edu
December 5th: Deadline for resolving all Research Participation Program requirement issues.