The Capstone Cup: UNO CBA's Unparalleled Senior Experience
The UNO CBA Capstone Cup, a mandatory semester-long competition for all graduating seniors, is a unique critical thinking opportunity unequaled by other area business colleges.
published: 2019/03/20
contact: Rachael Smith - CBA Marketing Department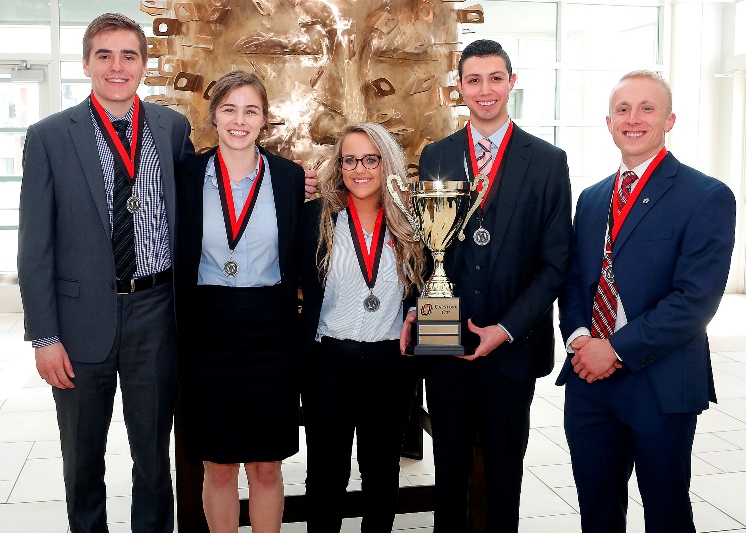 The UNO CBA Capstone Cup is a semester-long competition compulsory for every student enrolled in the undergraduate capstone strategy course, Corporate & Business Strategy. More than 300 students each year take part in the challenge, where they are asked to evaluate a complex business situation, develop a creative solution, and build a presentation that communicates their analyses to a panel of judges. As of April 2019, more than 1,000 students have tackled the contest.
The competition challenges students to think critically surrounding strategic issues they will encounter in their careers. It demands direct application of their entire undergraduate business curriculum, allowing students to explore real-world uses of what they've learned.
The Capstone Cup was born at UNO CBA and is unique to the school. It offers an unprecedented growth and exposure opportunity for students unequaled by other area business colleges. Capstone Cup directors Dr. Erin Pleggenkuhle-Miles and Dr. Erin Bass have grown the event to what it is today, and they've seen firsthand its role in differentiating both the college and its business graduates.
Developing Young Professionals
The Capstone Cup serves an essential role in allowing students to transition into young professionals. Students develop confidence and experience with challenging team dynamics by solving real-world problems and presenting their solutions to Omaha-area business leaders.
"Students are paired up with students from another expertise – a different concentration than their own," says Miles. "This introduces challenges as students are confronted with overcoming biases while undertaking a professional development experience."
Students also learn how to sell both their ideas and themselves by providing strategic recommendations to local employers. Employers then question and challenge the strategies suggested to them, giving students a glimpse into the demands of the professional workplace. They emerge prepared to defend, adjust, and analyze their ideas for efficacy while establishing their place as competent and knowledgeable contributors.
The Capstone Cup also allows students to tailor the tournament to their areas of expertise and pain points. On the first day of class, students complete a questionnaire involving their expectations for the competition.
"For students who are competitive, it's an outlet, something more than a class project," says Miles. "Conversely, some teams of students conduct interviews with the case company or competitors to provide support for their recommendations. They embody the role of the consultant."
By adopting varied strategies and collaborating with students from diverse backgrounds, Capstone Cup participants can try out different communication styles, business strategies, and leadership roles. They graduate with useful discoveries on where they will fit best in their future career.
Students In Action
Local employers also use the Capstone Cup to witness UNO CBA students in action. It provides a venue in which employers can evaluate students for potential hires while showcasing the skills of CBA graduates. During their final presentations, students clearly demonstrate the value of their education.
Miles and Bass recall success stories in which students have been approached by employers after the Capstone Cup finals. One student was interviewed the same day as their final presentation and was offered a position at the respective company less than 6 months after their graduation.
"The employer later told me that they don't typically interview or hire newly minted graduates, but she was impressed by this student," says Miles.
Success stories like this have unfolded from many semesters of the Capstone Cup. Another student shares a story in which, during an interview, he cited the competition as a challenging experience he had to overcome. The employer was so interested in the program that they discussed it for the remainder of their meeting. Not only did the student get the job, but the employer became a Capstone Cup judge.
"The Capstone Cup has become a unifying experience among our CBA graduates," says Bass. "Area employers have caught on, and we often get phone calls from recruiters or managers saying they've heard so much about this event, they want to know more about it and how to get involved."
Setting Students Apart
The Capstone Cup's primary benefit is that it sets students apart from the rest. UNO CBA is the only university in the area to offer a senior experience like it, in which every student is given the opportunity to excel. This differentiates the program from larger case competitions in which only select teams are sent to participate.
"We are not creating 'elite' teams and sending them off to compete," says Miles. "The Capstone Cup gives all of our students the opportunity to develop unique experience and furthermore shows off the skills of all of our students to local employers."
For Miles and Bass, this also sets UNO CBA apart. Creating an inclusive environment that fosters universal success isn't business school as usual, and they're proud of it.
"While students graduating from UNO CBA have always been in demand, the Capstone Cup is giving them a bigger edge over the competition and letting students see the opportunities they have beyond their graduation," says Bass. "We've managed to combine classroom learning, knowledge application, and community engagement all into one unique, semester-long event."
Growing Omaha's Future Business Leaders
Every round of the Capstone Cup requires judging from a panel, which offers plenty of opportunities for alumni and local businesses to get involved. The event also requires sponsorship for prizes, materials, food, and promotional items.
"We enjoy having alumni – both recent and more seasoned – come back and judge," says Dr. Miles. "We are also always looking for additional sponsors for the program."
If you or your business would like to contribute to the Capstone Cup and facilitate the development of Omaha's future business leaders, please contact program directors Dr. Erin Miles at erinpmiles@unomaha.edu or Dr. Erin Bass at aebass@unomaha.edu. You can also learn more by visiting the UNO CBA Capstone Cup website.