Many opportunities. One application.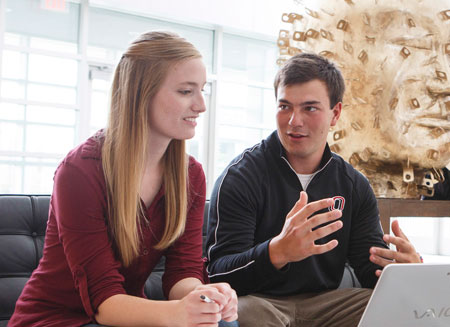 How do I apply?
To apply for CBA scholarships, a student must first be admitted to the College of Business Administration.
To access and complete the scholarship application:
Sign in to AcademicWorks, the University's scholarship management system. (You must first be admitted to the university to access this site. You must be admitted to the College of Business Administration to access CBA scholarships.)
Complete and submit the General Application Questions for university-wide scholarships.
Complete and submit the College of Business Administration questions for CBA scholarships. (You will be automatically redirected here.)
What will I need to submit as part of the application?
A résumé showing commitment to your community and school through volunteer service and extracurricular activities
An essay to exemplify your writing abilities and career goals. (The essay prompt is "I would like a career in business because ...")
The emails of three individuals who will submit letters of reference to endorse your teamwork and leadership skills
I've submitted my application. What's next?
After the Feb. 1 deadline, a committee of faculty and staff reviews all scholarship applications. The committee notifies scholarship recipients through AcademicWorks after spring grades are submitted on MavLINK.
Questions about the application process?
Contact Shawn Smith in the CBA Dean's Office: 402.554.2303 or shawnsmith@unomaha.edu
---
FAFSA
Scholarships based on financial need require students to submit a Free Application for Federal Student Aide (FAFSA). To ensure consideration for all possible awards, applicants are encouraged to complete the FAFSA, regardless of income.
---
*CBA Scholars Academy applicants are considered for CBA scholarships and are not required to complete an additional application.
Our Campus. Otherwise Known as Omaha.
The University of Nebraska does not discriminate based on race, color, ethnicity, national origin, sex, pregnancy, sexual orientation, gender identity, religion, disability, age, genetic information, veteran status, marital status, and/or political affiliation in its programs, activities, or employment. Learn more about Equity, Access and Diversity.
scroll to top of page