Trio of UNO Students Selected as Fulbright Recipients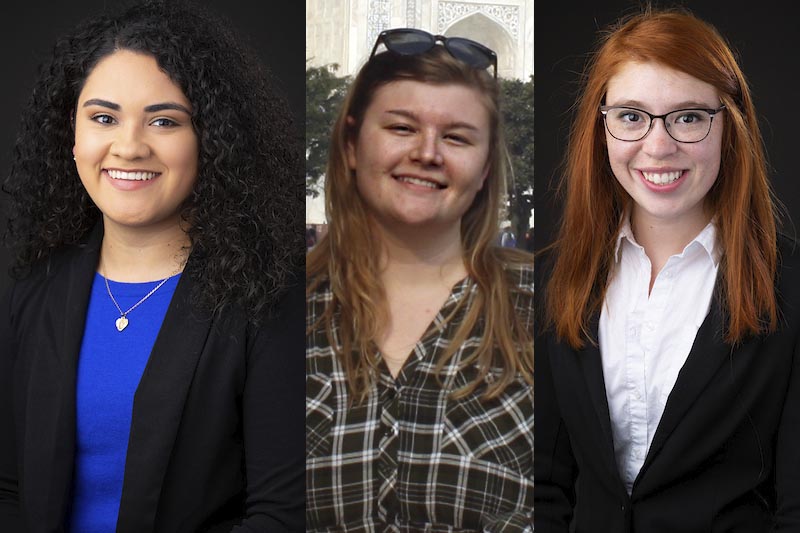 Gaby Amador (left), Paige Cody and Samantha Sack each received Fulbright Awards to teach English abroad over the next academic year. They will be traveling to Spain, Taiwan and Peru, respectively.
A trio of graduating Mavericks will be spending the next year overseas after being awarded English teaching assistantship positions through the prestigious Fulbright U.S. Student Program.
Receiving the assistantships are Gabriela Amador, an education major; Paige Cody, an international studies major; and Samantha Sack, a dual major in molecular and biomedical biology and biomechanics. Through the program, Amador, Cody and Sack will spend the next academic year teaching English in Spain, Taiwan and Peru, respectively, serving as cultural ambassadors for UNO, the state of Nebraska and the United States.
Additionally, Saynab Ali, who is earning a bachelor of arts in international studies, was identified as an alternate selection to study in Kenya. If the Fulbright Recipent can not fulfil their obligation, she will become an official Fulbright recipient along with the three other UNO students.

Each year, the Fulbright U.S. Student Program offers research, study and teaching opportunities in over 140 countries to recent graduates and graduate students. While thousands of students apply, only a small number receive funding.
Learn more about UNO's Fulbright winners
"These students are truly exceptional and represent what it means to be a Maverick," explains Lucy Morrison, director of UNO's Office of National Scholarships and Fellowships. "We had a number of students apply, each making it to various stages in the process, with Gaby, Paige and Samm being selected for full grant awards, which I think shows just how talented our student body truly is."
For more information about the Fulbright U.S. Student Program contact Morrison and the Office of National Scholarships at unoonsf@unomaha.edu or by phone at 402.554.2696.


---
---

Gaby Amador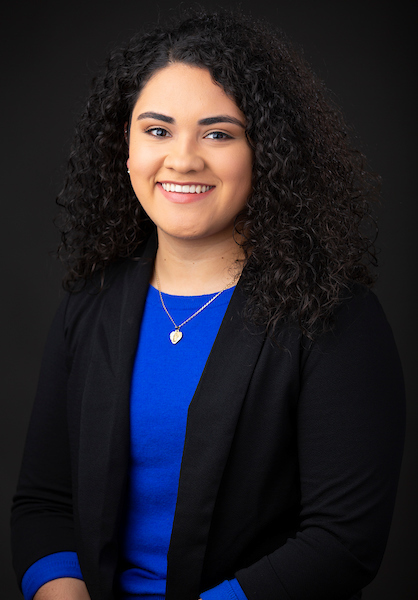 A native of South Sioux City, Neb., Gaby Amador is already familiar with international travel, recently spending semesters abroad in Trinidad and Tobago as well as Peru. It is an experience she wanted to continue - even after graduating - but she knew she'd need support, which is where the Fulbright program came in.

"There was a campus deadline in mid-September so I didn't have much time to get the essays done and ask for recommendations," Amador says. "Let's just say I was in constant work; I was visiting the writing center many times and began to get asked if I ever left the library. As busy as this time was, I managed to get all the parts completed thanks to the help from Dr. Morrison and the quick recommendations.

"Fast forwarding to January, I was notified that I was recommended by the program as a semi-finalist. I was super excited about this but it still only meant more waiting. It wasn't until late March that I was notified that I had been selected as a finalist for a grant in Spain."

As a first-generation college and high school student, Amador's journey to joining the ranks of the few UNO students to earn a Fulbright grant wasn't always clear. She came to UNO as a Thompson Scholar and Project Achieve member, quickly growing to love teaching and language.
"I figured out that I loved to teach foreign languages and I believe that it's important for our future to be linguistically competent in any language," she explains.

Amador credits UNO with helping her find her path and supporting her along the way.

"Coming from a small town in northeastern Nebraska, moving away from home was a choice I knew I would make since my senior year in high school," she says. "I think back to that and I wonder what would've been different if I had chosen a different school. The experiences that I've had have been incredible and I wonder if I'd have been so successful at a different institution."

Amador plans to pursue a career as an elementary school teacher, preferably in a dual-language setting. In the meantime, she hopes to gain more experience teaching across several primary schools in La Rioja, Spain.

"It was well worth the wait and I am super excited to begin this in September. I hope to learn all that I can from teaching in this capacity and be able to explore all that I can in Europe while there."
---

Paige Cody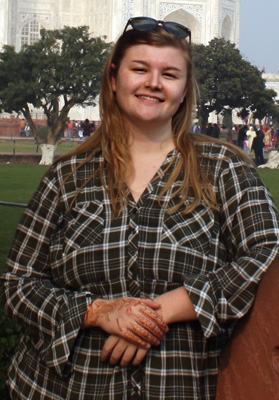 Initially, Paige Cody, a soon-to-be alumna earning a bachelor of arts in international studies, didn't think she would be spending a year in Taiwan as a Fulbright teaching assistant; however, the stars aligned and she will be continuing her passion for international travel - something she has been doing since she was just 8-years old. To date, Cody says she has traveled to 24 countries across five continents.

"My reaction to receiving the reward was a mixture of elation, tears (all of them happy) and surprise, to be honest," Cody expains. "I was very nervous and doubtful about being able to get a full award. Luckily I didn't lose hope, and about a month after my first notice, I was notified that I had been awarded the grant! Naturally I was ecstatic and I am still so grateful to be preparing to go to Taiwan in August."

While in Taiwan, Cody will be co-teaching English to fifth-through-ninth grade students at the National Taiwan College of Performing Arts alongside local teachers. She says the opportunity to teach at a performing arts school is a dream come true.

"I was raised in a musical family and took performance and singing lessons from childhood through high school. I also hope to conduct a service project centered around community engagement and international cultural clubs and/or events for my students."

As a student, Cody served as a student mentor for students visiting as part of the Young Southeast Asian Leadership Initiative (YSEALI) and as vice president of the International Student Buddy Program. She hopes to continue her education with a master's degree following her return from her time in Taiwan.

"The process for applying for the Fulbright Program came with a lot of hard work, working closely with several advisors in the international studies department, to make sure that I could put my best foot forward and write an application in which myself and my personality really shone through. I am very grateful to Anne West-Leclou and Lucy Morrison for both spending so much time reviewing my application with me over many drafts so that I could proudly submit to Fulbright something that reflected my character and my aspiration to be a part of providing quality English education opportunities to communities abroad."
---

Samantha Sack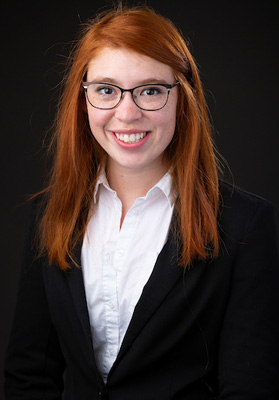 From Waverly, Neb. to Omaha to Switzerland and now to Peru, Samantha Sack's journey as a Maverick has taken her across the world and back again as she carves a path to be a leading voice in public health and immunology.
In just the past year, Sack, who is a member of the Thompson Learning Community, became the third UNO student in history to receive the prestigious Barry Goldwater Scholarship Award and participated in two internships - one at the Swiss Tropical and Public Health Institute and the other at Harvard University.
However, Sack is excited to be branching out from her science-focused background and have the opportunity to teach English in a new country.
"I decided to instead apply for an English Teaching award as opposed to a research award to broaden my experiences and challenge myself," Sack explains "I received a lot of support from mentors here at UNO, particularly from Dr. Lucy Morrison who always had faith in me and my application. She and others here at UNO have continued to push me to excel and reach for goals beyond what I initially thought I could achieve."
Sack plans to pursue a doctorate in public health or immunology, building on her research under mentor Paul Davis, Ph.D., who is director of UNO's Molecular Parasitology Lab, and expects to put that background to use when she isn't in the classroom with students.
"Although I am not yet sure of my exact city placement, I hope to research with collaborators working on drug-resistant malaria strains in Peru, either through connections I have at Harvard University's School of Public Health, where I am working this upcoming year leading to my Fulbright, or NAMRU-6, which my Fulbright interviewers brought up to me."
Sack says that she credits UNO's support for helping her achieve the opportunity to be a part of the Fulbright program and encourages other students to explore if it's right for them.
"I wish every student had the opportunity to travel the world and experience different cultures and gain an appreciation for others' perspective, which is the main goal of the Fulbright Program."
About the University of Nebraska at Omaha
Located in one of America's best cities to live, work and learn, the University of Nebraska at Omaha (UNO) is Nebraska's premier metropolitan university. With more than 15,000 students enrolled in 200-plus programs of study, UNO is recognized nationally for its online education, graduate education, military friendliness and community engagement efforts. Founded in 1908, UNO has served learners of all backgrounds for more than 100 years and is dedicated to another century of excellence both in the classroom and in the community.
Follow UNO on Facebook, Twitter, Instagram, TikTok, LinkedIn, and YouTube.