Biomechanics/Biotechnology Student Named Goldwater Scholar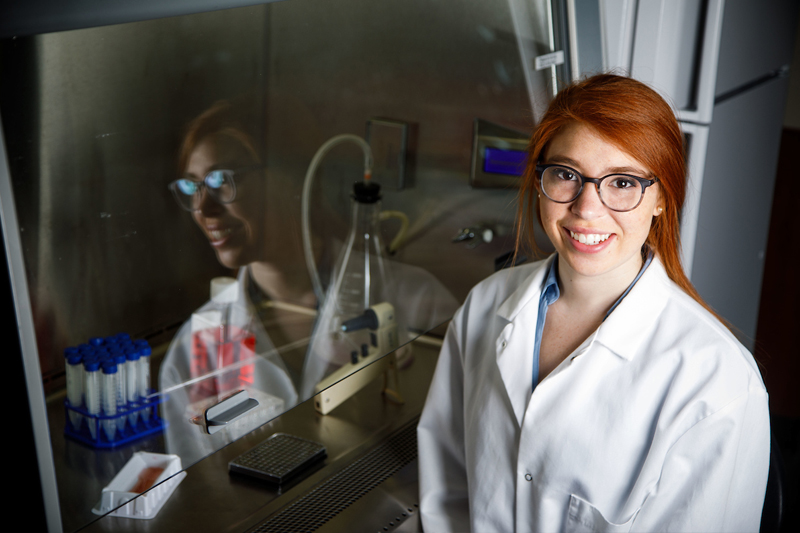 Samantha Sack's path to earning one of the nation's most prestigious academic awards traces back to separate conversations with two friends, both prior winners.
Harim Won and Zachary Meade made university history last year when they became the first UNO students to earn Barry Goldwater Scholarship Awards.
"Harim works in Dr. Paul Davis' parasitology lab with me, and Zach and I researched in the Biomechanics Research Building together," Sack said. "They both independently encouraged me to apply, and really helped me through the application process."
Sack, a Waverly, Nebraska native studying biomechanics and biotechnology, said although she felt confident in her application, she didn't expect to be an awardee. The application process is rigorous, so the competition is fierce; and each year, only roughly a sixth of all applicants make the cut.
"When my friend messaged me to say congratulations, I had to triple check that I actually did before I started celebrating!"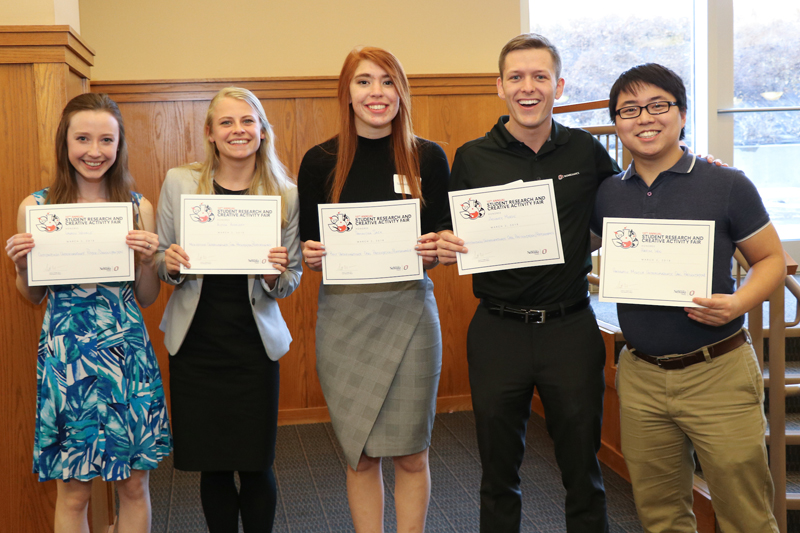 Sack (center) stands with other students recognized at the Student Research and Creative Activity Fair, including fellow Goldwater scholars Zachary Meade and Harim Won.
Sack said the encouragement that led her to apply to the program is just one of many examples of how UNO has helped her grow. The list includes peer support, caring faculty mentors, UNO's Fund for Undergraduate Scholarly Experience (FUSE) and the Student Research and Creative Activity Fair.
"I have found a support system here which has helped me not only to see my potential, but also to discover and strive for bigger things."
The Thompson Learning Community scholar will have plenty to keep her busy this summer. Sack has two internships lined up, one at the Swiss Tropical and Public Health Institute, the other with Harvard's Biological Sciences in Public Health program. She also runs a nonprofit in partnership with a friend. The Living Ladder Foundation offers one-on-one advising to help underprivileged individuals go to college or find a job.
Sack has one more year until she completes her undergraduate work at UNO. She plans to pursue a doctorate in immunology or public health. Wherever she goes, she'll take her Maverick perspective with her.
"I really want to make an impact researching and teaching!"
What faculty are saying:
"Samantha is a student with amazing talent for hard work and staying focused. She approaches her work in the area drug discovery with the enthusiasm, vigor, and knowledge of a scientist with many more years of study than would be expected. I anticipate great things to come from Samantha in her future."
-Dr. Paul Davis, associate professor in Department of Biology


"Samantha has always shown to be thoughtful, talented, and highly driven during her time on my research team. It is wonderful to see that she has been recognized nationally as a future leader in scientific research through the Goldwater Scholarship."
-Dr. Brian Knarr, assistant professor in Department of Biomechanics


"Samm represents the best of UNO as this national academic recognition underscores. She is not only talented in the classroom, but her service to campus and her larger community make us proud!"
-Dr. Lucy Morrison, director of University Honors Program, professor of English