Avalon Shutdown to Mark End of Web Conversion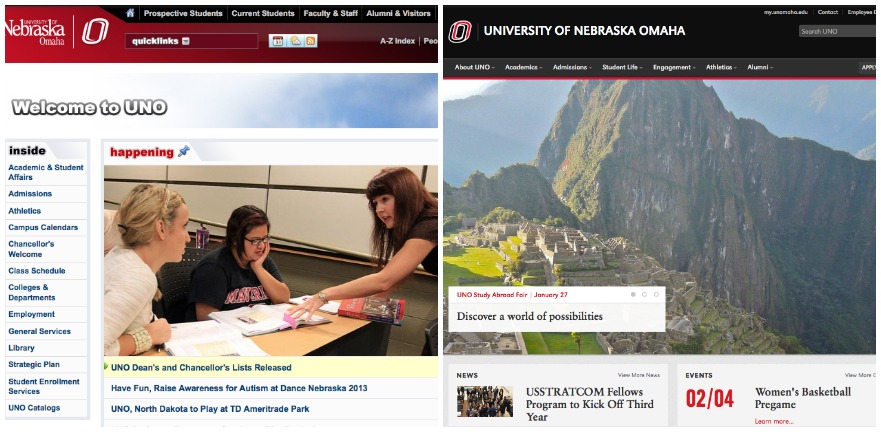 University Communications and Information Technology Services, with the help of many campus partners and under the direction of the Digital Communications Executive Committee, is wrapping up Phase 8 of the website conversion project.
The website conversion project has transitioned and consolidated more than 200 college, department, and other administrative web sites that were in old templates. This resulted in a reduction of more than 100,000 web pages to about 7,000. The server that hosted the old website, called Avalon, will be turned off Tuesday, Dec. 20, marking an official end of the project.
Since early 2013, the UNO website conversion took place in a series of phases. Priorities were determined by members of the Digital Communications Executive Committee, and implementation was led by a team from University Communications and Information Technology Services with the help of college communicators and other leads on campus.
Phase 1 and 2 included Content Management System Request for Proposals, selection and campus consultation, creation of governance, and top level web design work to set the stage for the rest of the project.
Phase 3 (September 2013 - March 2014)
Phase 4 (March 2014 - October 2014)
Phase 5 (July 2014 - January 2015)
Phase 6 (March 2015 - September 2015)
Phase 7 (October 2015 - December 2015)
Phase 8 (January 2016 - December 2016)
This year, some notable conversion projects included:
It is far more effective, as well as a better use of limited resources to invest in a single visual identity that is constantly and strategically reinforced. Consistency allows UNO to visually link the university more closely to its many programs that support the mission of teaching, research and service.
- Chancellor John Christensen, via UNO Brand Guide
At the same time, enhancements to the new site have been taking place and will continue into future enhancement phases beginning in January 2017, still governed by the Digital Communications Executive Committee. New project requests can be submitted via Start Your Project, or brought to members of the committee for proposal and consideration of addition to the roadmap.
Members of the Executive Committee include:
B.J. Reed, Ph.D. Senior Vice Chancellor, Academic and Student Affairs (Chair)
Bill Conley, MBA Vice Chancellor for Business and Finance
Dan Shipp, Ed.D. Vice Chancellor, Student Affairs & Enrollment Management
Gail F. Baker, Ph.D. Executive Associate to the Chancellor Dean of the College of Communication, Fine Arts and Media
Deborah Smith-Howell, Ph.D. Associate Vice Chancellor, Academic Affairs Dean of Graduate Studies
Bret Blackman, Chief Information Officer
Erin Owen, Executive Director, University Communications
Bob Woody, Ph.D., Faculty Senate President
Tony Flott, Staff Advisory Council President
Patrick Davlin, Student Government President
If you have any questions about the process or the Avalon Decomission project, please contact Jason Buzzell.
Contact Us
If you have a story idea, news tip, or other question, please email the UNO News team at unonews@unomaha.edu.