Destynie Sewell Makes Room for Connections, Conversations, and Inspiration
Professor Destynie Sewell, JD, MBA, shares her perspective on Equity and Inclusion as a mentor, mother, and community change-maker.
published: 2022/02/14
contact: Rachael Smith - Communication Specialist, UNO CBA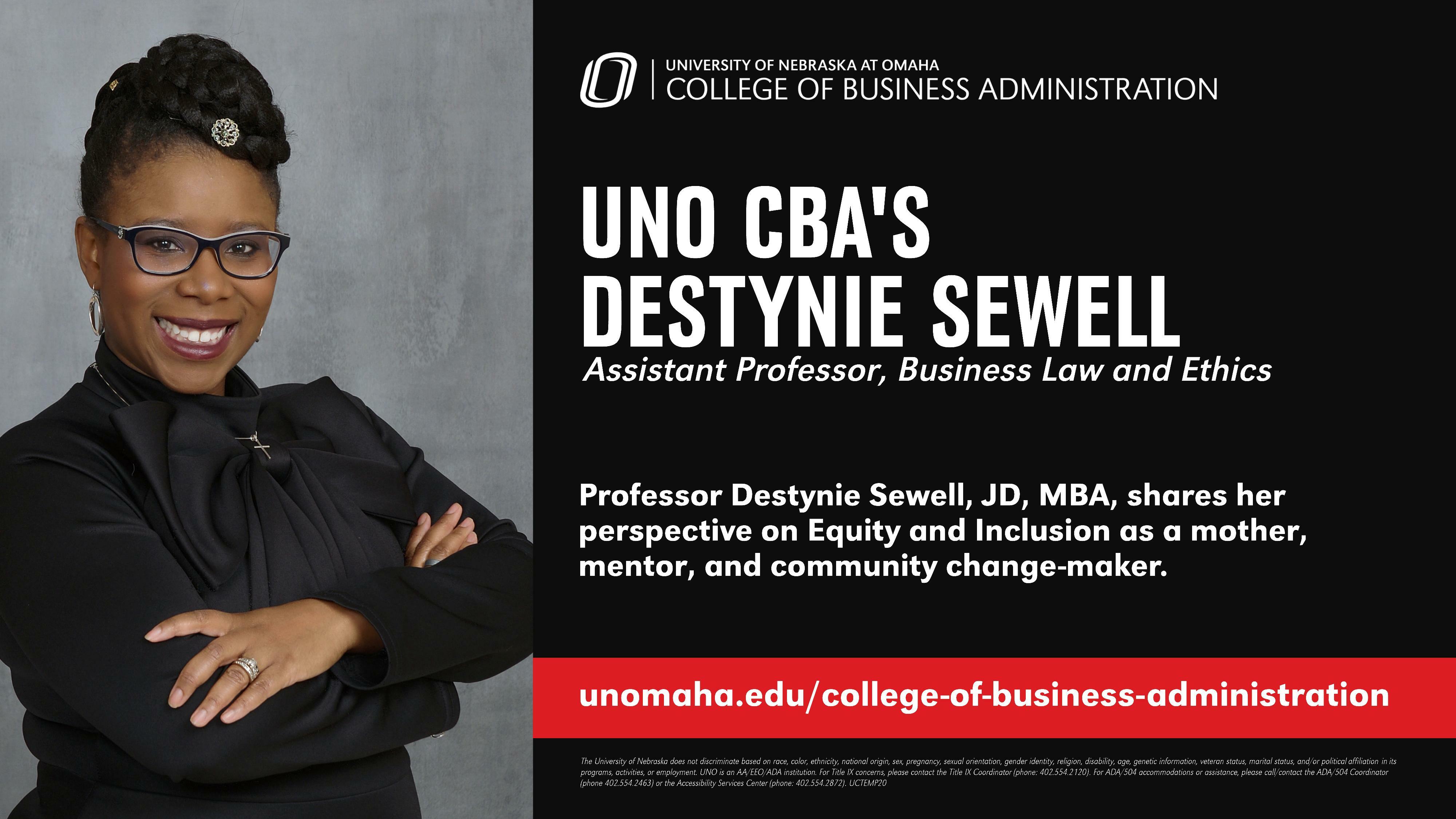 Destynie Sewell, JD, MBA, and Assistant Professor of Business Law and Ethics, has committed herself to the success of those she calls her "babies." From recently becoming a mother to twins, to the many students she mentors, Sewell is a stalwart advocate and change-maker in all she does.
"In my culture, we take care of each other's children," said Sewell. "If you help pour into and nourish a young person, it's perfectly normal to claim them as your baby. I know my students are grown adults, but no matter how old you get, when one of my 'babies' succeeds, I succeed."
Sewell is nurturing several "babies" – including projects, students, and community initiatives – in pursuit of enhancing Diversity, Equity, Access, and Inclusion (DEAI) efforts on-campus and in Omaha. Personal experience with the importance of having conversations around these topics drive her in this effort. As a new mom, Sewell recalls constantly being asked if she would return to work, while her husband was never once asked the same question. It invigorated her desire to challenge harmful perceptions of what a woman can do at home and at work.
"Within the College of Business, we're not where we want to be when it comes to diversity. We're recognizing that, and we have to be open with ourselves, saying 'Do we represent our community?'" suggested Sewell. "In any initiative related to Diversity, Inclusion, and Access, ask 'Are we making it accessible for the underrepresented? And why are they underrepresented?' We research and try to figure out where the gap is, and then we work to fill it."
Being a mother isn't the only realm in which Sewell is fighting to change perceptions and battle stereotypes. As a Black woman in higher education, she reflected on instances in which her worth and knowledge have been, and continue to be, doubted by others. But, like she would recommend to students, Sewell never diminishes her qualifications, successes, and her right to be where she is.
"I would tell students, especially Students of Color: don't give up. You deserve your spot. You are just as bright and just as deserving as your counterparts to be here. Find or create a community. And know that there are professors all over campus, and in our building, who love to mentor and sponsor," she suggested. "Don't be afraid to approach them. Closed mouths don't get fed. But if you're particularly facing challenges that stem from loneliness or feeling like 'the other' in CBA, make an effort to find a professor you can connect with. If you can't find that professor – come see me."
Sewell constantly considers her students' circumstances in her efforts to make spaces for them to excel, see themselves represented, and find resources for their success. When she heard from a student that in their four years on campus, she was the only Professor of Color they'd ever had, it reinforced for Sewell why she puts in the effort that she does.
"I love being at the front of a room. I hope I'm inspiring others. The Law professor before me, Dr. Darryll Lewis, inspired me to go to law school. I didn't know any other Black lawyers, and he mentored me throughout undergrad. When he retired, and there was a conversation about me replacing him, I thought 'no one can replace him!'," said Sewell. "I hope to give that back to the students, especially underrepresented students within the college. I hope to make an impact for students who benefit from seeing themselves represented in the classroom."
And Sewell doesn't just hope for change – she acts. She's currently a member of INSPIRED, a program encouraging BIPOC teachers within K-12 classrooms in Nebraska. As Chair of the CBA DEAI Task Force, she wrote the grant that led to funding for the new CBA Prep Academy. She's invigorating and expanding the reach of the Legal Studies program within the College of Business Administration. And she designed and currently teaches a class titled Diversity, Equity, Access, and Inclusion for Risk Managers, which meets both MBA and U.S. Diversity General Elective Requirements. In all her efforts, Sewell emphasizes making space for connections and safe conversations around Equity and Inclusion.
"Diversity in thought is enriching. In my class, we set ground rules: we won't disrespect the speaker, we won't show animus or hostility, what we talk about stays in the classroom, and we can have a vigorous debate and leave here as friends," said Sewell. "I always say in our discussions, we're not going to just be adults, we're going to be better than adults. Students love that. They leave saying they feel like they're more educated and prepared to have those conversations. A lot of people are scared to talk about these topics, but if you set respectful ground rules, those conversations can be fruitful."
For instructors, departments, or community members seeking to encourage conversations around Equity and Inclusion, Sewell recommends creating environments where people are free to ask questions, feel safe in talking about challenging topics, and where the emphasis is on addressing systemic issues, not insulting anyone's worth or emphasizing power dynamics. She believes Omaha will thrive with more attempts to make room for compassionate discussions. At UNO, she's doing everything in her power to make these happen.
"UNO, and the College of Business Administration specifically, recognize the need for safe and productive conversations like this. I serve on the Dean's Advisory Council for DEAI, and it's a goal of the college to take that seriously," shared Sewell. "We're not forgetting any students. You don't leave family behind to take in more, you take everyone with you. We're all moving forward together, so hold on for the ride!"