Jillian Poyzer Named Outstanding Accounting Educator
Poyzer, lecturer for the CBA School of Accounting, was recognized for excellence in accounting education by the Nebraska Society of CPAs.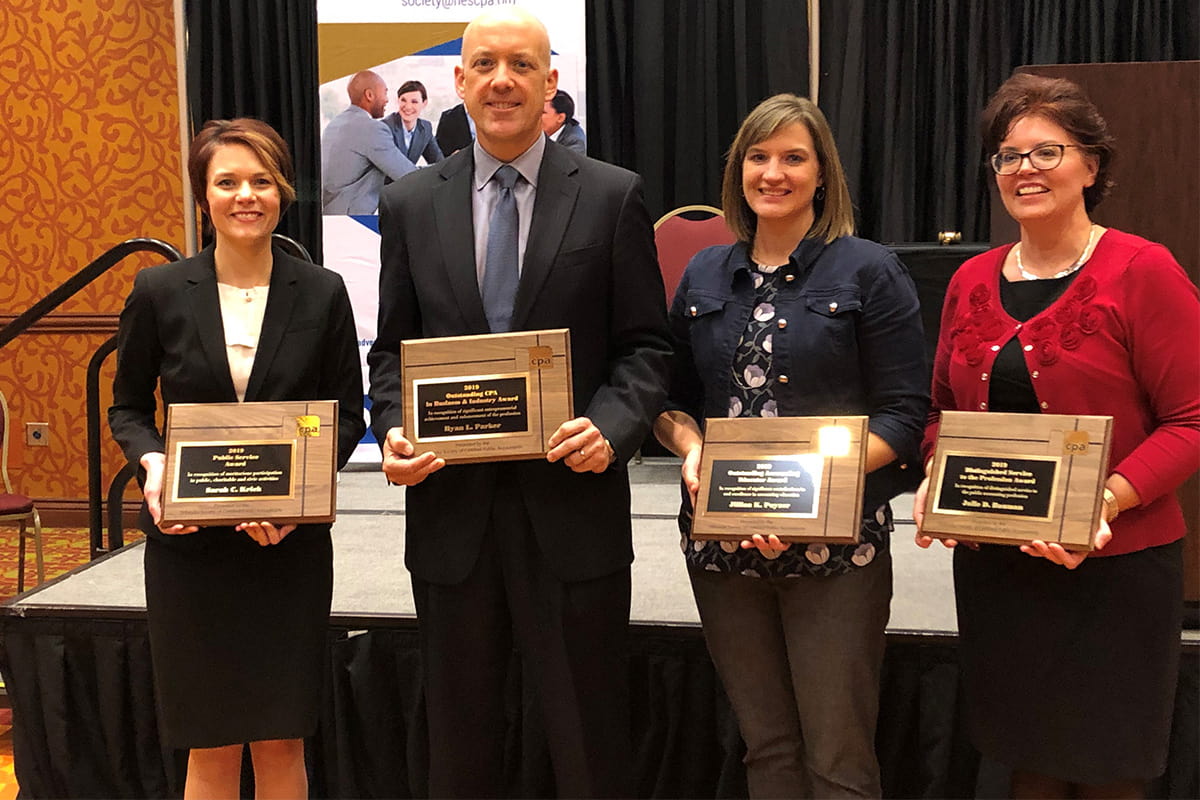 Jillian Poyzer, CPA, lecturer for the UNO College of Business Administration School of Accounting, was recently named Outstanding Accounting Educator by the Nebraska Society of Certified Public Accountants (CPAs). The award recognizes full-time accounting educators in Nebraska for excellence in accounting education.
Poyzer was selected by committee for excellence in classroom teaching, significant contributions to accounting education, service to the Nebraska Society of CPAs, and service to outside organizations that contribute to the overall strength of the accounting profession.
Poyzer was recognized for her student-oriented teaching, student mentoring, development and leadership of the Accounting Careers Program, and her engagement with students and employers as UNO's Accounting Career Advisor and Internship Coordinator. Poyzer also brings expertise in taxation to her classroom, teaching individual and corporate income taxation in addition to accounting principles to both honors students and non-business majors.
"Jillian Poyzer is an exceptionally gifted, student-centered, practice-oriented lecturer whose students appreciate her guidance, direction, and support.  Her passion for preparing students for successful professional accounting careers motivates her to engage students in active learning both in and out of the classroom," said Dr. Susan Eldridge, director, School of Accounting.
While completing her Master of Accounting (MAcc) degree at UNO, Poyzer gained experience as a graduate student with the Nebraska Business Development Center (NBDC). She has worked in both private industry and public accounting, and was a tax supervisor at the regional accounting firm BKD, LLP prior to becoming a full-time faculty member. Her ability to bring real-world knowledge to the classroom bolsters her dynamic teaching style.
"Everyone learns differently, so to me, teaching means providing resources to students so they have the opportunity to learn the content in a way that works best for them. Additionally, it's one thing to provide tools to students, but showing students how to use those tools strategically is critical to my teaching," said Poyzer. "Drawing from my professional experience allows me to provide practical examples to students to show them how the accounting rules or tax laws apply to real-life business scenarios."
Congratulations Jillian!
Contact Us
If you have a story idea, news tip or inquiry, please contact:
Lindsey Hasenjager, Director of Social Media and Promotions, College of Business Administration
lhasenjager@unomaha.edu • 402.554.3852