Maisondieu Laforge Becomes an Ironman for His Students
Associate Professor Dr. Olivier Maisondieu Laforge competed in the 144-mile Ironman competition this September. Now, he's using his story to encourage students to reach for their wildest dreams.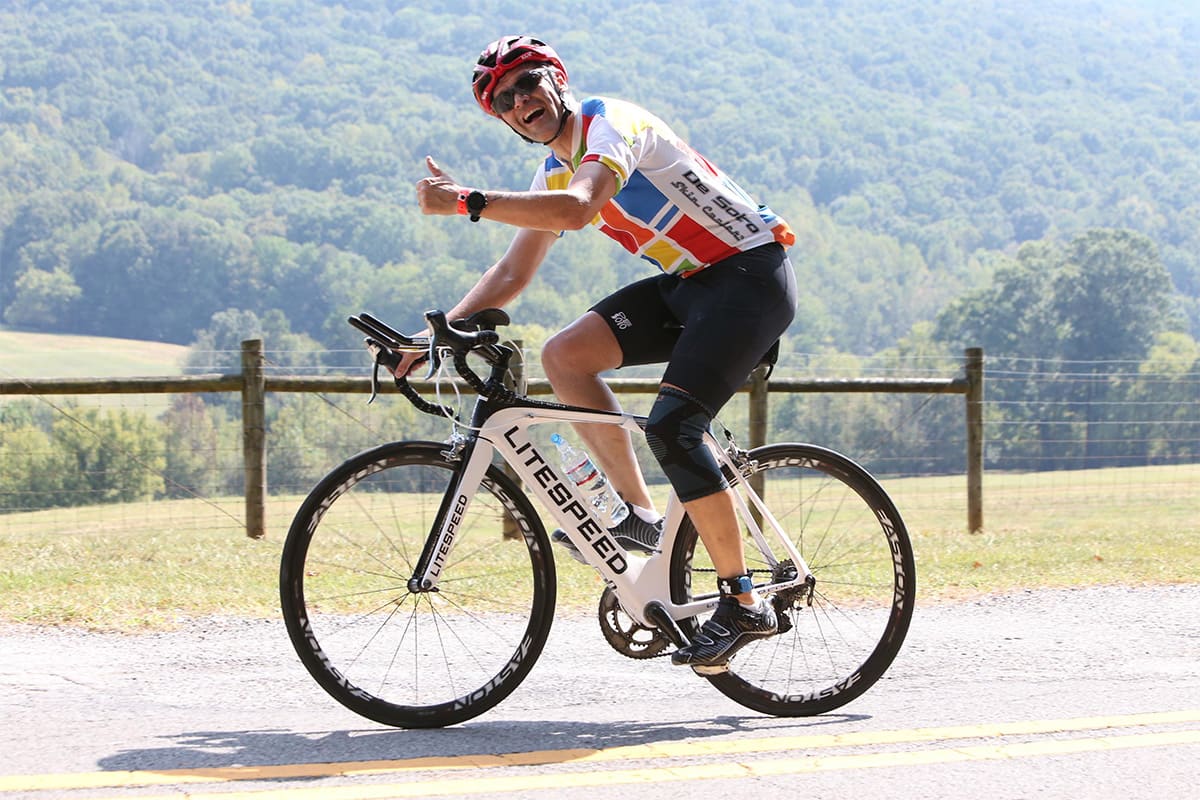 Dr. Olivier Maisondieu Laforge competes in the 144-mile Ironman competition.
Dr. Olivier Maisondieu Laforge, associate professor of finance, banking, and real estate at the UNO College of Business Administration, was a much different person one year ago.
He used to weigh 50 pounds more than he currently does, and admits that he spent much of his time on the sofa. Ultimately, he looked at himself and his goals, and knew it was time to make a change.
He started preparing for the prestigious Ironman competition, beginning a quest for health that has now become a fundamental component of his life.
Maisondieu Laforge, at the age of 50, completed a half Ironman competition this June and finished the full, 144-mile Ironman course this past September in Chattanooga, Tennessee. The experience has made him stronger and healthier than ever before, and also far more aware of how society as a whole treats its bodies and minds.
In preparation for the competition, Maisondieu Laforge studied healthy eating, sugar's impact on health, and how bodies create energy. He realized how severely people treat their bodies, often neglecting their physical well-being, mental health, and self-care. As a professor, Maisondieu Laforge doesn't want these negative habits to touch his students' lives.
"At CBA, we strive to teach – not only subject matter, but how to be better people," he says. "Taking care of ourselves has to come first, or we simply won't have the strength to do much good in society."
Maisondieu Laforge drove this lesson home by sharing the before and after of his Ironman experience with his students. He also used it as a springboard for a self-reflection assignment, where he tasked his students with envisioning goals for their life outside of landing a job. Instead, he asked them to think about their dreams and create a list of 10 goals that would be a challenge, push them out of their comfort zone, and that looking back, would make them proud of who they became.
Standing before his students, he speaks to them like an old friend, sharing stories and encouraging self-reflection that he hopes will linger in their minds for a long time.
"Believe it or not, much faster than you think, you will be 65 or 70," he tells them. "When you reach that age, you're going to look over your shoulder. What I don't want is for you to look behind you and say, 'huh, at 20, I got a job,' and that's it, now I'm done."
His students, visibly impacted by his statement, ponder his words. He shakes his head, adding, "That's a waste of a human being. There is much more to life."
Sharing his experience of exercising 5 to 6 days a week – "some days one hour, some days five hours, for almost an entire year" – shows his students that taking charge of one's life requires willpower and consistency.
"My family has even been inspired to move more and eat healthier. My definition of 'hard' has changed," he says. "This has proven that I will accomplish my crazy goals, and I can do anything."
And this is the exact attitude that Maisondieu Laforge is working to instill in his students. He hopes that his commitment to achieving lofty goals will also encourage his students to constantly "reach for more."
His next mission?
"Next year, I'm hiking the Grand Canyon from the south rim, to the north rim, and back again. 52 miles with a lot of elevation change," he laughs. "That sounds awesome!"
---
Do you feel like you want to make a change, but don't know where to get started? UNO has plenty of great resources to help you begin.
Check out:
UNO Wellness | Counseling and Psychological Services | Campus Recreation | Gender and Sexuality Resource Center