UNO-UNMC Dual Degrees Provide Unique Preparation for Healthcare Leaders
The UNO College of Business Administration and UNMC have worked together to develop dual degree opportunities in business and health-related professional degree programs, including medicine, pharmacy, public health, and nurse leadership.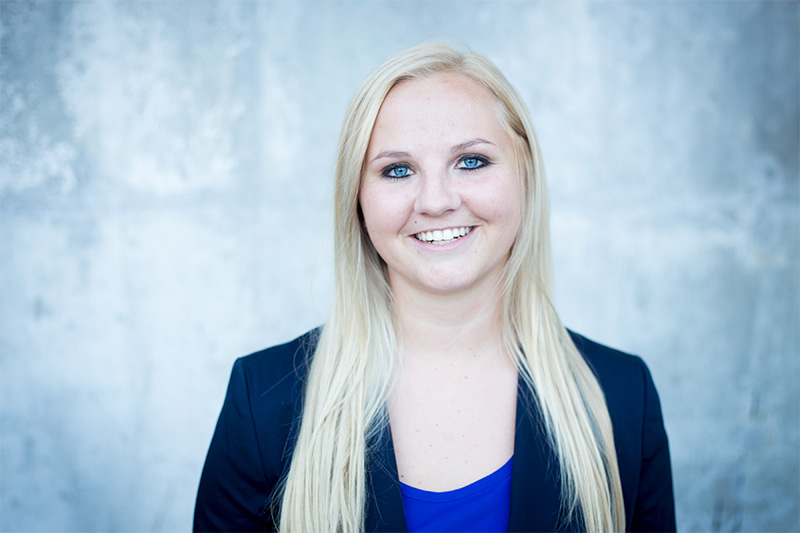 The healthcare industry is an ever-changing landscape, requiring those in leadership positions to navigate complex issues associated with patient care, operations, change management, and public policy. Students pursuing joint degrees in the University of Nebraska at Omaha's (UNO) Master of Business Administration (MBA) program and the University of Nebraska Medicine's (UNMC) health professions are uniquely prepared not only for healthcare practice, but also for taking on key decision-making roles in healthcare organizations.
For the past ten years, the UNO College of Business and UNMC have worked together to develop dual degree opportunities in business and health-related professional degree programs, including medicine, pharmacy, public health, and most recently, nurse leadership.
Students enrolled in the dual degree programs are able to complete the MBA core classes alongside their UNMC course work. They can then transfer and apply up to nine credit hours of elective credits from their UNMC degree towards their MBA. This allows students the ability to complete the MBA faster and benefit from shared credit hours.
Students like Madeline Blaha, currently in the UNMC Pharmacy-UNO MBA dual degree program, are increasingly seeking out dual degree programs. Blaha explained that when she was looking at pharmacy schools, she "wanted a program where she could get an MBA too." Her ultimate career goal is to work in pharmacy or hospital administration, and she's already realizing the value of her MBA through her pharmacy rotations.
"As I'm finishing up my PharmD with clinical rotations, I've already seen multiple instances where my MBA degree has added benefit," says Blaha. "Just being able to understand the 'language' that's being spoken in meetings with drug purchasing groups, pharmacy leadership groups, etc. is something incredibly beneficial."
Students in the dual degree programs have the unique opportunity to interact with expert faculty and industry leaders through classroom learning, research projects, leadership seminars, mentorship opportunities, and applied projects for healthcare organizations. Some of the highlights of the MBA program for Blaha included her finance courses with Dr. Olivier Maisondieu Laforge.
"Professor Maisondieu Laforge is awesome! The classes were challenging, but he opened my eyes to what it takes to run a company," she says. Blaha also remembers the impactful leadership seminar with Jane Miller, Chief Operating Officer at Gallup. "I enjoyed seeing a strong, powerful female leader who was personable and funny," she says.
Individuals prepared in the UNO-UNMC dual degree programs will be better able to anticipate change and make decisions that balance patient outcomes and the overall cost of care. They learn to think strategically and are positioned to communicate with people representing all facets of the organization, which is critical for effective leadership.
"In the medical field, priority number one is always to care for our patients, so it can feel unnatural to think of pharmacy and healthcare in general as a 'business.' The dual-degree PharmD-MBA program has helped me to reconcile the idea in my mind," says Blaha."Top priority will always be to care for our patients, but in order to do so, the pharmacy, hospital, clinic, etc. has to remain in operation. Making smart business decisions - in purchasing, personnel maintenance, and so on - helps to ensure we can provide the best care for our patients in the long term."
In addition to dual degree programs, UNO also offers a Business for Bioscientists Certificate Program for PhD students studying biomedical sciences, as well as a Business in Health Administration Certificate for students in the Master of Health Administration program at UNMC. Both of these certificates provide students additional training in business fundamentals, including accounting, economics, management, and marketing. These certificates are well-suited for individuals pursuing careers in the biotech industry and healthcare management.
Contact Us
If you have a story idea, news tip or inquiry, please contact:
Lindsey Hasenjager, Director of Social Media and Promotions, College of Business Administration
lhasenjager@unomaha.edu • 402.554.3852