Custom Supplement Company Wins UNO Pitch Contest
A sophomore business student took first place in UNO's annual elevator pitch contest.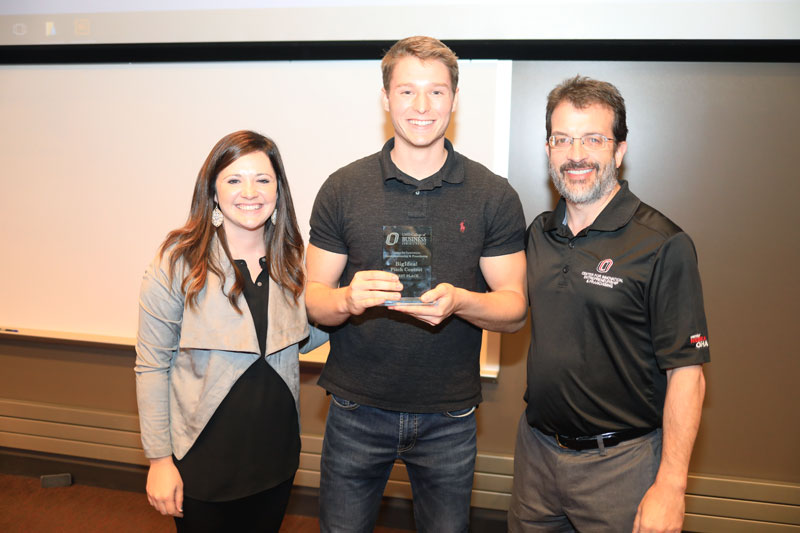 A sophomore business student took first place during the University of Nebraska at Omaha College of Business Administration's BigIdea! Pitch Contest Oct. 11.
Caleb Cox received $1,000 and a trip to Tampa, Florida, to pitch his winning idea for a custom supplement company, One Supplement, at a national conference later this month.
Cox said he plans to use the prize money to build his website, which will allow customers to order nutritional supplements unique to their needs and goals — losing weight, building muscle or maintaining general health.
"This is the first product that can be completely customized," said Cox, who has been working on flavors, patents and safety testing for several months.
A member of UNO's Entrepreneurial Living Learning Community, Cox has been using his classes to conduct research and build his business model. Wednesday's event was his first pitch competition.
"The competition was really fun," he said. "We gave each other feedback and worked on our pitches together."
This year's event featured fourteen finalists who had 90 seconds to impress a panel of entrepreneurs and business experts.
The finalists were selected from a pool of more than 150 students who pitched their ideas in front of faculty, staff, alumni and community members at Mammel Hall on Oct. 9.
In addition to Cox, three other students received awards. Second place and $500 went to Spencer Robinson for Gig Something, an application that matches musical artists and venues. Robinson is studying IT innovation and entrepreneurship.
IT innovation student Landon Miller received third place, earning $250 for Remember Now, a technology that automates treatment for people with dementia.  
Jordan Stutzman, also studying IT innovation, received an honorable mention for his nonprofit venture, Learn Out Loud, an application that helps children improve reading skills.
"I love seeing the creativity students apply to problems or opportunities around them," said Dale Eesley, Ph.D., director of UNO's Center for Innovation, Entrepreneurship and Franchising (CIEF). "Not only does the BigIdea! Pitch Contest help them think about how they could make a difference in the world around them, but it also challenges them to express their ideas clearly and persuasively and win the support of their audience."
Last year's winning submission came from business student Erin Dabbs, who pitched DriveOff, an app that incentivizes drivers to stay off their phones. Dabbs served as a judge this year.
Organized by CIEF, the BigIdea! Pitch Contest is in its ninth year at UNO. The 2017 event was sponsored by First Data, Mutual of Omaha and Buildertrend.
Our Campus. Otherwise Known as Omaha.
The University of Nebraska does not discriminate based on race, color, ethnicity, national origin, sex, pregnancy, sexual orientation, gender identity, religion, disability, age, genetic information, veteran status, marital status, and/or political affiliation in its programs, activities, or employment. Learn more about Equity, Access and Diversity.
scroll to top of page