DriveOff Wins BigIdea! Pitch Contest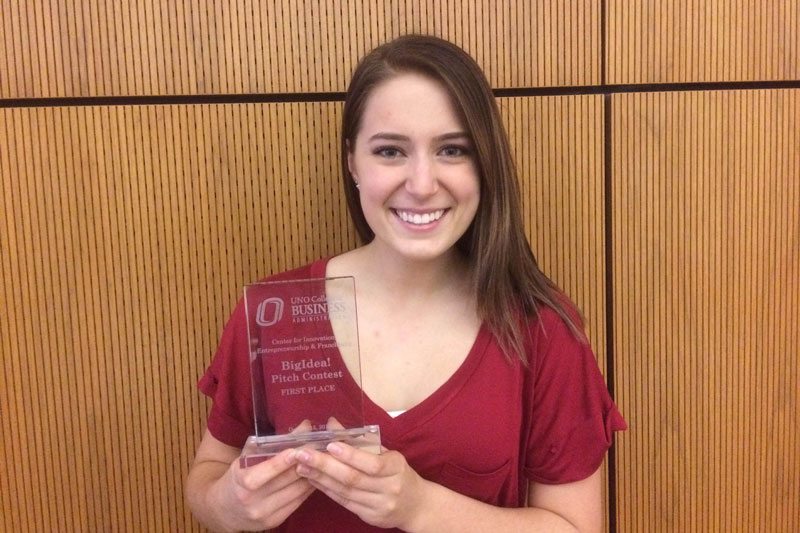 Erin Dabbs is a junior studying management, marketing and entrepreneurship.
OMAHA – About 150 students with an original business idea entered the 2016 BigIdea! Elevator Pitch Contest.
The contest began on Monday, Oct. 10, when all contestants performed 90-second pitches in front of panels of Omaha entrepreneurs and business experts.
Twelve finalists pitched in front of a live audience on Thursday, Oct. 13, in Mammel Hall.
Nathan Brtek: Block Lift
Erin Dabbs: Drive-Off
Jake Ferrin: Flash
Brevan Jorgenson: CIST / ECON 2400
Connor Kelley: Study Point
Courtney Kusmierski: Programmable pet food bowl
Quinn Nelson: Order Pay Eat
Hannah Olson: Hannah Caroline Couture Bridal
Erin Rhoten: Simply Sweet Bakery
Spencer Robinson: Gig Smart
Chris Winchester: DIY Bow Tie
Collin Wyler: Go Now
Business student Erin Dabbs won first place for DriveOff, an app that incentivizes drivers to stay off their phones. Her prizes include $1,000 and a trip to Tampa, Florida, for the Collegiate Entrepreneurs' Organization national conference.
Runners up included:
Connor Kelley, second place
Collin Wyler, third place
Brevan Jorgenson, outstanding nonprofit/social venture
For more information about this competition, visit http://cba.unomaha.edu/bigidea.
Direct questions to Dale Eesley, director of UNO's Center for Innovation, Entrepreneurship and Franchising: deesley@unomaha.edu