Experience Entrepreneurship
A living learning community designed to support and inspire a new generation of entrepreneurs.
What is the ELLC?
The ELLC was created to propel and inspire students to pursue their entrepreneurial curiosities and interests through a specific curriculum with an emphasis on experiential learning and programming. This group of freshmen and sophomores will be exposed to varying aspects of business as they meet founders and owners, tour businesses, participate in workshops designed to create a business, and travel the country to visit entrepreneurial hotspots. Students are NOT required to be business students.
The ELLC students live together as a cohort in Scott Village. Students accepted into the ELLC are guaranteed housing in UNO's Scott Village and receive a $2,500 scholarship over two years. The Entrepreneurial Living Learning Community (ELLC) is open to incoming freshmen of any major who are interested in innovation and entrepreneurship.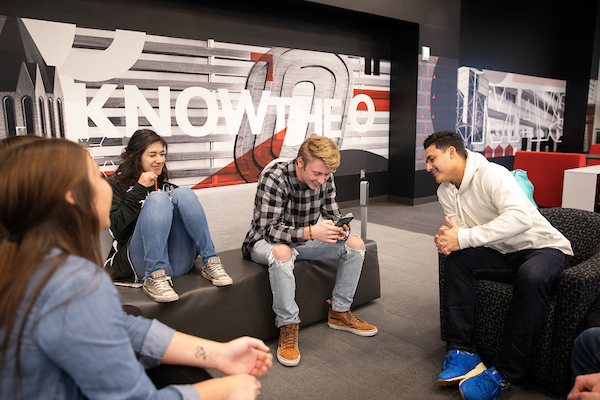 Benefits
Live with other ELLC members on campus
Engage with mentors from around the community
Complete entrepreneurship cohort courses
Attend weekly Collegiate Entrepreneurs' Organization meetings
Connect with highly successful entrepreneurs
Take local and national trips to entrepreneurial hotspots
Participate in other special events
Application requirements
Resume that highlights innovative or entrepreneurial accomplishments
Essay (250-500 words) that answers why you want to be part of this learning community
Names and email addresses of at least two references
The application is now apart of the main UNO Scholarship application. Apply for the ELLC scholarship by signing into your MavLink. On the left menu bar, click "Financial Aid." In the drop down list, click "Apply for Scholarships." This will take you to where you need to apply.
More information on scholarships, here.
Click to watch these ELLC student testimonials:

‎‏‏‎ ‎‏‏‎ ‎‏‏‎ ‎‏‏‎ ‎‏‏‎ ‎‏‏‎ ‎ ‎‏‏‎ ‎‏‏‎ ‎‏‏‎ ‎Nathan Hohensee ‎‏‏‎ ‎‏‏‎ ‎‏‏‎ ‎‏‏‎ ‎‏‏‎ ‎‏‏‎ ‎ ‎‏‏‎ ‎‏‏‎ ‎‏‏‎ ‎‏‏‎ ‎‏‏‎ ‎‏‏‎ ‎‏‏‎ ‎‏‏‎ ‎‏‏‎ ‎‏‏‎ ‎‏‏‎ ‎‏‏‎ ‎‏‏‎ Erica Pokorney‏‏‎ ‎‏‏‎ ‎‏‏‎ ‎‏‏‎ ‎‏‏‎ ‎‏‏‎ ‎‏‏‎ ‎‏‏‎ ‎‏‏‎ ‎‏‏‎ ‎‏‏‎ ‎‏‏‎ ‎‏‏‎ ‎ ‎ ‎‏‏‎ ‎‏‏‎ ‎‏‏‎ ‎‏‏‎ ‎‏‏‎ ‎‏‏‎ ‎ ‎‏‏‎ ‎‏‏‎ ‎‏‏‎ ‎‏‏‎ ‎‏‏‎‎‏‏‎ ‎‏‏‎ ‎‏‏‎ ‎‏‏‎ ‎‏‏‎ ‎‏‏‎ Erik Tena‏‏‎‏‏‏‎‏