Celebrating Our Newest Alumni
On Friday, 1,657 students graduated earned degrees from UNO and began the next stages in their professional journey. Family, friends, and the Maverick family cheered them on as they crossed the stage and welcomed them as UNO's newest alumni.
published: 2023/05/20
contact: Office of Strategic Marketing and Communications
email: unonews@unomaha.edu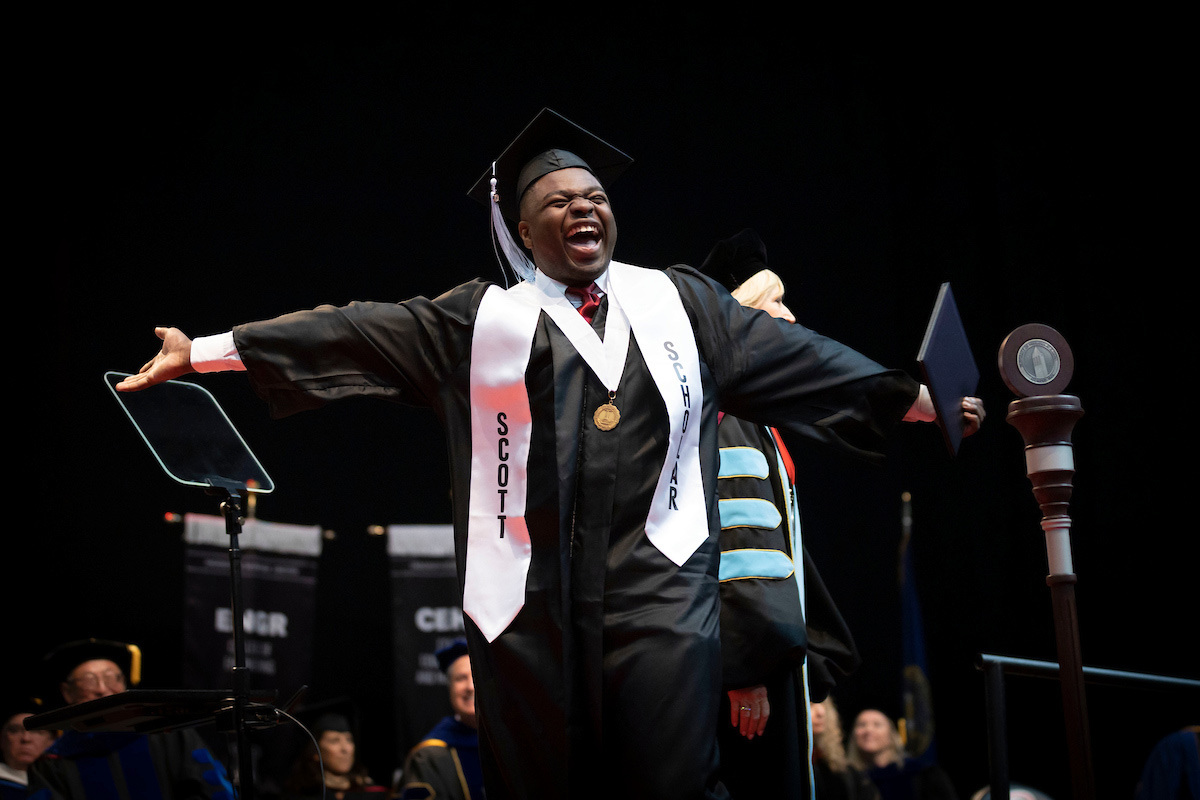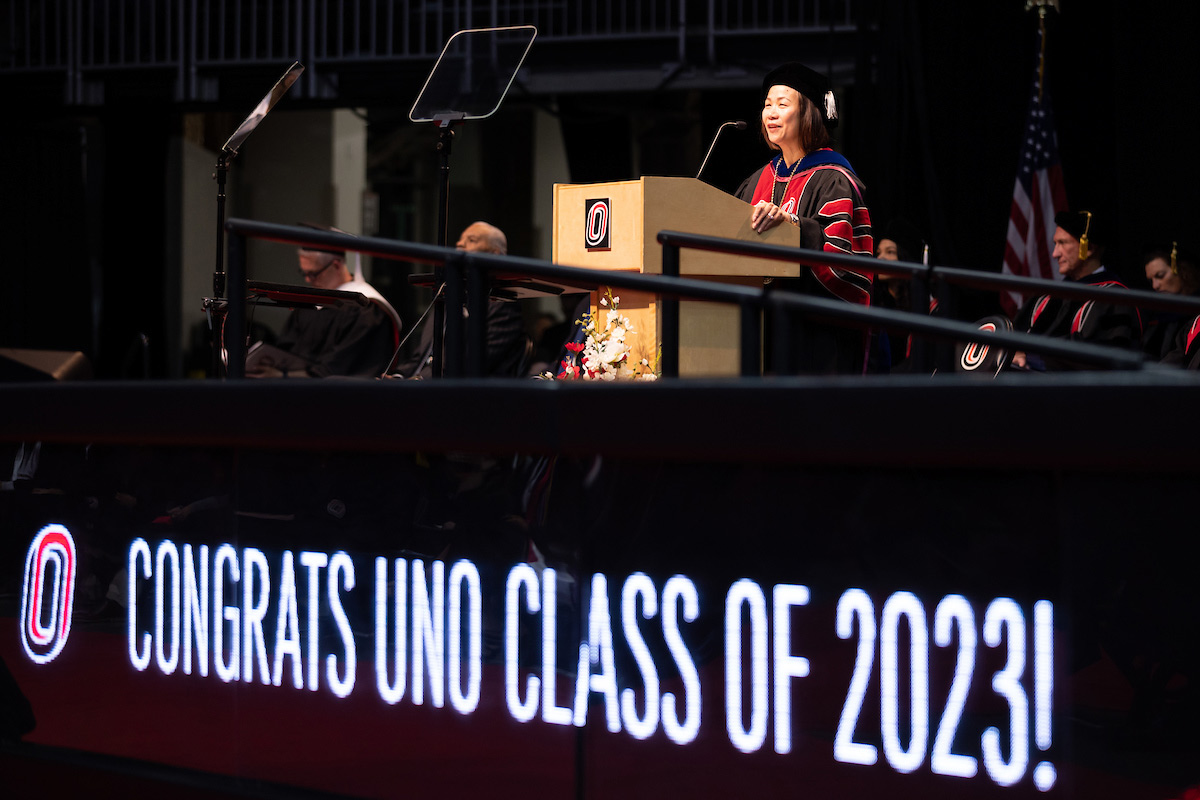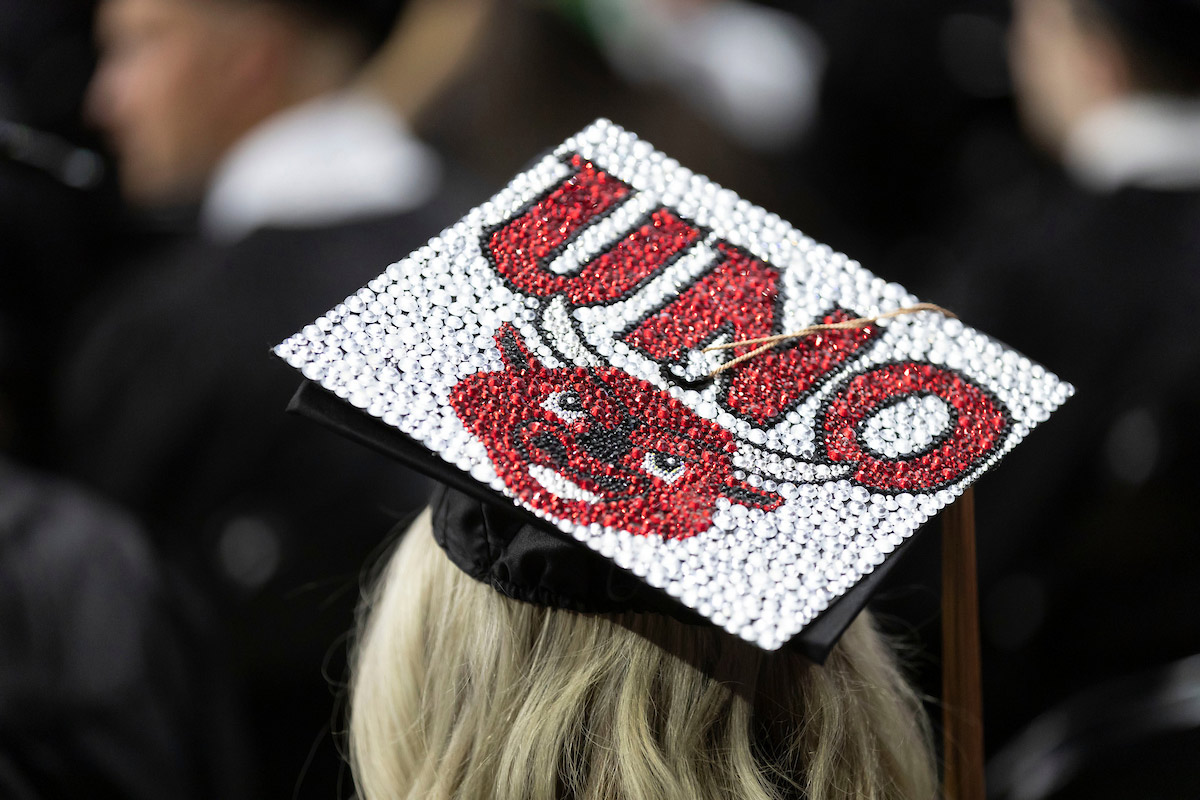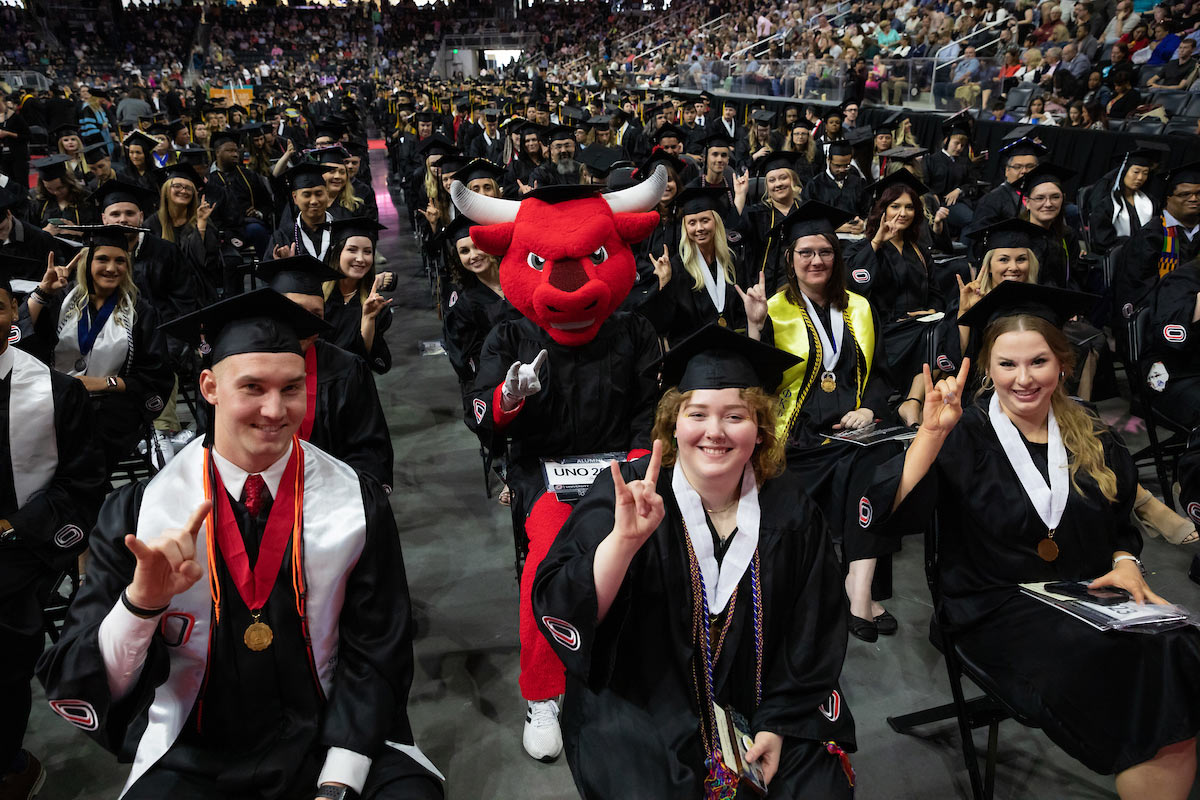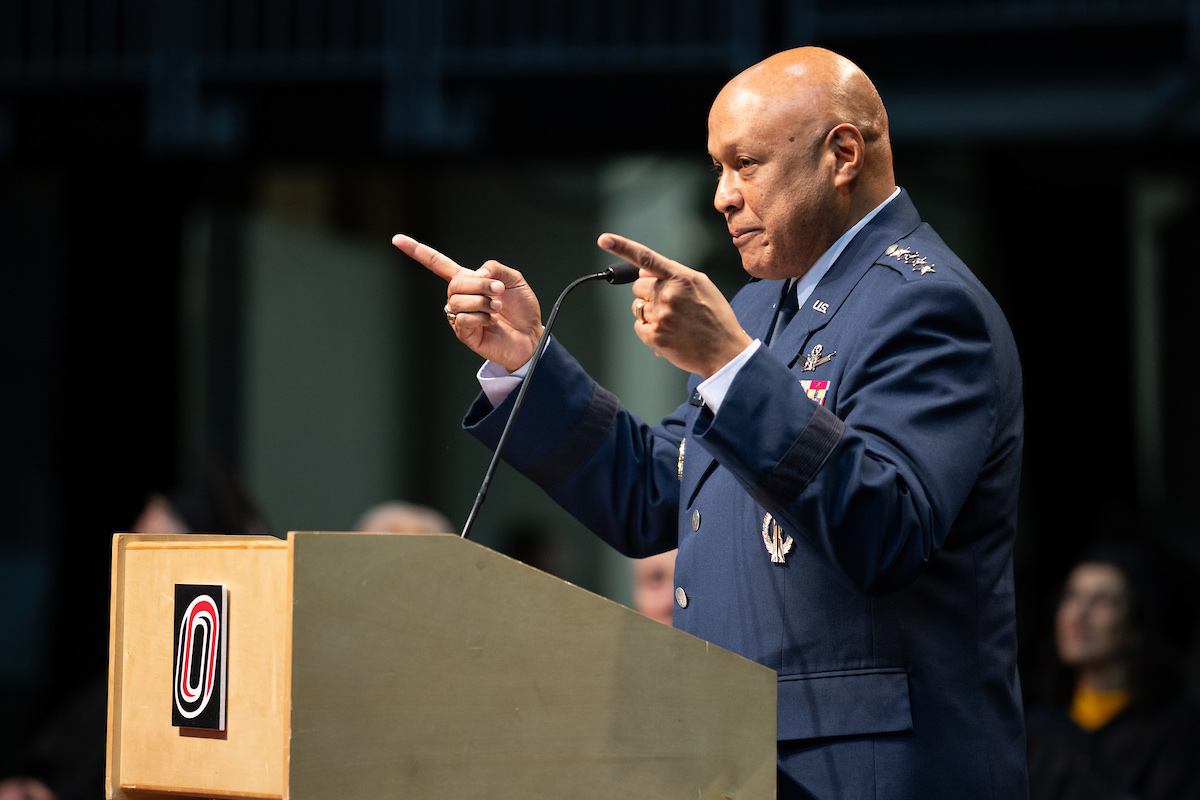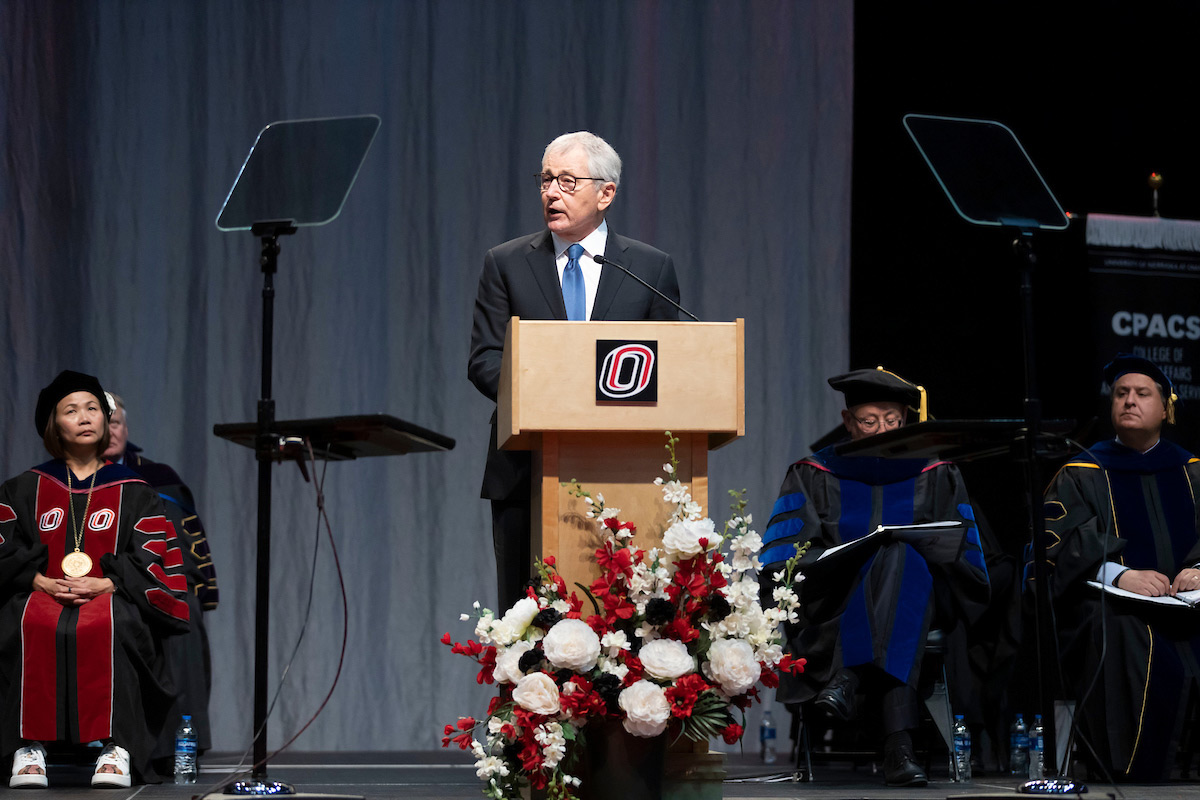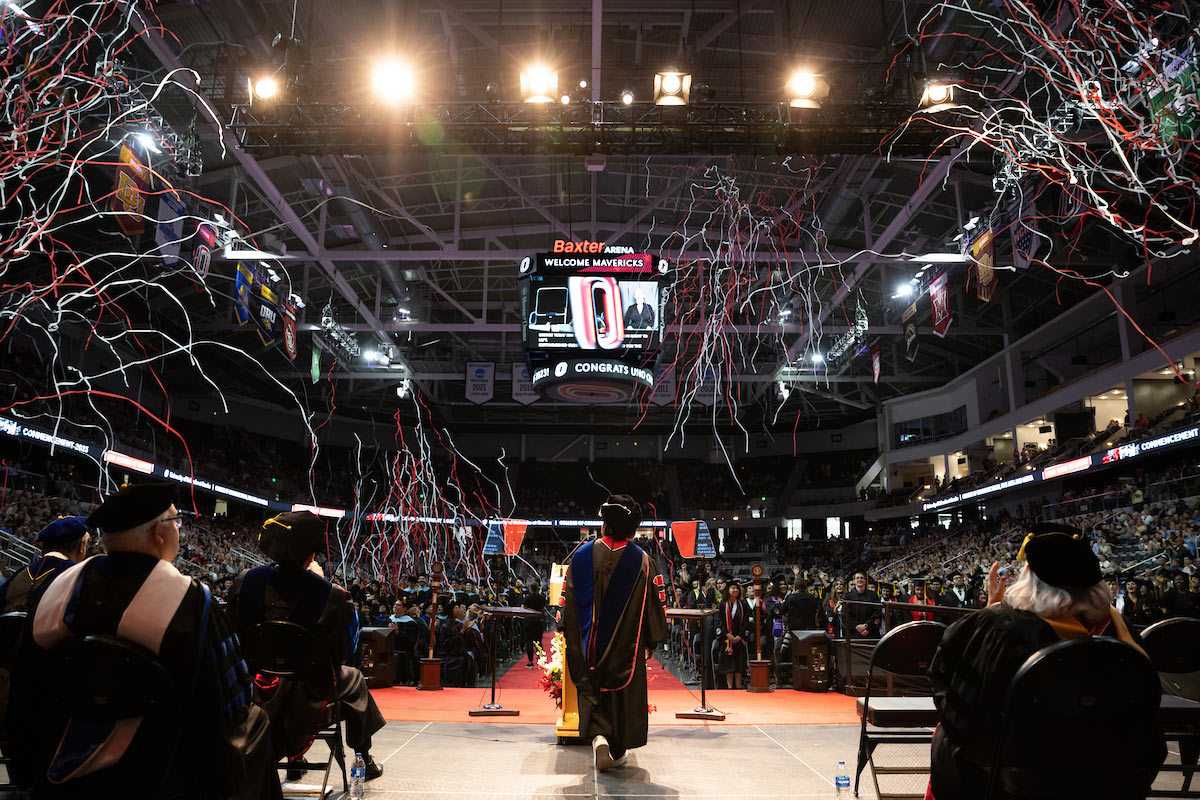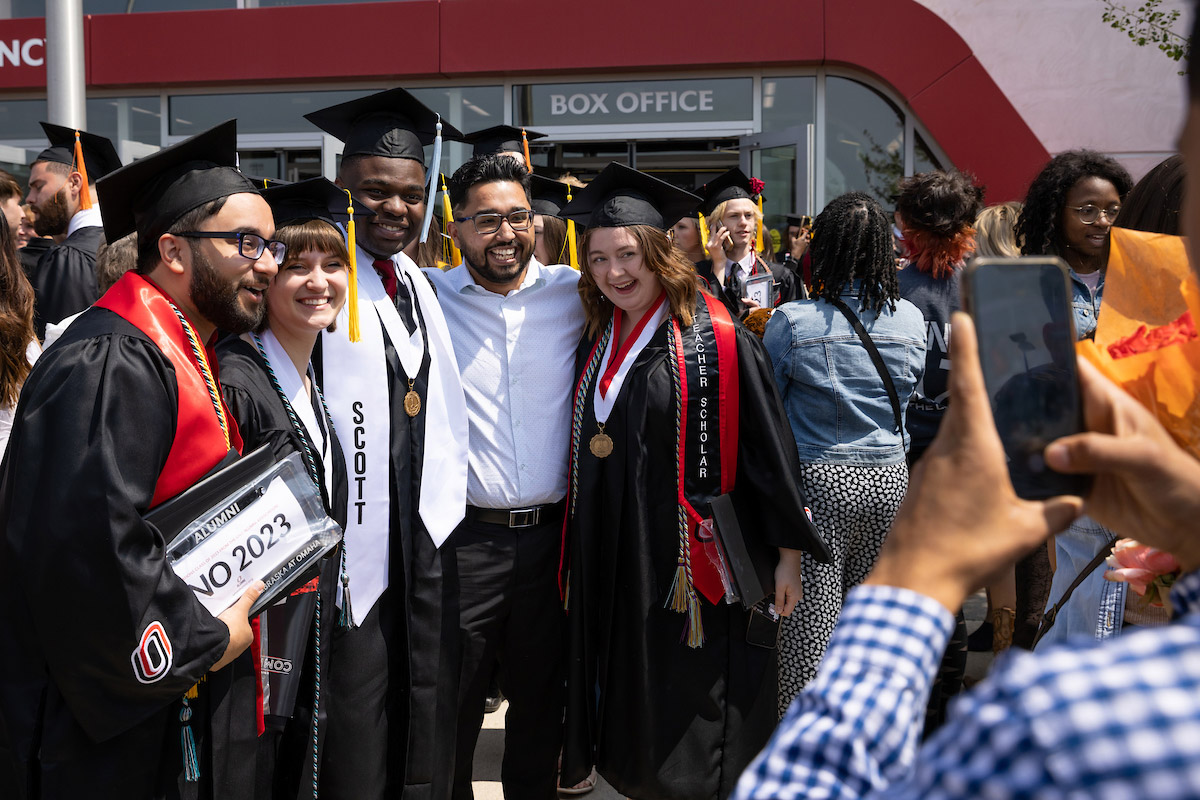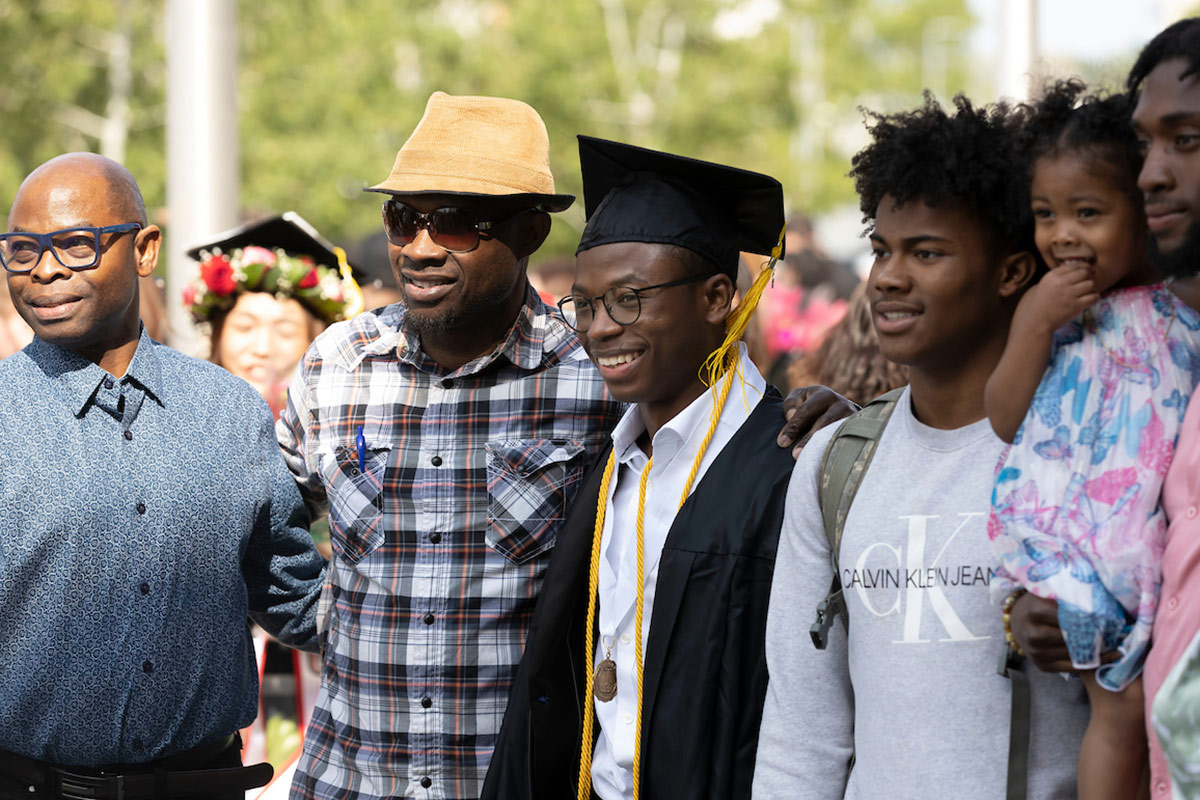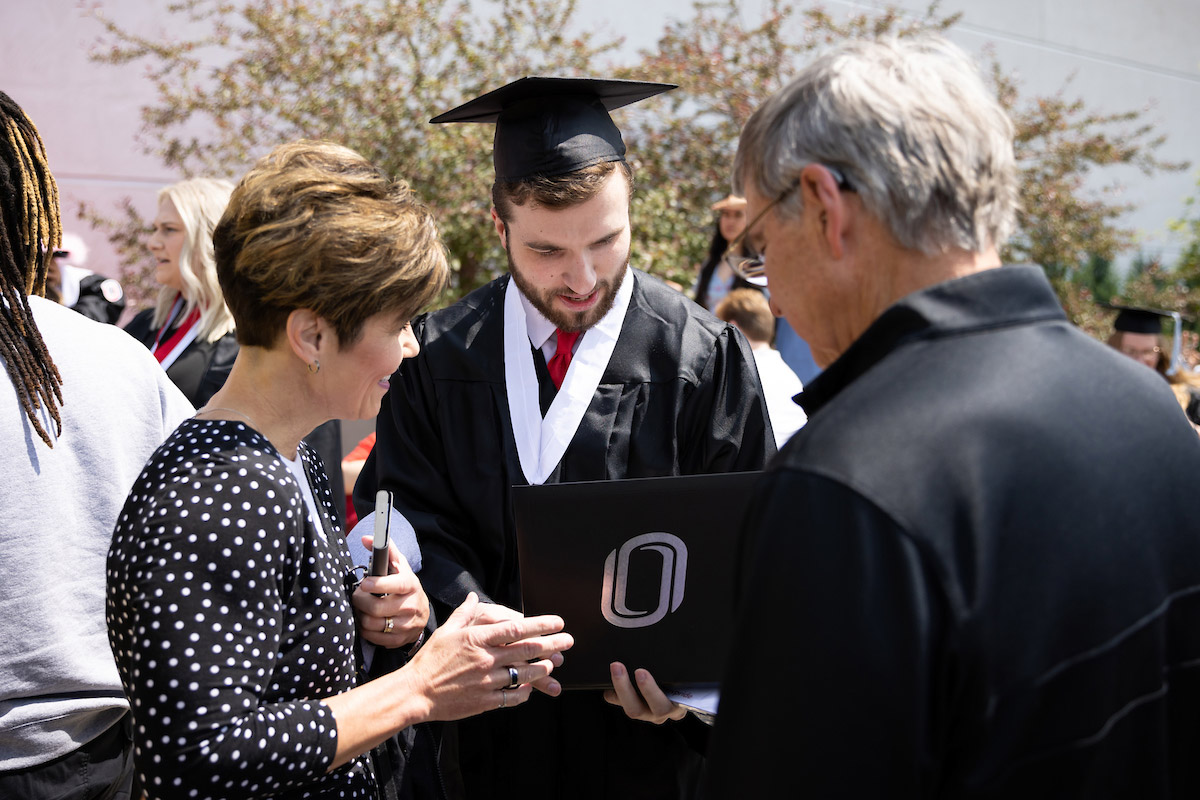 The University of Nebraska at Omaha (UNO) celebrated the newest class of graduates on Friday at Baxter Arena, where they were welcomed into a global alumni network more than 120,000 Mavericks strong.
The 1,657 graduates crossed the stage in two ceremonies, cheered on by family and friends, and bolstered by rousing speeches from academic leadership, honored keynotes, and class speakers.
In addition to being a larger than average class of graduates eager to make a positive impact in their community, this graduating class also saw one of the highest totals of students graduating with honors – 664 students earning at least a 3.51 GPA and 29 students maintaining a perfect 4.0 GPA throughout their entire academic journey.
"As your chancellor, I am inspired!" said Chancellor Joanne Li, Ph.D., CFA. "Your determination to perform at the highest level shows your Maverick spirit, and I am truly proud that I get to tell the story of your journey."
And, with more than 60,000 UNO alumni living in and around the Omaha area, that story is closely tied to the story of our city and state. "Looking back in our history, since the year 2000 and all the way to 2021, 65% of all UNO's graduates chose to stay and work here within the state, and that is a consistent, powerful contribution by UNO on workforce development efforts in Nebraska."
In a more personal, positive impact, UNO was proud to also celebrate the 509 first-generation graduates who crossed the stage today as the first members of their family to attain their college degrees, beginning a ripple effect that will open opportunities and transform every part of their lives – the very essence of what UNO calls the Year of Social Mobility.
With graduates representing all six academic colleges and a wide range of disciplines, interests, and professional aspirations, there is no one definition of what a "Maverick" is, but there is a uniting Maverick spirit that guides each member of the Class of 2023. That sense of shared purpose is a significant part of what inspires the more than 300,000 hours of community-engaged service from UNO students every year and makes Maverick alumni game changers in whatever field they pursue.
UNO's Senior Vice Chancellor of Academic Affairs Phil He, Ph.D. guided the two ceremonies and spoke to that common thread that connects the Maverick family, saying, "At UNO, we are independent thinkers, explorers, and risk takers. We are Mavericks. Today we celebrate our graduates. We know that they will continue to innovate, push boundaries, and strive for success in all parts of your journey."
Keynote and Student Speakers
Morning Ceremony
General Anthony J. Cotton, USAF Commander (Keynote Speaker)
DérNecia Phillips, Ed.D. (Student Speaker)
Afternoon Ceremony
Chuck Hagel, Former Secretary of Defense and U.S. Senator, UNO Alum (Keynote Speaker)
Zander Gibney (Student Speaker)
Special Recognitions
In addition to the students being celebrated, there were several special recognitions awarded between the two ceremonies.
Chancellor's Medal: Nancy Edick, Ed.D.
Dr. Edick has served as the inaugural recipient of the Lois G. Roskens Deanship and was the first woman to serve as dean of the College of Education, Health, and Human Sciences (CEHHS).

In her time at UNO, she has founded and guided a significant number of programs and initiatives, and has overseen and guided pivotal, community-engaged work that has filled vital pipeline gapes within the state's workforce.
She has also been an advocate and champion for cutting-edge research and supported the creation of UNO's Division of Biomechanics and Research Development, UNO's STEM TRAIL Center, and expansion of the School of Health and Kinesiology. On top of that, she was the founding director for Career Advancement and Development for Recruits and Experienced teachers (CADRE) program and served as executive director of the Metropolitan Omaha Education Consortium (MOEC) and as a faculty member in the Teacher Education Department.
In addition to her work at UNO, she has been a committed and powerful advocate for education and has served on many boards and committees devoted to supporting education in Nebraska.
Honorary Degree: Former Secretary of Defense Chuck Hagel
Hagel was the 24th Secretary of Defense, serving from February 2013 to February 2015. Hagel served two terms in the United States Senate (1997-2009) representing the state of Nebraska.
He served in varying capacities on committees and subcommittees focused on areas including international relations, foreign trade, climate change, economic policy, intelligence, and more.
Hagel is a graduate of the University of Nebraska at Omaha and returns to UNO's campus biannually to host events that bring global leaders and policy to UNO's campus and to inspire young students to pursue public service. In recognition of his career and continued service to inspire youth leadership, Hagel is being presented with an honorary Doctor of Law.
Honorary Degree: Mildred Brown
Presented to Preston Love, Jr. in her memory
Brown was a journalist and businesswoman, as well as the co-founder and co-operator of the Omaha Star, a newspaper dedicated to the African American community. After divorcing her husband in 1943, Brown took charge of the business, turning it into the sole African American newspaper in Nebraska by 1945.
She was also a key figure in the civil rights movement of the 1960s in Omaha. Through the Omaha Star, she raised awareness of civil rights issues and fought against housing discrimination by refusing to sell advertisements to discriminatory businesses.
She was appointed as a goodwill ambassador to East Germany by President Lyndon Johnson. Brown's exceptional achievements also earned her a place in the Omaha Business Hall of Fame, making her one of only three women to be inducted. She was inducted into the Nebraska Journalism Hall of Fame in 2007 and the Omaha Press Club Journalism of Excellence Hall of Fame in 2008.
The Omaha Star, which is believed to be one of the few American newspapers founded by a black woman, was also acknowledged for its historical significance when the Omaha Star Building was added to the National Register of Historic Places in 2007. In recognition of her inspiring impact on the local and national community, the university is presenting Brown with an honorary Doctor of Humane Letters.
The Order of the Tower: Rodrigo and Mary López
Rodrigo and Mary López have a long history of community service in Omaha, having served on numerous non-profit boards and have been appointed to several public service boards and commissions.
They were honored in 2022 by the UNO College of Public Affairs and Community Service (CPACS) with the Hubert Locke Distinguished Service Award.
Mary was Career Services Director for the UNO School of Public Administration, and now, is president of AmeriSphere Companies. She serves on the Munroe Meyer Institute, Omaha Public Library Foundation, and Kids Can Advisory Councils. Rodrigo is chairman of AmeriSphere Companies and serves on the Boards of Directors of Mutual of Omaha Insurance Company, Omaha Performing Arts, and The Durham Museum.
They have been long-time donors and volunteers for the University of Nebraska System. Rodrigo was a member of NU Foundation Board of Directors, and Mary served on the Trustee Engagement Committee.
Mary received master's degrees from the College of Education, Health, and Human Sciences and the School of Public Administration. Rodrigo is a graduate of the EMBA program and also chairs CBA's National Advisory Board and serves on the Chancellor's Hispanic Advisory Council. Mary serves on the UNO Chancellor's Internship Advisory Board and a number of committees related to the School of Public Administration. They have established scholarship and leadership funds at UNO to provide students with financial support.
The Alumni Achievement Award: Praveen Neppali Naga (2005)
Naga grew up in southern India and moved to the U.S. in 2002. He earned his master's degree in computer science in 2005 from the University of Nebraska at Omaha (UNO).
He has worked at BHMI, Bank of America, and eventually moved to LinkedIn, where he spent seven years building the company's early products and data infrastructure. Naga joined Uber in 2015, starting as a senior engineering manager and currently serves as vice president of engineering. He leads the global Mobility and Enterprise business which is focused on giving the best experience for the riders while building a platform for drivers and couriers to earn flexibly.
He is a strong advocate for employees and believes in setting the standard for engineering excellence. He is an executive sponsor for the Women Employee Resource Group at Uber and is a dedicated mentor helping employees learn and grow. He is a proud parent of a special needs child and is passionate about helping other parents with special needs children. He lives in Silicon Valley with his wife, Anusha, and two sons.