Holding Dandelions
How DérNecia Phillips' philosophy of holding on to the important things supported her journey to earning a doctorate in educational leadership.
published: 2023/05/21
contact: Sam Peshek - Office of Strategic Marketing and Communications
email: unonews@unomaha.edu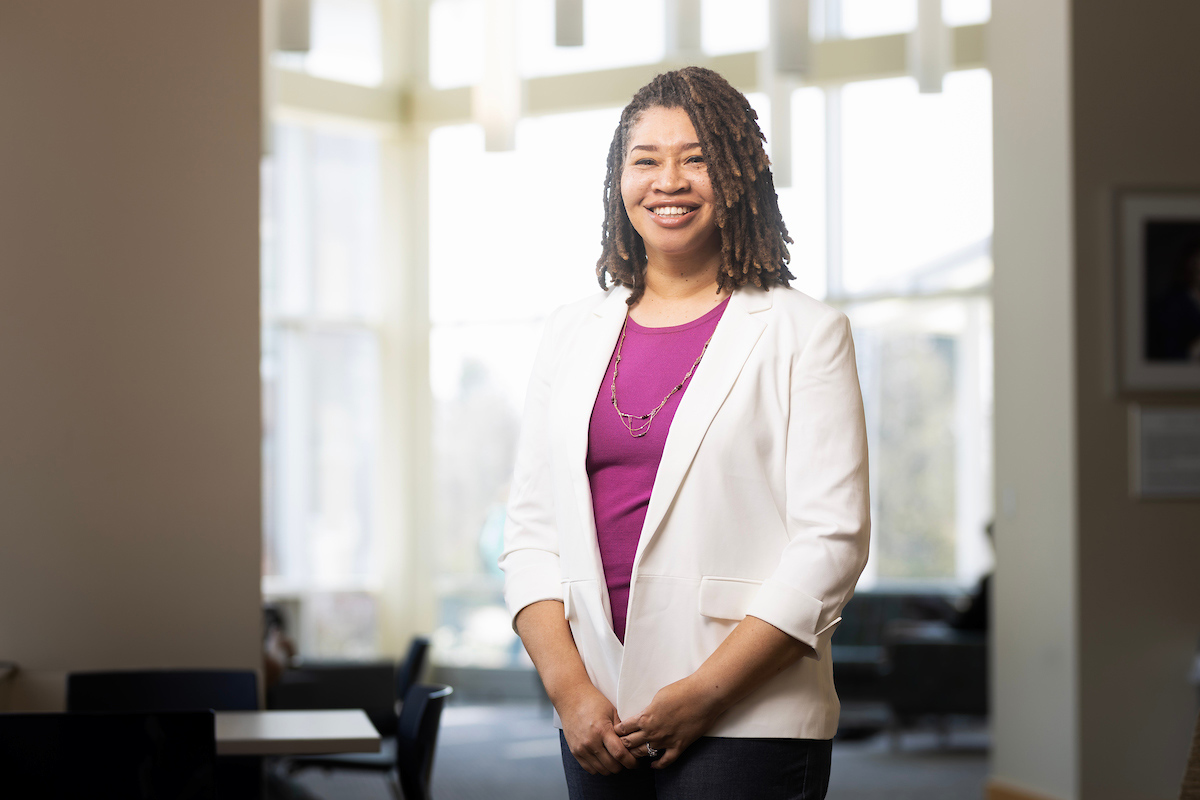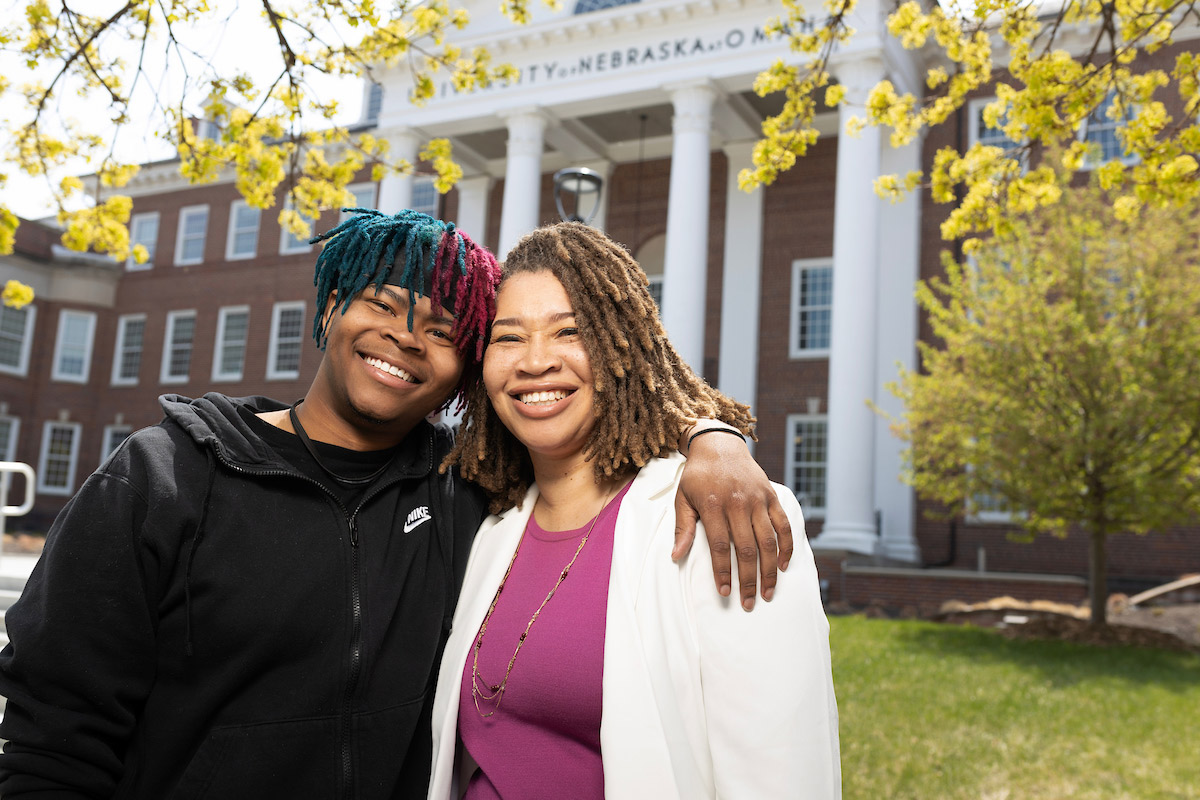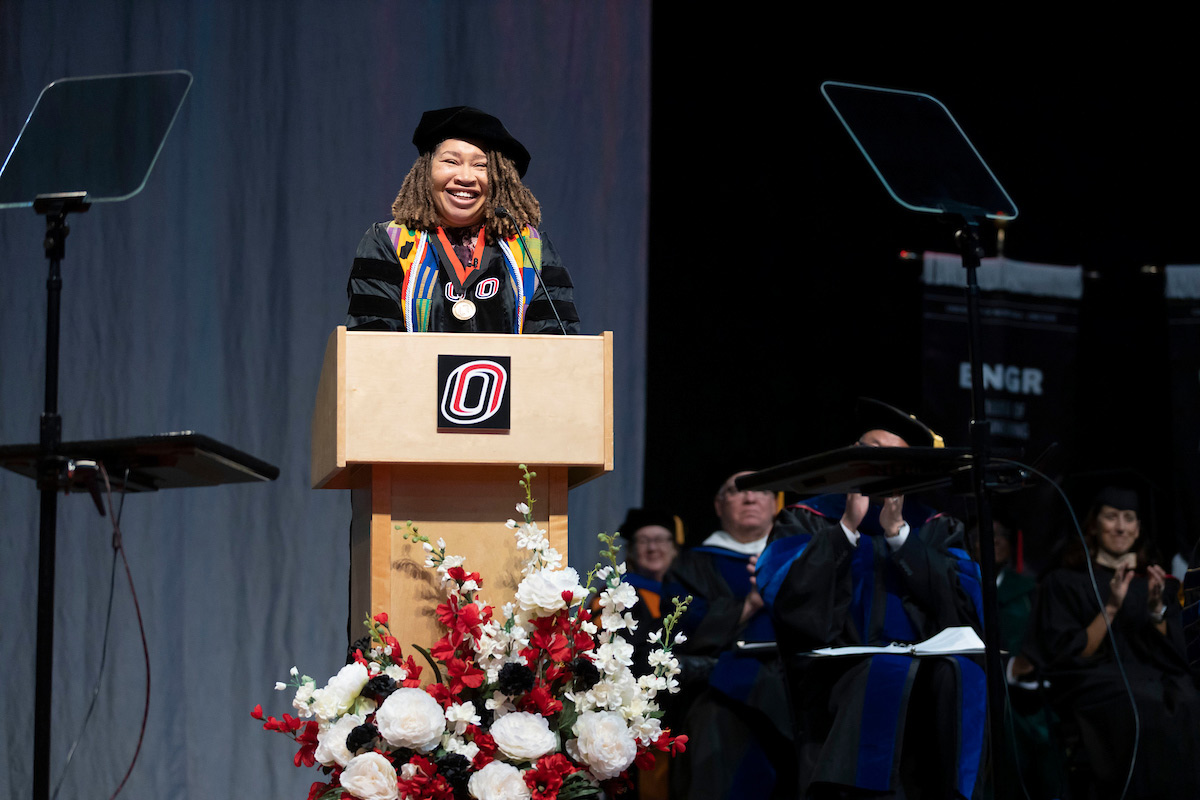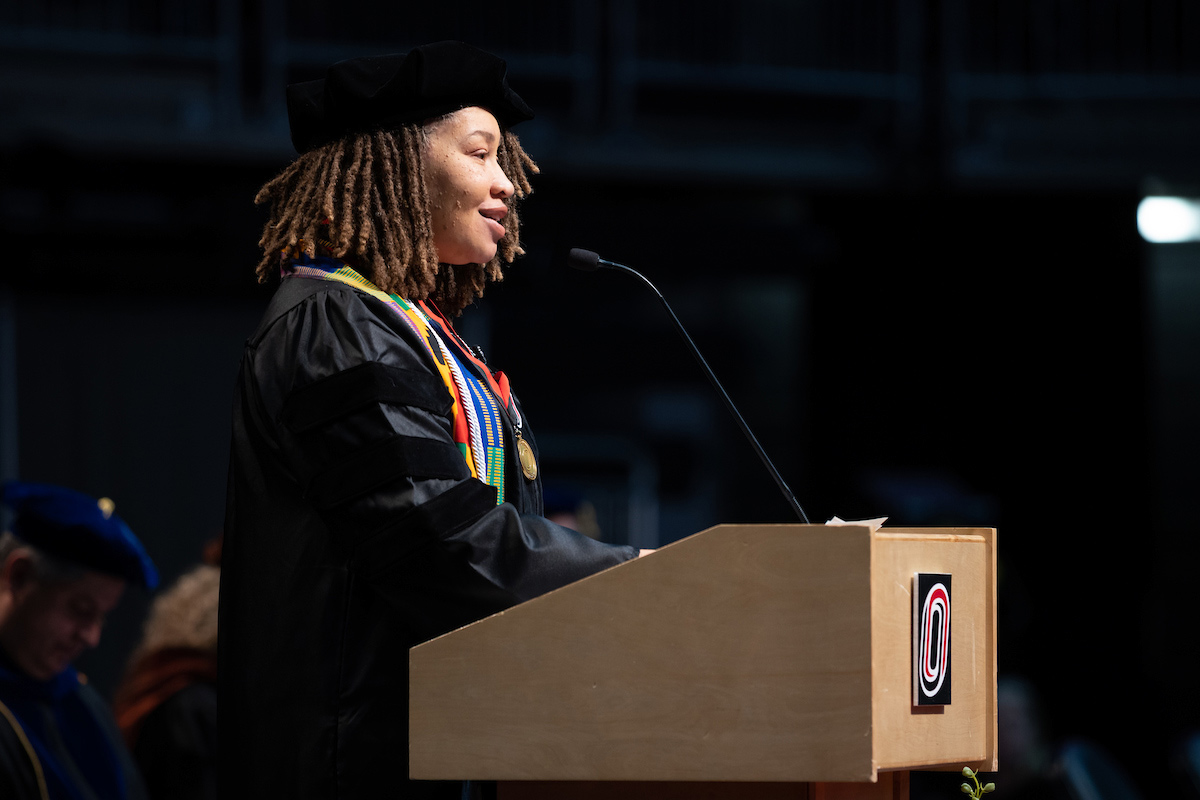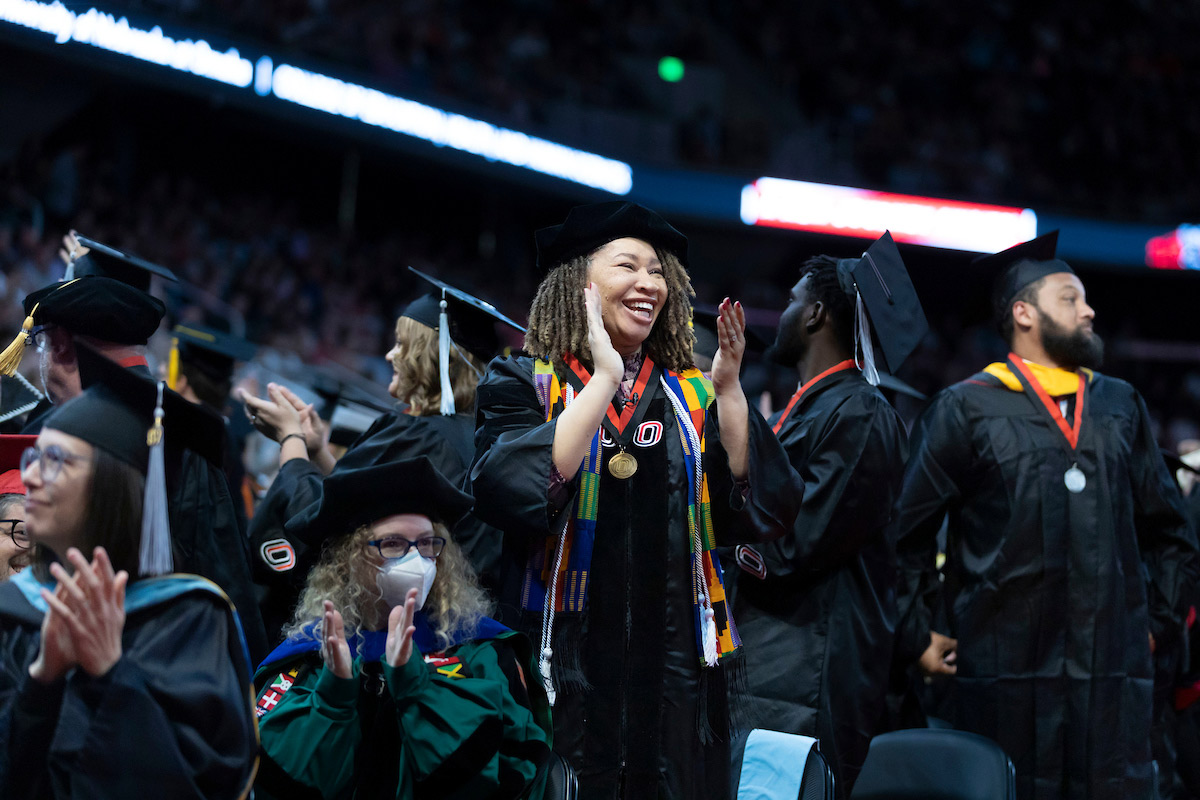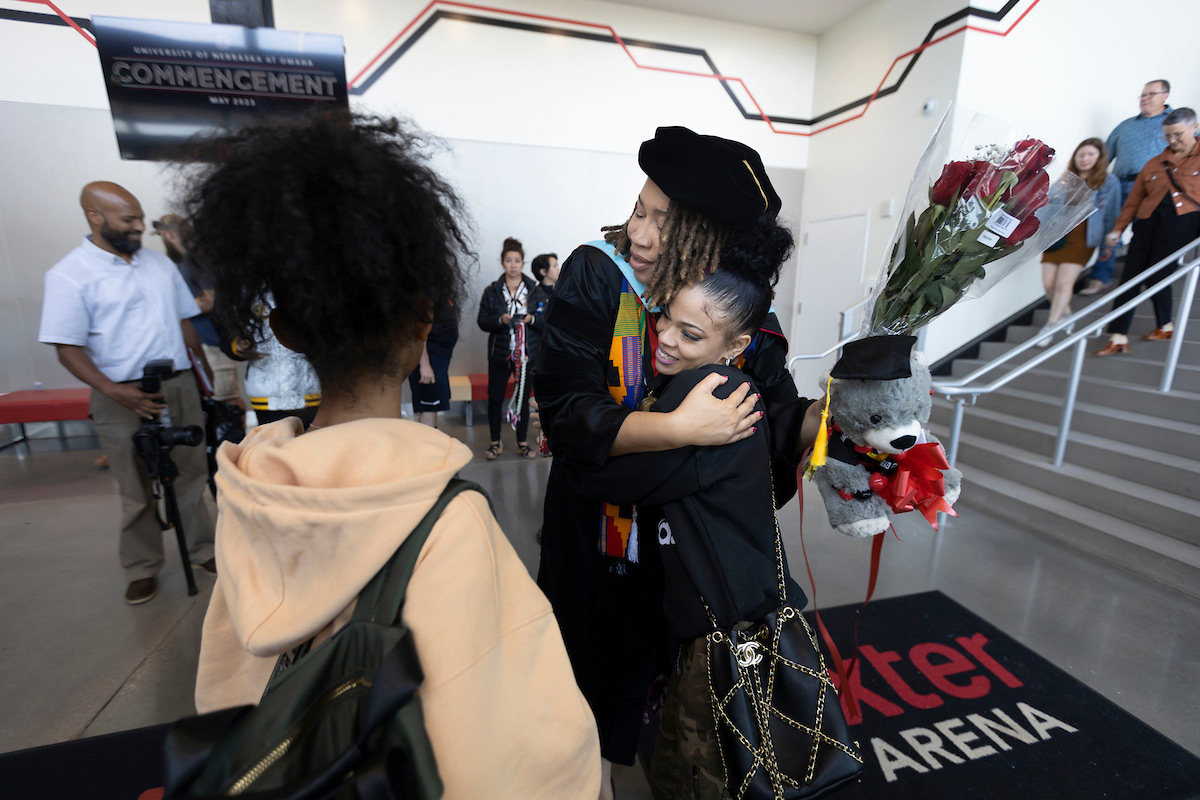 DérNecia Phillips has collected several titles in the past 18 years.
Mother. Student. Wife. Teacher. Principal. Mentor. Business owner.
When Phillips walked across the stage during the University of Nebraska at Omaha's commencement ceremonies last week, she added her most elusive label yet: Ed.D.
"For this to have been such a long journey, for it to all be coming to a close in such a beautiful way, my heart is just so full," she said.
Her journey to earning an Ed.D. – a doctorate in education – began when she earned her undergraduate degree from Creighton University in 2005. Phillips initially had her heart set on pursuing a law degree, but her perspective shifted after having a son.
"I started thinking about how I hope he has great teachers when he gets older, and then I thought, wait a minute, I want to be a teacher," she said.
That choice later brought her to UNO, where she worked toward her master's in elementary education as a participant in the CADRE project. CADRE – an acronym for Career Advancement and Development for Recruits and Experienced teachers – provides an opportunity for teachers to complete an accelerated master's program from UNO faculty, veteran teachers, and other first-year teachers. She said the program gave her the skills and experiences she needed to thrive as a young educator, while also showing her the College of Education, Health, and Human Sciences (CEHHS) and UNO were supportive of students who don't fit a traditional mold.
"They never made me feel that me being a non-traditional student meant I didn't belong," she said. "The professors that I had went out of their way to make sure that we were able to see direct application to the settings where we were."
After earning her first master's in 2006, she earned a second master's from UNO in 2011, this time in educational administration, which helped her become a principal. After having quickly worked through three degrees, Phillips was confident she could earn her Ed.D. in short order.
In 2015, now an administrator, she moved through her coursework in two years and began work on her research. After taking on a principal role in a new school district, she needed to restart her research work. Then, in 2018, the loss of her father and stepmother put her academic journey on hold.
"I didn't know life would hit me the way that it did," she said. "I ended up being on the dissertation phase for about five years."
Phillips stepped aside from her coursework to heal and support her family. She experienced several more losses after, including her uncle, grandmother, and stepfather who were central figures in her upbringing.
Even though she stepped away from her dissertation work, the faculty she made connections with supported her along the way.
One such professor was her first dissertation chair and educational leadership professor Jeanne Surface, Ed.D.
Surface said that she would meet Phillips regularly for coffee where they would discuss her dissertation work and Phillips' poetry. She said Phillips' warm, welcoming personality and writing left an immediate impression.
"She was one of those people that just lifted me up every time I met with her," Surface said.
When tragedy struck Phillips' family and she stepped away, Surface maintained regular contact.
"We do not want you to fail, so we're going to help you all the way along," Surface said. "There are some students who start and stop along the way…but we really push them to be successful."
It was also during this time that Phillips began her transition away from education administration and started her own business. DAL Education & Care Solutions – an education consulting business named after her late father Derrick Allen Lark who was passionate about education – focuses on working with school leaders to ensure educators have the support they need to support students.
"I can go into different educational settings and proudly say, this is what I can offer," Phillips said. "A lot of that happened through not only the experience I got, but the education I received here at UNO. Being a student has directly prepared me to be a business owner and an expert in the field as the principal consultant for DAL education."
Once she was in a position to resume her studies last year, Phillips said the university welcomed her with open arms, ready to help her complete her journey. She successfully defended her dissertation in March and served as a speaker in May's Commencement ceremonies.
In between running a business, pursuing her Ed.D., and preparing to be a commencement speaker, Phillips makes time to pay forward the support she has received in her life. Today she is a mentor to friends and family members, new teachers and administrators who are early in their roles as principals, and women who are working toward their undergraduate and graduate degrees with life experiences similar to Phillips'. One mentee, Alayshia White, is a family friend of Phillips who looked to her for support when she learned she was expecting a child.
"She was the first and only person that I was able to talk to about it. I was so scared and nervous and didn't know what to do," White said. "She just reassured me I was able to do it, that this was something that I could overcome. Her journey was a lot like mine."
In the same way that White's now 11-month-old daughter is a source of inspiration for White, Phillips' 21-year-old son DaTeus Harris grounded her and provided moral support at every step in his mother's personal, professional, and academic journeys.
"As much as I have tried to be an inspiration for him, he has always been mine," Phillips said.
Phillips' grounding philosophy can be found in the dandelion imagery that she uses for her business.
"Through all the life situations that happened that could have been roadblocks that stopped me, what I learned during that time is that just like a dandelion," she said. "You can hold on the stem – hold on to what's important, and blow all the rest away."
Regardless of the title she puts forth at a given time – mother, student, wife, principal, mentor, business owner, and now Ed.D., she is a teacher at her core.
"Learning doesn't have to be this thing where we're sitting in rows and it's quiet," she said. "Learning should be noisy. Learning should be fun. Learning should be something that is done with students, not to students."