Felipe Blanco Finds his Voice and Empowerment through Research at UNO
Felipe Blanco, Ph.D. came to UNO to study the social dynamics at the heart of public problems and solutions and found a community that supported his passion to better understand issues around equity, identity, and representation.
published: 2023/05/20
contact: Office of Strategic Marketing and Communications
email: unonews@unomaha.edu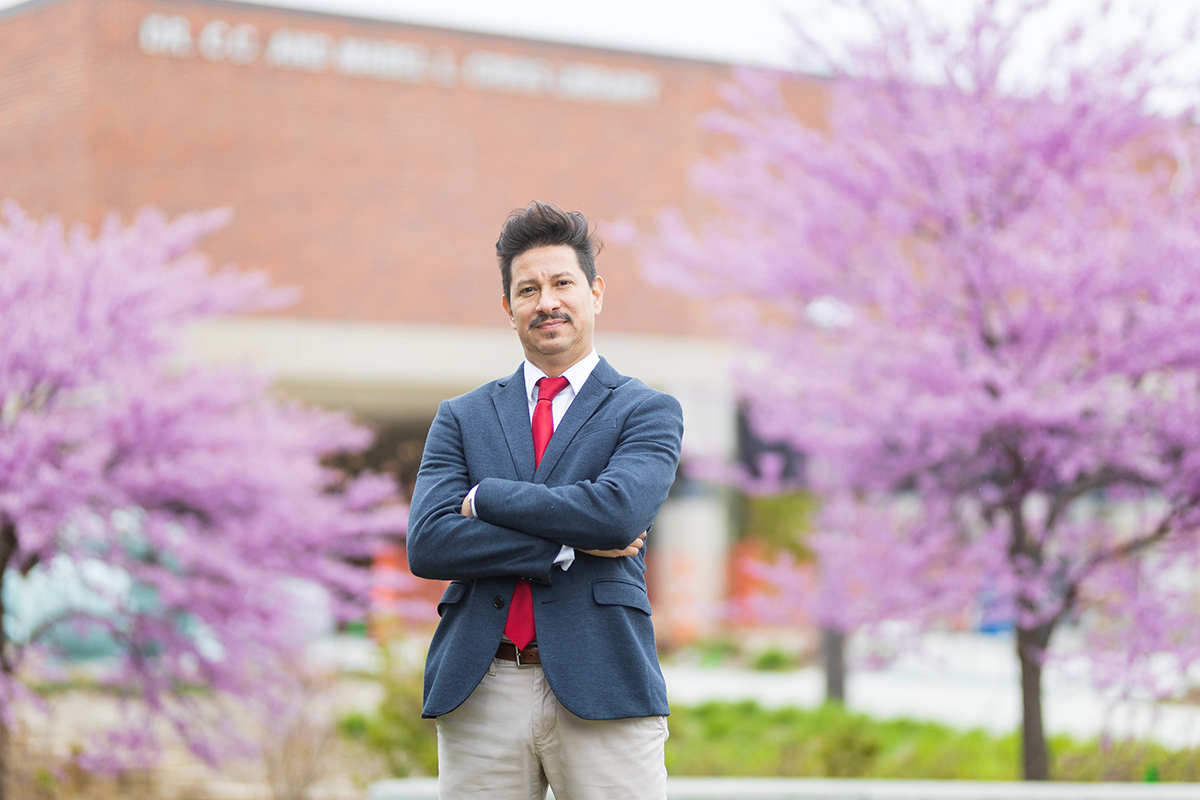 Felipe Blanco, Ph.D. came to UNO with a desire to better understand issues related to equity, identity, and representation. His work is highly celebrated for its novel approach.
Growing up, Felipe Blanco did not know what path he would follow. With two parents who taught and worked in higher education at the National Autonomous University of Mexico (NAUM) in his home of Mexico City, México, he had an inkling that some form of education would be part of the picture.
Blanco, now a highly recognized doctoral student in Public Administration, will be graduating in the University of Nebraska at Omaha's (UNO) May 2023 commencement. Blanco's work with UNO has been widely published and celebrated for its novel, unique look at issues around equity, identity, and representation.
Blanco received his Master of Public Administration & Master of Public Policy from Centro de Investigación y Docencia Económicas (CIDE), in which his focus at the time was more about evaluating the relationship between democracy and public policy. He worked as a consultant for public organizations and adjunct professor at CIDE in Mexico. In 2016 he and his wife moved to the United States, where he worked with a nonprofit, Nebraska Appleseed as a community organizer.
"It was meaningful work. I got to travel to many small towns and got to know these close communities well," Blanco said. "Most experiences were good, but not all. It helped me to realize how important the way you look is in the U.S. and the world. It was something I hadn't been aware of in Mexico."
His experiences led him to pursue a Ph.D. to better understand the role of racial dynamics in public problems and solutions, and this growing interest brought him to UNO. He found UNO's unique approach to public administration and proximity to home appealing.
"It was more open than other schools," he said. "They offer you a whole spectrum of different ways to understand and create knowledge."
Blanco built and upheld a reputation for excellence in his time at UNO, making a lasting impression on those who have worked with him.
Jodi Benenson, Ph.D., who chaired Blanco's dissertation committee, was impressed by the scope of his work, particularly in working with nearly 400 public officers in the Mexican federal government to gather some of the first data sets to build a new model of how representation and identity – or a lack thereof – can impact public policy and professional development.
Blanco's research has built up some of the first comprehensive data sets that that can build such a model that could empirically determine that impact – an area where previously there had been no concrete, comprehensive data sets to analyze.
In fact, she was particularly excited that he "has been one of the first scholars to introduce an emerging term, 'ethnoracial,' into the field of public administration, and created a data set that brings together ethnicity, cultural history and even race within the context of public administration scholarship."
In his work, Blanco has been widely published within his field with several more publications currently under review, and has been the recipient of multiple recognitions, including:
The University of Nebraska Presidential Graduate Fellowship
The Emerging Scholar Award from the Network of Schools of Public Policy, Public Affairs, and Public Administration
Fellowship recipient from the Journal of Social Equity and Public Administration
The Founders' Fellowship from the American Society for Public Administration
A Fellowship from the Public Administration Theory Network
Identified as one of the Top 10 Diverse Rising Graduate Scholars
In the 2023 Spring Student Honors Convocation ceremony, Blanco was honored with the Helen Hansen Award for Outstanding Graduate Work. Juan Casas, Ph.D., Interim Dean of Graduate Studies spoke highly of Blanco's extensive list of accomplishments, saying, "[Felipe] is that rare scholar who has found a dissertation topic that is timely, virtually unstudied in public administration, and of tremendous interest to scholars and practitioners."
Beyond graduation, Blanco looks forward to moving into a new role as an Assistant Professor in Public Administration at Colorado University in Denver where he will be able to continue his work within his field while also preparing a new generation of scholars to follow their own dreams.
"I'm going to miss my mentors, for sure. They taught me that you can be academically rigorous, but also kind," Blanco says. "But I am going to carry their guidance with me to CU Denver as I mentor my own students."
About the University of Nebraska at Omaha
Located in one of America's best cities to live, work and learn, the University of Nebraska at Omaha (UNO) is Nebraska's premier metropolitan university. With more than 15,000 students enrolled in 200-plus programs of study, UNO is recognized nationally for its online education, graduate education, military friendliness and community engagement efforts. Founded in 1908, UNO has served learners of all backgrounds for more than 100 years and is dedicated to another century of excellence both in the classroom and in the community.
Follow UNO on Facebook, Twitter, Instagram, TikTok, LinkedIn, and YouTube.