Jonathan Benjamin-Alvarado Receives Familia y Communidad Award
After years of service, Jonathan Benjamin-Alvarado Ph. D., Assistant Vice Chancellor for Student Success, received this year's Familia y Communidad Award from the Latino Center of the Midlands.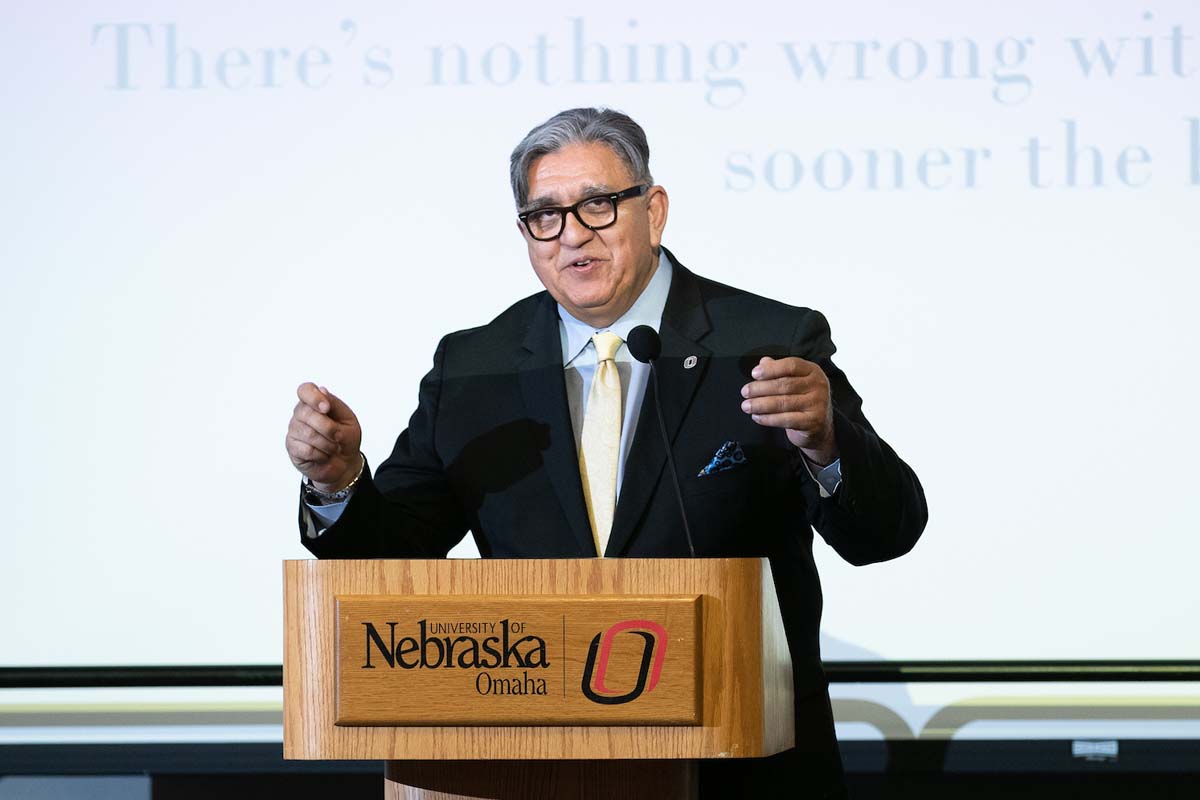 Jonathan Benjamin-Alvarado, Ph.D., will be recognized by the Latino Center of the Midlands.
Receiving this year's Familia y Comunidad Award from the Latino Center of the Midlands is a full-circle moment for UNO's Jonathan Benjamin-Alvarado, Ph.D., Assistant Vice Chancellor for Student Success, in more ways than one.
Shortly after he arrived in Omaha nearly 20 years ago, Benjamin-Alvarado was encouraged to join the nonprofit organization's board of directors and, within a few more years, he served as board president.
Today, Benjamin-Alvarado continues to work closely with the Center, whose mission is cultivating generations of engaged, thriving Latinos through educational support, workforce development and leadership opportunities.
It's work that has had direct impact on his own students.
"I had one student years ago. He had gone to the Latino Center and took the GED course there, then went to Metropolitan Community College and then came to UNO," he said. "He told me, 'You don't know me, but I know you and the work that you do.' Today that student is now a social worker helping families in our community."
Benjamin-Alvarado will be honored on Thursday, Oct. 7, at the Center's annual "Destino" fundraiser. This year the organization is celebrating its 50th anniversary. The event will be chaired by two individuals with their own UNO connections, Mary and Rodrigo Lopez. Mary Lopez served many years as the Career Services Director for the School of Public Administration. Together, the couple has contributed to several scholarship programs for UNO students.
"When I was informed about the award I was really surprised and honored," Benjamin-Alvarado said. "But I work alongside a lot of remarkable people here and outside the university and share this award with all of them. This work is transforming Omaha. It's a much different place from when I first got here."
Part of that change is in no small part due to work that Benjamin-Alvarado has done in his time at UNO.
Starting as a political science faculty member, he helped found UNO's Office of Latino and Latin American Studies (OLLAS) in 2003 with Professor Emeritus Lourdes Gouveia, Ph.D. It remains the only academic research-focused center serving the Latino community in the Midwest.
"We had a vision of what UNO could be and wanted to support this growing Latino presence at UNO and in Omaha," Benjamin-Alvarado says. "Today we have two dozen faculty affiliated with OLLAS across UNO and the students coming out of the programs supported by OLLAS are going on to be lawyers, doctors, lawmakers, and so much more."
Five years ago, Benjamin-Alvarado also helped lead the founding of the Underserved Law Opportunities Program, or ULOP, which is a pipeline program where students from underrepresented communities can get financial and educational support to increase their chances of admittance into law school and eventually serving as legal professionals.
"With ULOP it's not just Latino students, it's refugee students, first-generation students — those who wouldn't otherwise likely be given a chance for a career in law now have that opportunity," he said.
To hear him tell it, Benjamin-Alvarado is merely a conduit through which others can find their own success. By that measure, this award recognizes a truly impactful career with many years left and many more students to support.
"What I've learned most from the Latino Center for the Midlands is the importance of providing all of our students with a way forward. That is the clearest manifestation of what it means to be community engaged; but I'm just the tip of the spear of the people at this university and in the community doing this important work."
About the University of Nebraska at Omaha
Located in one of America's best cities to live, work and learn, the University of Nebraska at Omaha (UNO) is Nebraska's premier metropolitan university. With more than 15,000 students enrolled in 200-plus programs of study, UNO is recognized nationally for its online education, graduate education, military friendliness and community engagement efforts. Founded in 1908, UNO has served learners of all backgrounds for more than 100 years and is dedicated to another century of excellence both in the classroom and in the community.
Follow UNO on Facebook, Twitter, Instagram, TikTok, LinkedIn, and YouTube.