A Zero-Waste Campus: How to Properly Compost, Recycle, and Reduce Waste
Beginning Fall 2021, there are more opportunities than ever to help protect the environment and support sustainability on campus.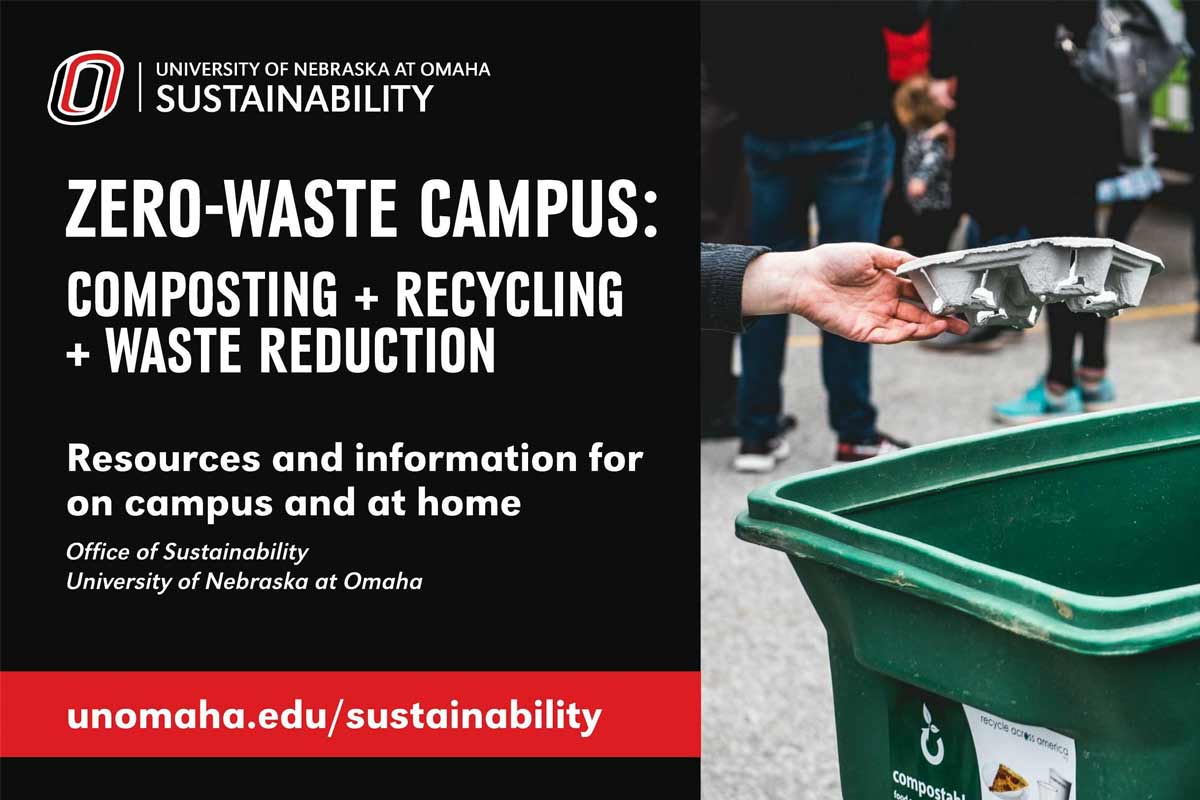 UNO is dedicated to becoming a more sustainable campus. As members of a diverse and growing UNO community, we all have an opportunity to contribute to progressing our campus towards achieving our 2030 sustainability goals. Composting on campus allows us to make more sustainable decisions about how we reduce and sort our waste to help transform UNO into a zero-waste campus.
The UNO campus recently announced the expansion of a pilot composting program being introduced at the Milo Bail Student Center (MBSC) and housing units on the Scott and Dodge campuses.
With the launch of the Composting Program at the beginning of the Fall 2021 semester, UNO Sustainability is providing helpful guidance on how to make use of this new zero-waste options:
---
Zero-Waste Campus: What Goes in Compost
Just like the recycling bins everyone is familiar with, we need to make sure we are properly disposing of materials into the correct bins. Cross-contamination of recycling and compost bins means the contaminated bins have to be taken to the landfill instead of a recycling or composting facility.
Here is what you can put into the new composting bins:
Food including fruits, dairy, meat, bone, fat, shells, bread, juice, and coffee grounds


Non-recyclable paper including paper towels, napkins, paper straws, pizza boxes, coffee filters, soiled cardboard


Compostable servicewear such as single-use cups, bowls, plates, and utensils that have been taken out of packaging


Yard waste, including grass, leaves, dirt, plants, and branches


🚫 Remember that NO plastic, metal, or glass materials can be placed in a compost bin. 🚫
Be sure to reference this resource from UNO's composting partner, Hillside Solutions, which provides a full list of compostable materials.
If you have a home compost pile, it is not a good idea to include animal products; but because UNO is partnering with Hillside Solutions, we are able to include these items in our own compost bins.
Be sure to look for the following label on any servicewear you are looking to compost:

Zero-Waste Campus: How to Properly Recycle
Just like composting, proper recycling habits by all campus users plays a significant role in being a sustainable, zero-waste campus.
Bringing composting to campus is a great step in helping UNO become a zero-waste campus by 2030, meaning more than 90 percent of materials coming from campus are diverted from landfills.
Proper recycling means eliminating 'wishcycling' where we place things in recycling that we think can be recycled but actually need to go into the landfill.
Like composting, contamination means an entire recycling bin could be diverted to the landfill.
What CAN go in a recycling bin?
Clean cardboard (not soiled or wet) removed from plastic packaging

Paper including newspapers; cereal and food boxes; envelopes

Metal cans that are rinsed and dried

Cartons including juice box, milk cartons, soup boxes, etc.

Plastic bottles and jugs that are rinsed and dried with caps included:

---
What CAN'T go in a recycling bin?
Soft, flexible plastics including plastic bags, plastic wrap, chip bags, and food wrappers

Hazardous waste (use Under the Sink)

Electronics

Food waste and compostable serviceware

Styrofoam (Use Hefty Orange Bag bins)

Toys

Clothing

Wood

Anything smaller than a sticky note
Composting at the Milo Bail Student Center
For Campus Sustainability Month, October, composting in the Milo Bail Student Center (MBSC) will be available on a limited basis.
The compost program is student driven, and students have the opportunity to directly support composting in MBSC by signing up for a 'Trash Talker' shift to help students learn how to sort right at the bin. When Trash Talkers are available, there will be compost bins placed out in MBSC. If you notice days where there aren't bins out during lunch, consider signing up to be a Trash Talker to help make these bins available more frequently.
Anyone interested in volunteering to help student learn to sort their compost, please email UNO Sustainability, sustainability@unomaha.edu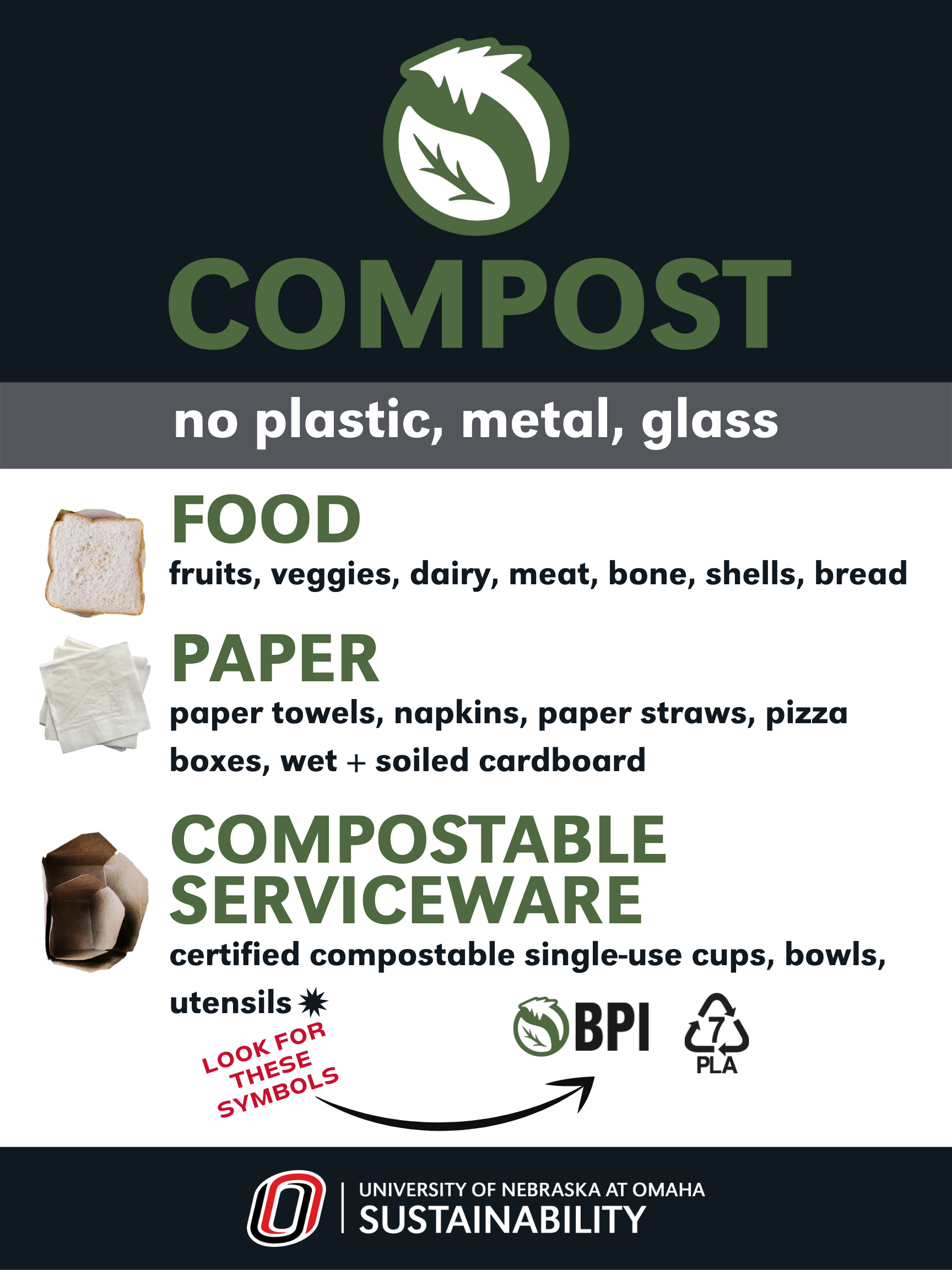 About the University of Nebraska at Omaha
Located in one of America's best cities to live, work and learn, the University of Nebraska at Omaha (UNO) is Nebraska's premier metropolitan university. With more than 15,000 students enrolled in 200-plus programs of study, UNO is recognized nationally for its online education, graduate education, military friendliness and community engagement efforts. Founded in 1908, UNO has served learners of all backgrounds for more than 100 years and is dedicated to another century of excellence both in the classroom and in the community.
Follow UNO on Facebook, Twitter, Instagram, TikTok, LinkedIn, and YouTube. 
Contact Us
If you have a story idea, news tip, or other question, please email the UNO News team at unonews@unomaha.edu.