Zoo Provides College of Education With Opportunities for Research, Partnerships
published: 2018/08/15
contact: Charley Steed - University Communications
phone: 402.554.2129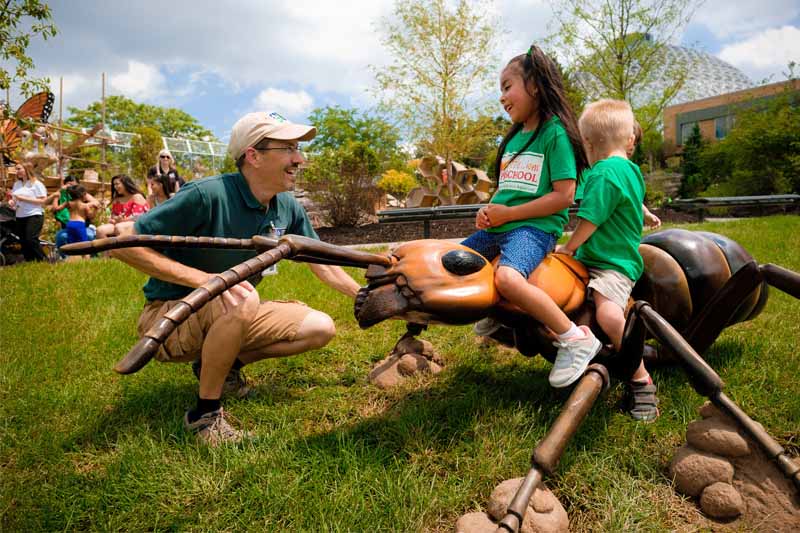 In 2017, faculty researchers Anne Karabon, Ph.D., and Amanda Steiner, Ph.D., collected nearly more than 60 hours of qualitative observations and interviews at Omaha's Henry Doorly Zoo and Aquarium's new exhibit, Bay Family Children's Adventure Trails, an interactive exhibit that highlights learning through play. (Courtesy: Henry Doorly Zoo and Aquarium)
Play is a staple of childhood.
It is also the time when children, especially young children, gain important life skills, including leadership, problem solving and communication.
In the summer of 2017, Omaha's Henry Doorly Zoo and Aquarium opened a new exhibit, The Bay Family Children's Adventure Trails (Children's Adventure Trails), based on the simple principle that play and exploration can serve as an important tool for parents and children.
Described as an "interactive exhibit that highlights kids' learning through play in nature," the exhibit makes effective use of its five-acre space with everything from a three-story tree house, where children can run alongside small primates who are also playing in elevated display areas, to an interactive watershed featuring four bridges, fallen log crossings and moveable platforms.
However, Children's Adventure Trails is not just a benefit for children. It has also become an important source of data, and collaboration, for education experts at the University of Nebraska at Omaha (UNO).
Prior to the opening of the exhibit, assistant professors Amanda Steiner, Ed.D., and Anne Karabon, Ph.D., both from UNO's Department of Teacher Education, partnered with the Zoo to plan a research project that would examine the impact of the exhibit and provide feedback on how to make improvements.
"It really began with the Zoo's leadership team," Steiner explains. "They created a vision in those initial meetings and then the invitation was extended for myself and Dr. Karabon to be a part of those meetings to learn about what they had intended the space to look like and how it was going to be developed."
A year later, their research has provided important insights into the relationships between play and learning, as well as the relationships between UNO and its community partners.
---
Learn more about degree options within UNO's College of Education.
---

The Importance of Play
Elizabeth Mulkerrin, Ed.D., a UNO alumna and vice president of education for Omaha's Henry Doorly Zoo and Aquarium, explains that Children's Adventure Trails was designed to support the development of children regardless of how old they are.
"The exploration, the discovery that the kids are doing at different ages you can see it developmentally when you're out there," she says. "Children might be floating or racing boats where the little ones are grasping onto the concept of floating while the older kids are adapting and coming up with ways to try and get to the other side."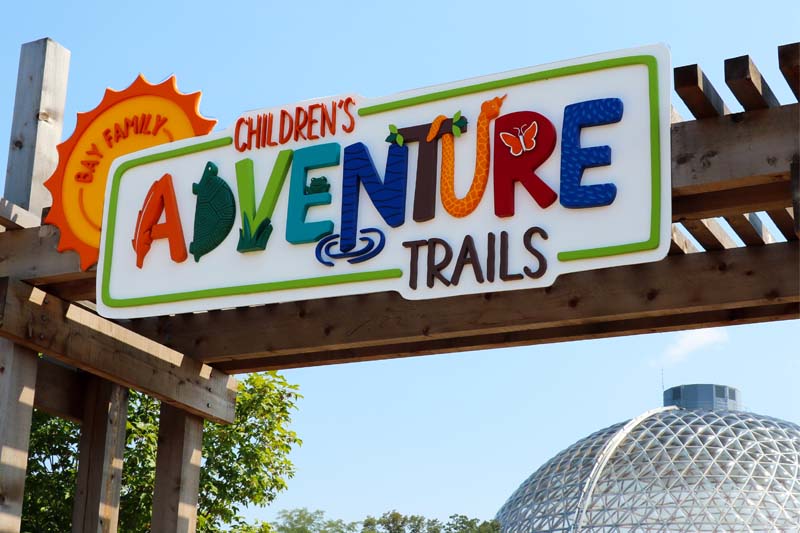 The Bay Family Children's Adventure Trails opened at Omaha's Henry Doorly Zoo and Aquarium in July 2017. The exhibit s made up of a variety of habitats, interactive animal exhibits and climbing areas allowing guests to learn through exploring.
Once the exhibit was open, Steiner and Karabon set to work collecting 64 hours of observational data and interviews through qualitative research methods with visitors and staff members. Throughout the summer, they set to work to identify areas of cognitive, physical, social and emotional development fostered by the space.

"There is so much value in learning what's happening in community institutions," Karabon says. "STEM learning is embedded within all the things that are happening in these spaces. As educational researchers, we had to reassess our conceptions of what development looks like being taken up in a non-formal school space."
Steiner and Karabon's final report was provided to the Zoo at the end of 2017, but both Karabon and Steiner plan to utilize their data to draft their own research and analysis that they will take to conferences and publish in academic journals in the near future.
The Importance of Participation
One of the most significant findings from Steiner and Karabon's time at Children's Adventure Trails was the importance of facilitation and participation by adults, including Omaha's Henry Doorly Zoo and Aquarium Play Facilitators and visitors.
Karabon explains that what truly helps a child retain important information through play is the willingness for someone else to make the connections between their actions and important concepts areas like biology, chemistry, physics and math.

"Labeling actions and questioning is so important," she says. "If someone is there and can label your plan for you, then you have a different understanding of what you are doing. For example, children may use large rocks to build a dam in the river though the water may still continue to run through the gaps. An adult or peer can comment on the number or configuration of the rocks to discuss water pressure or the shape of the rock wall. By asking 'what would happen if…', the play naturally changes. Connections to animals, like beavers and other natural phenomenon can also extend the play."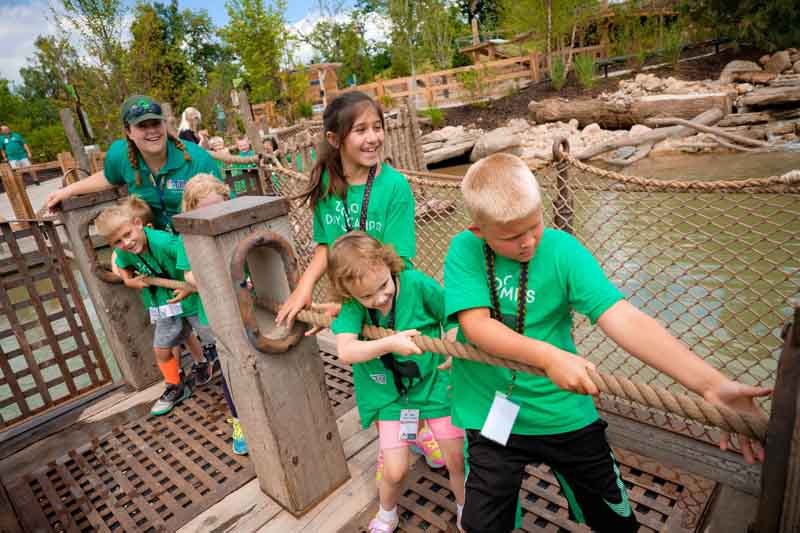 Research provided to the Zoo by UNO faculty highlighted the importance of adult facilitators to help children apply educational lessons to their play. (Courtesy: Omaha's Henry Doorly Zoo and Aquairium)
Because caregivers are sometimes apprehensive about joining in the same types of play as their children, the exhibit also features trained Play Facilitators. Because of Steiner and Karabon's report, the Zoo has ensured that their staff is well equipped to fill the need of facilitation as well as educating caregivers how to be facilitators themselves.
"We live on this document, we look at it all the time," Mulkerrin explains. "We've learned a lot about what types of activities we should be providing, we've learned a lot about what kind of staff training should go on out there and we're trying to find ways to involve parents more."
One of the biggest lessons for caregivers? Steiner says it is learning to give up control.
"Parents need to offer children choice and give children the freedom to explore. One of the things we know from research and from what we've seen in our research is that children can attend to things for a very long time if they are interested in them, so take a step back and let them make their own discoveries so that you have the time to attend to and build those cognitive, physical, emotional and social skills."
The Importance of Partnerships
The work being done by Steiner and Karabon is just the most recent example of UNO's longstanding commitment to community organizations like Omaha's Henry Doorly Zoo and Aquarium. Not only has UNO partnered with the Zoo as a member of the Omaha STEM Ecosystem, which is designed to improve STEM education opportunities throughout Omaha, but dozens of teacher candidates have gotten practical experience through the Zoo's Education Department, led by Mulkerrin.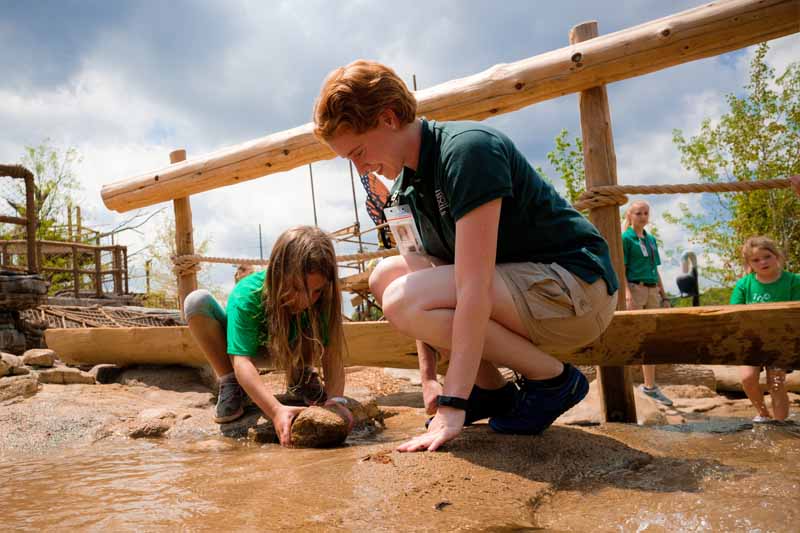 UNO and the Zoo are also partners through the Omaha STEM Ecosystem, which strives to provide STEM education opportunities for PK-12 students across the metro area. (Courtesy: Omaha's Henry Doorly Zoo and Aquairium)
"I find it very valuable because we are a research and educational organization that I always describe as a safe space to come in and try new ideas or new methodologies in teaching or learning," Mulkerrin says. "We are starting to see a lot of UNO students come here from very different career paths that are able to learn and experience and try things here."
Not only are there educational opportunities, but service opportunities and research opportunities as well, including the College of Information Science and Technology working with local middle and high schools to create educational mobile apps for the Zoo and members of the USSTRATCOM Leadership Fellows learning from the Zoo's leadership team.
"I think it's vital for our teacher education students to see the value of going into spaces, like the Zoo, to see what learning through play looks like" Karabon explains. "It's important to identify that when children are playing in community institutions they are learning about themselves and the world. It's a good reminder for all stakeholders that learning, in addition to formal institutions such as schools, occurs everywhere in children's lives in."
The partnership is also something that both Karabon and Steiner hope to continue well beyond this initial report.
"We want to continue to engage in research and investigate if caregivers can recognize the value of play as children engage in this space, especially after they have had more opportunities to become familiar with the space," Steiner says.
Even more so, the impact of the partnership and research relationship between UNO and the Zoo can have a significant impact on the future of education in the state of Nebraska and across the country at large.
"There's an importance in learning about early childhood and what happens in the child's early developmental years and we're seeing a shift in our state's thinking about that," Steiner explains. "I think we need to continue to develop our research and to support the need for investment in our children and their development."


About the University of Nebraska at Omaha
Located in one of America's best cities to live, work and learn, the University of Nebraska at Omaha (UNO) is Nebraska's premier metropolitan university. With more than 15,000 students enrolled in 200-plus programs of study, UNO is recognized nationally for its online education, graduate education, military friendliness and community engagement efforts. Founded in 1908, UNO has served learners of all backgrounds for more than 100 years and is dedicated to another century of excellence both in the classroom and in the community.
Follow UNO on Facebook, Twitter, Instagram, TikTok, LinkedIn, and YouTube.