Henry Doorly Zoo and Aquarium, UNO Join STEM Learning Initiative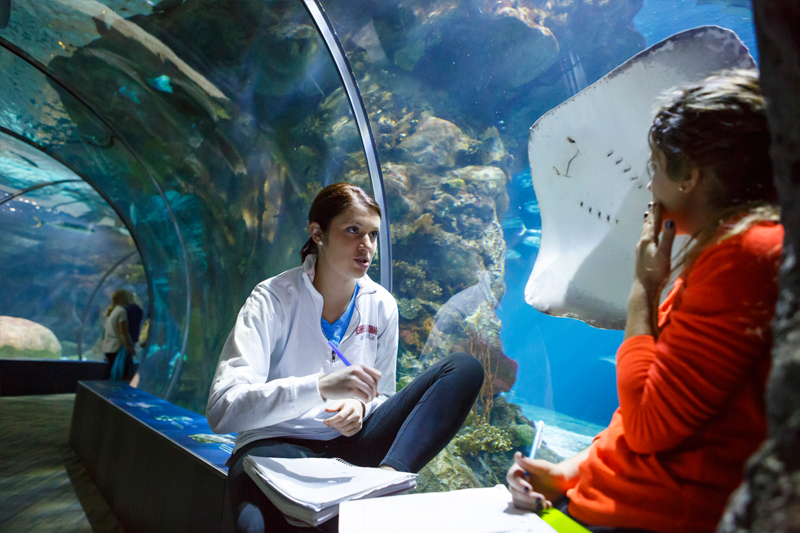 OMAHA – The STEM Funders Network (SFN) has announced that the Omaha Citywide STEM Ecosystem, as led by the Omaha's Henry Doorly Zoo and Aquarium and the University of Nebraska at Omaha (UNO), and in collaboration with more than 30 other Omaha organizations, has been selected as one of the 10 STEM Learning Ecosystems to join the STEM Learning Ecosystems Initiative.
This is an important national initiative, initially developed in 2015-16 beginning with 27 STEM Learning Ecosystems communities across the United States.
Led by the STEM Funders Network, the STEM Learning Ecosystems Initiative is built on over a decade of National Academy and related research focused on how to cultivate successful STEM collaborations. The selected sites from across the United States have committed to collaborate and share their work towards this common vision.

"These communities have the potential of reaching millions of young people both in and out- of-school with innovative STEM learning opportunities," said SFN co-chairs Gerald Solomon, executive Director, Samueli Foundation, and Ron Ottinger, Director of STEM Next. "It is an initiative to design the kind of infrastructure that ensures STEM learning is truly 'everywhere' and is a top priority for communities supporting youth to develop the skills and knowledge they need for success in a global workforce."

The initiative is focused on bringing all in and out-of-school learning platforms together, from Pre-K through higher education, including the voice of the workforce, to ensure that all people have equal access and opportunity to succeed in the STEM fields.

"Omaha is excited to utilize the STEM network resources to fully launch the Omaha STEM Ecosystem. The Omaha STEM Ecosystem is designed to coordinate and align the rich opportunities offered in Omaha to engage youth of all ages and background in STEM activities. The Omaha STEM Ecosystem has taken on the 'cradle to career' approach in its STEM efforts. This national network will help us bring together the Omaha community and to help us prepare our kids for the future," said Elizabeth Mulkerrin, Ed.D., Omaha's Henry Doorly Zoo and Aquarium's director of education.

"This is a wonderful recognition of all of our great organizational partners across the city of Omaha and our shared passion for making a positive difference in the STEM learning for every child in our metropolitan area," said Neal Grandgenett, Ph.D., UNO's Haddix Community Chair of STEM Education. "STEM education is one of UNO's academic priority areas and we couldn't be happier to partner with organizations like Omaha's Henry Doorly Zoo and Aquarium to educate students of all ages across the city and across the state."
The Omaha Citywide STEM Ecosystem and nine other communities will join the initial cohort of the national STEM Community of Practice, having demonstrated cross-sector collaborations that deliver rigorous, effective preK-16 instruction in STEM learning in schools and beyond the classroom – in afterschool and summer programs, science centers, libraries, at home and other places both virtual and physical— that spark young people's engagement, develops their knowledge, strengthens their persistence and nurtures their sense of identity and belonging in the STEM disciplines, leading to building a vibrant and competitive STEM workforce. As these STEM Ecosystems evolve, a student will be able to connect what they learn in and out of school with real-world learning opportunities, leading to STEM-related careers and opportunities.

The following ecosystem communities were selected to become part of this national STEM Learning Ecosystem:
- Bmore STEM (Baltimore, MD)
- Carbon/Schuylkill/Luzerne Counties Ecosystem (Schnecksville, PA)
- Central NM STEM-H Education Hub (Albuquerque, NM)
- Central Oklahoma Regional STEM Alliance (Oklahoma City, OK)
- DC STEM Network (Washington, DC)
- Northeast Florida STEM Hub (Jacksonville, FL)
- Lancaster County STEM Alliance (Lancaster, PA)
- North Louisiana STEM Alliance (Shreveport, LA)
- Omaha STEM Ecosystem (Omaha, NE)
- STEM Hub Downeast (Machias, ME)

Learn more about the initiative at stemecosystems.org.
For zoo media requests, please contact:
Rachel Metschke
marketing@omahazoo.com
402.738.2047
For UNO media requests, please contact:
Sam Petto, UNO Media Relations Coordinator
unonews@unomaha.edu
402.554.2704
or
Charley Reed, UNO Associate Director of Media Relations
unonews@unomaha.edu
402.554.2129
About the STEM Funders Network
The STEM Funders Network brings together grantmakers working in STEM to learn from one another, leverage their collective resources and collaborate on high-impact projects they could not undertake alone. The vision of the STEM Funders Network is that all U.S. students should have equal opportunity to engage in high-quality STEM learning experiences that will enhance their ability to succeed in a STEM career or other chosen path.
STEM Ecosystems funding members of the STEM Funders Network include: Amgen Foundation, Broadcom Foundation, KDK Harmon Foundation, Overdeck Foundation,, Pinkerton Foundation Samueli Foundation, Charles and Lynn Schusterman Foundation, Simons Foundation, STEM Next (Supported by the Noyce Foundation), and Tiger Woods Foundation.
About the University of Nebraska at Omaha

Located in one of America's best cities to live, work and learn, the University of Nebraska at Omaha (UNO) is Nebraska's premier metropolitan university. With more than 15,000 students enrolled in 200-plus programs of study, UNO is recognized nationally for its online education, graduate education, military friendliness and community engagement efforts. Founded in 1908, UNO has served learners of all backgrounds for more than 100 years and is dedicated to another century of excellence both in the classroom and in the community.
Become a fan of UNO on Facebook: www.facebook.com/unomaha and follow UNO's Twitter updates at http://twitter.com/unomaha.
About the Omaha Henry Doorly Zoo and Aquarium
Omaha's Henry Doorly Zoo and Aquarium is ranked one of the best zoos in the world by TripAdvisor and the top family friendly attraction by FamilyFun Magazine. Currently open daily from 9 a.m. to 5 p.m. Summer general admission prices are $18.95 for adults (12-64), $17.95 for seniors (64 and over) and $12.95 for children (3-11) through September 14. Fall and winter pricing can be found on the Zoo's website, OmahaZoo.com. Download the Zoo's official mobile app for free on Apple's App Store or Google Play.