Student Workers Help Bookstore Run Smoothly
published: 2018/08/17
contact: Charley Steed - University Communications
email: cdreed@unomaha.edu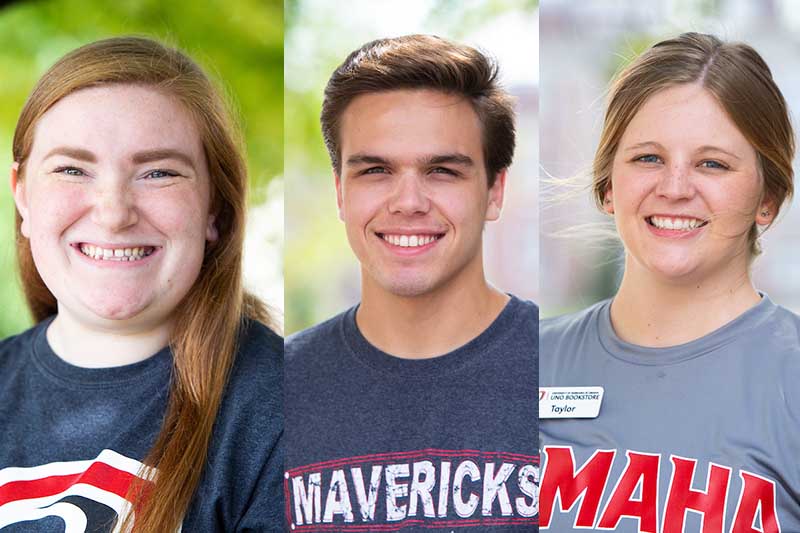 Abby Kane, John Kramer and Taylor Schulz are all employees at the UNO Bookstore
The start of a new semester is always a busy time of year, but perhaps no other area of campus gets busy quite like the UNO Bookstore.
As new and returning students, and their parents, search for textbooks, notebooks and new Maverick gear, many of the staff helping things run smoothly are students themselves.
Throughout the year, dozens of offices and departments, including the Bookstore, provide employment opportunities for students, from freshmen to post-docs. Here are just a few of the many student workers helping keep campus running – and gaining great experience at the same time.
Abby Kane
John Kramer
Taylor Schulz
---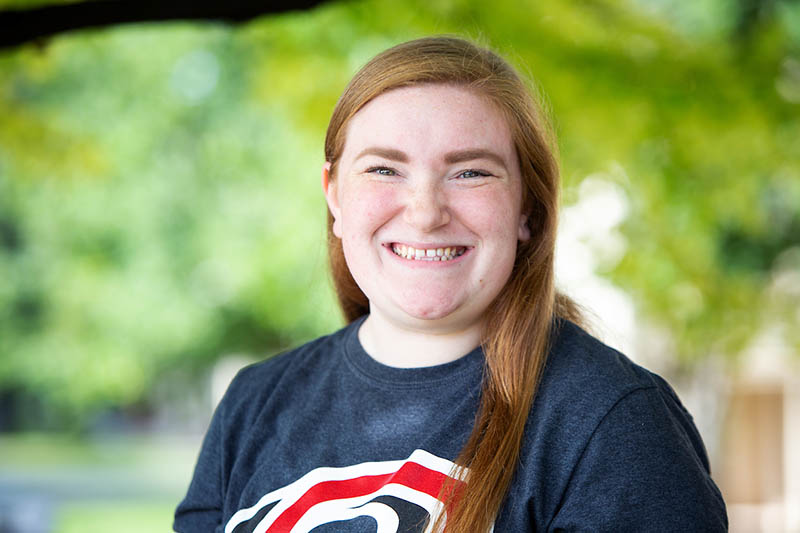 Abby Kane, a sophomore, has worked at the UNO Bookstore since her freshman year
Name: Abby Kane
Year: Sophomore
Major: Political Science and Communication Studies
Job: Customer Service

Abby Kane is originally from Minnesota, but has spent most of her life in Omaha.
As a student at Millard South High School, Abby discovered her passion for political science and, following a visit to campus during "Be a Mav Day," knew she wanted to come to UNO to help earn a degree that would help her pursue a career working in politics.
"I've always been interested in politics, but I didn't know the different career paths that were available," she explains. "Plus, I've always been ambitious, so I wanted to add on Communication Studies because any politician needs to be a good communicator."
Abby's ambition also led her to also pursue a student worker position at the UNO Bookstore even before her first week as a student was over. However, she says it has been the perfect fit given that she is now living on campus and has been engaged with UNO's University Honors Program.
"A lot of people may overlook being a student worker because they don't want to spend time on campus outside of thier classes, but my life really is here," she explains. "It is something I would encourage people to look into, though. New positions open up all the time."
When it comes to the back-to-school rush, Abby says take advantage of free shipping or in-store pick up through the online store.
"You can really save a lot of time by browsing online. We can have anything you need ready in two days and set aside for you in the store, or have it shipped to your residence hall or apartment in time for classes to start."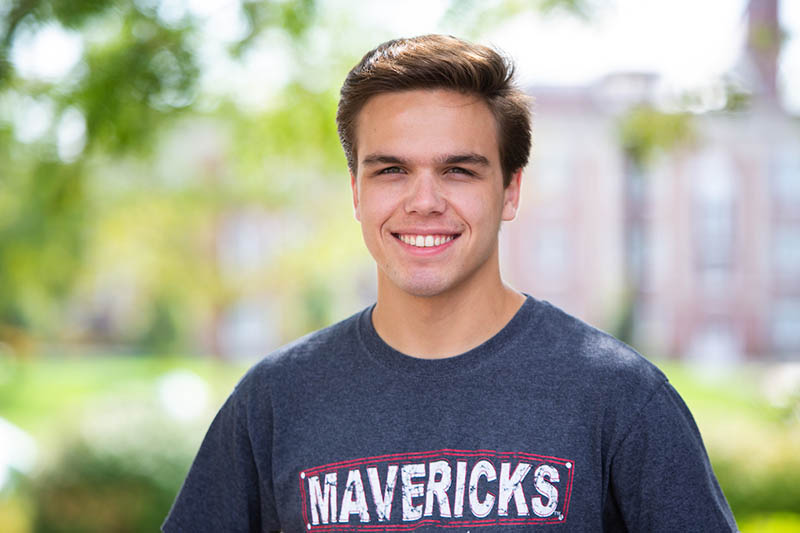 John Kramer, a Junior, is pursuing a degree in sound engineering
Name: John Kramer
Year: Junior
Major: Architectural Engineering
Job: Online Orders

Born in Ohio but raised in Omaha, John Kramer has grown up around UNO, including spending summers at UNO's Aim for the Stars camps.
"That really got me into the science mindset and got me interested in engineering, even though my focus in junior high and high school was on pursuing a career in music."
At UNO, John found a way to marry his love of music and his education through the Architectural Engineering program housed at the Peter Kiewit Institute on UNO's Scott Campus. Pursuing a five-year master's degree with a focus on acoustical engineering, John hopes to work as a consultant for engineering firms, including on projects like concert halls and music venues.
As a member of the UNO Bookstore's student worker team, John enjoys the flexibility and freedom the job offers with his class schedule and, as an on-campus housing resident, how close his work is to where he lives. In addition to his work with the Bookstore, John has participated in the Architectural Living and Learning Community and, last year, was a peer mentor for incoming freshman students. 

His advice for students buying books for the new semester? 

"If you have the option to get an online version of your textbook or go with a loose-leaf version, you should definitely go that route. You can also always find copies of our used books through Amazon, so check that out as well."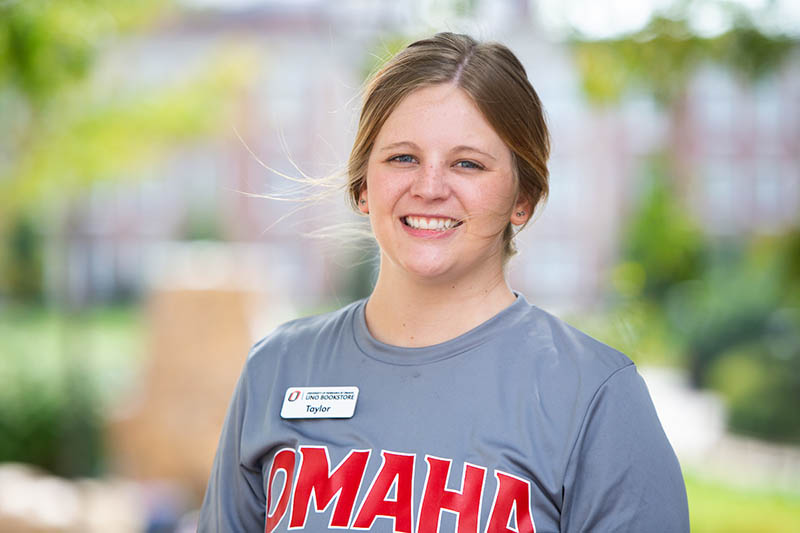 Taylor Schulz, a senior, has had several on-campus employment opportunities during her time at UNO
Name: Taylor Schulz
Year: Senior
Major: Speech Language Pathology
Job: Various

After joining the staff of the UNO Bookstore a little over a year-and-a-half ago, Taylor Schulz has had the opportunity to be involved in pretty much every aspect of their operations. Whether it's being behind the counter as a cashier, sorting through stacks of text books at the Bookstore's warehouse, or helping design the main window display, it's likely you've seen the results of her work in some form or another.
A native of Wisner, Nebraska, being a student worker is not anything unique to Taylor. Prior to joining the Bookstore, she was a student worker for the Department of Gerontology and the UNO Child Care Center. Regardless of the job, she says working on campus is a great option for those looking for an employer who is willing to work with their class schedule.
"It is really all about being a student first and if you work on campus, your supervisors get that," she says. "It is also great because you can easily head from finishing a class to starting your work shift and then heading back to class. It works really well."
It is also an opportunity to make great connections.
"We work hard here at the Bookstore, but we have a lot of fun, also," Taylor says. "Many of us were encouraged to work here by friends we already had and then we meet new people through those same friends so everybody knows everybody. It's like our own unique community."
In addition to her work as a student worker, Taylor has also spent time as a member of her residence hall council, an assistant in UNO's anatomy lab and a member of the UNO National Student Speech Language Hearing Association. She is scheduled to graduate in May with a degree in Speech Language Pathology and hopes to continue her education with a master's degree. In the meantime, Taylor is most concerned with making sure students are prepared to succeed in the fall semester.
"Especially if you are a new student, know that you are not alone if you have questions," she says. "Really, don't be afraid to ask us anything. You should be excited to start a new school year – not scared or confused."
About the University of Nebraska at Omaha
Located in one of America's best cities to live, work and learn, the University of Nebraska at Omaha (UNO) is Nebraska's premier metropolitan university. With more than 15,000 students enrolled in 200-plus programs of study, UNO is recognized nationally for its online education, graduate education, military friendliness and community engagement efforts. Founded in 1908, UNO has served learners of all backgrounds for more than 100 years and is dedicated to another century of excellence both in the classroom and in the community.
Follow UNO on Facebook, Twitter, Instagram, TikTok, LinkedIn, and YouTube.