Flag Lowering for David Hinton
During his 34 years at UNO, David Hinton led both the College of Public Affairs and Community Service as well as the College of Information Science and Technology, during which time he helped establish three of UNO's eight current doctoral programs.
published: 2018/08/21
contact: Charley Steed - University Communications
email: cdreed@unomaha.edu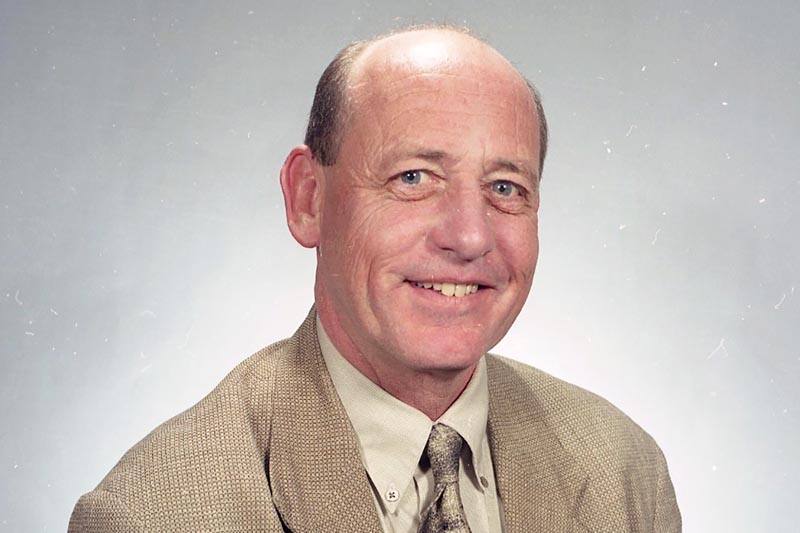 David Hinton, Ph.D., came to UNO in 1972 and served 34 years in various leadership positions until his retirement in 2006.
The University of Nebraska at Omaha (UNO) flags will be lowered on Tuesday, Aug. 21, to honor the life of David Hinton, Ph.D., whose 34-year career with UNO provided instrumental leadership for two of UNO's colleges, and the creation of multiple doctoral degree programs.

Hinton passed away on Friday, Aug. 17, at the age of 73, after a years-long battle with cancer. He is survived by his wife, Linda, two children, Brad and Sherry, as well as his brother, Larry; sister, Linda; and seven grandchildren, among many other family and friends.

Coming to UNO in 1972 after earning his doctorate in economics from the University of Arkansas, Hinton's career included serving as a research associate for UNO's Center for Public Affairs Research and chair of the then-Department of Public Administration and Urban Studies before becoming associate dean of the College of Public Affairs and Community Service (CPACS).

However, Hinton's longest tenure was as dean of CPACS, which began in 1985 and lasted for 15 years, until 2000. During this time, Hinton helped oversee the elevation of several fields of study, from program to department or department to school status, and the incorporation of the national-recognized Aviation Institute into the college. He was also integral to the creation of UNO's doctoral degree programs in Public Administration and Criminology and Criminal Justice.

After stepping down as CPACS dean in 2000, Hinton had initially planned to return to teaching, but he was instead recruited to oversee the relatively new College of Information Science and Technology (IS&T), which he did from 2001 until his retirement in 2006. In his five years as dean of IS&T, the college launched a doctoral degree program in Information Technology and established key programs that have gone on to national recognition in the fields of Computer Science, Management Information Systems and Cybersecurity.

In his role as IS&T dean, Hinton was also integral to the Nebraska University Center for Information Assurance at UNO being recognized as one of the nation's first National Centers of Academic Excellence in Information Assurance by the National Security Agency (NSA). He also leveraged local industry leaders and donors to form partnerships and opportunities for IS&T students, many of which continue today.

In his last official leadership role, Hinton briefly returned to UNO in 2009 to serve as interim director of the Peter Kiewit Institute. Throughout his career, Hinton was widely recognized by his peers and colleagues, including many department, college and campus-wide awards for his dedication and commitment to UNO.



In 2006 David Hinton (far right) joined B.J. Reed (far left), who was then UNO CPACS dean and is currently Senior Vice Chancellor for Academic Affairs, and alongside other former CPACS deans John Kerrigan (center left) and Hubert Locke (center right), at a groundbreaking event for the new CPACS building. Previously, each unit within CPACS existed in separate buildings across campus.

Hinton was also an avid Maverick athletics fan during his entire time at UNO, at all levels, including intramurals as a member of an all-faculty/staff basketball team. Even after his retirement, Hinton stayed active in the UNO community, regularly attending Maverick athletic events, particularly basketball and hockey games.

Perhaps most impactful, was Hinton's influence through his role in student, faculty and staff support programs, like UNO's Minority Faculty Development program, which he helped launch alongside then-associate dean Phil Secret, in 1989. The program allowed highly-qualified members of the community from minority backgrounds with masters degrees to become an instructor at UNO and supplement their tuition as they pursued their Ph.D. Once their doctorate was completed, those in the program were guaranteed tenure-track positions on campus. The program initially began within CPACS, but eventually spread to include the College of Education, College of Business Administration and what was then the College of Fine Arts. Many who earned their degrees through the program chose to stay on at UNO.

Hinton's legacy, and commitment to supporting education at all levels, continues through the David and Linda Hinton Scholarship Fund. Memorials are welcome to contribute to the fund, through the University of Nebraska Foundation.
About the University of Nebraska at Omaha
Located in one of America's best cities to live, work and learn, the University of Nebraska at Omaha (UNO) is Nebraska's premier metropolitan university. With more than 15,000 students enrolled in 200-plus programs of study, UNO is recognized nationally for its online education, graduate education, military friendliness and community engagement efforts. Founded in 1908, UNO has served learners of all backgrounds for more than 100 years and is dedicated to another century of excellence both in the classroom and in the community.
Follow UNO on Facebook, Twitter, Instagram, TikTok, LinkedIn, and YouTube.